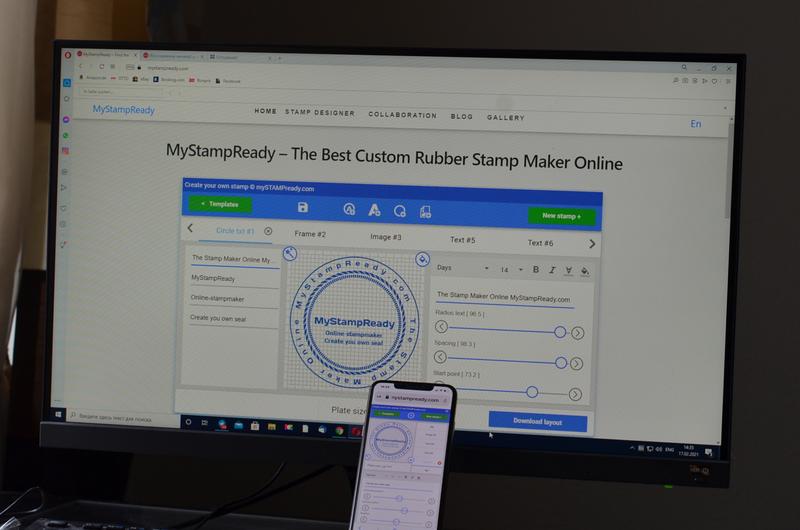 Rubber stamps are popular among companies, individual entrepreneurs, or just creative people who are into different types of crafts. Evidently, for each purpose, you should select various components of a seal in order to receive the exact stamp design you need. We would like to go over each aspect of the seal development and give you some advice about the right choice of particular elements.
1. Shape
The first step to developing a custom seal is shape selection. You may have often noticed that most companies use circular rubber stamps. This is the most versatile shape because you can easily fit a company logo there, or, for example, leave space for a sign in the middle, and add a couple of inscriptions around the perimeter at the same time. Also, the presence of a circle stamp on a document is required in case you're submitting an employment contract. However, if your situation differs, you can get creative and pick another shape. For example, one of the most popular stamp makers – MyStampReady, allows you to choose a square or triangular shape for your corporate seal, too. Also, there is an extensive seal gallery, which includes hundreds of stamps of an authentic shape. Some of them will be suitable for small or major companies, while the other ones will appeal to crafters. If you really want to stand out from the crowd, you should try making your stamp design oval, hexagonal, etc. But keep in mind that the more complicated the shape of your seal is, the fewer rubber stamp manufacturers will be able to take your order.
2. Inscriptions
If you need to develop a corporate seal, you should include the following inscriptions: company name, its official website, and a memorable slogan. Just make sure that you don't overflow your stamp design. This is exactly when less is more. A corporate seal is still a visual object, so your client would not be happy to see a circle full of text on a document, which already contains thousands of symbols. If you are a crafter, each case is different. Some stamps don't require an inscription at all. However, if your seal was created for a certain event (birthday, Christmas, etc.), then adding lettering is worth it. Speaking of date and time stamps, they should not include anything except the precise date, hour, and minute. There are also some specific types of seals, the purpose of which is to give some information. Visual appearance is not in the first place, so you can just pick a square or rectangular shape, and fill everything with the text you need.
3. Composition
Let's move further and discuss the perfect circular stamp design arrangement. If you need to create a seal for your company, arranging a logo right in the middle is the best possible option. You can also create multiple layers by enclosing each part in a circle of a smaller size than your total seal diameter. You may wonder where you should insert the needed titles. Theoretically, you can add some text under the logo, and several inscriptions around the perimeter of inner and outer layers. Supposing you've finished creating your stamp but it looks a bit empty, you should try filling blank space with decorative elements. We will talk about it in greater detail, but a bit later. In case you picked a triangular or square shape, adding inscriptions around the perimeter won't look attractive. Adding three or four short titles along each edge will look better.
4. Decorative elements
If you're a crafter, your stamp design itself is kind of a decorative motif already. That is why we only want to raise the matter of circle seals. When using different decorative pieces, try to make them look native in the arrangement. Decoratives shouldn't grab all of your customers' attention. They should properly complement your seal by highlighting all the good-looking components. You shouldn't also use too unusual elements, or massive ones. MyStampReady has a wide selection of free multipurpose decorative parts, which will be suitable for any corporate seal. There, you can find unique edgings, straight lines, animals, and even logos of major brands. Summing up, seal decoratives can be compared with spices, the competent use of which will make your stamp look just perfect. But if you go too far, you will turn your stamp design into a mess.
5. Ink color
Some companies stay satisfied using the png image of their stamp designs as digital seals, whereas the other ones decide that they need to order a rubber stamp, as well. Each stamp also requires an ink pad. Nowadays, there are hundreds of ink pads in various shades available on the market. Companies mostly use black and blue colours, because they are considered the formal ones. Anyway, we are not sure if using a black ink pad is a good idea. The thing is that such colour will mess with the text of a document, and everything will be black. We would recommend using blue or dark blue colours if you're leaving an impression on an official contract or agreement. Purple, red, brown, or green ink pads will also be suitable, but mainly for less important documents. Colour that we can't recommend using is yellow, as well as every pale colour in the palette. As you may have already guessed, the main problem with these colors is the illegibility of seals. They will blend with white paper, so your beautiful stamp design is very likely to be unnoticed.
Conclusion
After examining each aspect of custom seal development, we can safely say that making a perfect stamp for your purpose is not as hard as it seems. You should always watch the correctness of the construction of your composition, choose your decoratives wisely and not overfill your stamp design with numerous inscriptions. After receiving a custom rubber stamp, use the right ink colors for each case. If you've faced any troubles during the corporate seal creation, try using the free seal maker called MyStampReady. It allows you to develop a nice corporate seal without expending much effort. And if you need to get a custom stamp in no time, you can choose a template from the seal gallery and customize it. We hope that our tips will make the process more simple and enjoyable.