After a page is built, and even before the very end, it is necessary to test everything in order to get a completely clear picture of what has been done, what is appropriate and what is not, and how things stand. Thus, testing is an indispensable part of construction and any refinements, changes, or upgrades on the website.
Developers perform several types of testing, code testing, plugin testing, themes testing, and the like. As much as testing brings benefits and helps in the realization of goals, they are also risky because testing can lead to various problems and even permanent data loss if there is no proper backup.
It is important to emphasize that there is a solution for the above, and it is effortless to avoid these problems by using the WordPress Reset plugin. WP Reset is a plugin with which you can test everything without any risk of losing website data and content because with the snapshots and restore options that this plugin offers, the previous state can be restored in just a few clicks.
This plugin is intended for everyone, from beginners to masters. So, a very useful plugin for anyone who uses WordPress, whether for developing, debugging, or maintaining WordPress sites on a daily basis. Although the accessible version of this plugin offers a multitude of features and options, its pro version provides three times as many features.
Well, it is time to get acquainted in detail with this important and necessary plugin.
WP Reset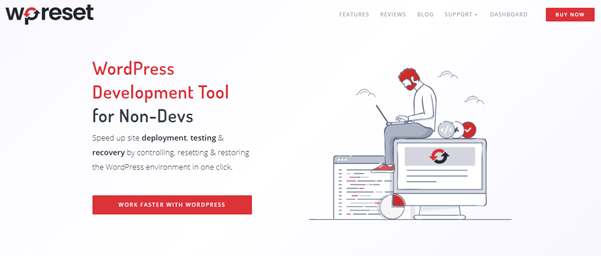 As can be deduced from the very name of this plugin, its role is to quickly reset the database to the default installation without modifying any files. It is considered very fast but also safe because, as stated, there is no possibility of sudden data loss. This makes it very popular among users, and as a result, it currently has over 200,000 users.
Before we look in detail at its features, let us explain what a snapshot is. The database snapshot is a copy of all the tables, standards, and customizations. It helps you see what changes the plugin has left on the database, what tables have been created, modified, or deleted, or what has changed in the site's settings. Creating a snapshot usually takes 1-2 seconds.
Now, let us take a look at some of the many features of this plugin:
Snapshots – Before a significant change is created, this plugin creates snapshots, so it is possible to restore anything with just one click. It is also important to note that there is an option to automatically save snapshots to the cloud, which gives the possibility to return to the security and working state at any time.
Plugin and Theme Collection – Very simply, imagine you have ten plugins to activate. With this plugin, one click and a few minutes of waiting are enough to activate all of those ten plugins.
Emergency Recovery Tool – If you suddenly cannot access the site, nothing works, you only see a white screen, and you are in a panic; this plugin offers a solution. This is about the existence of an independent script. By opening it using a secure link, you can run a website very quickly and easily.
Cleaning Tools – In general, removing excess and unnecessary content takes a lot of time. It is one of the most strenuous and time-consuming actions, and being very careful is needed when choosing what to delete. With this plugin, you can easily remove excess content without impacting the data you need.
Nuclear Site Reset – If you want to delete everything, it is possible in just 30 seconds. With this plugin, you can delete the entire data and restore only the user account you can log in again, so even when utilizing a redirection plugin isn't an option, WP Reset can easily fill its place.
White Label Option – If you want to hide or make invisible some part of the content or some information you simply do not want to be visible, this option is all you need.
Centralized Management – Save time by simply having all sites, collections, and snapshots in one place and managing them from one place. So, from only one dashboard, you control absolutely everything.
Cloud – The cloud is a place where you can safely store all snapshots and collections. It is explicitly designed for WP Reset users to provide the storage space which would always be available from the plugin and from the dashboard of this plugin. Five types of cloud memory are currently available for saving inside this plugin: WP Reset Cloud, Dropbox, Google Drive, iCloud and Icedrive. Changing the service by switching from one to another will not cause the loss of any content; everything will remain available when you return to service.
Before using WP Reset, whether to delete or reset something, you have to make a backup because WP Reset is not a conventional backup plugin and does not replace the same.
Let us look, in the end, at the pro version of this plugin. As already stated in the previous part of the text, the pro version of this plugin provides three times more than the regular version, including premium e-mail support from the developers who developed the plugin itself.
This plugin provides three packages as follows:
WP Reset PRO Personal
WP Reset PRO Team – This package is considered the most popular
WP Reset PRO Agency – Package with available all the features that the plugin owns.
One thing is clear, whichever version you decide to use, in a very fast and safe way, you will be able to do what took hours or days so far.
Conclusion
Saving time wherever possible is a luxury today. Finding something that will help solve anything in a quick and easy way is of great importance. This plugin speeds up everything and saves your time, and most importantly, it helps you avoid any damage during testing. So, it is superfluous to emphasize how useful it is to use this plugin on your WordPress site.