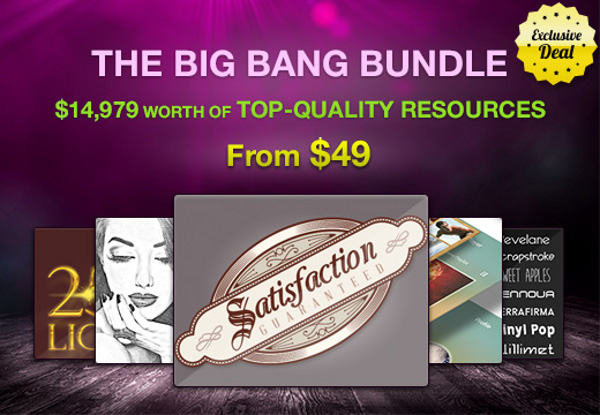 Don't miss your chance to get the biggest design bundles ever at an incredible low price! This brand-new bundle contains thousands of different design resources worth an incredible $15,000! Everything you could possibly need is in this Big Bang Bundle – from vectors to PS addons, fonts, tutorials and even HTML5 templates!
Here's what you get:
The Big Bang Bundle with $4,916 worth of Brand-New Resources – Only $49
120 Vector Packs worth $1,800
500 Vector Illustrations worth $2,000
15 High-Res Texture Packs worth $225 (6000 x 4000 px)
14 Photoshop & Illustrator Addons worth $210
20 T-shirt Designs worth $300
5 Premium Tutorials worth $100
9 UI Kits worth $135
268 Fonts in 24 Font Families worth $70
8 Bootstrap 3 Templates worth $76
On the following image you can see a tiny preview of what the bundle contains. To see more, check out the deal page on InkyDeals.