You want the best WooCommerce them or Shopify theme possible to use for your online store, but how do you tell which one might be best for you? The right answer could depend upon a variety of different things. With hundreds of themes to choose from, finding that answer could take a substantial amount of time and effort. Select one featuring highly customizable options with built-in page editors and you're probably in great shape. Even if you can't prove that your choice was the best possible one.
Whatever theme you end up choosing, it –
needs to ensure your store is always fast and performant.
needs to provide your site's visitors with a shopping experience that is highly likely to convert them into paying customers.
needs to be attractive enough to encourage visitors to spread the word.
Any of the following 10 great WooCommerce themes and Shopify themes will make the building and launching process as easy as possible. And any one of them will be, for all practical purposes, the best possible choice.
1. Flatsome – #1 Best Selling WooCommerce Theme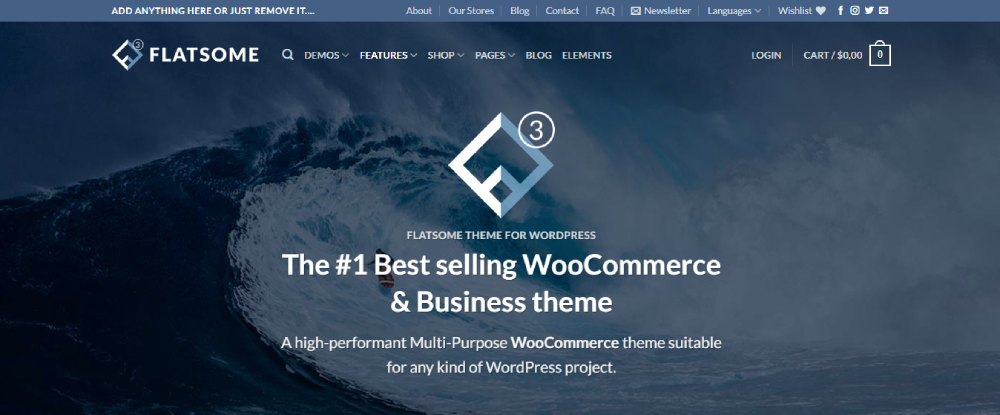 Insofar as choosing the right theme for website design objectives, you should be on solid ground by choosing a #1 best-selling WooCommerce theme like Flatsome, an excellent choice for your business or a client's. Flatsome has everything you need to build a super-fast site capable of delivering an amazing user experience every time for every visitor.
With Flatsome's UX Builder you can create awesome sliders, banners, and responsive pages super-fast, organize your content with drag and drop functionality, edit text, and create custom options for different devices.
The Live Theme Options Panel lets you customize your site to exactly meet your design objectives. You can also mix and match pages, headers, colors, and fonts.
Another key feature is an extensive digital library filled with images, pre-designed layouts, and sections, well-organized into categories and can be imported with just a few clicks.
Flatsome has been around since 2013 and is a top-rated ThemeForest best seller. Click on the banner to learn more about this popular WooCommerce theme.
2. Avada WordPress & WooCommerce Theme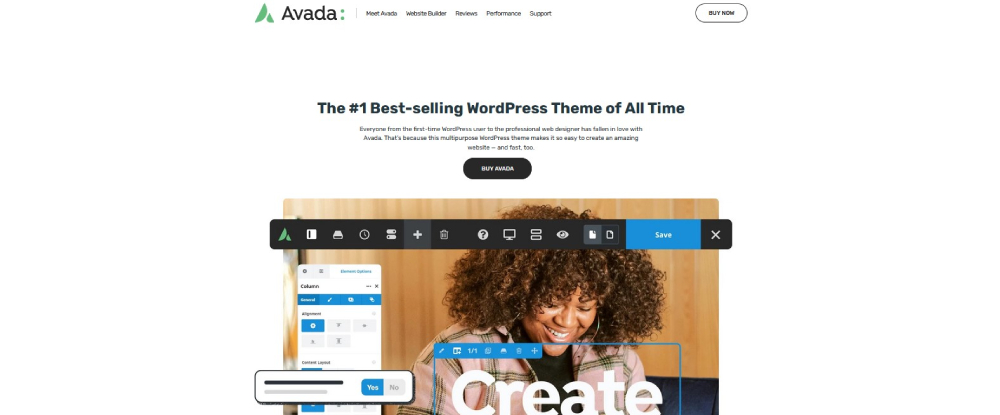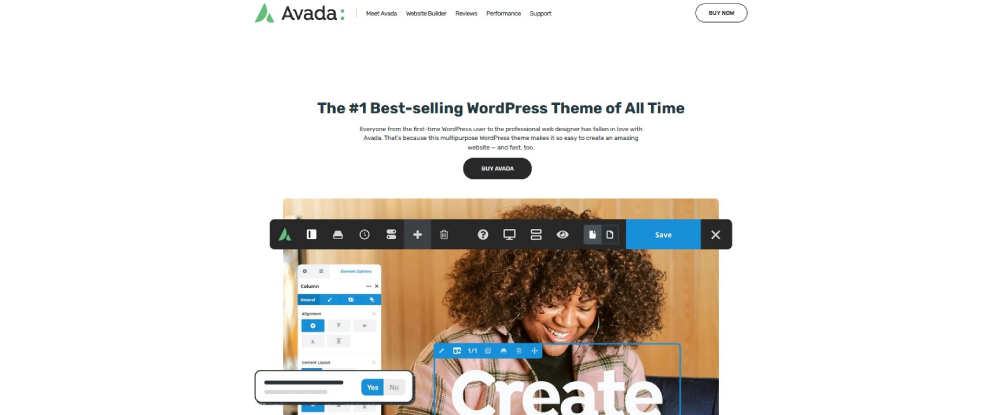 Users often refer to the Avada WooCommerce theme as a Swiss Army knife of WordPress themes because it is one of the most feature-rich themes on the market.
What are a few of the things the Avada WooCommerce theme has going for it?
There's the WooCommerce builder for creating WooCommerce product layouts and custom Shop, Cart, and Checkout pages.
There is also 400+ pre-built web pages and 120+ design and layout elements that allow you to create any website or WooCommerce site you have in mind.
Avada requires few if any additional plugins (multiple premium plugins are included) resulting in fewer website building complications and more reliable end products.
Avada can boast of a 4.75+/5-star average rating, making it an exceptional choice. Click on the banner to find out more about what this premium theme can do for you.
3. Uncode – Creative & WooCommerce WordPress Theme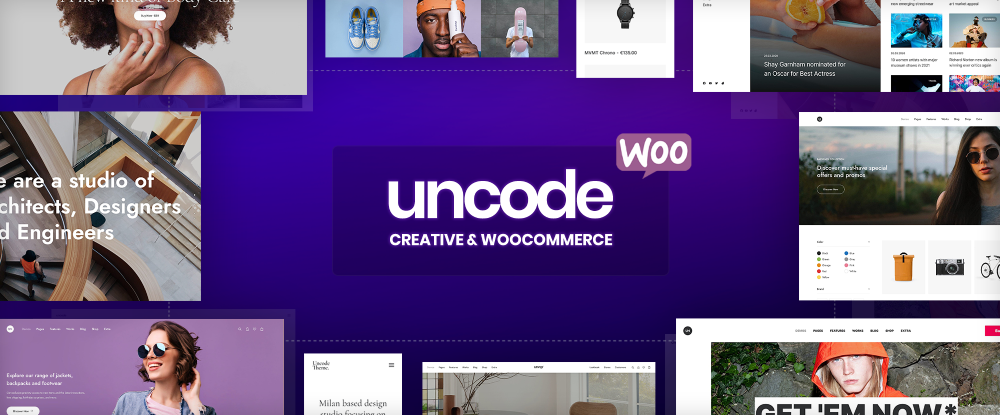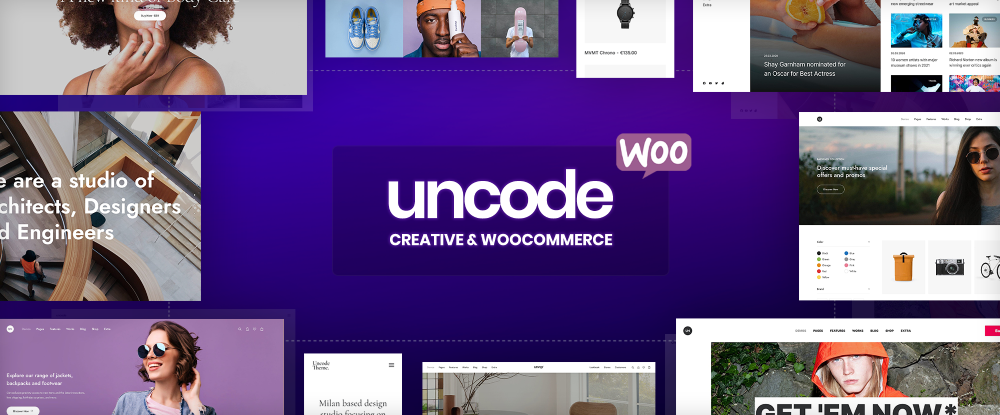 Uncode has the tools needed to build any type of eCommerce shop but where this creative WooCommerce WordPress theme shines brightest is when it is used to design websites for creative businesses and agencies.
With Uncode at your fingertips you can easily create pixel perfect shops designed to provide fantastic customer experiences thanks to:
Uncode's Advanced Drag & Drop Single Product Builder (zero coding required), pixel-perfect shop layouts, and configurable Ajax product filters that make it possible to create an extensive array of shop listings.
70+ carefully crafted importable mix and match pre-made designs and 500+ Wireframes sections, and special features such as a product variation gallery, wishlist options, catalog mode, product Quick-View, and single product pages, all of which provide plenty of flexibility.
Uncode is Envato's top selling theme with more than 100,000 sales to date. Click on the banner to check out Uncode's library of user-built websites.
4. BeTheme – The Fastest WooCommerce Theme Ever Built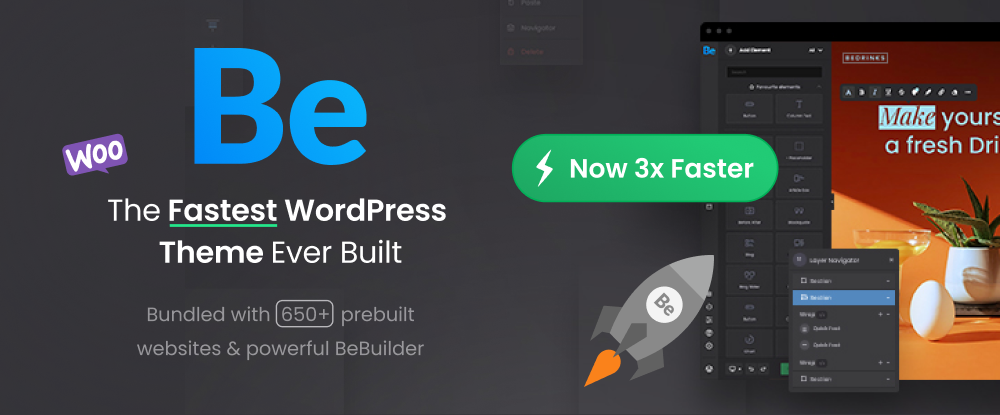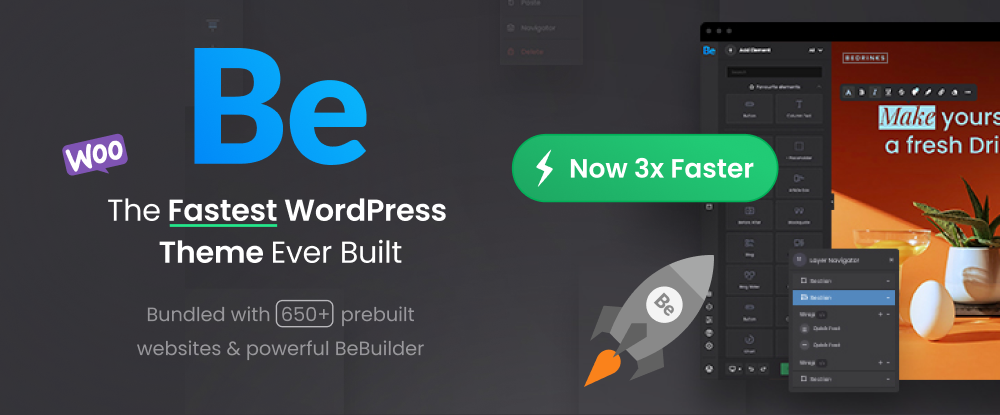 BeTheme is big, popular (250,000+ customers) dynamic, and features the fastest website builder of any multipurpose WordPress WooCommerce theme on the market.
More than 40 powerful core website-building features are at your fingertips, including:
650+ customizable, responsive, and UX-friendly prebuilt websites – a user favorite
BeBuilder, the fastest and most reliable website builder for WordPress
BeBuilder Woo places at your fingertips a straightforward approach to creating a profitable online store.
Sidebar Menu, Popup, Header, and Footer builders and much more to provide all the design flexibility you'll ever need.
A setup wizard and tutorial are included.
5. Rey – Exceptionally Intuitive WordPress WooCommerce Theme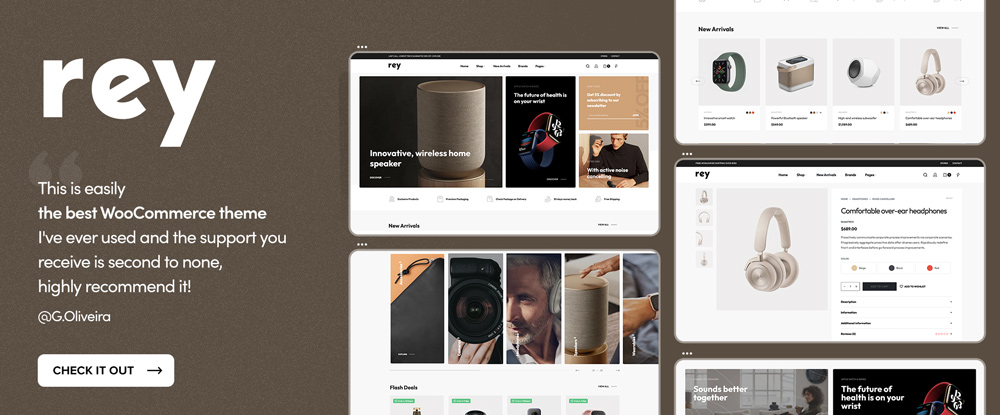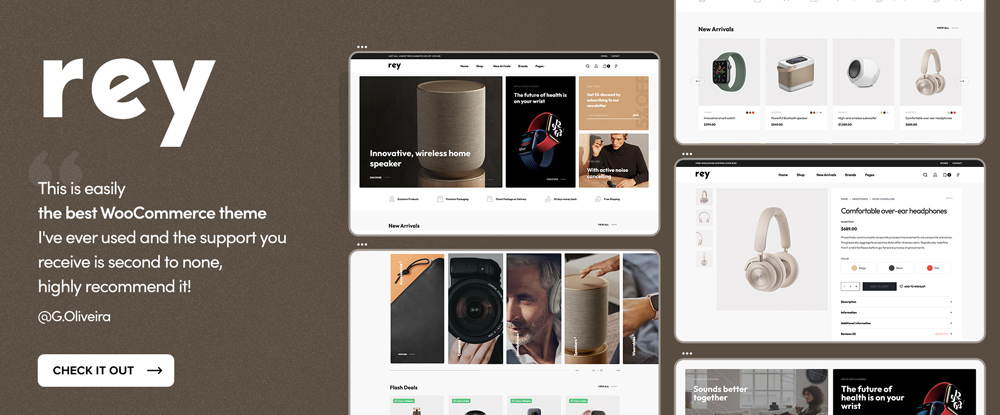 When selecting a WordPress WooCommerce theme to build a successful online store it is essential that it is eCommerce dedicated, offers an outstanding selection of pre-made designs, and is kept up to date.
Rey is just such a theme.
With its seamless integrations with WordPress, Elementor, and WooCommerce you can take your website building adventures to the next level.
It is easy to set up, exceptionally user friendly, and gives you reliable performance.
Its must-have WooCommerce features include Ajax fast search, filtering, and products navigation.
Rey is responsive, SEO- friendly, and provides 5-star support.
6. Blocksy – Premium WordPress Theme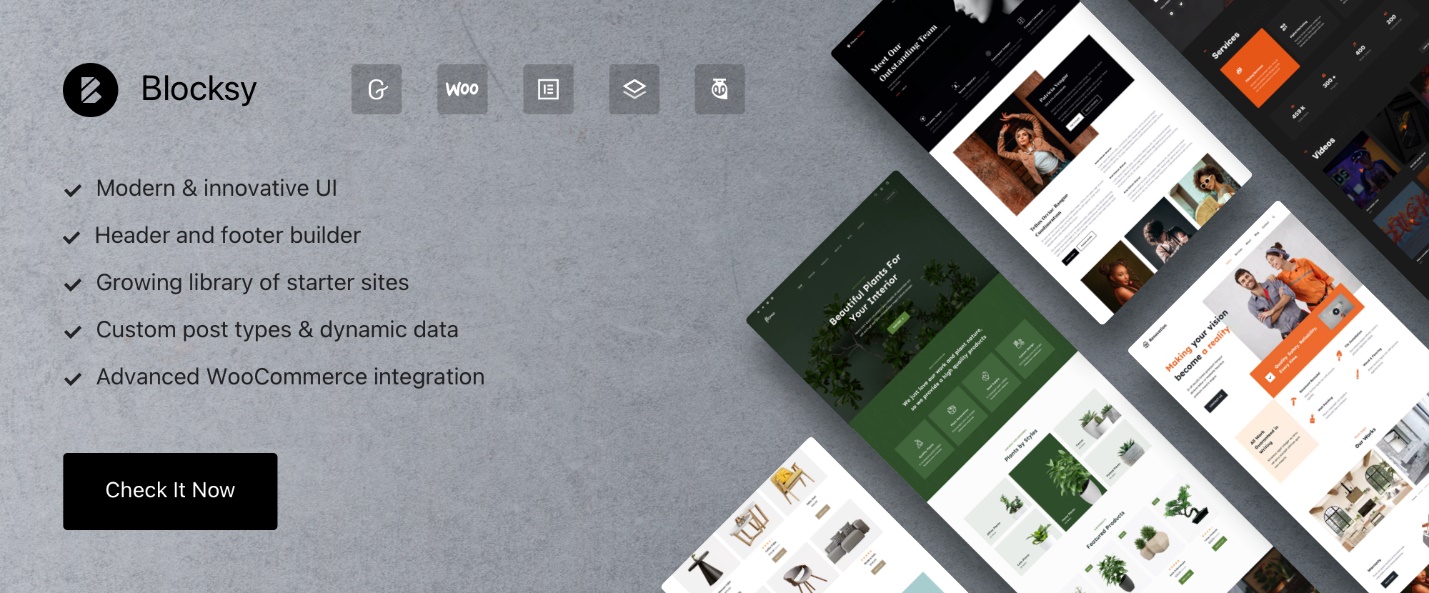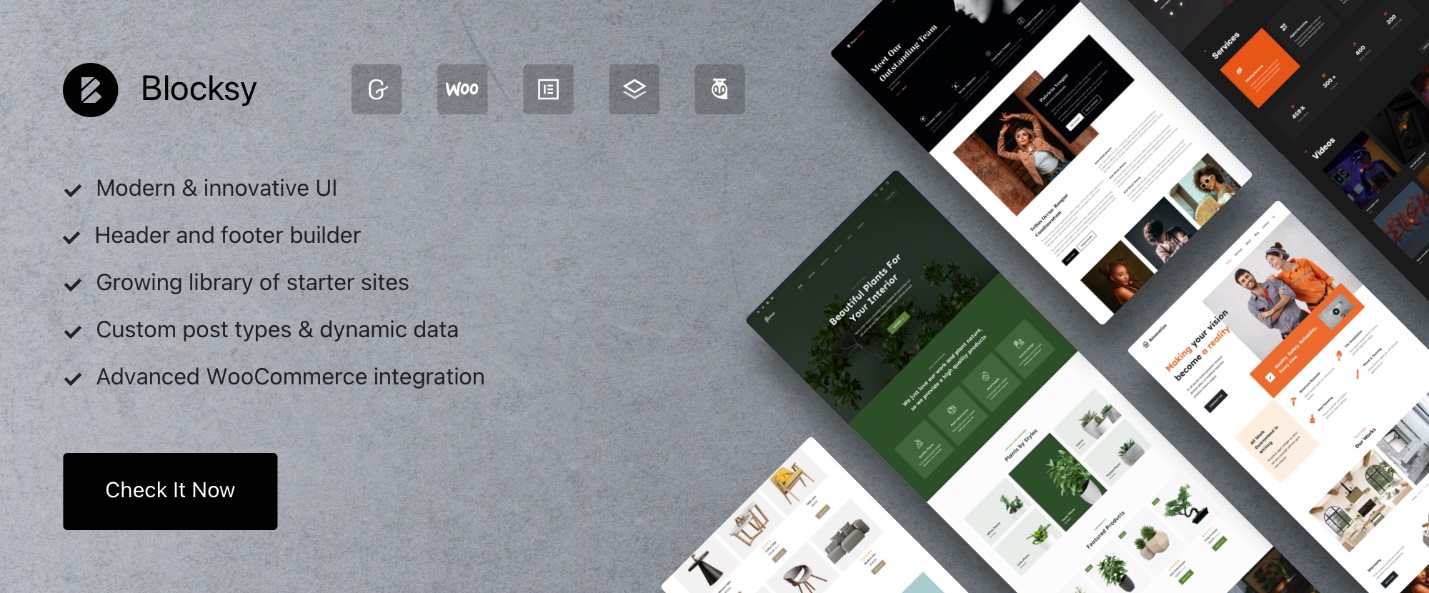 Blocksy is a free eCommerce WordPress theme that is superfast and loaded with website-building features that allow you to visually build your website in minutes rather than hours. Blocksy was created with flexibility, extensibility, and speed in mind.
Widely-used features include –
An easy-to-use Options Interface where you can take advantage of live previews of changes you are making.
A library of one-click importable modern and elegant pre-built starter sites.
Seamless integration with Gutenberg, Elementor, Brizy & Beaver, and TutorLMS.
5 types of Content Blocks, Custom Post Types, and Dynamic Data Support.
Blocksy offers a White Label option.
7. Woodmart – WordPress WooCommerce Theme for Any Kind of Store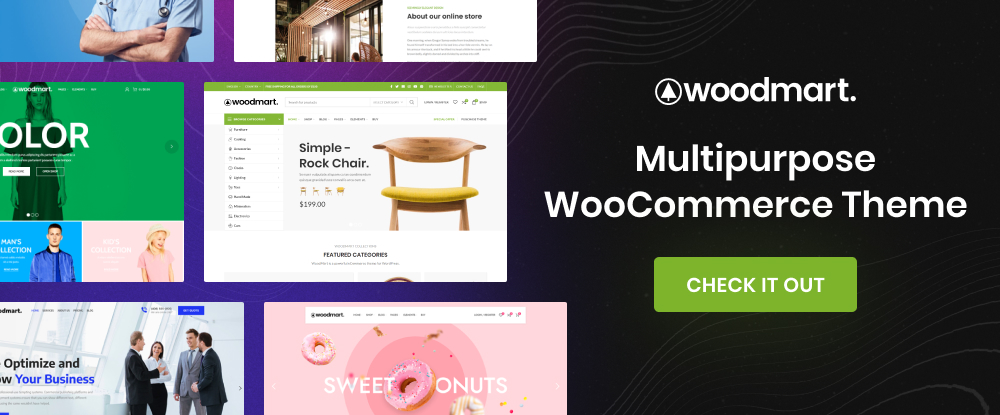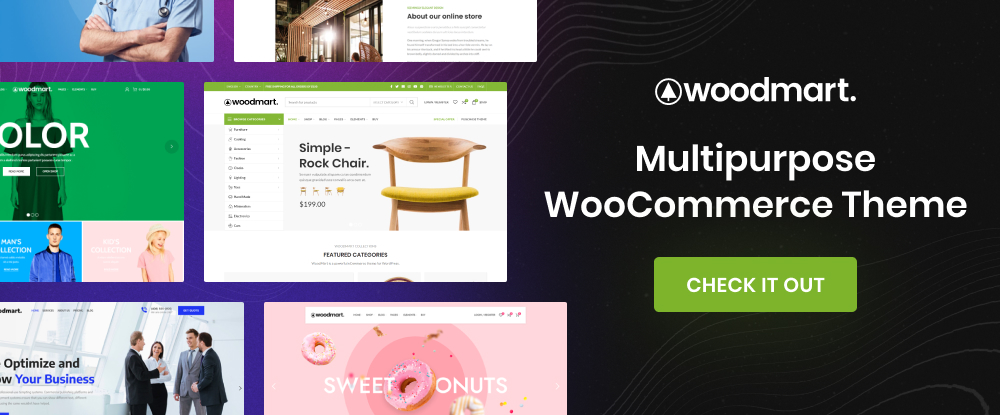 The Woodmart WordPress WooCommerce theme is flat-out-beautiful. Just a glance at Woodmart's website is enough to tell you how easy it could be to create a beautiful eCommerce website that can easily convert visitors into customers.
Woodmart is noted for:
a great selection of shop and product page Elementor builders.
an Elementor Custom checkout, AJAX filters, and product swatches.
80+ prebuilt websites to get you off to a fast start.
everything you need to create impressive mobile-friendly formats.
8. XStore – Premium WooCommerce WordPress Theme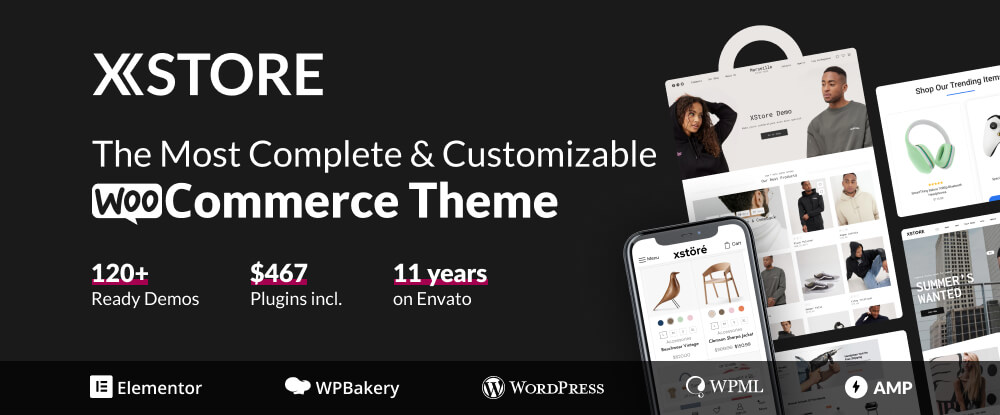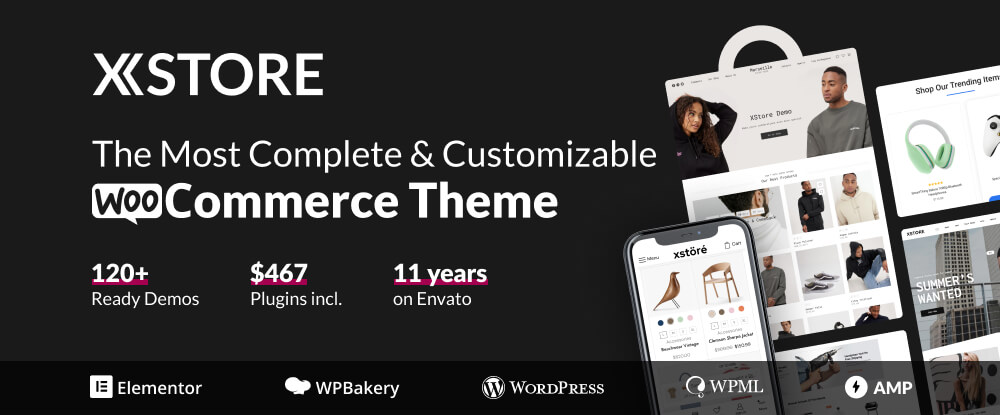 An XStore customer favorite is the library of 130+ single click importable demo layouts for online stores in various industries. Since they are customizable it is an easy task to create the right fit to meet your needs. The demos are also up to date with respect to the latest design trends and look good on both desktop and mobile devices.
Supporting features include –
cool blogging features, ready access to XStore's powerful Theme Options Panel, built-in wishlist, compare, and booster sales features, and mega-menu support.
extensive documentation and 24/7Support.
XStore loads fast – a critical feature for any online store.
9. Kalium Theme – Beautiful WooCommerce WordPress theme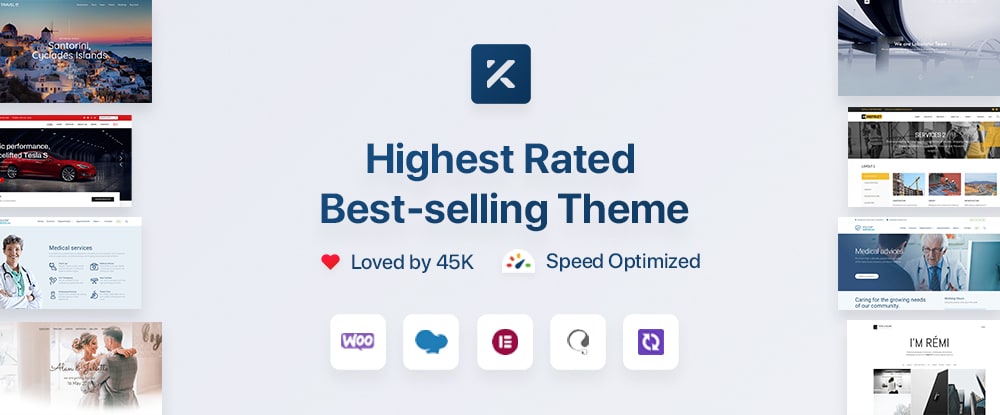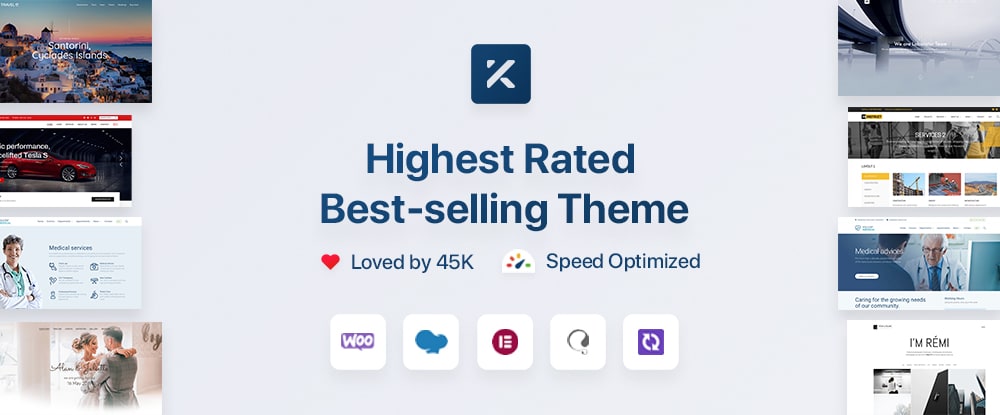 Kalium WooCommerce WordPress theme templates have one thing in common. They are flat-out beautiful. Having beautiful templates at your fingertips should make it easy to create an online shop capable of wowing its visitors.
Features include:
Live WooCommerce builder – with multiple templates and options to create your own layout with Kalium's live WooCommerce builder.
state-of-the-art cart and checkout pages and a stepped checkout process serves to eliminate unnecessary forms and content that make shopping quick and easy and leading to higher conversion rates.
10. Hongo – Multipurpose Shopify Theme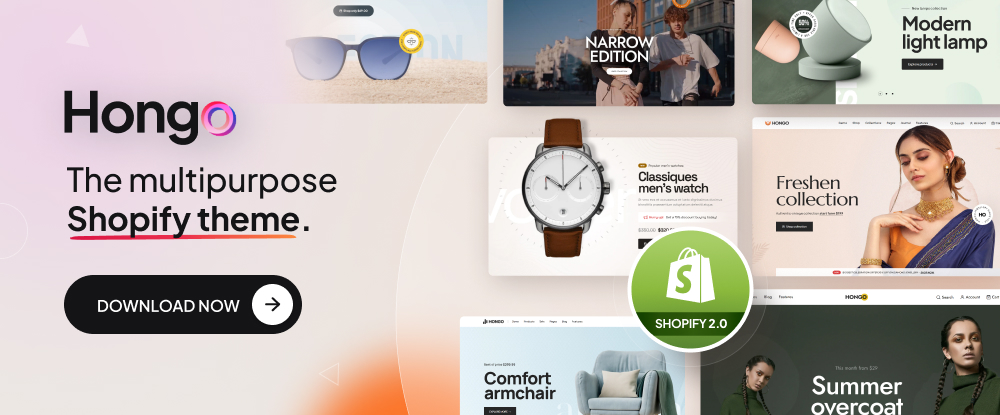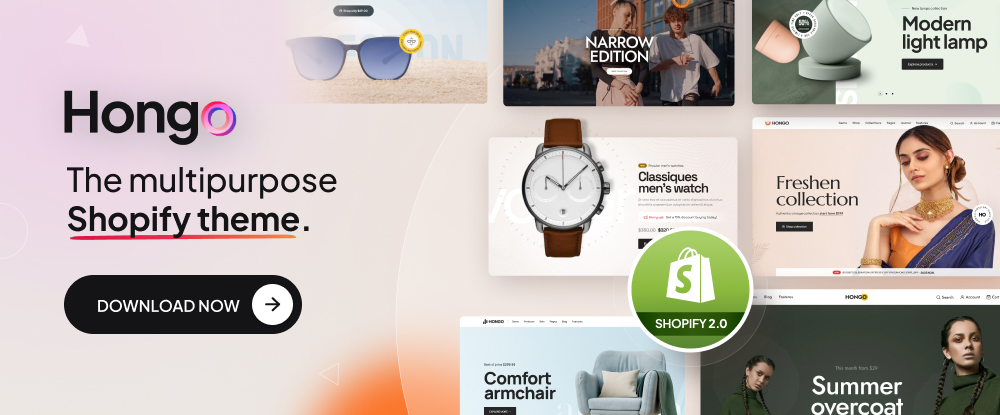 Hongo is a premium feature-rich Shopify theme that is packed with indispensable tools and design aids you'll need to launch a wide variety of attractive and high-conversion eCommerce stores. The package includes:
12 modern demos for a variety of popular business niches that can be customized to fit any niche.
quick view, compare products, wishlist, advanced filters, and more are included to help shoppers find exactly what they're looking for.
140+ ready sections, product cards, and product detail styles complete with customization settings to adjust them to fit your needs.
*******
Any of the above top 10 themes will serve you well. Whether you're designing your first online store, servicing a client, or upgrading an existing store. These WooCommerce-oriented themes feature must-have tools for creating high conversion rate websites. While at the same time helping to simplify your business processes.
There are many good themes on the market, too many to take the time and effort to have to wade through to find the best fit. A "chunk" of top themes, such as the above curated list of ten great WooCommerce Themes and Shopify Themes, should save you precious time. Every theme listed offers specific features that you could profit from.