A while back, only artists and creative professionals used to have portfolios. However, the trends have changed these days. Now, EVERY professional could benefit from having one.
It doesn't have to be about showing pretty pictures of your work. In fact, an online portfolio website's real purpose is to provide a tangible evidence of the value of your work.
But how can you create a portfolio website if you have zero experience in web developing? The answer might come as a surprise but it is actually quite easy.
Designing a website is no longer as complicated as it used to be. All you need is the right tool. We are going to take a look at some of the best website builders out there to make the choice easier for you.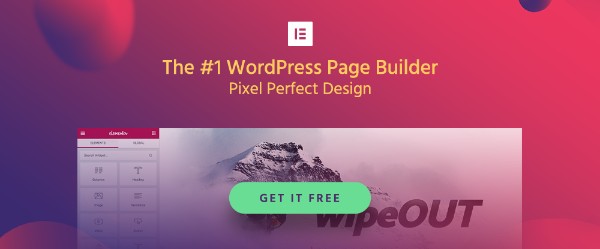 Elementor is one of the best WordPress page builders and it will make the whole process of designing a website a walk in the park.
Absolutely no coding experience is needed and it all comes down to a few simple clicks. With this drag & drop tool, you can create your new online portfolio in less than an hour!
As a plus, Elementor offers a library of templates and themes, as well as some useful icons and widgets – completely free of charge!
Apart from all the useful cool features, this website builder offers, what truly sets it apart from the competition is its speed. Elementor is the fastest website builder out there and everything happens instantly.
To make things even better, even though there is no coding involved in the website building process, the results are astonishing. All designs are responsive and look amazing on all devices and screens!
Download Elementor for free if you want to join 1,000,000+ users who have been enjoying this easy and fast way to build WordPress websites!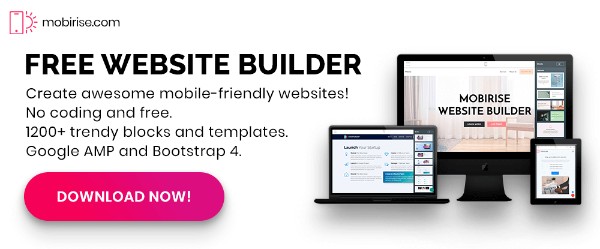 Mobirise is one of those great website builders that give you a total control over your site. Since it is an offline builder, you are not tied to any platform and you can work on your website wherever and whenever.
The whole process of designing a website with Mobirise is fast and simple; there is no coding involved and it all comes down to simple drag & drop.
The latest Google AMP and Bootstrap4 guarantee that every site designed with Mobirise is as fast as it gets while also being entirely responsive and mobile friendly.
Mobirise comes with:
1200+ trendy website blocks and templates
7,000+ icons
850 Google fonts
500,000 free images
Another big plus is that it is free for commercial use (both for you and for your clients).
Portfoliobox is an ideal website builder for those who don't want to be restricted by templates and themes. If you want your site to be completely unique, Portfoliobox makes it possible by allowing you to design each page using a different style.
The website builder itself is pretty easy to use and developer-friendly. The designing process requires no coding experience and the interface is very intuitive, which makes it easy even for the non-techies to create nice-looking portfolio websites.
Portfoliobox comes in both the free and the premium plan. Both plans offer some pretty impressive features so it boils down to your own personal needs and requirements. The pro plan will cost you $82.8 per year or $8.9 per month.
Check out Portfoliobox's student account – you will not regret it.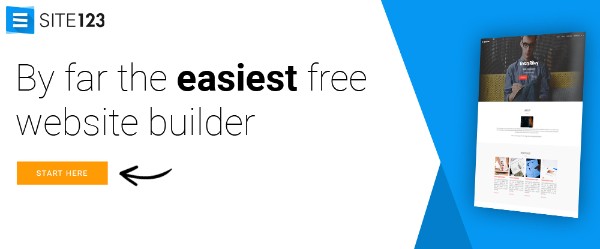 SITE123 is a free website builder that will help you create a great online portfolio in less than an hour!
The website designing process requires no coding experience and is easy thanks to SITE123's intuitive interface.
You will be able to design beautiful, SEO optimized, and mobile-friendly websites easier than ever! As a plus, SITE123 supports 56 languages, and you can manage your website from your mobile!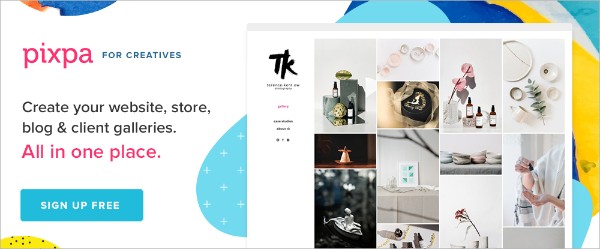 Pixpa is a great tool for creative professionals to manage their complete online presence from one place. You can create a pixel-perfect, professional portfolio website. Integrated eCommerce, blog, and client galleries are a part of the package.
Pixpa offers a variety of cool features including:
Trendy, mobile-friendly templates
Integrated client galleries, blog, and e-commerce
SSL security
Affordable pricing plans
24/7 support
Sign up for a free 15 days trial period to start building your website on Pixpa.
Why You Should Have a Career Portfolio
Do you know how the majority of people look for work? They do it exactly the opposite way the employers pick the job candidates.
Many people still rely on resumes, cover letters, and job board. Unfortunately, that is no longer enough – and that is where the portfolios come in!
Here are several reasons why you should have a career portfolio:
1. It Helps You Get Organized
The organization of your professional documentation is crucial. You will have it all in one place. Work examples, resumes, cover letters, and copies of professional Licenses. and certifications, letters of recommendations will also need to be there.
Having all that documentation in one place is highly beneficial. It will help the employer get a better idea of what they can expect from you. It also helps you to keep track of everything and updating it accordingly.
2. It Convinces Others of Your Skills and Abilities
Describing your work in words is one thing. But having a tangible proof takes it to a completely different level.
Having a well-designed portfolio will help you make a better first impression. It will also let the employer get a better idea of who they are choosing to do the job for them.
Every employer wants to minimize the risk when hiring someone new. A good portfolio is definitely always helpful in that matter.
3. It Increases Your Visibility
No one will hire you if they have never heard of you – it is as simple as that. You need to take every chance you can get to market yourself and increase your visibility.
Conclusion
Every professional can benefit from having a well-put online portfolio. It helps to strengthen a brand and to add value to a job application. It also helps keep your professional documentation organized.
Don't have a portfolio website because you are worried about the cost of building one? Maybe it is time to change the way you think about it. There are many great tools out there that are completely free of charge. They will help you to build your new online portfolio in 1 day!