Even if you may not have any idea as to what to expect in terms of discounts or other bargains it's not too early to plan for Cyber Monday 2021. You can still make some notes as to what you need and where you plan to look. And see if a product or product type you may be interested in can be had at a bargain price.
Since we've been covering Cyber Monday (and Black Friday as well) several years, we will have plenty to share with you. Especially in terms of popular and premier products that can be expected to share in the festivities.
Mark this event on your calendar. With a little help from us you'll have some cool bargains to choose among, like the 10 we are presenting in this article.
Happy shopping!
1. Trafft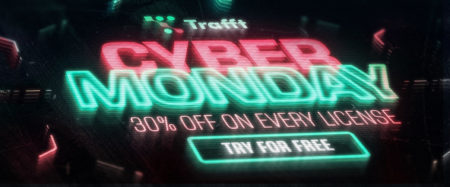 Although it is still relatively new, Trafft's booking solutions are already being used to automate and manage hundreds of thousands of appointments worldwide.
Trafft can streamline your clients' and customers' booking process with its robust, easy to work with scheduling system.
With the Trafft application in place, you can –
Successfully manage thousands of appointments and employee schedules and track your KPIs on a single platform and from a single dashboard
Generate attractive and easily understandable custom booking pages for your clients to use when making appointments and payments via Stripe or PayPal
Manage appointments and employee schedules at multiple locations from a single platform (the number of locations varies from plan to plan)
Manage group bookings and send out automatic notifications and reminders via email.
Trafft is ideal for appointment-driven businesses like beauty parlors and salons, gyms, and fitness centers, photographers, medical centers, consultants, and more.
Click on the banner, choose a plan, and take advantage of a 30% discount.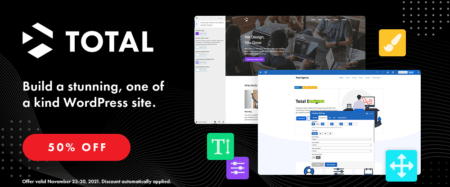 Total is a powerful WordPress theme that, unlike many premium themes, allows you to build any site layout you want without having to put up with bothersome limitations or restrictions.
The reason?
A wealth of flexible page-building features and styling options that include –
Total's 90+ NEW section templates, its 45+ quick-import sample demos, and a Dynamic Template function for creating custom post type layouts along with 75+ pre-styled post entry cards
Full compatibility with WooCommerce, WPML, Toolset, TablePress, and other popular plugins (including the bundled Slider Revolution premium plugin)
The WPBakery drag and drop page builder and its page layout management add-on
More than 500 live customizer settings and a built in font manager
Total, with its selections of built-in filters and hooks, more than 600 snippets and custom addons is exceptionally developer friendly. Click on the banner and take advantage of the 50% Cyber Monday discount. (Discount automatically applied. Offer valid November 23,2021 at 5am UTC through December 1, 2021 12:59pm UTC.)
3. Amelia WordPress Booking Plugin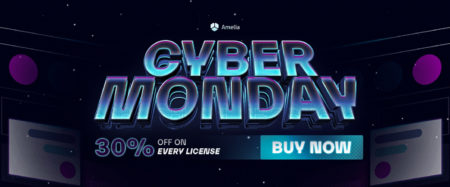 Whether your business's booking operation is manual, wearisome, and error prone, or automated yet limited in its capabilities, this would be a good time to invest in a premium, professionally-designed booking application while at the same time realizing significant (30% off) savings.
Amelia can manage an unlimited number of appointments, including group and event bookings
Appointments and employee assignments and schedules can be managed for multiple locations from a single platform and a single dashboard
Clients and customers can make and manage their own appointments online 24/7
Customers can make deposits or payments online and receive automatic reminders of appointment times and payments due.
Booking forms are user-friendly and can be customized to match a business's brand.
Yearly and lifetime subscriptions are available (with a 15-day money back guarantee). Click on the banner to learn more about Amelia's many features.
4. TheGem – Creative Multipurpose & WooCommerce WordPress Theme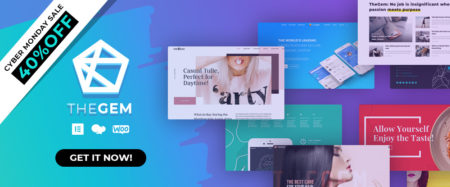 In the event you let Black Friday slip by, you can still purchase TheGem's ultimate multi-purpose toolbox at the Cyber Monday 40% discount rate.
Inside this ultimate toolbox you'll find –
400+ premium pre-built multi- and one-page websites and templates with multiple customization options
Elementor and WPBakery page builder compatibility
Extended WooCommerce features for superior online shopping
Pre-designed web-page sections (TheGem blocks)
Premium bundled plugins like WP Rocket for best performace and Revolution Slider for amazing slideshows
Click on the banner to learn more about this popular, Google friendly theme.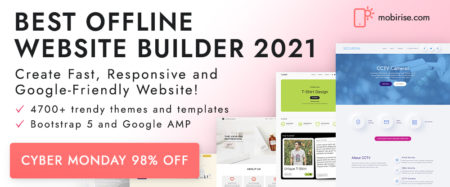 The Mobirise website builder is rich in the website- and page-building tools and features you would expect, but with an additional feature that sets it apart. Mobirise is an offline website builder – which means –
You are not tied to any platform
You can host your site wherever you want
You have complete control
Mobirise is drag and drop, it is based on Bootstrap 5 or Google AMP for speed, and it features more than 4,700 website-building templates.
6. wpDataTables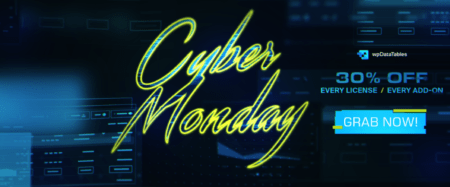 wpDataTables is the most popular WordPress table and chart-building plugin on the market.
The wpDataTables plugin –
Quickly and easily processes thousands of rows of data from multiple sources and formats to create responsive, customizable, and easily editable tables and charts.
Creates easily readable and highly informative tables and charts using sorting, filtering, and conditional formatting to highlight key information.
Click on the banner to learn more about wpDataTables many impressive features.
7. Litho – Multipurpose Elementor WordPress Theme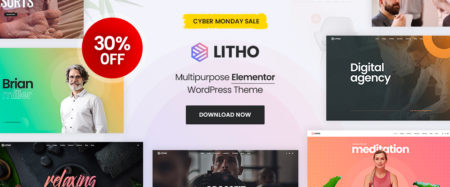 The Litho multipurpose Elementor WordPress theme is an excellent choice for building individual, agency, startup, or small business websites.
Litho's package includes –
Unique selections of flexibility-enhancing home pages and template blocks
Bootstrap 5 features for fast loading speeds
A premium Slider Revolution plugin
Detailed online documentation
Litho is also a great tool for building a blog, portfolio, or eCommerce website.
8. Portfoliobox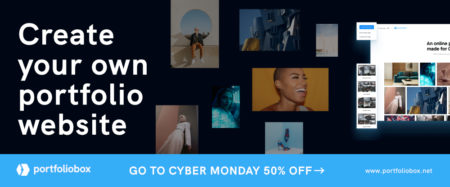 A 50% discount on any premium portfolio building tool would be a great find. A similar discount on Portfoliobox is not to be ignored.
What is included in this not-to-be-missed Cyber Monday special?
Mix and match templates that will give you the flexibility needed to achieve whatever look you desire
Built-in eCommerce and Lightroom integration
Private client galleries, image watermarking, and other security features
First class customer support
Check it out.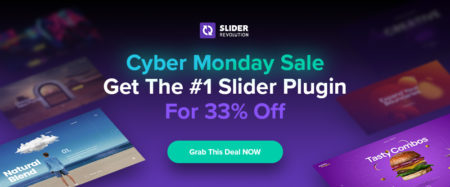 A Cyber Monday discount on this premium WordPress plugin is yet another not-to-be-missed opportunity.
Especially since Slider Revolution gives you –
Selections of advanced animations and special effects that can take any website design to the next level and WOW your clients in the process
Access to impressive selections of state-of-the-art templates and addons
Ready access to Slider Revolution's highly acclaimed customer support team
Don't miss out on this one!
10. 8bio – Linktree Alternative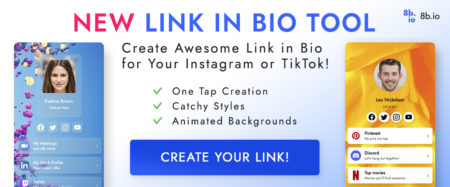 8b.io allows you to easily create a link you can add to your Instagram or TikTok profile.
Create the link in 8bio, enter your social media username, and your link will automatically be incorporated into the social media profile.
You can dress up your link with a beautiful skin or an animated background
You can add a shopping card, a contact section, or more.
Mention code CM8BIO to receive a 50% discount.
*****
To help you prepare for Cyber Monday, the biggest retail holiday of the year, we're only too happy to offer this selection of the best Cyber Monday specials.
We hope that you will find that one, if not more, of these specials will not only appeal to you, but will help make your day!