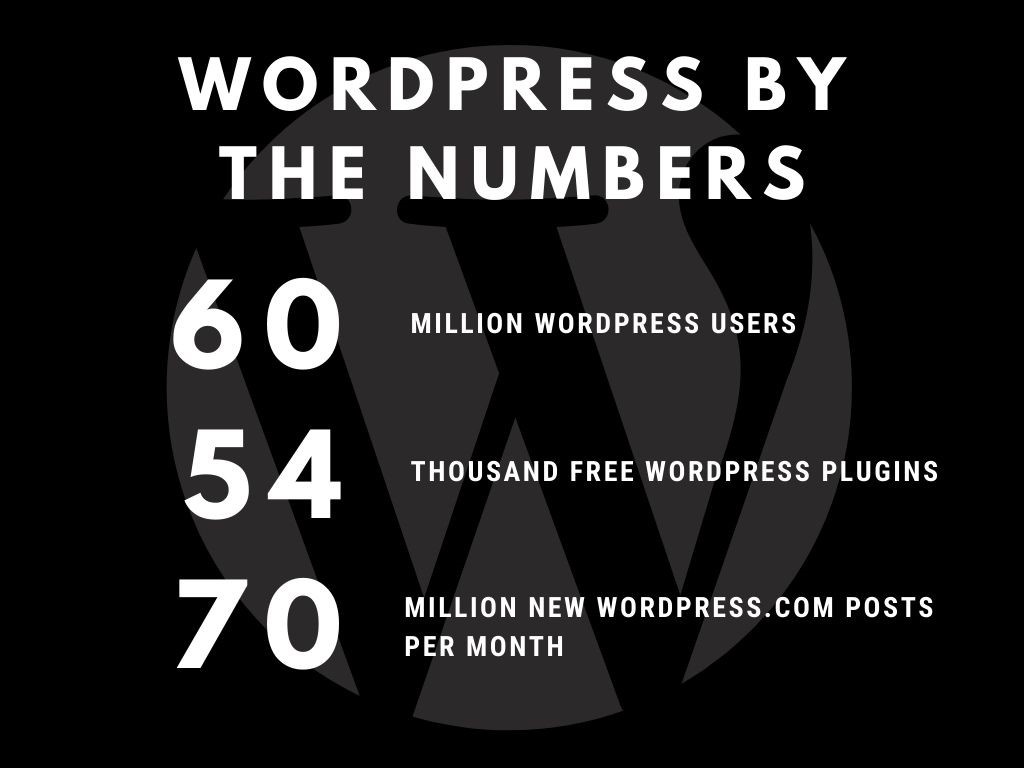 WordPress isn't just one of the most popular content management systems in the world. It's the most popular CMS around. More websites are built on the platform than you might realize. And with the never ending supply of resources available to customize it, it's no wonder WordPress powers over one-third of the web.
Let's take a deeper look by exploring some key WordPress statistics in 2019 including how many sites use it, why it's so popular, and what kinds of people and companies use WordPress as their web publishing platform.
How Many Websites are Built on WordPress?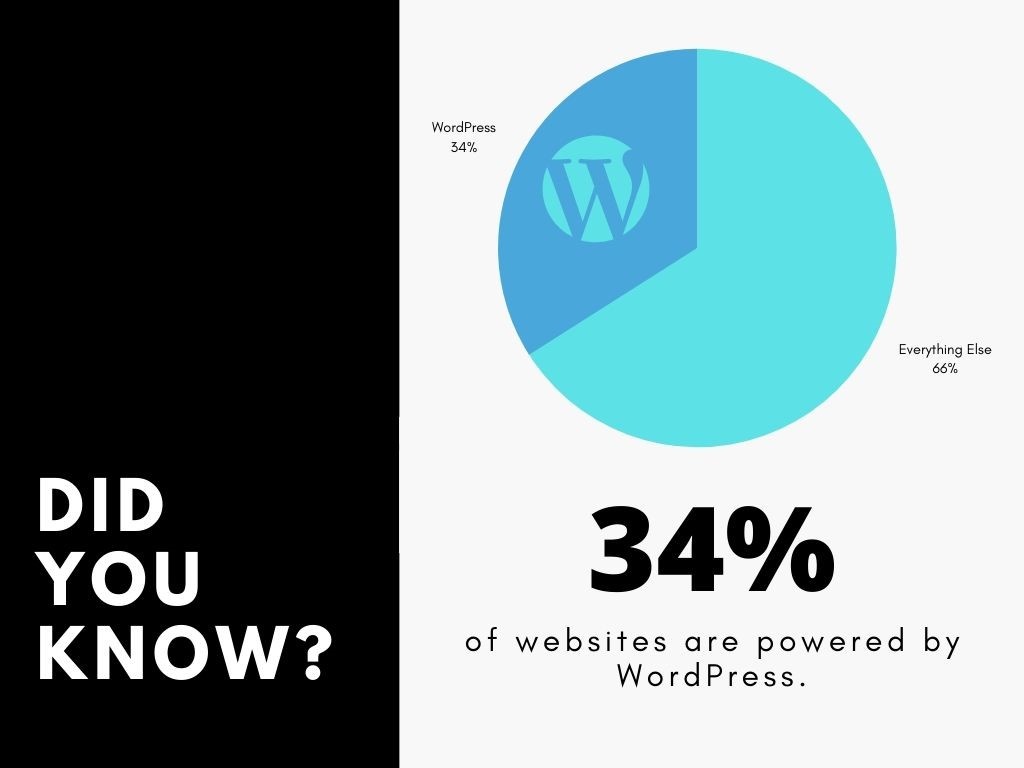 According to WordPress.org, WordPress powers around 34% of websites, and the CMS has been used by over 60 million people.
To put that in perspective, that's around as many people as you'll find in the entire population of Italy.
That doesn't mean all WordPress sites are currently active though. According to BuiltWith.com, there are currently around 27 million active WordPress sites.
And to put that in perspective, here's how other content management systems compare:
Joomla! –  Around 1.8 million active websites
Drupal – A little over 651,000 active websites
Ghost – About 27,000 active websites
Medium – Around 10,500 active websites
When it comes to high-traffic websites, WordPress does even better, powering 38.5% of the top 10,000 sites.
WordPress Themes & Plugins
Why do so many people use WordPress? The fact that both self-hosted WordPress (WordPress.org) and Automattic's hosted version (WordPress.com) are free doesn't hurt.
It's more than that though. Perhaps the biggest strength of WordPress is how easy it is to customize. This is thanks to the vast number of themes and plugins available. Themes are website design templates specifically built for WordPress. And plugins add extra functionality to WordPress sites – like e-commerce stores.
How Many WordPress Themes are There?
In addition to the thousands of free themes in the WordPress theme repository, there are many premium themes available also. For example, on Envato's popular Theme Forest marketplace, you can find nearly 12,000 premium WordPress themes.
Other theme developers sell their products independently. Two popular examples are Genesis from StudioPress and Divi from Elegant Themes.
How Many WordPress Plugins are There?
There are currently more than 54,000 plugins in the free WordPress plugin repository alone. There are many other premium plugins available including over 7100 premium WordPress Plugins on Code Canyon in addition to the many themes sold directly by their developers.
No matter what you need your WordPress site to do, there's a plugin for that. Here are just a handful of the most popular free WordPress plugins and what they can do for you:
Who Uses WordPress?
WordPress can be found powering sites all across the globe. While around half of WordPress users are employing it for English-speaking audiences, they're far from alone. And it's used by even major brands.
Let's look more at who actually uses WordPress on their sites.
WordPress Around the World (The Many Languages of WordPress Users)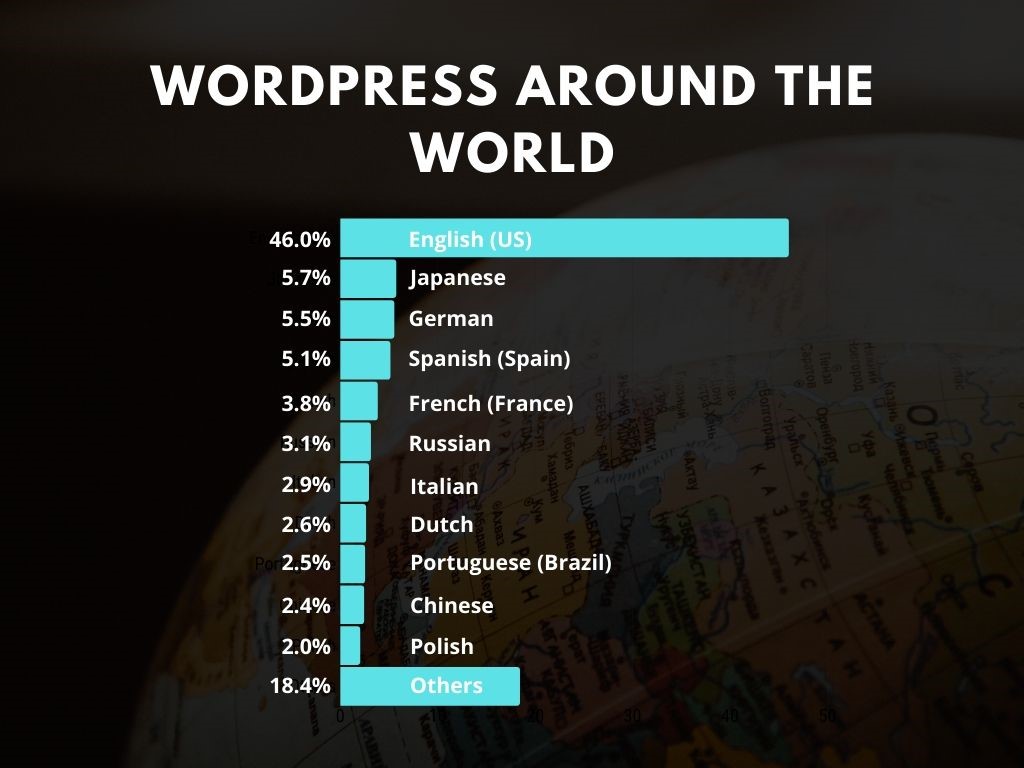 According to user statistics from WordPress.org:
5.7% of WordPress users are in Japan;
5.5% of WordPress users are in Germany;
5.1% of WordPress users are in Spain;
3.8% of WordPress users are in France;
3.1% of WordPress users are in Russia;
2.9% of WordPress users are Italian;
2.6% of WordPress users are Dutch;
2.5% of WordPress users are in Brazil;
2.4% of WordPress users are Chinese;
2.0% of WordPress users are Polish.
WordPress.com is also used to host websites in a wide variety of languages:
English: 71%
Spanish: 4.7%
Indonesian: 2.4%
Portuguese: 2.3%
French: 1.5%
Russian: 1.3%
German: 1.2%
Italian: 1.0%
As you can see, WordPress is a global phenomenon when it comes to web publishing. The platform's admin area has been translated into over 65 languages according to WPbeginner.com.
Brands Using WordPress
It isn't just independent bloggers using WordPress as their platform of choice. When you check out the WordPress Website Showcase, you'll discover even well-known brands and organizations have been run on different versions of WordPress over the years.
Examples include:
What About WordPress.com?
Even more major brands publish at least some of their online content on the WordPress.com hosted platform. For example:
CNN
NBC Sports
UPS
TechCrunch
The NFL
According to WordPress.com activity statistics, users of the hosted service alone publish around 70 million new posts each month.
WordPress in E-commerce
When you think of WordPress, you might initially think it's just a blogging platform. But WordPress is a robust platform powering everything from blogs to directories to online stores.
Thanks to the WooCommerce plugin, WordPress is a popular e-commerce option, used to add shops to larger websites or to run entire e-commerce sites.
According to Datanyze, WooCommerce has over a 29% market share among e-commerce platforms. That means chances are good if you've ever made a purchase online, you've bought things through a WordPress website.
No matter what kind of website you want to launch WordPress can do it all. Corporate sites. Personal blogs. E-commerce stores. Online courses. Directories. Job boards. Small business sites. If you want to build it, WordPress probably has the tools you're looking for.
WordPress remains easy enough to use for even beginners, but it's also so customizable thanks to themes and plugins that it can serve even the largest organizations. So what are you waiting for? Download WordPress today or visit WordPress.com to set up your new website or blog and join over 60 million other WordPress users.