The key to maintaining your consumers' satisfaction is usability testing. It will not only assist them, but it will also assist you in reducing expenses and saving time. Rational thinking and best practices will only get you so far. Usability testing is essential for enhancing client satisfaction since it allows you to learn how users interact with your product.
Although just 55% of businesses conduct any customer experience testing, purposeful and planned UX may increase conversion rates by up to 400%. User experience (UX) testing tools assess a website or application and offer insights for enhanced online experiences.
Usability testing done correctly, at the appropriate time, with the appropriate people decreases the chance of developing the incorrect product. It also helps save time, money, and other valuable resources. In other words, if done early on, when the product is still in the paper prototype phase, it detects issues when they are simple and inexpensive to solve.
In this article, we will talk about the top 8 usability testing tools in 2022. These tools will help you makes quick and confident judgments about your product's usability at every stage of its life cycle. However, first, let us talk about the importance of usability testing.
Why is Usability Testing Important?
Before we talk of the importance of usability testing, you must first understand what it is.
So, what is usability testing? Usability testing is similar to black-box analysis of software to see if the final result is simple to use and understand. It is the practice of putting your product through its paces with actual people while monitoring and recording their experiences. It helps determine whether your product is practical and straightforward enough for users to achieve their objectives.
Understanding how customers interact with your product is important to improve their satisfaction and engagement. One wrong design decision, and you may end up significantly reducing your customer base.
As an example, Mac successfully reduced its support calls by 90% by slightly tweaking its UI design.
Testing your website's usability helps you check whether the product meets users' requirements. It also tells you whether or not your business decisions match real-world use. A positive usability test indicates that your website's UX is user-friendly which in turn lowers bounce rates and improves its ranking.
Top 8 usability testing tools in 2022
1. Maze

Maze is a quick usability tool that gets you answers from real users in real-time in merely a few moments. It allows you to collect both quantitative and qualitative data in a single convenient place. The tool can import a preexisting model from Adobe XD, InVision, Figma, Sketch, or Marvel. It allows you to build and execute in-depth usability assessments, which you can then share with your reviewers via a link.
Standout features
Allows you to share tests simply via URL so users may test it at their own convenience
You can use test templates from Maze or create your own
It lets you collect feedback early in the design process saving you time and money
It has several innovative features like guerilla testing, wireframe testing, and rich testing
2. Usabilla

Usabilla is a thorough usability testing tool with a plethora of essential features for ensuring a consistent user experience. This tool can be used to collect consumer feedback. It offers a customizable feedback button that you can use to collect real-time opinions on your smartphone app, website, or just a few portions of your website.
Standout features
Collects real-time feedback on your website, phone application, and prototypes
You can analyze the data in your own environment by pulling data into your environment
To get a meaningful and accurate evaluation, you can include response buttons in your content and emails
You may visualize the data in the form of bars, graphs, and pie charts
3. Crazyegg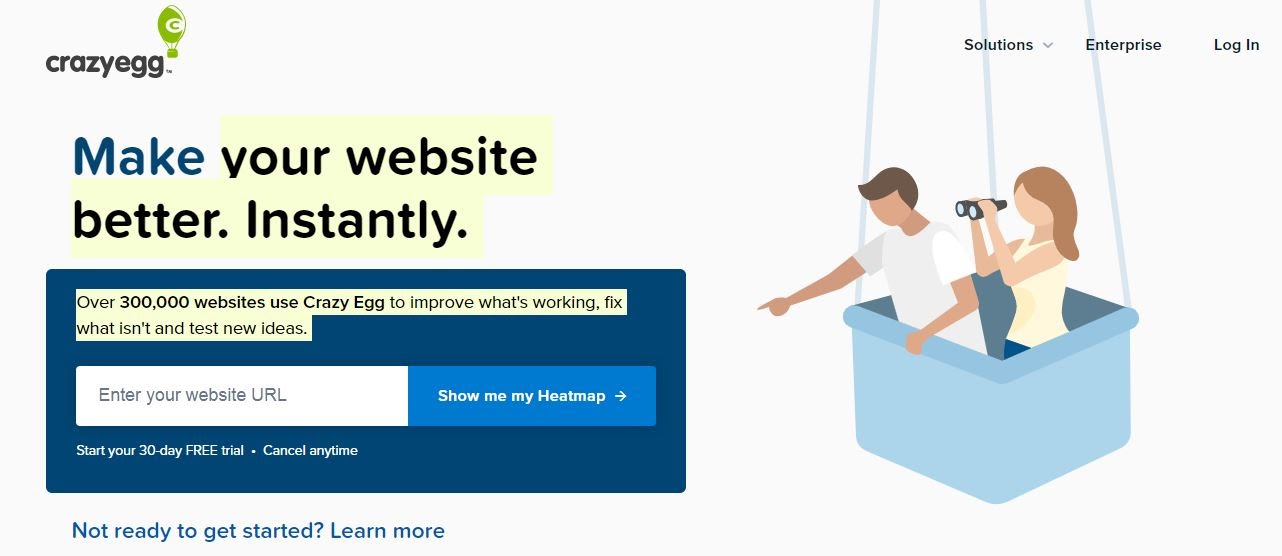 Crazyegg is another usability testing tool with features that help you to identify what visitors want and detest on your website or application. It has an incredibly simple UI/UX. It assists organizations in determining what works and what doesn't in order to give the greatest possible customer experience.
Crazyegg removes the need for speculation and allows businesses to run based on real concealed user feedback obtained by studying their interactions with the website/app.
Standout features
The Heatmap function aids in the discovery of the most appealing sections on a webpage for viewers, as well as which elements pique their interest. It all adds up to a website or mobile app that is not only simple to use but also extremely user-centric. Heatmap filters aid in the segmentation of client groups.
Enables easy-to-understand visual reports for assessment.
Allows you to check how many times a certain part of a webpage has been clicked.
4. User Testing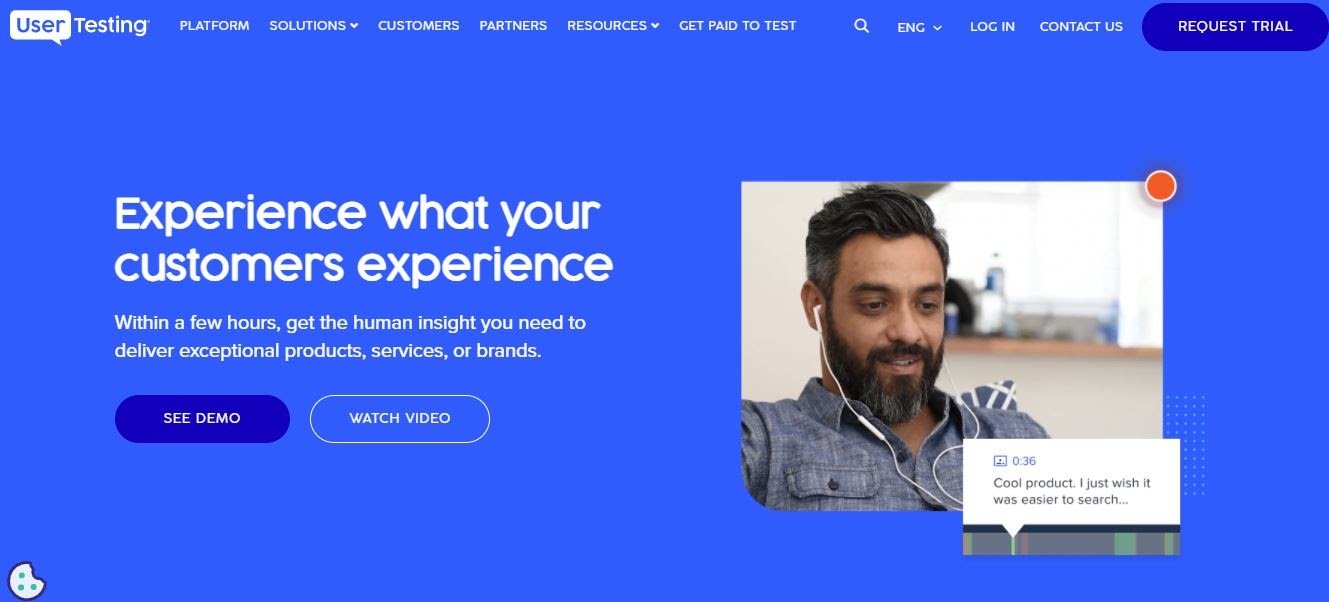 Another usability evaluation tool is User Testing, which aids in generating leads, UI/UX interaction, product enhancement, and more. It's a useful tool for bridging the "empathy gap." It relates to the disparity between how customer-centric organizations believe they are (75%) and how consumers believe they are (30% ).
Standout features
Allows for the construction of custom tests to meet the demands of every company.
It provides users with whom you can conduct usability testing.
It integrates seamlessly with other technologies such as Slack, Adobe XD, Jira, and Trello.
User Testing gives you demographic analysis of your website's testing, that matches your target audience
5. Content Square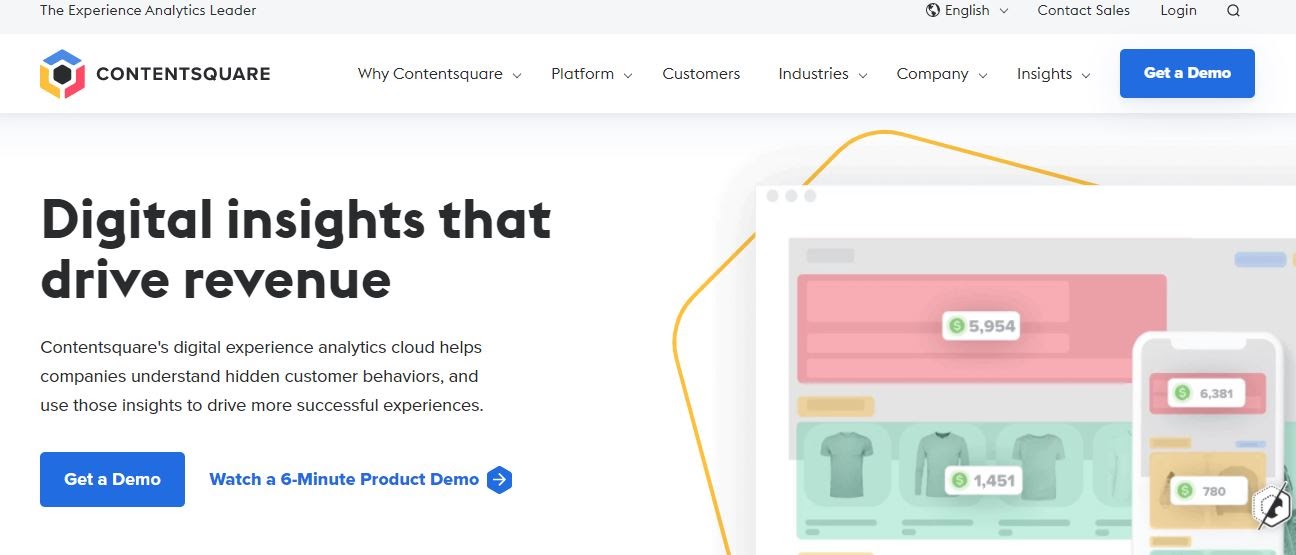 You may use ContentSquare to test the usability of both websites and mobile apps. This usability testing application has a function called "Experience Center" that allows you to create multiple dashboards.
Multiple dashboards display multiple KPIs, allowing teams of executives, analysts, programmers, and others to keep in sync. It aids in the tracking of users' behavior on sites and apps in order to gain a better understanding of their entire experience.
Standout features
You can examine what triggers crashes by looking at the Crash Trends analysis. You can also look at each crash's recorded periods and examine the primary behaviors of users who were involved in the event.
Using Content Square's visual reports and analysis feature, it's simple to spot bottlenecks in the user path
6. TryMyUI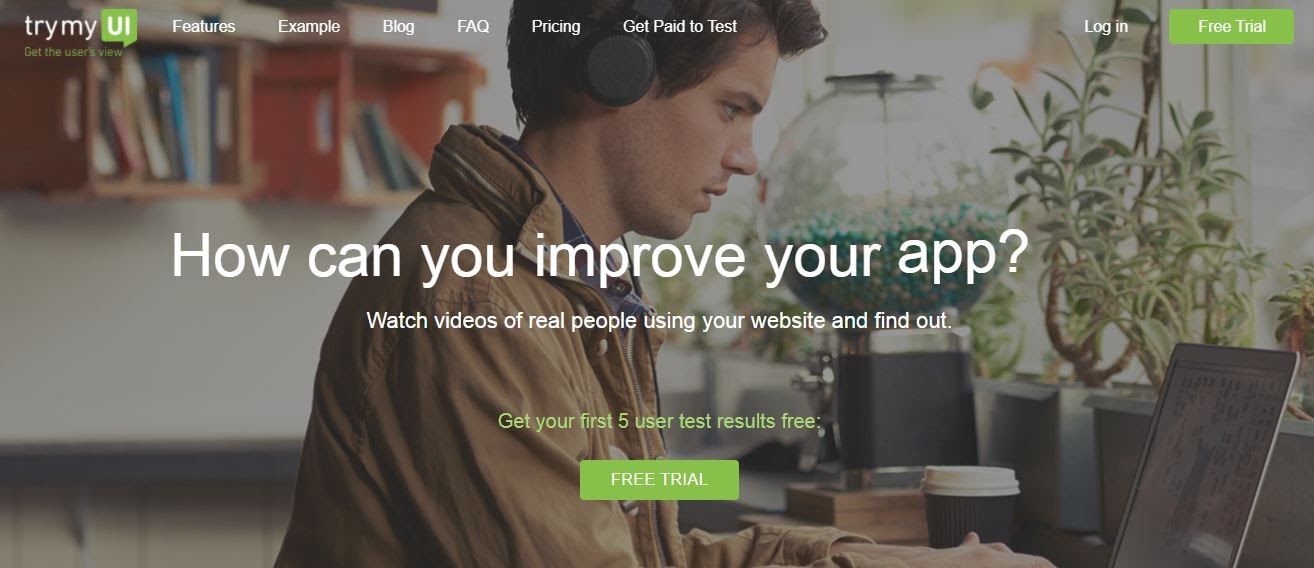 TryMyUI is a low-cost usability testing tool that enables you to conduct tests from anywhere. It provides cross-platform usability testing facilities. It's an excellent tool for determining where your website and smartphone app fall short in terms of customer experience.
You can create custom tests with specified tasks for people to complete in order to gain exact responses and a resolution to a specific issue using the tool.
Standout features
The System Usability Scale Questionnaire can be used to track mouse clicks and inputs
TryMyUI can also be used to test mobile apps
Basic functions, complex filtering, statistical approach, and interactive analysis are all available
It may enable you to do tests with your testers
7. UserZoom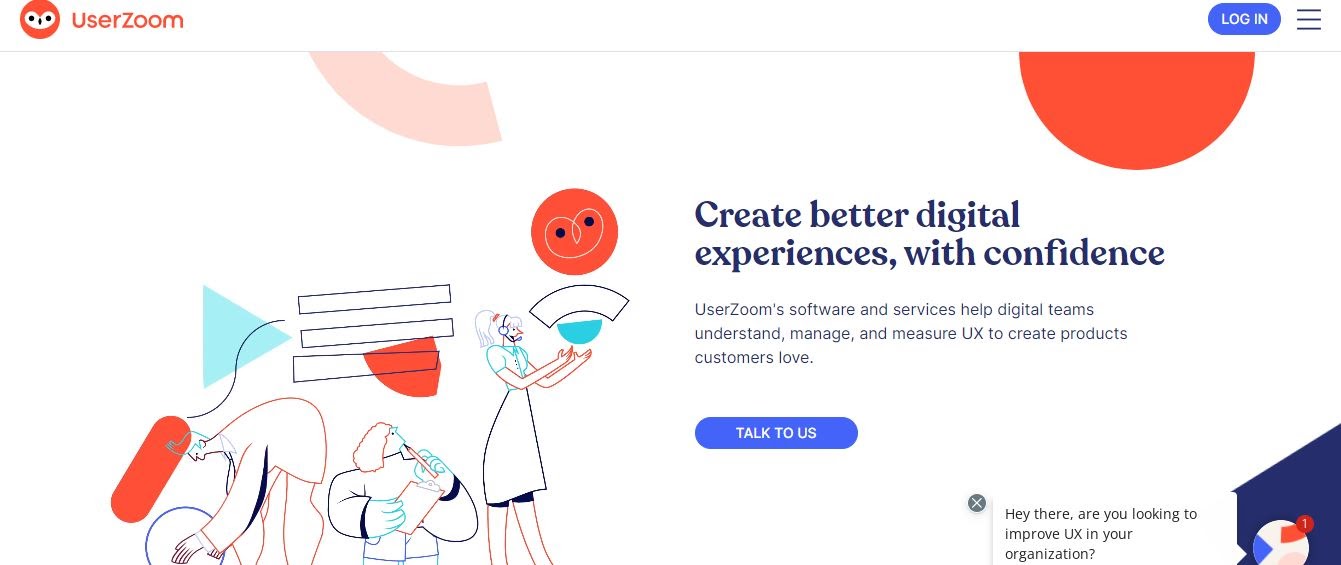 UserZoom is a well-known all-in-one tool for usability testing with excellent customer service. The system boasts to provide a 537 percent return on investment when used. This user testing tool is appealing because it only charges for the services you want to utilize.
Small and medium organizations that do not need a full range of online usability evaluation tools will benefit from this feature-based payment approach.
For software usability testing, the platform has a database of 120 million individuals. To achieve scalability, it automates UX research. Apart from recording user experience, UserZoom also delivers analytics data.
Standout features
The platform includes reports that include click data, user actions, unique views, heat maps, and more
Provides moderated or unmoderated remote or in-lab services
You can watch interviews and sessions on this site
Users can be interviewed while using the app
UserZoom study templates are supplied for users to use as needed
8. Optimal Workshop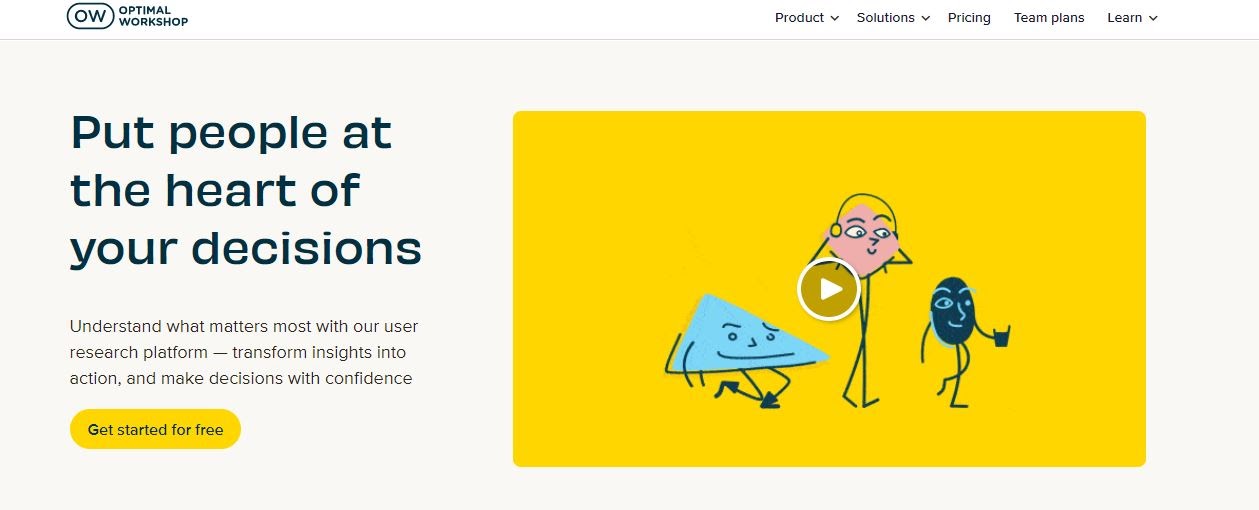 Optimal Workshop has a lot of features that you'd expect from an online usability testing software. Each feature has a distinct purpose. One of this tool's key advantages is its remarkable speed. The Optimal Workshop is proud of the fact that individuals can complete courses in less than 4 hours.
The usability testing platform also provides a tool that allows you to recruit volunteers for your research and tests using the site. It is uncomplicated software with capabilities such as segmentation and filtering for user demographics.
Standout features
It includes a Treejack feature that evaluates a product's or project's data architecture.
Another tool, "Chalkmark," allows customers to evaluate anything from wireframes to prototypes to websites and smartphone applications, making it quicker to find and fix problems.
Polls, card sorting quizzes, and other elements are included
Wrapping Up Top 8 Usability Testing Tools in 2022
We have come to the end of this list. Hopefully, this list has helped you choose the right usability testing tool for your website. Remember, usability testing is the key to maintaining user satisfaction and increasing conversions.
Usability testing is required to guarantee that the system is usable by the target demographic. This testing is usually done concurrently with the development cycle, which aids in improving the system's design in terms of innovation.
It is quite important in establishing that your website is the greatest among many others. Once the website's performance and productivity have been established, the user's contentment can be assured.