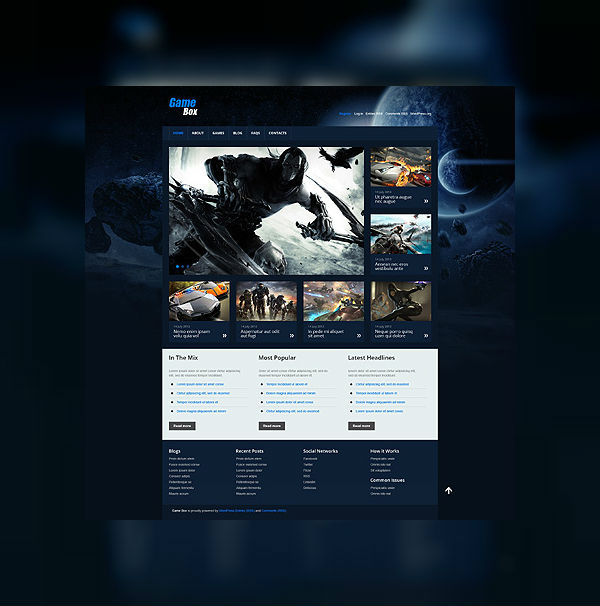 Games create a second reality. They can turn a common office worker into a daemon-slayer or car races. They can make you a hero of a story worth reading, or let you communicate in the environment that never existed on Earth.
But why are they called a second reality? What we get from them is not less real then what we get out of our daily experiences. We develop our will-power, reinforce desire to win and overcome the obstacles. We learn to give everything a second try, not to be afraid of difficulties and misfortunes and, sometimes, even to cheat in order to get what we want. Gaming space is a training ground where we model our behavior and reassert our winner approach to life. Moreover, game world is probably the best place to distress and blow the steam off. It is much more effective then releasing anger and tension by punching a pillow. Games reward you for beating the obstacles and reestablish healthy belief in one's competence.
At present games win over audiences with their high resolution graphics, atmospheric landscapes and elaborated elements that make in-game experience seem real. To effectively present different games a website should also reflect these concepts. Being tech-savvy, atmospheric and carefully designed, it will attract gamers rather then push them off with its outdated look. A gaming website that reflects what people are looking for in games is the best place for joining and staying in touch with the gaming community of today. Fortunately, you do not have to design it all from scratch like back in the 90s and can get a high-quality eye-candy just within 15 minutes with a predesigned theme.
Why a Pre-designed Theme Beats a Custom Design?
1) It lets you win time. You do not have to take trouble over finding a right designer and elaborating everything from scratch. No long expectation as it is already there.
2) It saves your funds up to 10 times. I bet you have alternatives how you can productively use them.
3) It is easy to install and adjust. Multiple options will give it a unique outlook that beats custom designs. Technical support is available 24/7.
4) Great images that come with the theme become your property. You can reuse them as long as you want.
In this post we have selected 10 best up-to-date templates that will revamp your game empire. Take a closer look at them and launch a new generation gaming universe with one of them!
In Motion: Games Responsive WordPress Theme
This dynamic two-color theme conveys the sleekness of dark grey combined with the energy of basic green. Domination of pictures in the theme layout allows you to demonstrate all the highlights of your place.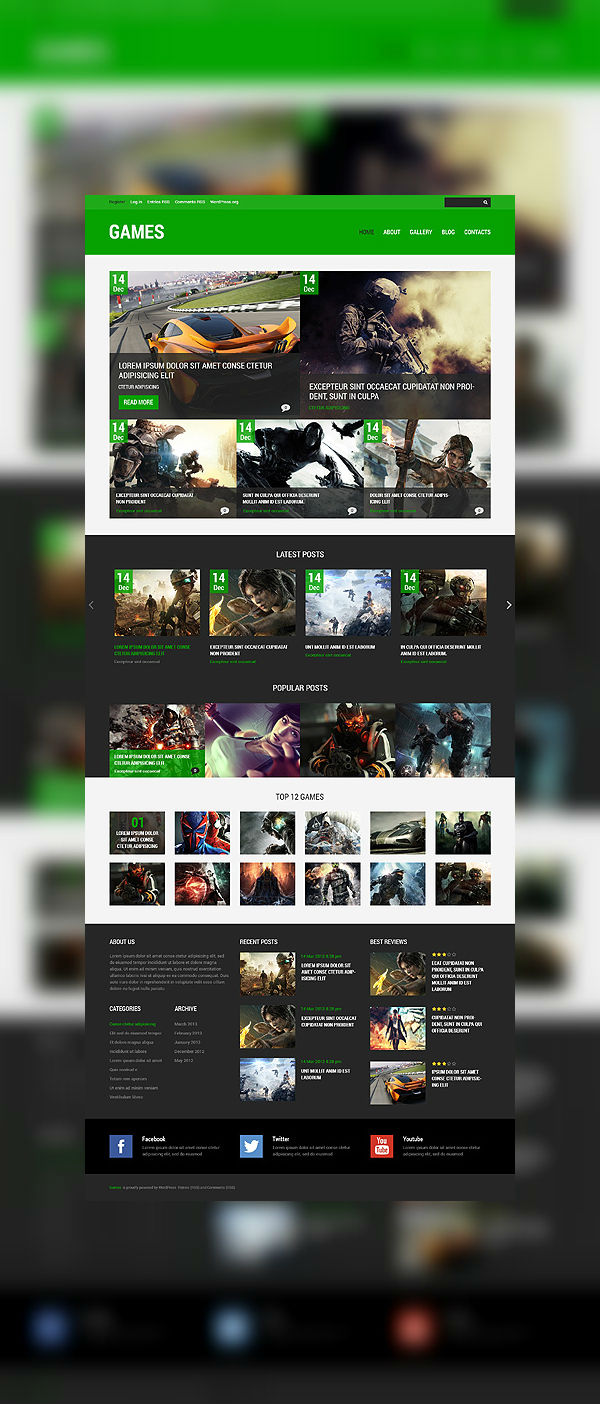 Color Mosaic: Game Reviews WordPress Template
This template introduces a bright multi-color layout. It will perfectly accommodate different game genres and types and is attractive for gaming audiences of various age and interests.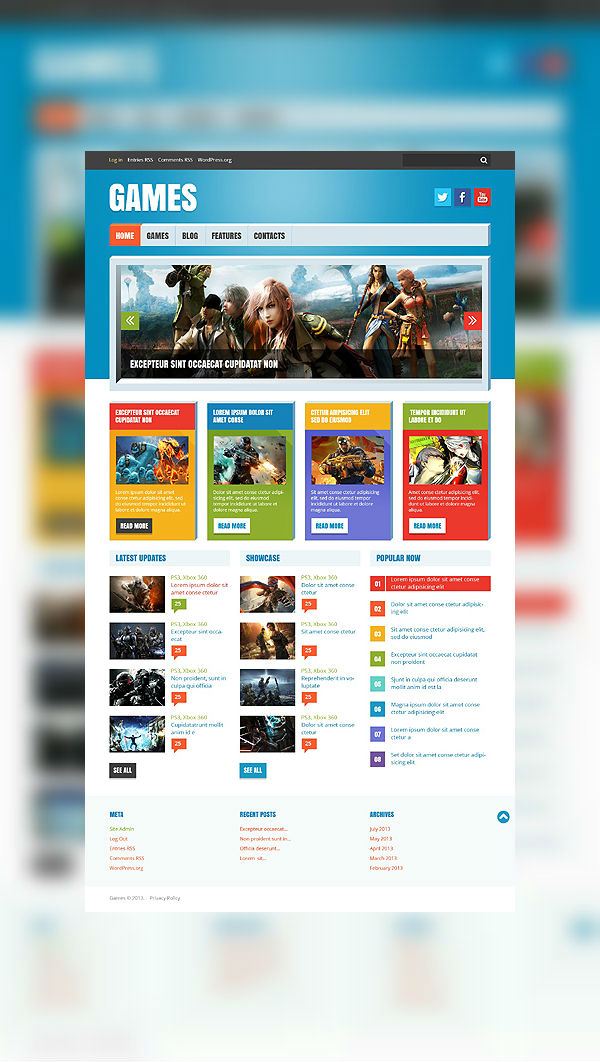 Best Tradition Billiard Club WordPress Design
This design has some retro feeling to it. Handwriting elements and chamfered angles give a feeling of comfort, luxury and relaxed atmosphere that accompanies best billiard facilities.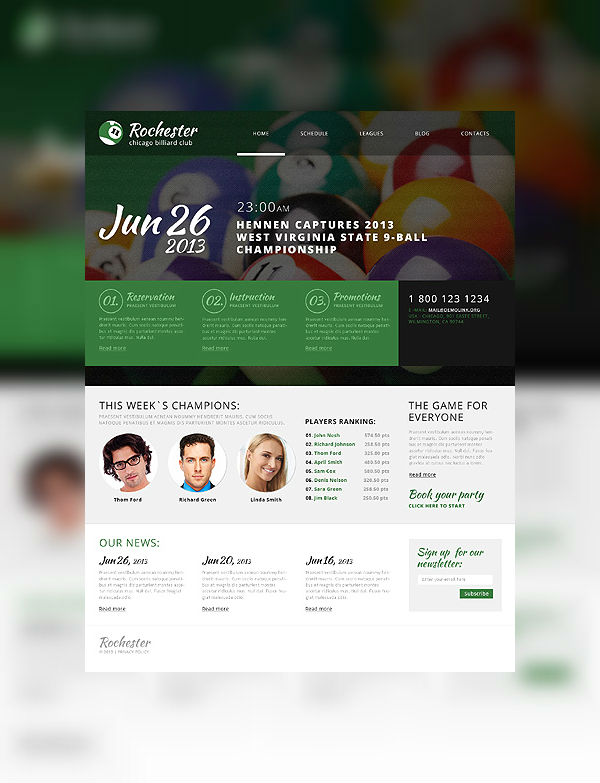 Stylish Billiard Club WordPress Theme
This theme shows that billiards is something more then just a pastime. There is a geometrical beauty behind it, a tradition of how everything should go, a set of rules that make it refined. Demonstrate that your club sticks to the best standards of the game with this visually rich theme.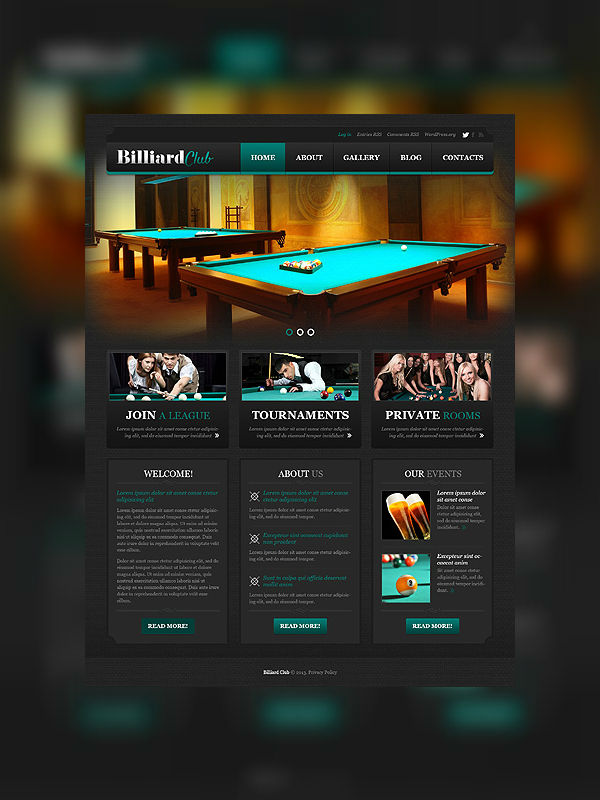 Game Portal Responsive WordPress Theme
Orange modules of this theme remind of tongues of flame and urge to enter the action of the game. Large lightbox allows to bring the featured images from the best games to the spotlight.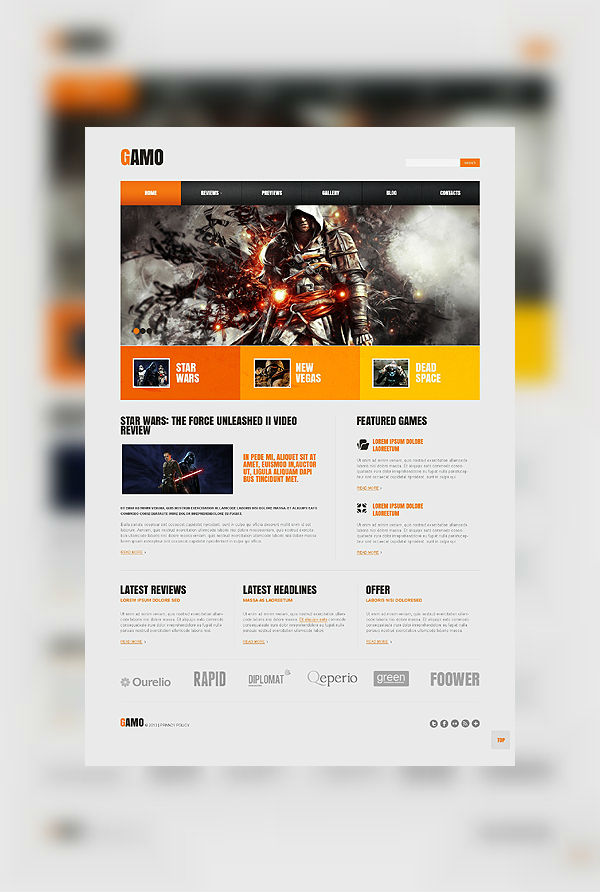 Mysterious Realities: Games Responsive WordPress Design
This dark mysterious design will be great for any content connected with role games. It creates an atmosphere of dark magic and promises a realistic gaming experience. Unusual grid layout will attract additional attention.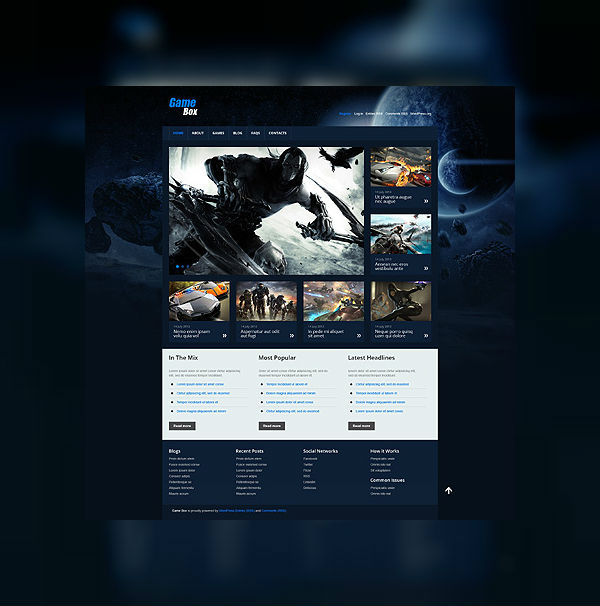 Blood-spotted: Game Portal WordPress Theme
Dramatic red and clandestine white give a feeling of structure as well as dramatic touch to your website. The main message of your webpage is "Act!" as intricate plots and life-and-death situations await gamers on your page.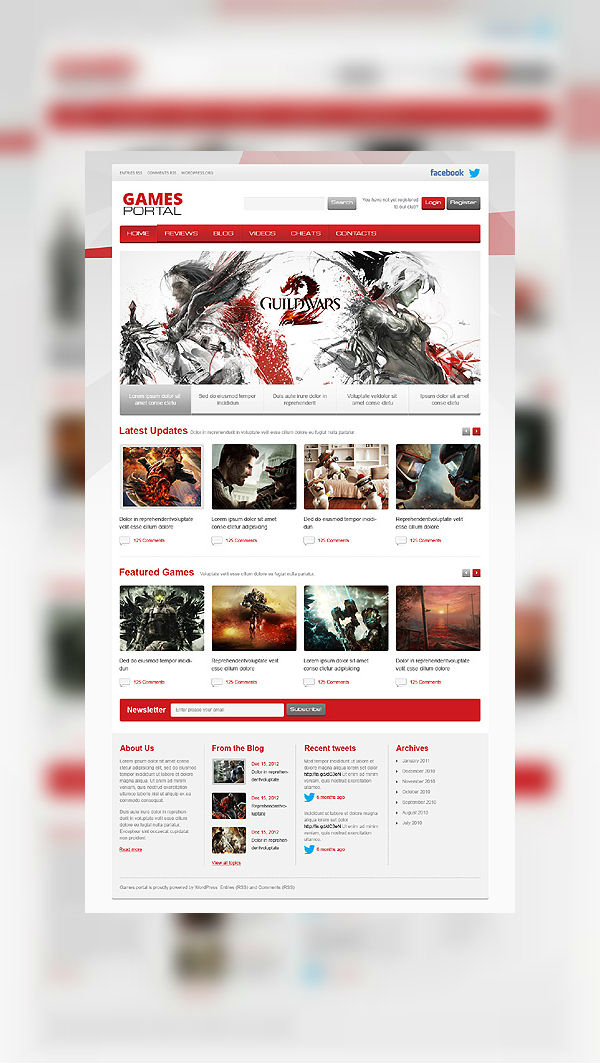 The Spirit of Combat Game Portal WordPress Design
This dimmed theme will perfectly reflect the spirit of combat and action games. Weapons, defence technologies and roughness of severe confrontations will find the best support with this reserved design.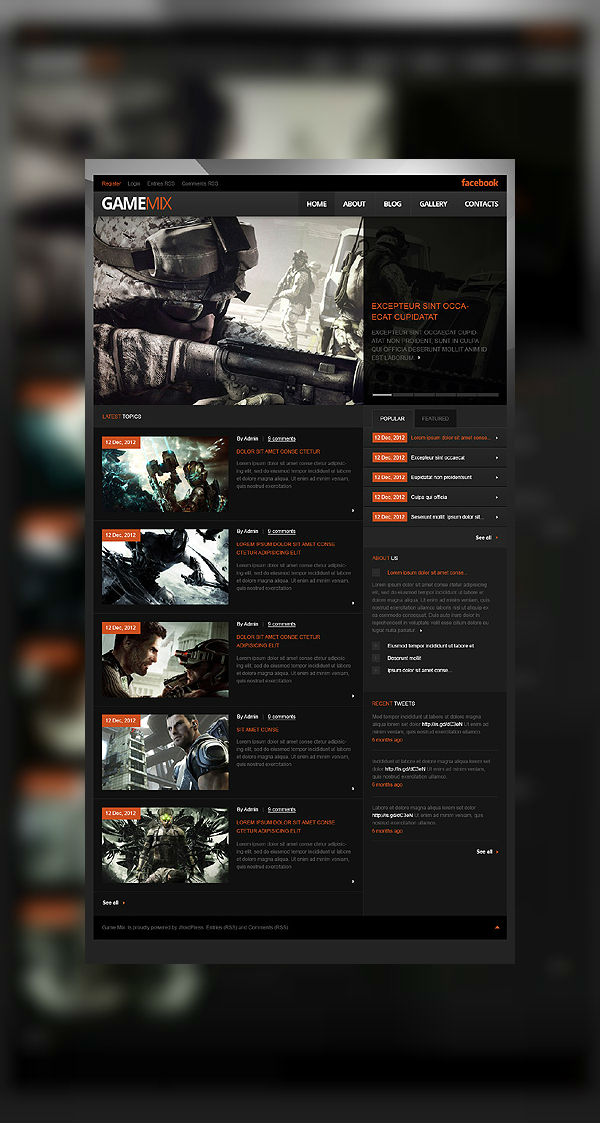 Call of Duty: Game Portal WordPress Theme
There's no place for sob-stuff in heat of a real battle. Sheen of steel and dust over faces. Demonstrate how realistic gaming experience can be with this tree-color theme.

Danger Addiction: Games WordPress Template
Toxic green is often featured in shooting and action games. At the same time, this shade of green is the colour of witches and dark magic. Mysterious light in black night is a perfect winning combination for your website.