If you're new to website building, or simply looking for ways to make your efforts easier and more worthwhile, may we suggest WordPress.
Multiple designers recommend WordPress not only because of the platform's performance and quality, but because of its diversity and flexibility as well – thanks in large part to the huge selection of WordPress themes to choose among.
A "huge" selection is not an exaggeration. More is usually better, but you eventually reach a point of diminishing returns; i.e., you're spending excessive amounts of time trying to find the perfect theme to meet your needs, and you're not getting any work done.
Maybe it's not quite that bad, but life would certainly be easier if you were to be presented with a relatively small number of top quality options.
Which is precisely what we've tried to do for you.
Happy hunting!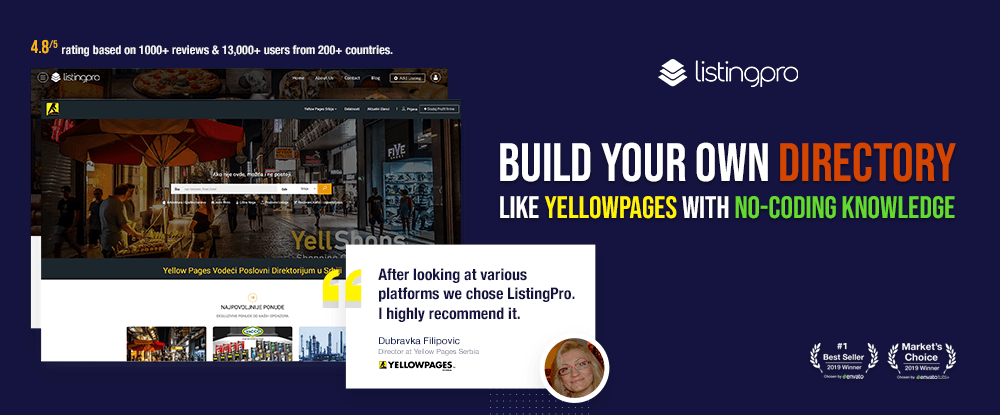 A good WordPress directory solution can be hard to find. Especially one that's considered by those who should know as being the best of the bunch. Problem solved with ListingPro.
This #1 best-selling end-to-end directory theme has attracted 10,000+ entrepreneurs, agencies, freelancers, and other user types from 200+ countries since its 2017 launch.
You have a multitude of options to work with when setting up a directory. The highlights of theme are the intuitive dashboards for both listing owner as well as directory admin to grow their business and the best part is you can start earning instantly.
In addition –
Elementor and WPBakery drag-&-drop page builders are supported
No paid plugins needed, everything included.
User options include but not limited to events management with calendar, ads management, and appointment bookings.
Listing submission autofill with Google Places API which cuts down drastically on information errors.
The setup is quick using easy setup wizard.
Summing it all up; you have everything you need, and the support is outstanding.
"Bought, and shortly after a major update was available. Bill from support helped me out after the initial setup of the update and customized the site within a couple of hours of opening up a ticket. He even provided a bunch of custom videos in which he explained what he did. Good plugin with world class support." wolthuis87
Click on the banner to learn even more about ListingPro.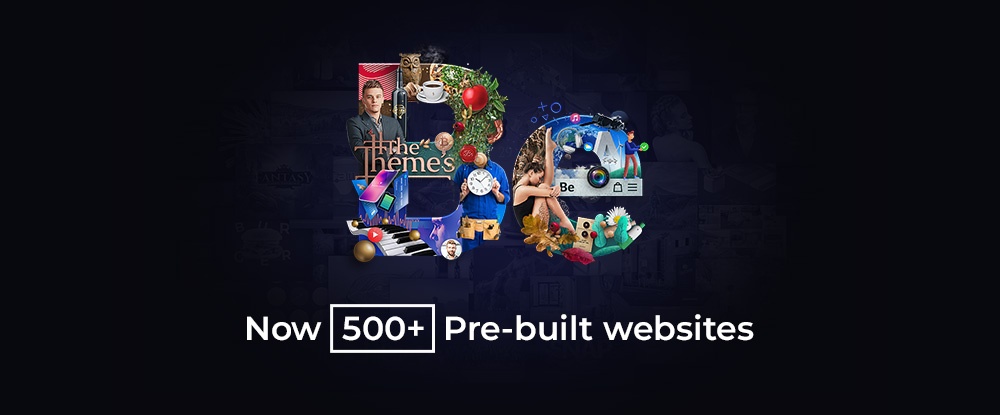 Pick the top web design platform, WordPress; select the biggest theme of them all built for that platform, BeTheme; and you have a lot going for you.
With BeTheme, it usually doesn't matter if you're a beginner or an advanced web designer catering to a large and diverse clientele. It usually doesn't matter either what style or type of website you have in mind.
Consider what BeTheme has to offer.
Flexibility – 40+ core features that taken together provide you with any website design option you're apt to need
Customizability – 500+ customizable pre-built websites covering 30 industry sectors, a whole host of business niches, and all the major website styles and types
No coding necessary – the Muffin Builder page builder, Admin Panel, and shortcodes eliminates the need for coding
Everything else – colors, fonts, header, footer, and grid options, a layout generator, special effects, etc., etc.
Bigger can indeed be better.
"I have been purchasing WP themes from ThemeForest for almost 10 years now and BeTheme is BY FAR the best bang for your buck. The ability to download over 400+ website templates is unbelievable. Would give 6 stars if I could. I purchased a second license for another website and I know it won't be the last time I do so." – ZombieBatman
Click on the banner & check out the pre-built websites.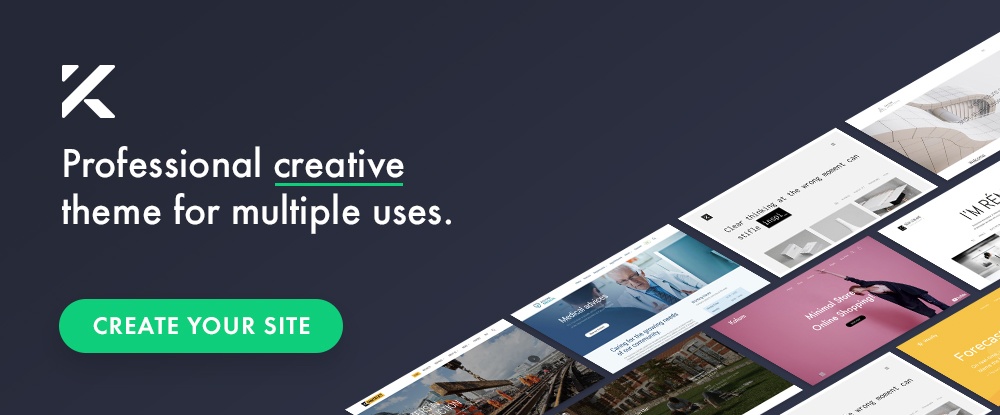 Kalium provides a fast and easy way to build your website. Pick a demo you would like your website to resemble, import it, and get to work. These are pre-made full concept demos and not simply home pages
Kalium also enables you to import everything from sliders and pages to widgets and theme options; whatever you need to build what you want.
Fast and easy also means that Kalium is good for beginners and advanced web designers alike. Beginners won't get frustrated and advance designers can streamline their workflows.
What can you expect in addition to the full-concept demos?
Free premium plugins: WPBakery, Revolution Slider, Elementor, Advanced Custom Fields, Product Filter, Product Size Guide, & WooCOmmerce
A powerful header builder
Free automatic updates
Shortcodes for everything
A font management library
Kalium is also responsive, GDPR compliant, and offers top-of-the-line customer support
More than 32,000 clients have placed their trust in Kalium
"Very good theme, quite fast in terms of performance. Very useful basic functionality and easy to customize on top of it." – orlinkozarev
Click on the banner & see what Kalium holds in store for you.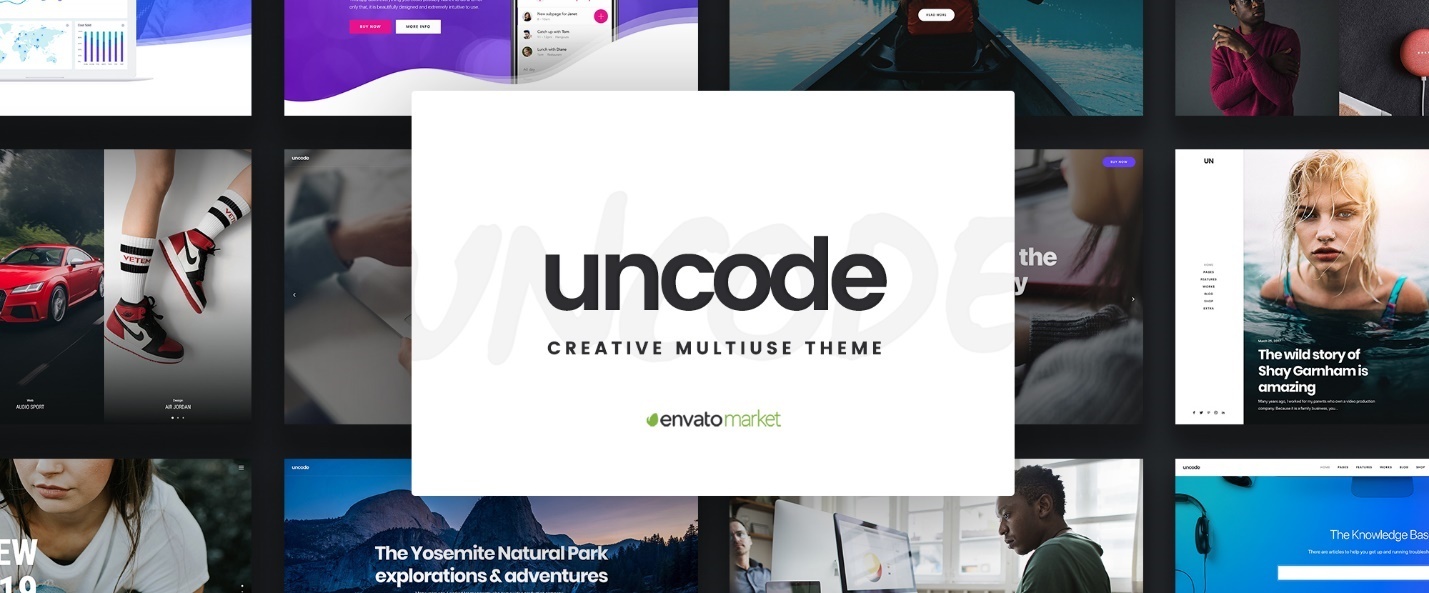 Uncode is a creative, pixel-perfect multiuse theme that was designed with tremendous attention to detail in mind; making it –
An Envato top seller with 60,000 sales and growing
An ideal choice for freelancers and agencies, bloggers, and portfolio and magazine websites
A powerful design tool kit featuring a frontend editor on steroids together with a huge arrange of templates and pixel-perfect concepts
Uncode's showcase of user-created websites is definitely worth a look as a source of ideas and inspiration.
"Can really customize this theme as much as you like. Big fan of it." – righthookstudio
Click on the banner to find out more about Uncode.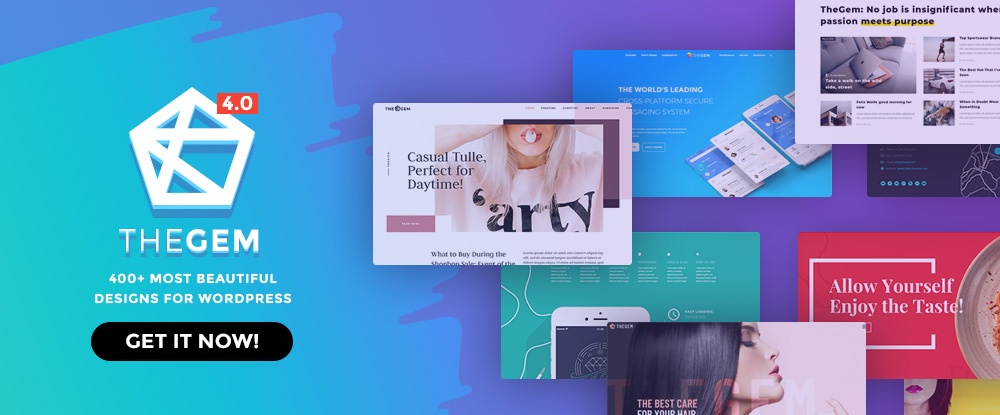 Combine TheGem, with its extensive toolbox for website designers (most users call it the "ultimate" toolbox) with your own creative talents and the sky is indeed the limit.
This is especially true for blogging and online magazine style website designers who stand to profit immensely from the addition of version 4.0's advanced blog grids.
All the old familiar tools that made TheGem the choice of more than 40,000 customers are still there.
"I love everything about this theme. The demo's are fantastic (used the Fashion Photography one which is awesome). It's rock solid – not one problem or one error. integration with WPBakery and Slider Revolution is great. Portfolio / Gallery styles are great. Honestly this is the first theme I've used that hasn't frustrated me to some extent. Great job!" – jmuschar
See for yourself what an ultimate design toolbox looks like by clicking on the banner.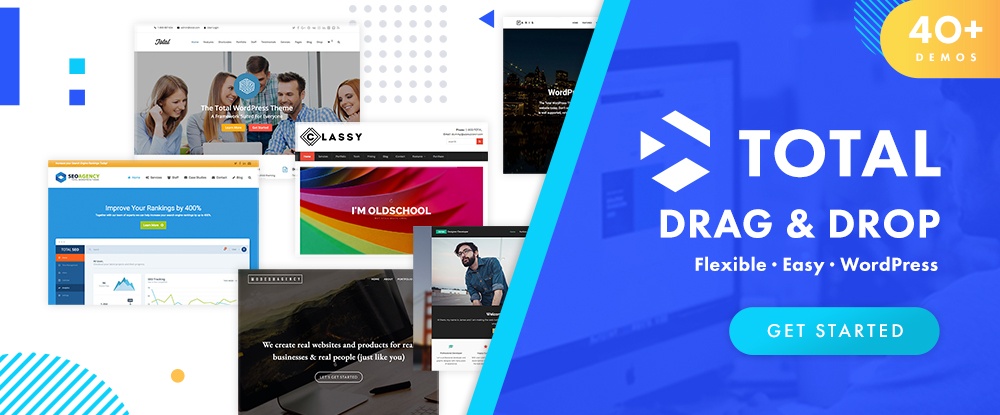 Total is packed with everything you need to get a site up and running, with ease, and without having to manage a ton of 3rd party plugins to make it happen. Total's comprehensive library of design aids includes –
100+ drag and drop page-building modules
500+ styling options
40+ premade demos plus the easy 1-click Demo Importer. The demos make use of Total's core features
Total also can boast of 41,000 happy customers.
"Total is an awesome theme in every respect." – gdcollins1344
Click on the banner to learn more.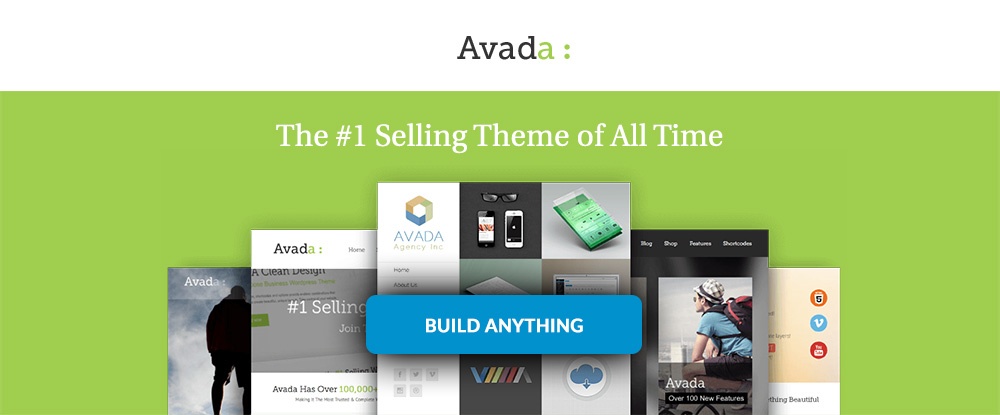 Avada is not only a best-selling theme, it's the #1 top selling team of all time. The Avada package has plenty to offer. There are demos, partial demos, pre-built websites and a host of supporting design elements.
Everything is drag and drop thanks to Avada's Fusion Builder, and the Dynamic Content system provides unparalleled flexibility. Avada also integrates perfectly with WooCommerce.
"Quality and Versatile for a variety of businesses. Also, great costumer service when needed." – TrenderGroup
Click to learn more.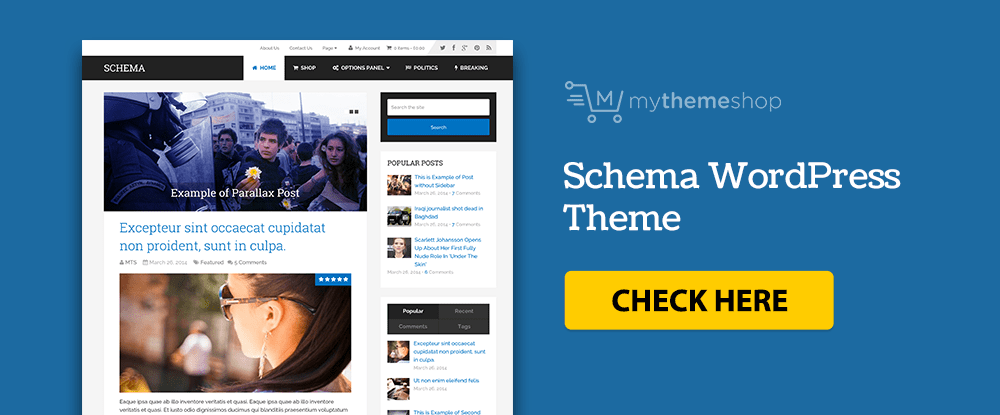 Schema is an ultra-fast, fully responsive theme that has all the design tools and elements a theme needs to lay claim to being a "perfect" theme. Perfect or not, Schema has one feature many if not most themes lack; the tools not only to make a website SEO friendly but to ensure that it indeed is.
Schema guides the search engines through your website to demonstrate what a great job of optimization you've accomplished.
"Schema is one of the fastest themes around, I highly recommend it." – Rashmi
Click the banner to see how you can achieve SEO perfection.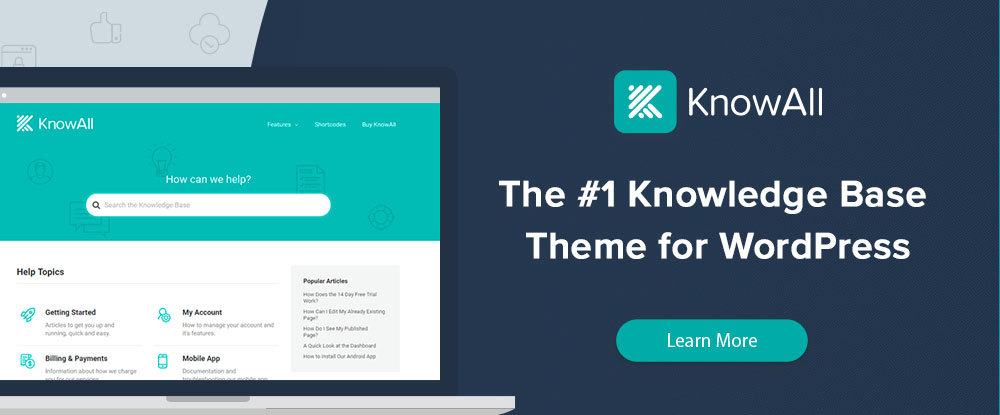 KnowAll is the most popular knowledge base theme for WordPress. Users no longer have to rely on FAQ answers that rarely provide any in-depth information they may be looking for. Key features include live search, instant answers, suggested related content, and suggested content for those who may not be certain what they should be searching for.
KnowAll's Actionable Analytics functions help you get a better feel for what visitors are looking for, including getting feedback on your content from visitors.
Click on the banner to discover how you can benefit from KnowAll.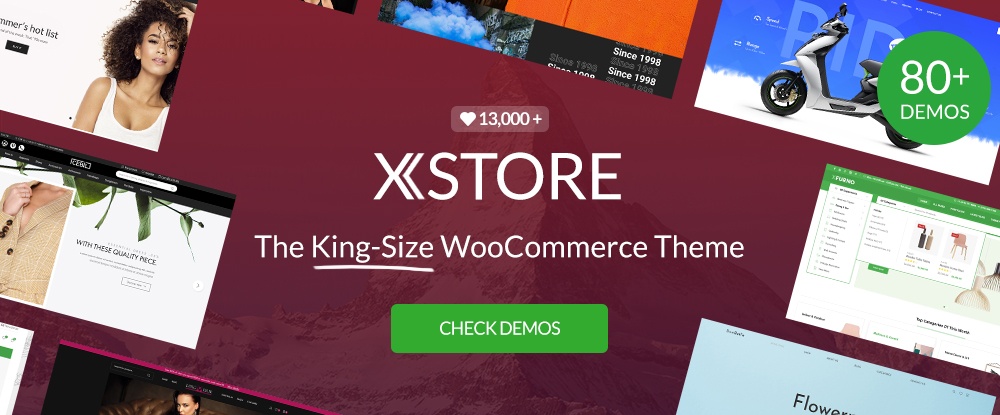 While there are plenty of top quality features and design aides we could list, XStore's library of 80 good-to-go shops should be enough to make you want to pay a visit to the website if you have an online shop in mind.
Other features worth mentioning are XStore's single product page builder, a host of single product type demos, and $300+ worth of premium plugins.
"Great theme with many features. Great support, I highly recommend it. Thank you very much for your patience and for the help you have given me!" – vag335
Click on the banner to discover an easy way to build an online shop.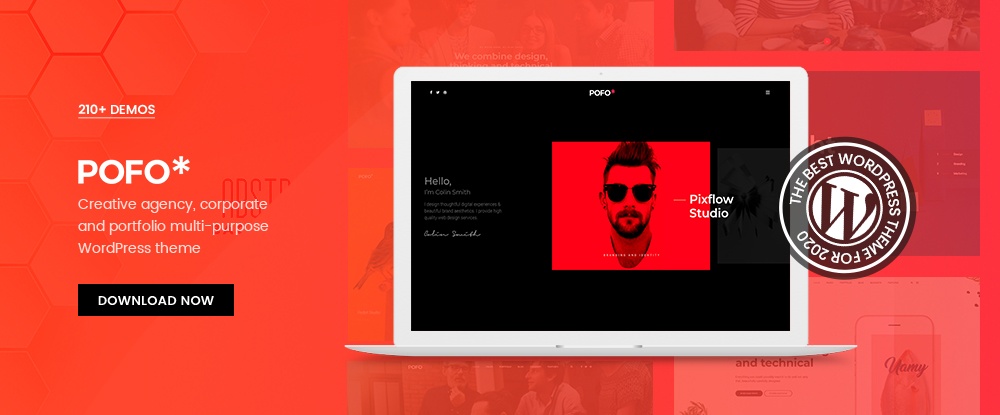 This extraordinarily creative theme may well be the best choice you could make if you have building portfolio website in your plans. Or, a blog or eCommerce website for that matter.
Pofo's package includes –
Bundled premium plugins including the WPBakery page builder
Custom shortcodes
200+ ready demo pages you can install with one click, or create your own
25+ ready home pages
150+ prebuilt elements
Pofo is highly flexible, crazy-fast, and SEO optimized.
"It is a very good theme. The tech support is prompt and accurate." – fitameensa
Click on the banner to learn more about building a top-quality portfolio website.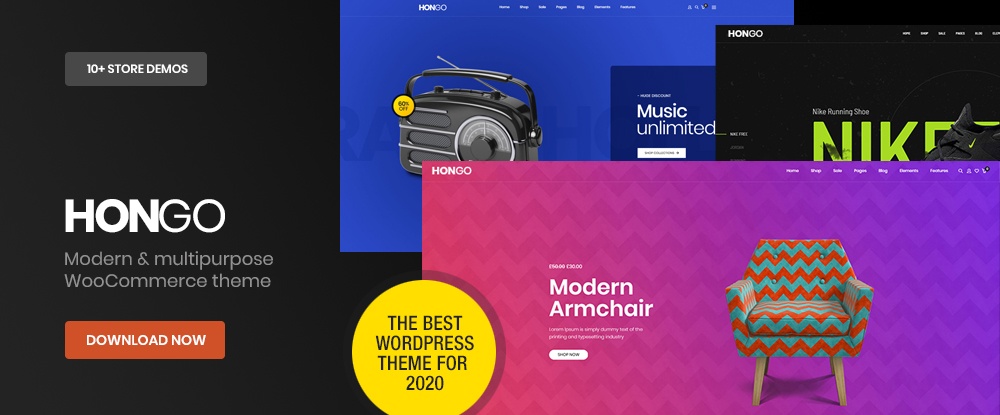 Although it's correctly advertised as a multipurpose theme, Hongo really shines as a WooCommerce-based online shop builder with blog website features added for good measure.
Although Hongo is a relatively new theme, with its 11 ready store demos and host of supporting features it's created such a stir that it deserves a place in this top theme listing.
"One of the best themes, simple to customize and very functional. well done." – creopolitan
Click on the banner to find out more about Hongo.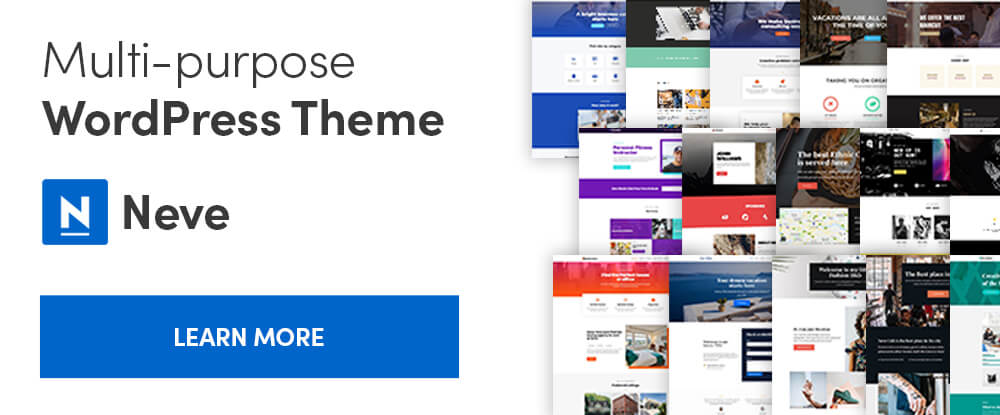 With a lightweight and minimalist design, Neve is fully AMP optimized, responsive, and highly extendible. Neve's superbly optimized SEO code also works with all the popular page builders like Elementor and Divi. The theme is WooCommerce ready and also Gutenberg compatible.
Neve features 50+ ready-made starter sites to get your future projects underway.
"The theme is responsive, allows many settings and is very stylish."– kleberjr (@kleberjr) on WordPress.com
Click on the banner to learn more about Neve.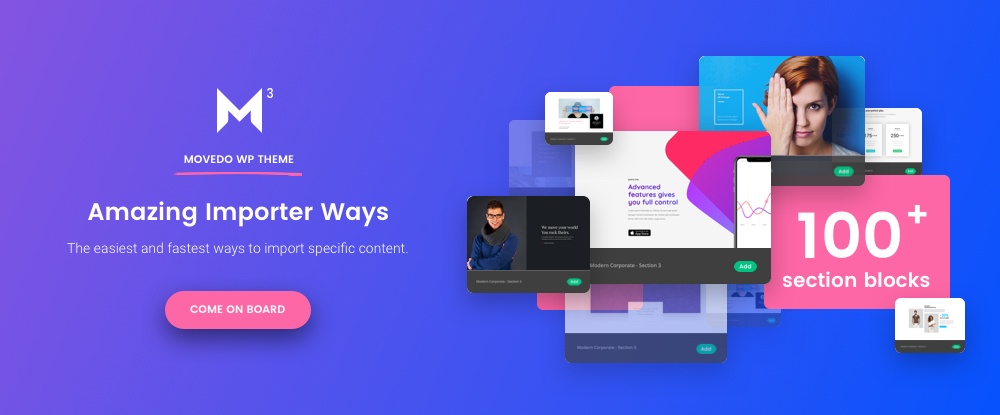 Movedo built websites can feature all kinds of pleasant surprises, thanks in large part to this theme's dynamic parallax effects. Put another way, Movedo makes it surprisingly easy to create websites that will attract, engage, and capture users.
Movedo is modern, cleanly designed, flexible, and provides excellent support.
"I really like the themes from CREATIVES and I do recommend them. But it is not because of the endless possibilities or the animations which really stands out compared to other themes. NO, it is because they have a very reliable, fast and kind support team. Their respond time is mind blowing fast. And they helped me already so many times especially with coding. What is the best theme worth, when you don't have a good support.Therefore, I would give them a 7 Star Rating." – nicearth
Click on the banner & see Movedo's special effects for yourself.
*****
With an abundance of WordPress themes out there and each one clamoring for your attention, finding a good, responsive theme featuring all the tools you need can be difficult.
To help you find the perfect one to meet your needs, we've looked at sales figures, reputation and reviews, and usage, and rounded up these top 14 most popular multipurpose WordPress themes.
We hope you find exactly what you need, and we also hope you will share this list with a fellow web designer or a social media group.