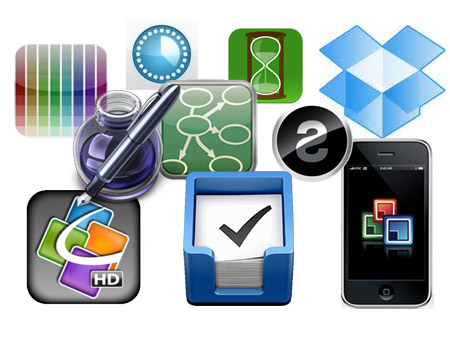 Design Productivity Tools
OmniGraffle
The great Mac app is available on the iPad. For those unfamiliar, OmniGraffle is to Macs what Visio is to Windows. We're talking charts, graphs, flow charts, diagrams, layouts, wireframes and more; plus free hand sketching too. The developers have incorporated multi-touch gestures for various tasks which is a nice touch (pun intended). This app receives very positive reviews on the app store and the latest version (1.5) has just been released. The only negative comments relate to the lack of Visio support. If you're in a corporate environment that uses Visio then perhaps this app isn't for you. Note that this is a fully functioned piece of software and is priced accordingly,
iMockups for iPad
This app is dedicated to wireframing and low fidelity mockups – and excels in these functions. It takes care to emphasize the low fidelity aspect of the mockups so that users understand the purpose of the app. Consequently it's got rave reviews on the app store. The best aspect of this iPad dedicated app is the price. Bear in mind that this app is for a specific function and part of that is to help the designer manage client expectation. To that end it doesn't include certain functionality, like images, which might surprise some people.
Sketchbook Pro for Pad
This is a crowd pleaser – an app with pretty well an all 5 star rating. At the asking price any serious designer can afford to get this simply to know what the hype is all about. This is a paint and drawing application. Given that this is professional grade, its worth noting that it runs a bit better on the iPad 2. The app is designed specifically for the iPad and works a treat.
Pages
Pages, a Mac word processor, has been adapted for the iPad and is scoring 5 stars fairly consistently. It uses multi-touch gestures so you get the most out of the iPad. It claims compatibility with Word, however, like most apps that claim compatibility with Word, there are some minor formatting issues, but it works a lot better than most.
Cliqclic Colors
A nice app for grabbing colors and for converting between Hex, RGB, CYMK and HSB. Its all vey pretty and works well, slick even. Take photos with the iPhone camera and pull out colors directly from the photos. They do ask for a little bit of money, but if you need this app then it's well worth the small investment.
Palettes
Do you collect colors? Well this app helps you create and maintain pallets of colors. Note that the free version is very limited, but still functional. If you like it then shell out for the pro version. There's a lot of functionality for an app that deals exclusively with colors and it takes itself pretty seriously.
Ruler (by DAVA Consulting)
There are a few apps out there called Ruler. This one is the one by DAVA Consulting. It uses a step wise measurement system where you can move lines on the screen to extend your measurement. It works in centimeters or inches.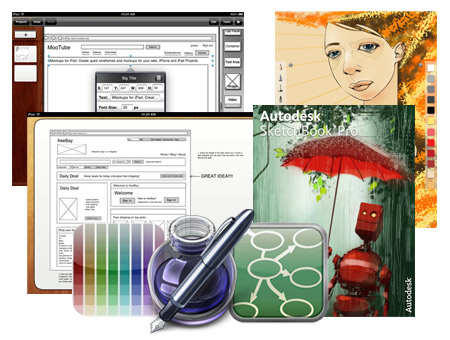 Business Management
Subernova
This is an expensive tool with a monthly subscription, but it has the functionality to back itself. If you're freelance and your client management is a mess, then solve it in one hit with this package. It has all the mod cons, like milestones tracking, invoicing & estimates, user management, collaboration and more. It really does have the lot. But with a monthly subscription, you have to be sure you're going to using it.
Timewerks
If you're a freelance designer you're going to need some sort of time tracking and invoicing tool. This one does the basic time tracking by client and project and also includes an invoicing component. It also includes built in stopwatches if you need to time your hours on individual tasks. Plus it has an online sync component and keeps all information on device.
Billings Touch
Track projects and expenses as well as doing the invoicing and client payments. If needed the application synchronizes to a Mac only application that you would have to pay for. Also the initial download is free but is crippled and you have to cough up a sizeable sum to unlock all its features, such as sending invoices from the mobile device, which is the whole idea of a business management tool.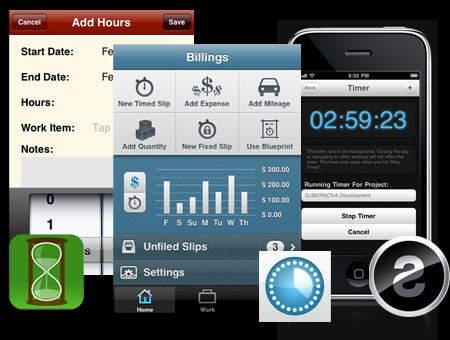 Getting Things Done (GTD) Applications
ReQall
ReQall allows you to leave voice messages (of up to 30 seconds in the free version). It has voice to text and recognizes key information like dates and times or user created keywords. This is integrated with an alerts system for reminders. Provided you've set up the locations, ReQall will also pick out tasks from your todo list based on where you are. Integrates with MS Outlook and Google (via iCal for the free version).
The older versions got negative reviews related to stability, but the latest version (4.0.4) is getting good reviews.
Things
Things gives you a flexible interface for managing your tasks. It looks after project milestones as well as todo lists and notes. The latest version (1.7.3) is getting rave reviews on the App Store. Your tasks are intelligently organized and integrating with tasks from projects as well.
ToDo
A lovely GTD application that is well suited to the iPad as it uses a customizable planner layout. This includes a variety of themes for personalization. But it's not just pretty, it has some brawn too. It has all the task management, like grouping tasks into projects or checklists, SMS and email integration. Plus it has cloud syncing with the ToDo online service. Note that if you get both the iPad and iPhone versions then you have to sync using this paid service.
Remember the Milk
A good cloud based task management tool. Like all the best apps, this one differentiates itself from the crowd through a simple and intuitive interface. This one goes to a lot of trouble to make sure you get your things done. It integrates with email, SMS and IM so it can hassle you in as many different ways as possible. Being cloud based, you can access your account through any web connected device. Note that the cloud based account costs money.
Evernote
A cloud based note taking service that is free for a very functional version. With the free version you get 40MB storage but for a little bit of mullah you get 500MB which should cover just about everything. It does voice and image notes and is geo aware. Before buying make sure you read the terms and conditions as it seems they permit Evernote to use your notes as they see fit. This effectively makes your data not private. This might not suit most business users as it would certainly breech most confidentiality agreements if your notes relate to client business information.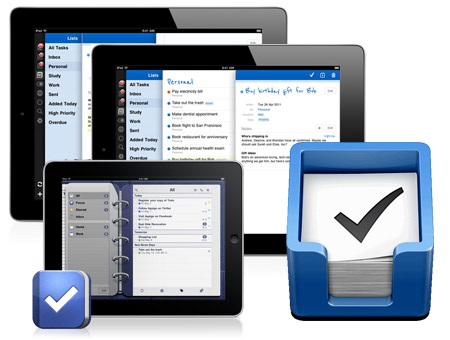 Document Handlers and Office Tools
Documents Free
This free application allows you to edit Excel and Word documents and sync with Google docs, but can only create txt or csv docs. Also the free version limits your spreadsheet use to only 25 rows, so its heavily limited. Also the application is rating poorly on the star ratings in the app store, with the current version (4.3) getting a majority single star rating.
Quickoffice
A mobile office tool where you can create and edit Powerpoint, Word and Excel documents. Unfortunately their latest release (4.0.0) is crashing on startup, so just wait for the update before rushing in. Given that it allows you to create MS documents you're getting a fair bit of bang for your buck. But be aware, when opening complex documents, some features, like macros and formatting, may not all be supported.
Documents to Go
A premium office tool, it lets you create and edit Word, Excel and Powerpoint documents. There are some complaints relating to date conversions, lack of printing and formatting, but in the main a robust application. Some issues with accessing the editing tools with the keyboard visible makes formatting while you type a bit fiddly.
Goodreader
A great little app for looking at almost any type of document on the iPad. Its main use is for handling PDF files, but you can read Word docs, Powerpoint presentations and Excel spreadsheets, amongst others. It is also a file manager, allowing you to create folders and move documents around easily. Goodreader is also integrated with a variety of file sharing applications, including Dropbox.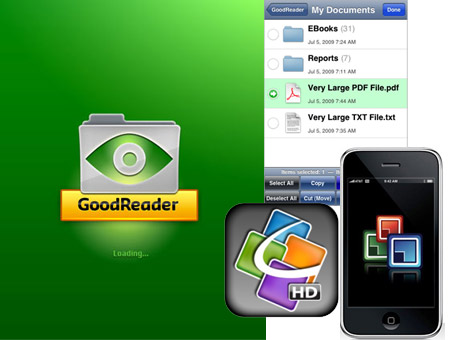 Syncing Up
Dropbox
This is a simple idea that has been extremely well implemented. The idea of a synchronized folder is not new, but one that has been done so elegantly has made it a hit. When it comes down to it, an application has to be fast and effective if it's really going to be of any help with your productivity. Dropbox brings collaborative and multi-device work environments within the grasp of mortals.