So you are looking to sell some products on the Internet and you don't know where to start? Then this article is for you, but also for designers looking for the best ecommerce technology solution to offer their clients. Let me know in the comments if I forgot something.
Simple e-Commerce solutions
Are you only going to sell a few downloads? Then you shouldn't install heavy ecommerce scripts, just go with one of the following platforms that allows you to sell online (but keep in mind that these solutions are limited).

For anyone willing to sell a few digital downloads, E-junkie is the perfect solution. Their service takes care of handling all the hard of shopping cart and sales handling. You can also sell tangible good and then they'll take care of handling things like taxes, shipping or handling calculation. E-junkie also make it easy to create affiliate programs for your products.

Developed by the E-junkie team, FatFreeCart is simple free cart to sell stuff using PayPal and Google Checkout. Simply copy-paste their code and modify it with your products, that's it!

The solution for designers and artists willing to extend their business by selling their art, it's quite cheap and worth a look.
Adding a shop to your WordPress blog
You run a popular blog using WordPress and you want to extend it by adding a small shop, this is fairly easy since there is several solutions to do so.

The most famous e-Commerce solution for WordPress, free for most with the possibility to extend functionalities with the Golden Cart solution. A good solution that integrates well into WordPress.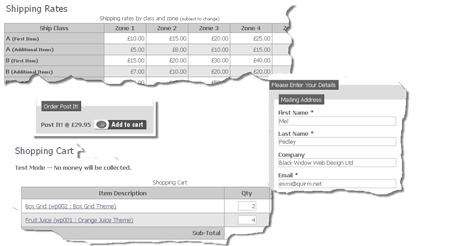 Accessible shopping cart plugin for WordPress, coming with a lot of interesting features such as statistics, order handling or configurable email templates. It is also compatible with WordPress MU and Google Base.

Not free but great and easy, Shopp has some great features, is powerfuly easy to manage and has a great set of promotional tools. It also integrates perfectly with WordPress and provides well-documented templates tags.

The solution for very light-weight commerce in WordPress, it's a mini-shopping-cart for your blog. You can add items from the admin side and embed the cart into posts. This can also be used as a donation plugin.
Adding a shopping cart to popular CMS and frameworks
These solutions are for those of you who are using one of the popular CMS and would like to improve it with a shop.
Drupal & e-Commerce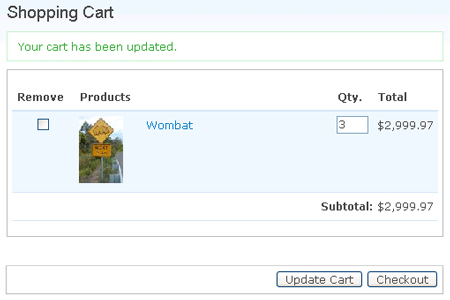 Drupal basically has two e-Commerce module that are developed for it: Ubercart & Drupal e-Commerce.
Ubercart
The most user-friendly of the two, with a dynamic community and lots of features.
Drupal e-Commerce
Create your online store with this configurable set of Drupal modules.
VirtueMart is an Open Source E-Commerce solution to be used together with Joomla! (and Mambo). It integrates well with the CMS and takes advantage of the Ajax technology, product feeds and much more…

Good news, SilverStripe doesn't need to install any modules to do e-commerce, it's built-in. Definitly a good reason to give a try to that popular CMS. It does have modules available if you want to extend the e-commerce capabilities though.
Django webshop with Satchmo

Although Django is probably more used by programmers than designers, you could be interested to know about Satchmo, its shopping cart. It is a flexible and robust application that will be perfect to go with your Django-based website.
E-Commerce with Ruby On Rails

Coming with gorgeous default shop template and admin template, Spree uses the power of Ruby On Rails to create a flexible and powerful shopping cart. It has built-in Google Analytics integration and support over 50 payment gateways.
Open source e-Commerce scripts
These are probably the best solutions for a complete e-commerce website wit a lot of features, all you'll need is to spend time and have some coding knowledge.

In my humble opinion, Magento is the best open-source shopping cart script out there. It has advanced stats, customer groups management, tons of payment gateways, a nice admin interface, and much more… On the downside you could say that the theming learning curve is quite steep. Many popular online shops, such as Express Imprint, use Magento to power their store.

PretsaShop is a professional open-source e-commerce software with tons of features and a good-looking admin interface. Translatable, disgressive pricing options, SMS alerts and much more…
ZenCart

Open-source shopping cart maintained by an active community of developers. It is really easy to install and design, and lets you create newsletters, coupons or gift certificates. Definitely worth a try despite its not so good-looking user interface.
Paid e-Commerce platforms
If you are not willing or unable to spend a lot of time on tweaking and customizing an open-source script, these solutions may be the right ones for you.

With a reasonable pricing and free trial, it's not to risky to give a try to Shopify. They let you create templates for scratch and take care of all the heavy work, good solution for the non tech-saavy designers out there.

Just like Shopify, Foxycart will take care of the backend of your ecommerce website and give you all the promotional tools and payment handling options you need (or almost). It is built to integrate to any CMS you may be using.
Selling on other platforms
If you just want to focus on your work and not bother with any kind of technical setup, you should be happy with some of these solutions.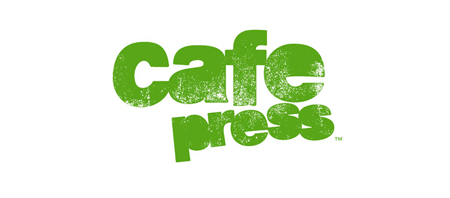 If you are looking to sell T-shirts or other items like mugs or calendars, CafePress is the right place. All you have to do is design, they'll take care of all the printing, shipping and the rest.

Are you looking to publish your own book or calendar, Lulu should be the right solution. It allows you to be a self-publisher, letting you create gifts or selling calendars and other goods.

CreateSpace is Amazon's service to let you sell your books, music or films online. It does pretty much the same as Lulu, but the advantage is that your stuff will be available from Amazon.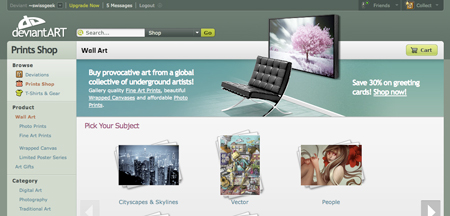 At last but not least, DeviantArt is a social network for designers and artists with a gigantic community. If you create artworks or photography, it lets you sell it as fine art prints or others.