When you pick a WordPress theme for your site, there are many factors to consider. Building a beautiful, fast, and functioning WordPress landing page o a website is essential. Yet, that is not an easy task.
Many web designers struggle to find a theme that has all three of the following: a nice-looking and easy-to-use website, an intuitive interface, and a wide array of tools. Luckily, BeTheme offers a comprehensive solution.
BeTheme includes the following:
Backend builder
Frontend builder
WooCommerce builder
600+ pre-built websites
With BeTheme, users get all the professional tools for one flat fee and no extra costs.
Get to know BeTheme's all-in-one WordPress solution
Here are the features that make BeTheme one of the best solutions for WordPress landing pages or websites.
1. Build and manage the backend with Muffin Builder 3
Most WordPress themes come with useful tools. These may vary depending on the case and every theme has its strengths and weaknesses.
But no theme fully adapts to the user.
While a drag-and-drop tool is quite useful for beginners, it leaves more advanced users with limited options. That's because most web designers can't find the flexibility they need.
Yet, BeTheme is a completely different story.
BeTheme's backend editor, Muffin Builder 3, grants web designers full control to create and customize pages. You can build a WordPress landing page or site as you like using only code.
But how about if you would like to skip coding altogether?
You have at your disposal a wide set of pre-built elements, templates, and custom settings.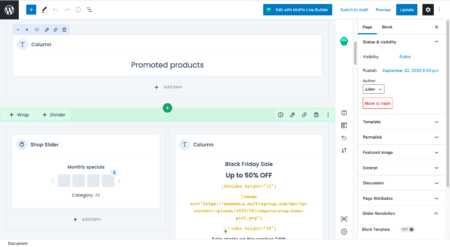 Also, with Muffin Builder 3 web designers can add sliders and optimize pages for search engines.
2. Design and perfect your site on the frontend with Muffin Live Builder
Drag-and-drop page builders have become quite popular. Thanks to them, everyone can create a website, from advanced web designers to do-it-yourself business owners. But while these page builders make site creation much easier, they also come with disadvantages.
Page builders take the editing to the frontend of the site, which can generate speed problems.
Many of them load slowly and sometimes even stall out.
Customization is also an issue. Admins have limited options. They can either design with the tools available on the builder, or directly on the WordPress platform.
Muffin Live Builder brings a solution to these problems.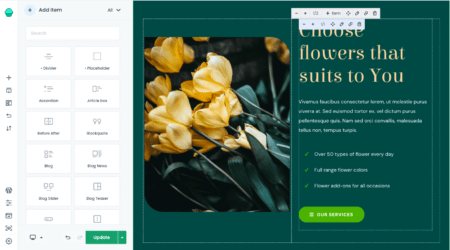 Designers can build their sites on the backend, frontend, or combine both.
They can create the layout on the backend and then refine it on the frontend.
Also, the visual builder is lightweight. This helps pages to load faster, and changes are instantly reflected on the website.
3. Create great-looking monetized sites with the Muffin Woo Builder
Page builders are useful when creating a blog or a WordPress landing page, but eCommerce stores are a different story.
In general, page builders help customize pages like 'home', 'contact', or 'about'. Yet, when it comes to creating a shopping cart, checkout, shop, or product page, users need to install extra plugins.
WooCommerce is the most popular tool to create an online store. But running a site with different plugins is far from being ideal. It may lead to performance issues, compatibility problems, etc.
BeTheme tackles these difficulties with its 'Muffin Woo Builder'.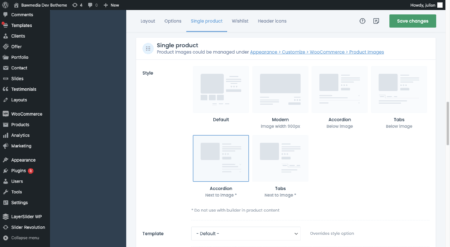 While WooCommerce only allows you to customize its pre-built pages, with Muffin Woo Builder designers can create their own templates or single products.
It also provides a wide range of editing options. Thus, users won't have any limitations when designing their online store.
Some of Muffin Woo Builder's designing options are:
Create design rules for eCommerce pages
11 product gallery styles available
Switch between Shop and Catalogue mode
Set custom variation swatches
Show or hide the cart button
Possibility to include a sidebar
Adjust settings for how product images render
Add a wishlist
Choose the icons that will appear in the header
To implement these changes with other page builders or themes, users need to install extra plugins or extensions. With BeTheme, this can all be done from a single platform.
4. Instantly design an attractive website with one of Be's 600+ pre-built sites
BeTheme not only brings comprehensive all-in-one solutions, a lightweight builder for loading optimization, and various design options. It also includes pre-built templates to optimize the set-up process.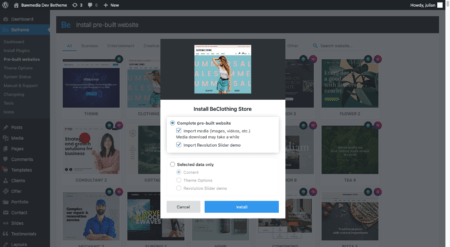 If you need website fast, BeTheme brings a solution. It includes over 600 pre-built websites ready to install. Also, they release new ones every week.
When installing a pre-built site, BeTheme will automatically do the following:
Install all the plugins you need
Loads a ready-to-use website into your WordPress installation
Adds placeholder content and imagery so users can easily swap in their own


With BeTheme, you can reduce costs and save time using an all-in-one solution.
Is BeTheme the total design package? You bet it is
BeTheme is unique thanks to its flexibility.
How many themes offer two high-quality lightweight page builders, an eCommerce built-in tool, and over 600 site templates ready to install for only a $59 flat fee?
The truth is that these features combined are as rare as pigs flying.
If you want to create a first-class WordPress landing page or a website with eCommerce features, and want to have full creating power with a combination of backend and frontend design, and a variety of ready-to-use options, BeTheme is for you.
And thanks to the three builders that come FREE with BeTheme, you can say buh-bye to paid page builders!
Check it out here.