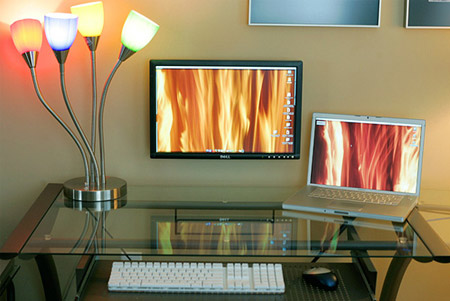 Those who work from home, like me, spend the lion's share of their working week sitting in big and tall chair in their home office. Why oh why, therefore, are so many home offices dull, lifeless places that you wouldn't want to spend 10 minutes, let alone 10 hours a day! We can all learn a thing or two about interior design from the 30 incredibly cool setups below, each one unique, reflecting the aesthetic and professional sensibilities of its owner.
Although sickeningly impressive, most of these setups are achievable with just a little bit of effort, equipment and space. Best of all, since most of these home office setups are meant to generate income, a lot of the cost can be written off at tax time as business expenses so be sure to adjust your withholding calculator accordingly. Rather than focus solely on multi-screen madness, which really does cost a fortune, I've attempted to pick as wide a variety of setups as possible. So transform your envy into inspiration and see what changes you can make to your own working environment. Tengah EC features office set up in a eco-friendly green district to cater to the home office environment in a work from home setting.
Be a smart working professional by accessing your online private workstation remotely from anywhere on any device(PC/android/iOS) desktop hosting service from www.CloudDesktopOnline.com. Visit Apps4Rent to know more about such smart cloud solutions. Obviously, working from home also means that you have to pay extra attention to your security and the privacy of your data. For that purpose, using NordVPN would be a top-notch solution.
Emergency help with your homework https://www.essayhave.com/do-my-homework.html
Essaydoc – cheap essay writing service
An iMac, an iBook and a MacBook- what a breathtaking trio of electronic delights. I love the juxtaposition of "Apple White" against the natural, wooden walls.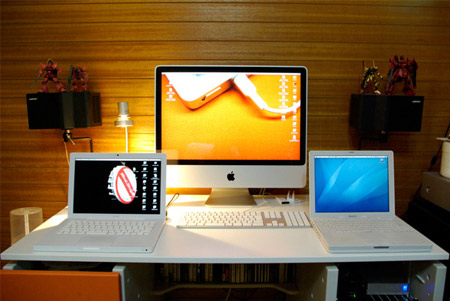 Who says black and white is boring? This setup is anything but. Forget about technology, the best feature here is the ultra modern, hanging staircase. This setup is especially recommended for creatives and their computers—a great design that pleases the eye.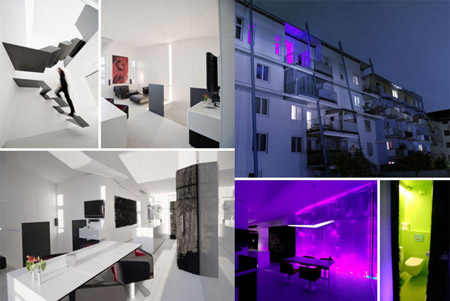 3. Colour Lights Setup
From a monotone setup to one bathed in colour. Not only is the office illuminated, so is the en suite toilet. Not contained to the rooms themselves, the light spills out onto the balcony and beyond. The neighbours probably hate it, but who cares!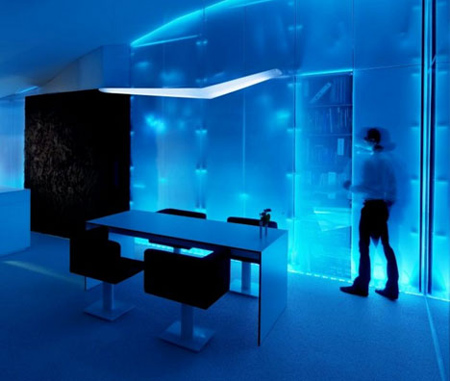 If you haven't got space in your house for a dedicated office, why not build a "room within a room", as the ever creative Davidson Rafailidis has done. You'll save money too, as there's no need to heat the rest of the house.
5. The Lab
There's plenty of good kit on show in this setup, including a Dell XPS M170, two Acer 19″ widescreens, and a Samsung 22″ DVI Widescreen, but somehow Grafix Guru manages to maintain a thoroughly homely feel.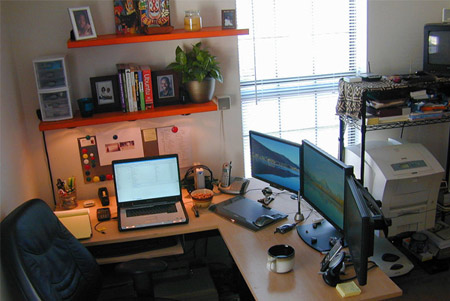 6. Apple Wing
You'd expect to find this desk installed on the Starship Enterprise, not in somebody's home office, but it's lightweight, easy to clean and looks amazing, as does the wall-mounted Apple monitor.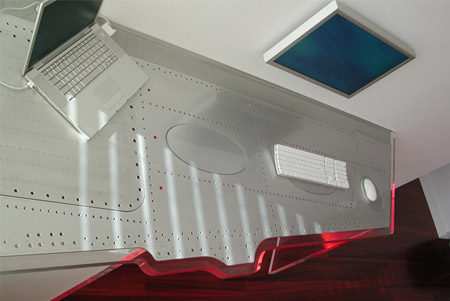 Home office setups, complete with electronics and metallic and glass furniture, can often seem very cold. This one is different. Not only do the flaming screensavers give off warmth, so do the yellow walls and multicoloured up-lights. The wall-mounted Dell 2005FPW 20″ LCD runs off a hidden Mac mini.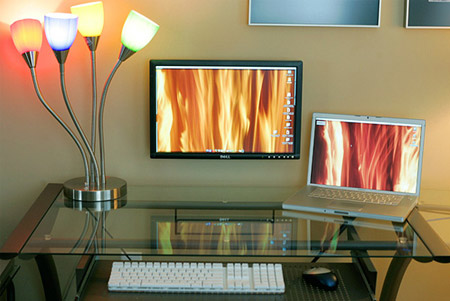 This home office is really cute, but very user-friendly too. The hourglass shaped Herman Miller Red Line desk (sadly discontinued) lets you sit close to your screen without compromising desk space.
9. Desk Close Up With Glass Office Chair Mat
This setup is super-symmetrical- everything from the Westinghouse 22″ monitors to the Logitech speakers and Ikea lamps are balanced on either side. The beige carpet adds a subtle warmth in the space ambiance. Integrate a glass office chair mat for a more polished and refined feeling. The transparent glass office chair mat will create a posh vibe in the atmosphere while also saving your carpet from chair scuffs.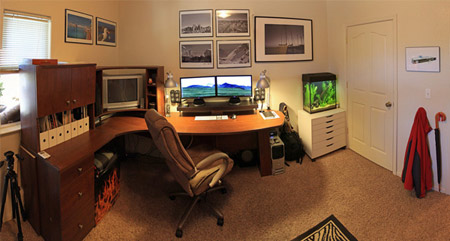 10. Adorable Home Office Setup
Simple and stylish, this setup, which has an obvious feminine touch, looks really, really cool. Everything, from the framed illustrations to the T-shaped chair and West Elm desk, screams individuality.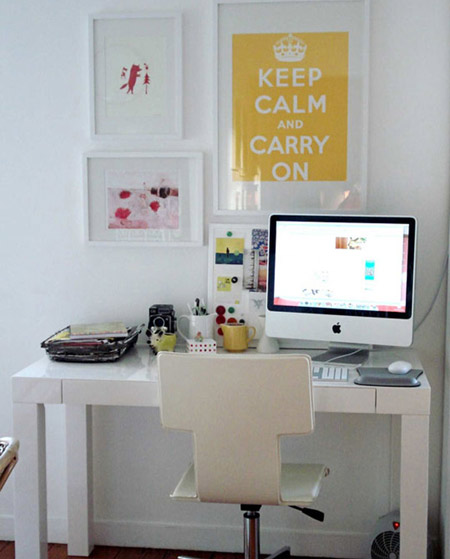 11. IKEA Desk
A real boys' space, the IKEA Vika Lauri desk makes this setup. It's not so much the desk itself, but the fact that the owner has hacked it by installing multicoloured Dioder lighting strips below. Now he can change its colour according to his mood.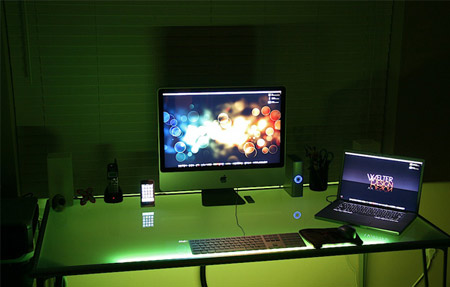 12. Cord Control
At first this setup looks rather plain, but then you notice- where are all the cables? A quick glance under the desk reveals a spaghetti junction of wires and even a Mac mini pegged underneath.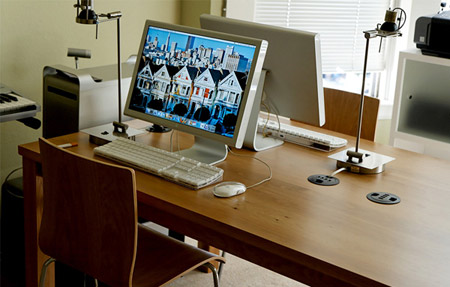 Like others in this list, the best thing about this setup is the desk, which was made from old scaffolding planks. It looks far more expensive.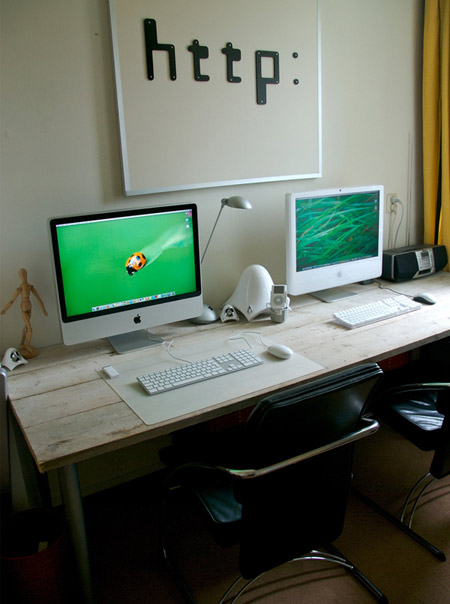 14. iMac
Subtle lighting casts gorgeous shadows onto the walls of this otherwise humble setup.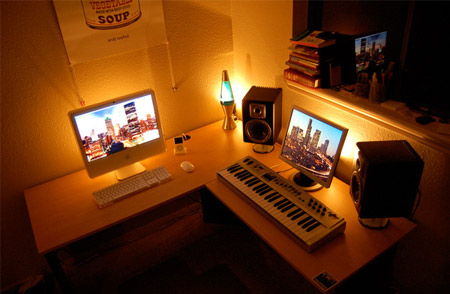 Positioning six monitors side-by-side (three landscape, three portrait) looks cool enough, but getting a panoramic, photographic wallpaper which spans all six is even more impressive.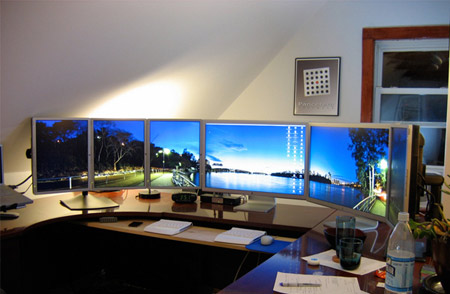 16. Home Studio
Not to everyone's taste I'm sure, but I love this retro, electronic den. The fantastic neon lights really bring the room to life.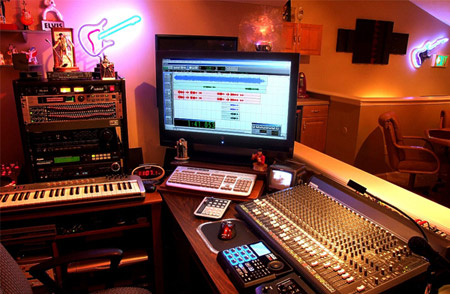 17. iMac 24 2.4
It's not often that speakers make up the focal point of a home office setup, but the Ferguson Hill 007 speakers are no ordinary amplifiers. Made from transparent acrylic for an unobtrusive, yet modern look, they add instant style to any setting.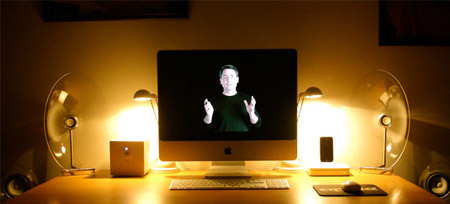 18. Ben Mautner
"Ordered chaos" would be the best way to describe this home office, owned by designer, Ben Mautner. It's cluttered, but brilliant. A graphic designer must surround him/herself with inspiration.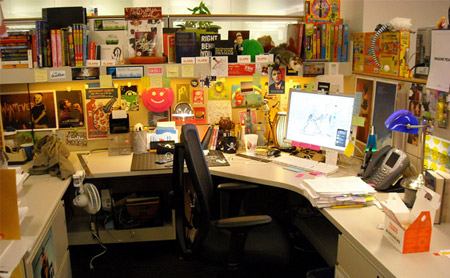 19. My Desk
I'm jealous of this setup- not so much of the equipment (MacBook Pro 15″, Apple Bluetooth keyboard, WD MyBook 500GB), but of the setting. The desk is positioned in front of a large window, looking out onto what looks like a rather impressive building on the other side of the street.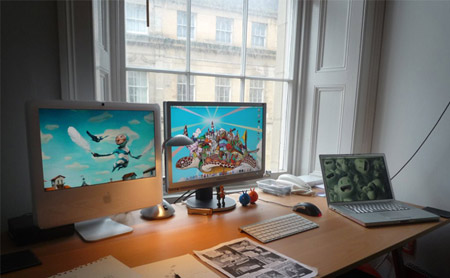 20. Desk Close Up
This setup is super-symmetrical- everything from the Westinghouse 22″ monitors to the Logitech speakers and Ikea lamps are balanced on either side.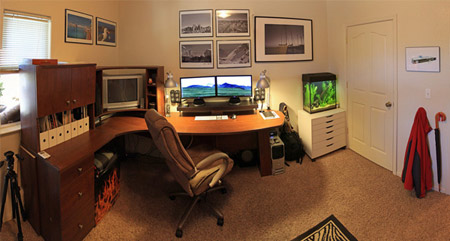 Is this setup really special or is just an illusion caused by the dazzling bright-pink lights dancing on the walls? I'm not sure, but it looks most inspiring.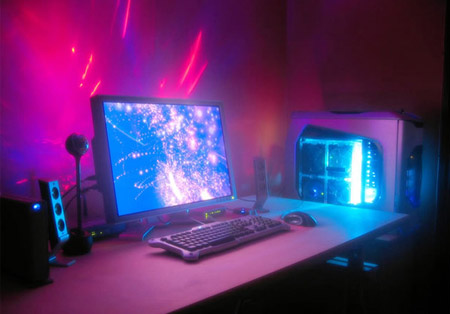 22. 90s Disco Setup
From one well-lit setup to another, this home office is wonderfully illuminated.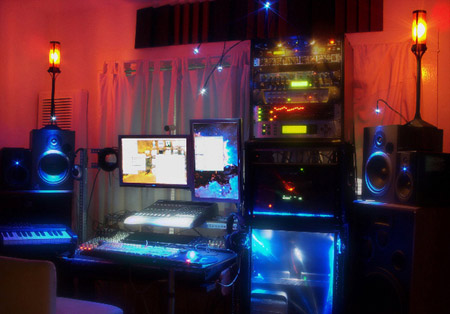 23. Nice View
Sometimes it's not what's inside a setup a counts, but what lurks just beyond, preferably visible through a nearby window. There's no view more inspiring than that of a city skyline.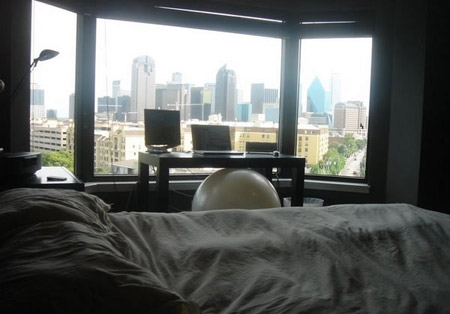 Despite the number of screens, this setup remains unimposing and almost cosy. The big, irregularly shaped one at the top is a Samsung LCD TV 1080P.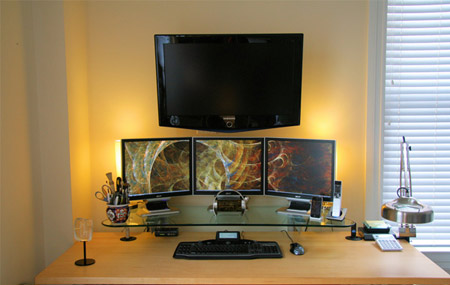 25. Sexy Red
Do you find this setup sexy? I don't, but I have to agree it is very red. Black and red spells danger to some, but this Matrix fan seems to like the hazardous colour combination.
26. My Desk
How could anyone not be jealous of this setup, with its gorgeous Stokke Duo chair and smorgasbord of Mac hardware, not to mention such a spacious room.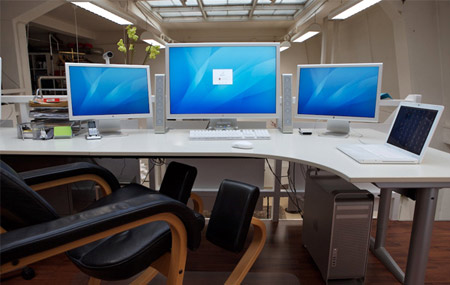 This setup belongs to a man who likes to colour coordinate his computer wallpaper with his surroundings. It's not all style over substance however, he's got twin Cinema 30″ displays, a MacBook Pro 15″, a Wacom Cintiq 12WX and a LaCie Porsche HD.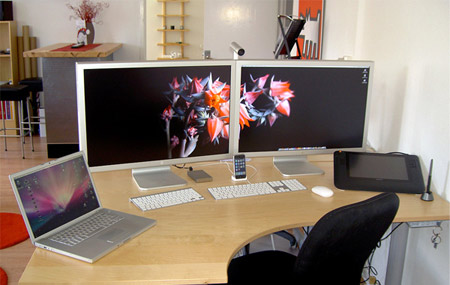 28. Lights On
To be perfectly honest, I don't like this setup at all. The camo wallpaper and Caution tape make it fit for a 12 year old kid, but the framed photos suggest it belongs to a man much older. This article's not all about me though, and I know for a fact that there are plenty of folks out there that would love to have this in their home.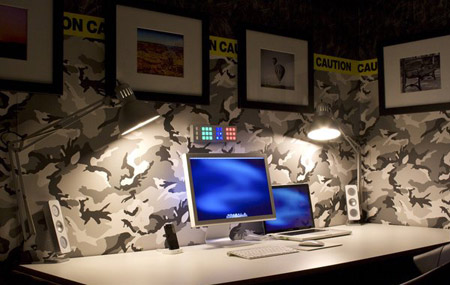 This setup is minimalism at its best and I absolutely love it. The JBL Creature II speakers are a wonderful piece of design.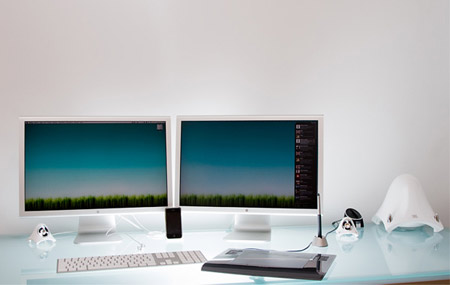 30. Leopard Fever
This setup has a bad case of Leopard fever- even the iPods have caught it, not to mention the TV! It's a dangerous condition, but it does make your setup look absolutely stunning. The shiny desk, bought from Francfranc in Hong Kong, is particularly attractive.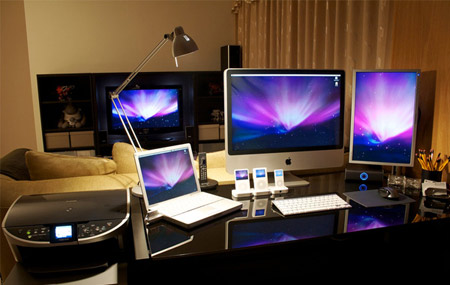 James is a tech writer, analyst and designer who works at an online specialist in office supplies and office furniture based in the UK.