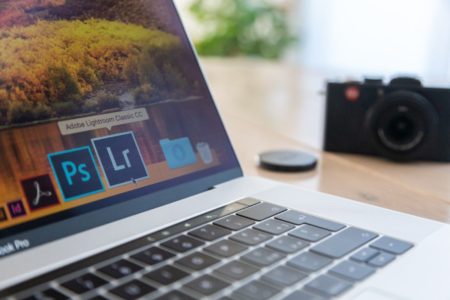 Adobe Photoshop is a great image editing tool. But it can be relatively complex to learn. It also has numerous tools rarely used by photographers. If you're a photographer looking for a great alternative to Photoshop, consider Adobe Lightroom. Built for photographers, Adobe Lightroom is a lightweight application that's intuitive and more user-friendly than Photoshop. That said, here are five features that make Adobe Lightroom an excellent tool for photographers.
Non-Destructive Editing Without Layers
Photoshop allows for layer editing. Layer editing allows for greater control over images, and it can enable you to make fine adjustments to specific parts of an image. But layer editing can sometimes get tedious. Using Adobe Lightroom, you can perform non-destructive edits without layers.
That means you can make changes to a photo without altering the original file's details. Lightroom enables non-destructive editing by creating a catalog file of your photos. The catalog file saves all the changes you've made. That means while editing, you can clear all the changes you've made by pressing "reset," restoring the original image. Plus, after you've exported your images in Lightroom, you'll remain with both the original and edited photos. Simply put, using Lightroom, you can perform edits without worrying about ruining your original photos.
Powerful Adjustment Tools
Lightroom provides various tools that can allow you to make adjustments to enhance your photos. They include:
The Adjustment Brush: It allows you to make adjustments to specific areas of an image. You can apply brightness, exposure, and other adjustments by "painting" them onto the image using the tool.
The Graduated Filter: Like the adjustment brush, it allows you to adjust specific areas of an image. But, unlike the adjustment brush, it can allow you to make adjustments across an even gradient. It's often used to enhance skies in landscape photos.
Radial Filter: It also allows you to make adjustments to certain sections of an image. Using it, you can draw an ellipsis around a subject and adjust areas outside the selected region.
Transferrable Adjustment Settings
Adjusting images one by one can be a time-consuming process. With Adobe Lightroom, you don't have to waste time adjusting images. Once you're satisfied with the edits you've made on an image, you can transfer the adjustment settings to other images you're editing. This feature can enhance your photo editing workflow and speed up the photo editing process.
Collaborate with Others on Various Devices
Photo editing is often a collaborative process. After taking photos for a client at an event like a wedding and editing them, the client may want to see the edited photos. Using Adobe Lightroom, you can share photos with others and receive feedback. What's more, Lightroom automatically syncs information across all the devices you use, giving you the flexibility to work on several devices.
Share Your Work
Finally, Adobe Lightroom allows you to share photos on popular publishing platforms like Behance. Behance is an excellent platform where you can showcase your work to gain exposure and even job opportunities. Using Lightroom, you can easily publish your work on Behance without leaving the app.
Overall, Lightroom is an excellent lightweight alternative to Photoshop packed with lots of great features. If you're a student passionate about photography, take advantage of the software discounts for students on Lightroom and the Adobe CC and enhance your photography today!