As an Internet user, you are probably using a web browser most of your day, whether it's for work or for personal use. Just as for other software, we quickly adopt some habits when it comes to using a browser. On top of that, we also install extensions that make switching browser even more bothering.
While most of us may use several web browser for different uses, we tend to stick to one browser as our main browser. According to W3Counter stats, in March 2020, the most used web browser was Google Chrome with 59.3% of all Internet users using it.
I was one of these Google Chrome users for a while, after being a faithful Firefox user for years. Main reason for switching at the time? Speed, and some other reasons like the browser plugins. Last week, I switched to the Brave browser, partly for the same reasons, but let's take a look at the main reasons.
1. It's Super-Fast! (Faster Than Google Chrome)
While it may not be the fastest browser of all, Brave is really much faster than its most popular counterparts (looking at you, Chrome!). On top of that, Brave doesn't eat up all your CPU as Google Chrome does. So if speed is a concern for you, Brave should be just right for you.
2. It Cares About Your Privacy
This may be the most convincing point for anyone who cares about not being tracked online. Most other browsers require you to install an ad blocker to start blocking ads, but Brave takes it much further by not only blocking ads, but also making sure that other means of tracking can't be used either. See the following chart that compares it to Google Chrome and the future, more private, Google Chrome of 2022.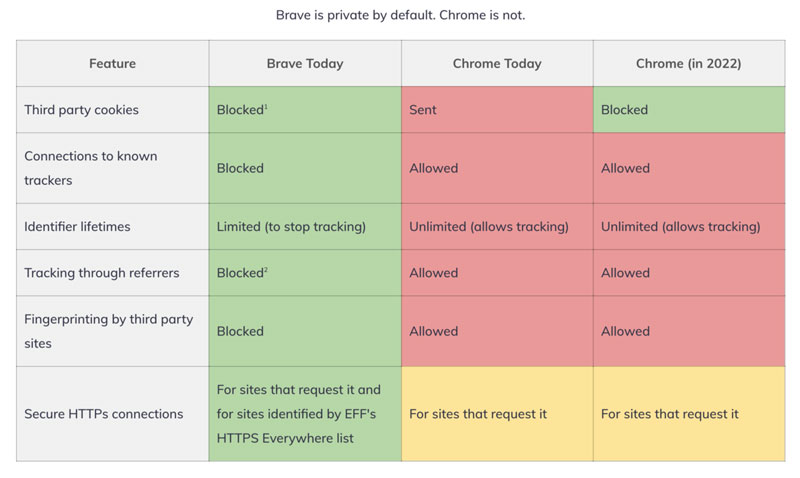 3. It Uses Innovative Advertising
Out of the box, Brave blocks all ads on every website. You can turn ads on specific websites if you want to support them, but the browser encourages using its ground-breaking advertising system. Brave comes with a cryptocurrency (BAT) that is used to pay the browser's users for accepting being served native ads. The BAT earned this way can be used to reward content creators by tipping them once or regularly.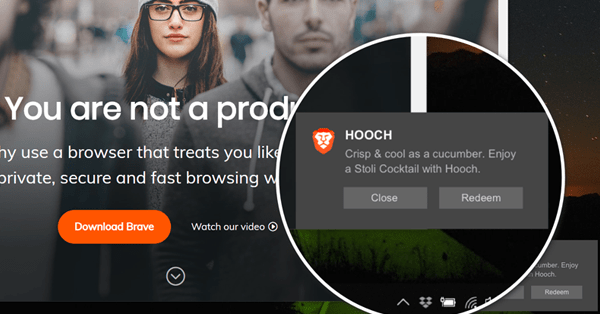 4. It Is Crypto-friendly
For those of you interested in crypto-currencies, or in blockchain projects at large, you will enjoy the Brave browser. On top of using BAT coins to reward users and content creators, it also comes with a crypto-wallet out of the box, so you can store your Bitcoin and other crypto-currencies on it. If you want to use your earned BAT for trading, you can do so by using the integrated Binance widget.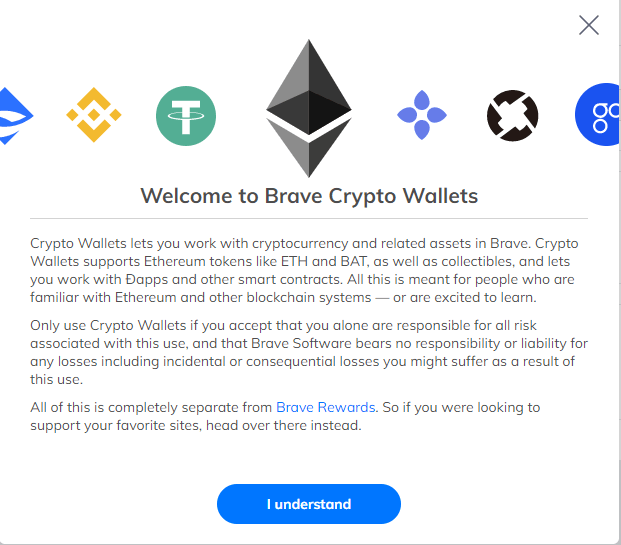 5. Browser extensions
Last for this article, but not least, Brave comes with tons of browser extensions. In fact, you can use any Google Chrome extension in Brave, so if you are a Chrome user, you will not lose any of your current extensions.