In the world of photo editing, Adobe Photoshop is perhaps one of the most extensive and feature-rich tools out there. However, while it's a powerful photo editor for desktop, its reputation is hardly as pristine when it comes to mobile.
While it has certainly improved in subsequent versions, Adobe's relatively recent initial launch of Photoshop for iOS wasn't very successful. Other than a bad rating on the app store and reports of bugs, the iOS version of Photoshop certainly lacks the full functionality of the desktop version.
In response to all the negative feedback on the app, Adobe's Chief Product Officer, Scott Belsky, stated that releasing Photoshop on a new platform was a hard task and was at risk of complete failure.

While acknowledging the poor ratings on the app store, Belsky reassured users that improvements will be made and that they have planned a "road map of features" for the iOS version of the app.
To be fair, Adobe has improved the product considerably in the year-plus since the initial rollout, and the free Photoshop Express app for iOS is now a go-to for many users. However, Adobe no longer reigns alone in the photo editing space, especially on iOS, where they were late to the game.
In this article, we'll take a look at the five best iPhone apps for image editing and how they compare against the big dog – Adobe Photoshop.
1. TouchRetouch
TouchRetouch lets users remove unwanted content from their images in just a few clicks. Designed for iOS and Android devices, TouchRetouch is an easy-to-use image editing app developed by ADVA Soft.
Users can remove anything they don't want in their images with just one touch using the Blemish Remover tool. TouchRetouch provides users with an innovative style of editing.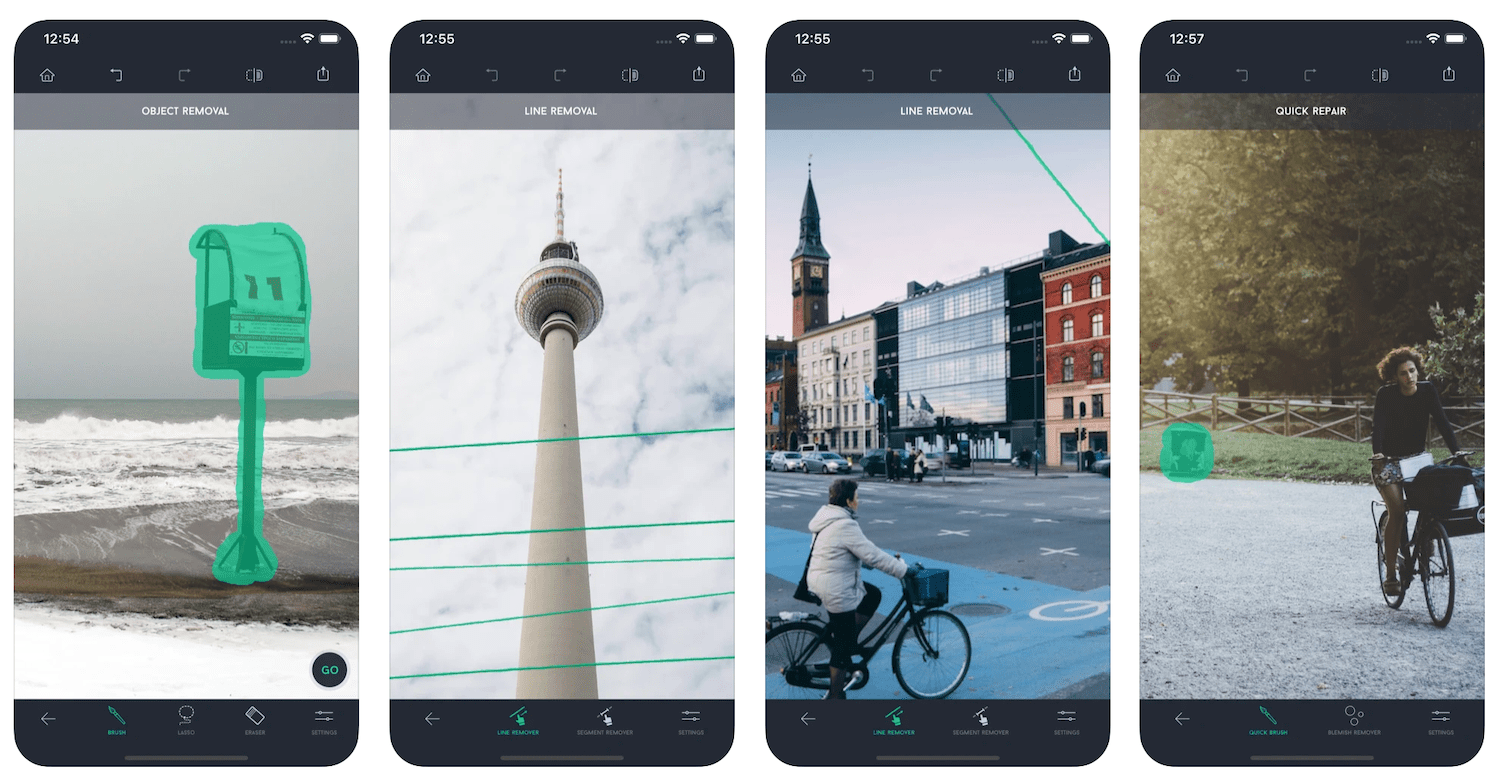 Its Single-Flick Line Removal feature lets users mark only a selection of a line to remove it entirely instead of having to be precise on their mobile device. Similarly, you can also remove a part of a line by using the Segment Remover. If you find any small imperfections or blemishes in your photos, the Quick Repair tool can help you with that. All you have to do is apply a brushstroke to your image, and TouchRetouch does the rest of the work for you.
Once you're done editing and removing unwanted objects in your image, you can easily export your images with different formats, sizes, and quality settings and post them directly to your social media platforms.
TouchRetouch is designed for users that need to remove unwanted content from their images and photos using their iPhone or iPad. It is perfect for anyone looking for an easy to use image editor. Compared to other Photoshop alternatives, TouchRetouch is well suited for people looking for a simple, easy-to-use, object remover image editing software for their mobile device. This also matches Photoshop's object removal, so users won't miss out on any functionality.
2. VSCO
VSCO is an image editing app that lets users apply beautiful filters and effects to their visuals. With VSCO, you get 10 free presets for taking images through beautiful effects and colors. Users can also import RAW image files into the app and edit them directly from their mobile devices.
VSCO's image editor provides powerful tools such as Contrast, Saturation, Grain, and Fade that can be used to make your images brighter, add texture to them, or even add an analog film effect to them. Another useful feature VSCO provides is the Recipes option that lets users recreate their favorite pre-saved edits with just a single click.
With VSCO's premium membership, you can access over 200 presets such as Fuji, Agfa, Kodak, which help create a vintage film look in your images.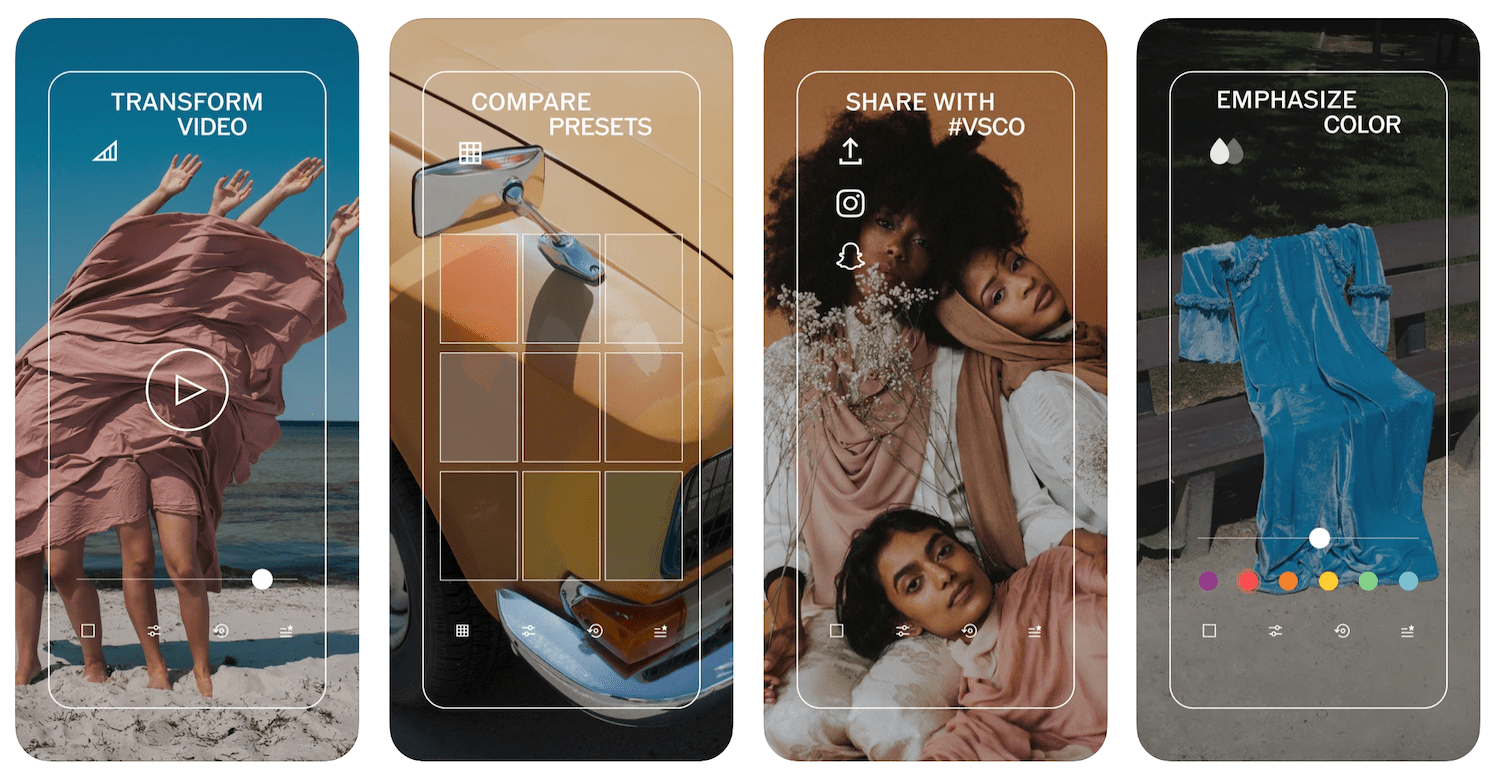 A VSCO membership gives users access to advanced image editing tools like HSL, Split Tone, and the option to use colored borders in their photos. Additionally, VSCO provides a video editor, DSCO, for users to edit videos on their mobile devices with the same unique VSCO presets and powerful editing tools similar to the image editor.
Other than creating GIFs short videos with DSCO, you are also able to tell a story with your images with VSCO's montage editor. The editor lets you make a moving collage of your selected content by layering video, images, and shapes together. All you have to do is select images and videos from your phone and let the app do the rest of the work for you.
Compared to Photoshop, VSCO offers a powerful editor along with an intuitive interface that's intuitive for new users. Compared to other Photoshop alternatives, VSCO has a clear edge with its offering of over 200 presets for users to get started with. Additionally, users are provided with a video editor as well as access to the VSCO community for inspiration.
3. Photoleap
Photoleap, formerly known as Photofox, is a powerful image editing app developed by Lightricks for iOS devices. With Photoleap, taking and editing photos from your iPhone is seamless. And, you can quickly edit and post your photos directly to your social media outlets from the app in just a few clicks.
Users can create professional-looking photos directly from their mobile devices by adjusting things like Tonality, Color, Grain, Fade, Structure, Intensity, and Vignette. Using Photoleap, you can create graphic designs, street art, abstract art, social media posts, flyers or posters for your business, and even memes, directly from your iPhone or iPad.
Other than using quality photo filters and drawing doodles on your images, Photoleap also lets users get rid of defects in their images quickly using the Quick Blemish object remover.
You don't have to worry about using the same old filters, elements, styles, backdrops, fonts, and effects in your photos since Photoleap updates and provides new packs all the time for you to create professional-quality images with. Additionally, Photoleap offers users access to their Pro Editing features like raw-image editing support, 16-bit image depth support for high-quality adjustments, automatic saving photo sessions, and custom canvas size selection.
Photoleap is best suited for individuals looking to post high-quality images on their social media without having to put in much work. Compared to Photoshop, Photoleap provides the same functionality but is easier to use and lightweight. The app has a relatively easy learning curve for new users, too.
4. AirBrush
AirBrush is an image editing app designed for iOS that provides a fast, simple, and powerful solution for editing photos directly from your mobile device.
You can beautify your portraits with AirBrush's powerful editor that lets you remove acne and blemishes, even out skin tone, whiten teeth, plump up lips, brighten and enlarge eyes, expand or slim any facial feature, add volume to your hair, and look awake and refreshed in your images.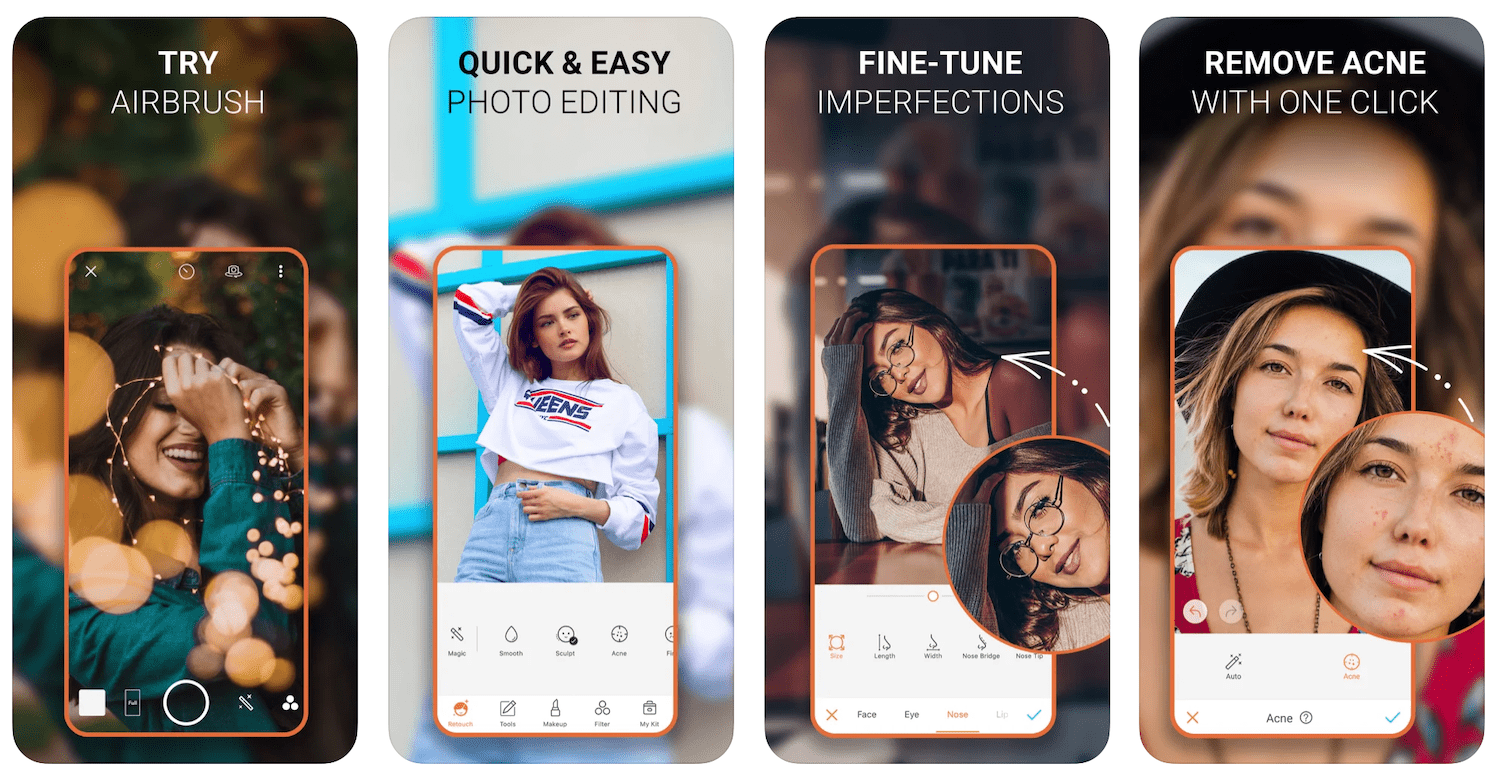 AirBrush also provides users with professional photo effects, such as adding depth to your images with the Blur tool, cropping your images to custom or pre-set sizes, and controlling color in light when editing images. Other than providing beautiful filters that have dozens of different looks, AirBrush also gives users the option to post edited photos directly to their social media accounts.
Compared to Photoshop, AirBrush provides all of Photoshop's Airbrush tools (from the desktop version) on your phone. Plus, they're much easier to use than Photoshop's Airbrush tools and new users will have an easier time learning to edit their portraits using the AirBrush app.
Compared to other Photoshop alternatives. AirBrush stands out due to its powerful portrait touchup capabilities. Users can also remove imperfections in their images easily by swiping left on their smartphones.
5. Polarr
Polarr lets you create graphics and share your unique creations with friends and family using a QR code and shortcodes. With the help of Artificial Intelligence technology, Polarr segments your photos so you have an easier time making complex edits when creating custom graphics.
Polarr, out of the box, comes with a lot of effects for users to edit their photos with. For instance, Polarr provides various options to select different Selective Masks such as Brush, Radial, Gradient, Color, Luminance. Similarly, you can make global adjustments to things like Color, Light, HSL, Toning, Effects, Fringing, Details, Curves, and Grain.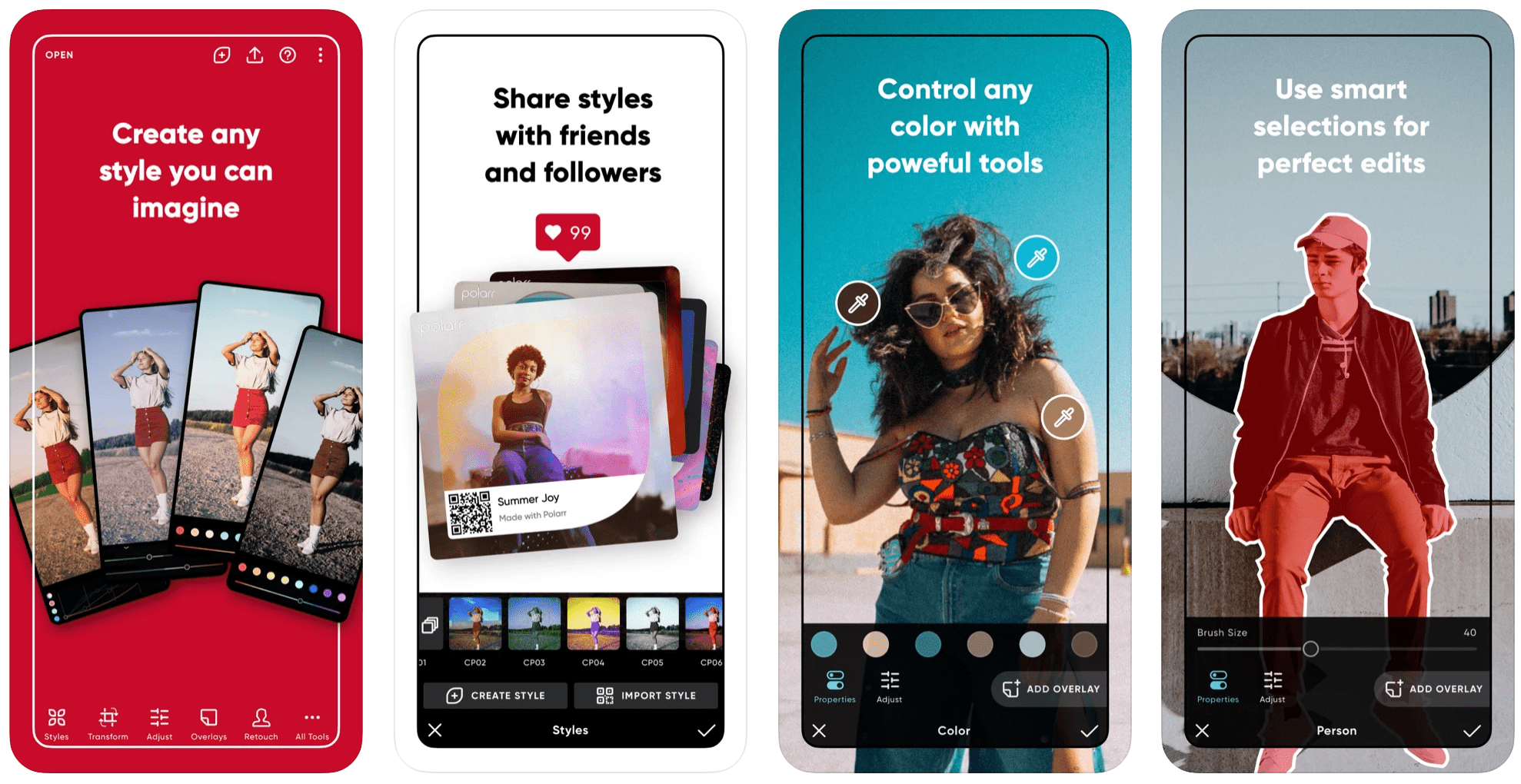 Polarr is suitable for graphics designers in mind as well as for people looking to use and edit their own styles into their photos.
Compared to Photoshop, Polarr provides 120 preset styles for film emulations. This app is more responsive and has fewer bugs as compared to Adobe Photoshop on iOS. Compared to other Photoshop alternatives, Polarr offers 100 free-style backups with a Polarr account. Additionally, features like AI object segmentation, face deception, and batch photo exports, all make it a good competitor to other image editing apps.
Conclusion
Finding an image editing app for iOS that best fits your needs can be challenging. The first step is to jot down the features you're looking for whether that's object removal, filters, or a quick editing experience. This way, you'll be in a better position to make an informed decision.