Technological developments have improved the method of building a good website and managing it. Successful web designers all over the world work continually to create innovative tools and applications to support other web designers.
The field of web design is getting much more challenging and rigorous over time. Following the emergence of digital networking and alternative online channels, numerous companies have built excellent websites to draw existing and future clients. Web designers, therefore, aim to address the needs of their target markets.
Read on to know more about the five helpful tools for web development that make your work a little easier.
1. InVision
InVision is a professional web service that provides an entire collection of features, enabling you to start creating digital websites and interfaces. Part of InVision's truly innovative tools are interactive, sensitive, and have robust architecture.
Fast development and testing allow you to make incredible web page graphics and transformations. The interactive features allow you to quickly exchange your designs with opportunities to adjust or update on strategies. It is perfect for web designers or developers who want to try something different, students, or for those who want a smooth tool that offers workflow simplification.
InVision is open for entrepreneurs and corporate teams of up to 10 members. For the pro edition with up to 15 customers, it costs $9.95 a month, and you must contact InVision for company pricing.
2. AidaForm
By online forms appearing on almost any website, it is essential to identify your online form from the growing competition because it is quick and convenient to use. Users wouldn't want to struggle through questions to get a reply.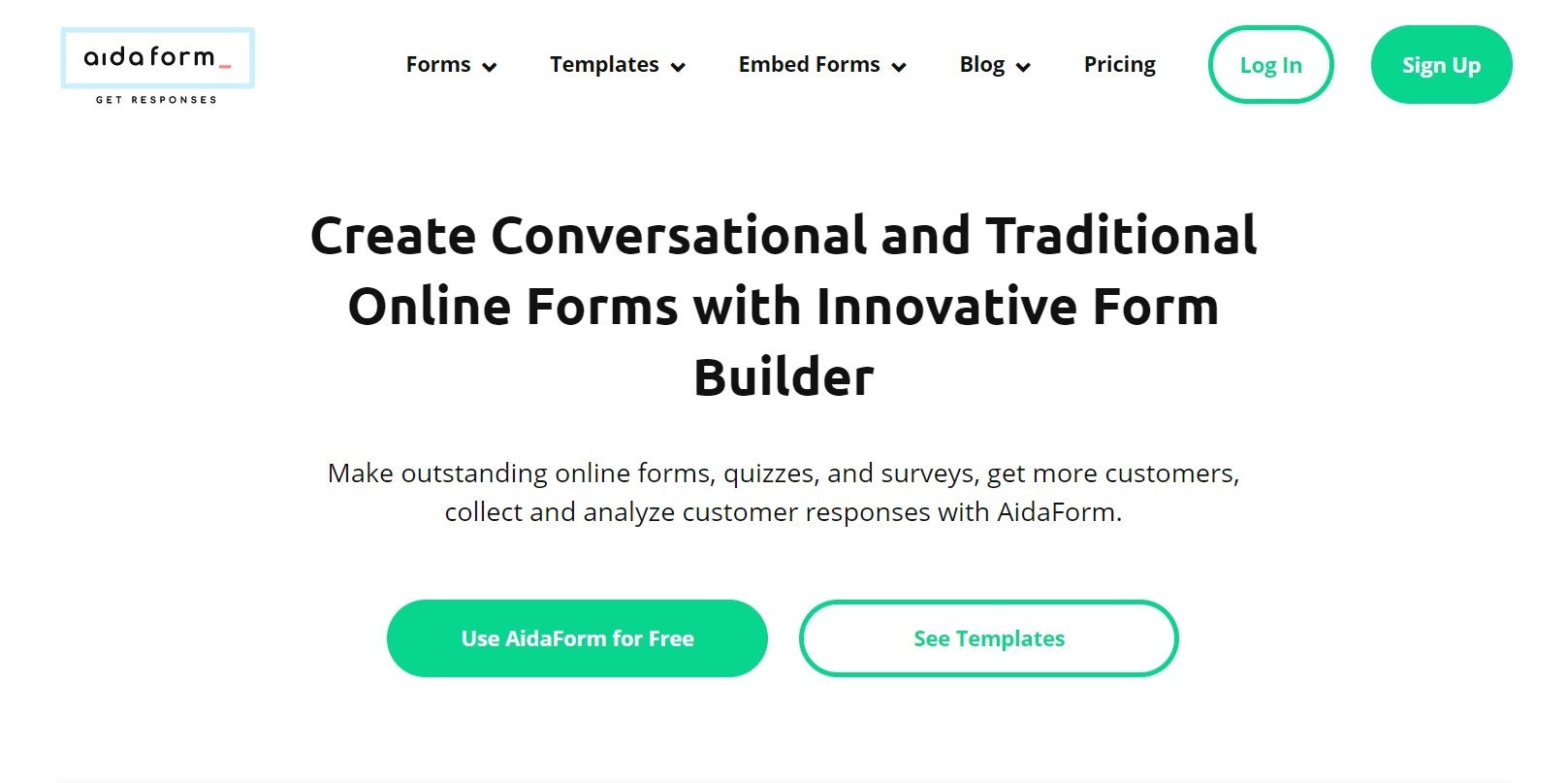 With AidaForm, you can differentiate yourself from the community with the online form designer, creating interactive website forms. AidaForm features a comprehensive service where you can build forms, quickly post them online, collect answers, and review them in your specific individuals' region. You may use these forms to submit customer or user information, set up payment options, and configure it for the branding of your website.
AidaForm service creates the form code, receives the submissions for the form, and keeps all of the details secure on your account. Add the online form to your website and get to know your users more efficiently to meet your business goals.
3. Webflow
Webflow is a cloud-based CMS design platform primarily built for people who cannot code for themselves. It is suitable for those who want to learn web design or creation quickly once they are online. It can even be helpful for people who know about reverse engineering, even though their exploring opportunities are minimal.
They have a primary drag and drop feature to configure the website into one of its many layouts with elements such as text and photos. Your development teams can be quickly converted into production-ready code for use by the manufacturer.
Webflow with minimal flexibility is free for a lifetime. You must modify the program to obtain access to updated functionality. The simple plans are charged monthly at $12 a month, and rates increase to $36 a month payable annually for corporate projects.
4. Figma
Figma is a design platform that enables various designers to work together and update in real-time simultaneously. It is perfect for teams of many project organizations. This tool can be used on Mac, Windows, Linux and includes instant arc definitions, a sleek pen, and an automatic layout.
Any plug-ins from Figma can also automate repeated tasks. Figma is free with up to two editors and three projects. The Figma Enhancements include the business and operational strategies at $12 per publisher per month and $45 per publisher per month.
The architecture of your website is vital for the success of your company and website. You may use web design tools to meet your design targets quickly.
5. Dream Weaver
Adobe Dreamweaver is an easy-to-use programming platform also for someone who has no coding experience. It enables users to use HTML coding and visual editing to support beginners.
It's a collection of tools and options feature: language marking, smart code indicator, built-in FTP server, team management, workflow options, and Live Display, which demonstrate the code overview. Dream weaver interacts closely with other popular Adobe products such as Photoshop, allowing you to share intelligent objects to update the graphics components quickly and efficiently.
You can also use this resource to easily respond to your web design and customize your site for mobile devices.
Final Words
A web design tool is a form of software that allows web designers and others to build and configure web pages for their company websites.
A collection of useful tools for web design allow web designers to understand their ideas and concepts. You can quickly create and build a new and innovative website without the hassle of coding using the right web design tools.
Web design tools ease the process of web design and will offer some additional advantages to designers. Hence, we hope the various mechanisms mentioned in this article will help web designers to make their work easier.