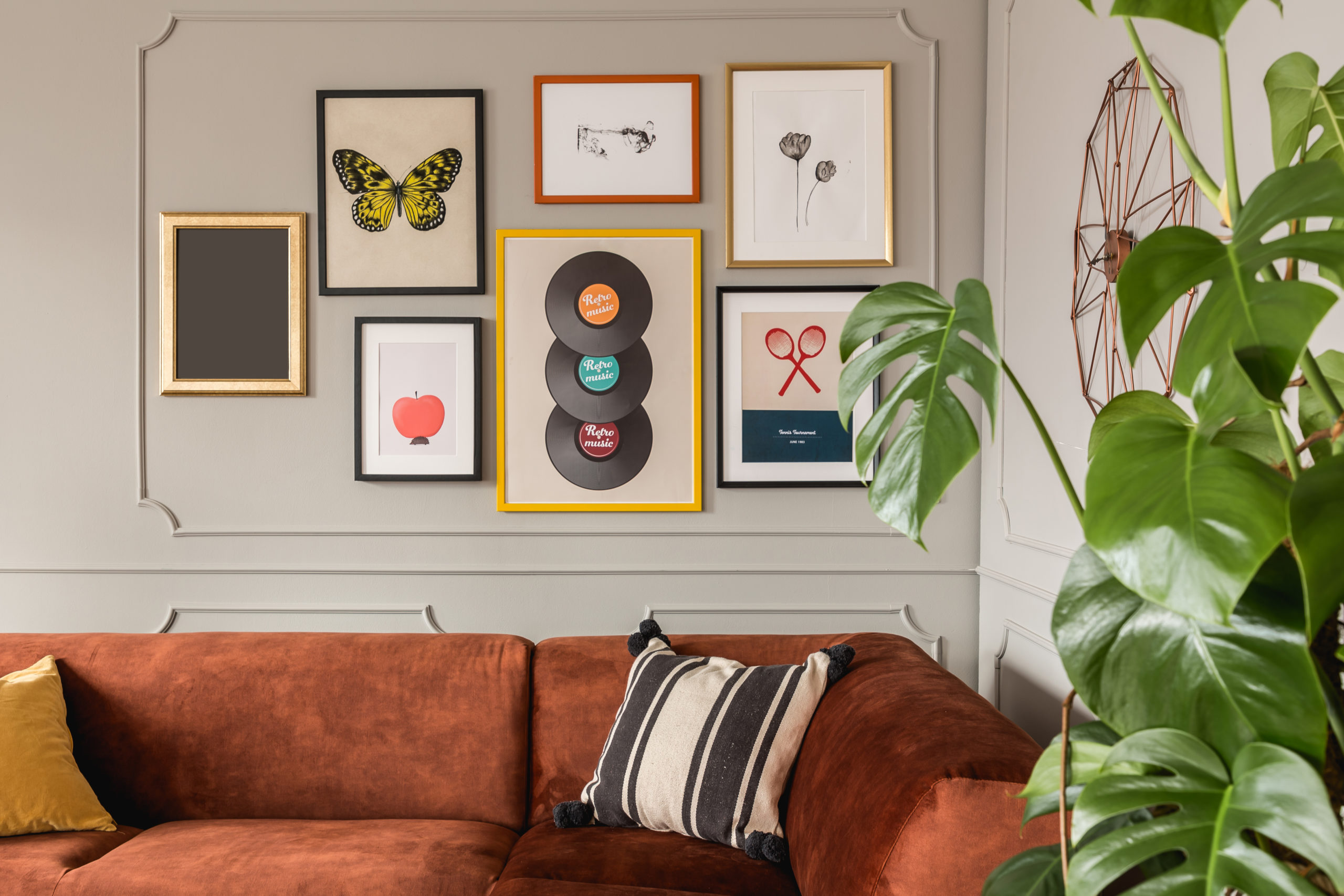 If you've collected a number of art prints, it's always a challenge to display them uniquely and beautifully in your space. But displaying art prints is a matter of creativity and balance. The spacing, colors, and proportions all matter in creating an appealing and unique look for your space.
Well-displayed art is crucial in achieving a transformative look, not just to improve the appearance of a room but also to give it a good feel. There are several ways you can display your art prints effectively to achieve a beautiful and distinctive look for your space. This article discusses five of them below.
1. Get yourself some frames 
You might not consider framing your art prints as a unique way of displaying them. However, how you frame them can bring the uniqueness you need. The best way to achieve a unique look with this method is by using custom framing.
The art of unique framing can be complex and requires attention to detail. Choosing unique materials and patterns for the frames is an excellent place to start. Next, you can add perspective by giving your prints a large white background. A small white border between the prints and the frame can also give the prints a floating look, which will make them pop. However, you should always ensure that your frame of choice complements the imagery in the print. Your frames shouldn't steal the show. Instead, they should complement the art prints.
2. Emphasize order and symmetry with a grid 
Sometimes, the uniqueness of something lies in its simplicity. You can hang your prints in precise rows and columns if they're all the same size and have the same type of frame. This method works particularly well if you have many pieces you want to display.
The best thing about creating a grid with your art prints is that you can do it yourself, and it can be done for large and small spaces equally well. You can also make your grid wide, narrow, close together, or in any way you desire.
For the best results, ensure that you have enough prints to make complete rows and columns. The uniqueness comes from the order and organization of your prints and how well they align. Be precise in your measurements. (1)
3. Get creative with shelves 
Shelving is an excellent way of displaying your art prints, and it's an especially good option if you have space constraints. To create a unique look, you can layer your prints by arranging the smaller ones in front of the larger ones. You can choose between different kinds of shelves, such as stacked shelves, full-length ones, or mini shelves that can function as display pieces themselves.
Regardless of the size of your space, shelving is quite a flexible option. It also allows you to easily change the print arrangement to create a fresh look whenever you want. However, when setting up shelves, always consider the height of your prints. Space them out based on the height of your largest print. (2)
4. Go frameless with Swiss clips 
Swiss clips are perfect for hanging art prints without frames. This display method is simple to do and is among the cheapest ways to display your prints using glass. It works by sandwiching the art print between glass and a back board. The assembled elements are almost invisible when complete, allowing all the attention to be on the print.
You use the clips to hold the prints against a glass sheet, clear plastic, or thin metal. It's quite strong, as it's made to support the sheet and the print. You can then create an arrangement to match your style and preference.
5. Use metal hanging rods 
Also called poster hanging rods, metal hanging rods are metal tubes that pop open with slits big enough to hold the top and bottom edges of an art print in place. They make it easy to hang and display your prints in various ways, such as by using hanging rails, attaching them to a wall, or hanging them from the ceiling. (3)
Although this method is mostly popular in commercial environments, you can also use it to decorate your home. Metal hanging rods are usually aluminum, and you can now find them in black or silver as well.
However, you should note that this method doesn't use glass to cover the print's surface. This means it offers minimal or no protection from natural elements that may cause your art prints to deteriorate over time. So, when using this method, it's advisable to use a clear protective spray to shield your prints against airborne pollutants, fingerprints, moisture, and other elements that can damage them.
Conclusion 
The above methods are simple recommendations for uniquely displaying your art prints. Knowing the method and style that works best for your space is vital because each one gives a different feel and look. Whether you want to hang your art prints, place them on shelves, frame them, or display them frameless, there are many unique ways to showcase them. You just have to choose based on your preference.
References:
"How To Create The Perfect Gallery Grid In Your Home", Source: https://www.mymove.com/home-inspiration/decoration-design-ideas/how-to-create-the-perfect-gallery-grid-in-your-home/
"7 Secrets For Styling A Shelf Perfectly", Source: https://www.thecanvasfactory.com.au/blog/7-secrets-for-styling-a-shelf-perfectly/

"Hanging Wall Art—The Complete Guide", Source: https://www.ballarddesigns.com/howtodecorate/2012/02/how-to-hang-wall-decor-101-2/