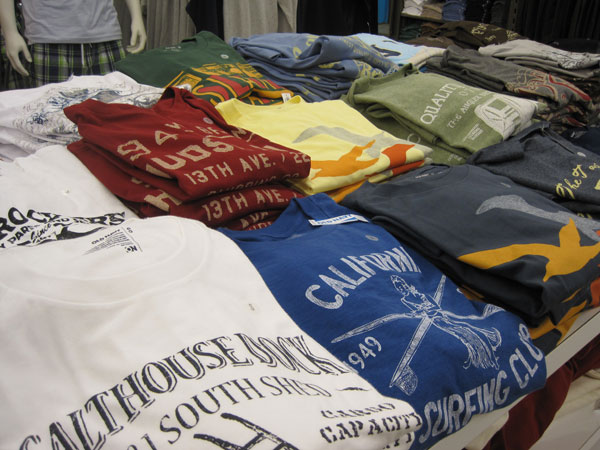 Plain color t-shirts have always had a place in our hearts and stores. But this summer, both your company and designers may be looking for a change. From outsourcing to T-Shirt Design by Designhill to having your in-house graphic designer design your latest t-shirt collection–you can play with everything from sleeve length to the color and fabrics. For men's shirts, the trend is actually moving towards a slimmer fit and fabrics like silk and linen. On the other hand, women are seeing more sheer and loose styles that drape nicely, like flowing dresses. As design director of Mavin says, "the same way that denim can be anything, so can a t-shirt". Because there are so many designs, fabrics and subtle changes that can be made, the possibilities to reinvent your t-shirt collection is endless. Here are 5 ways you can update the classic tee to refine your t-shirt collection:
1. The Burnt Out Style Tee
First introduced in the 1980s rave, reinvent your t-shirt collection by bringing back the burnout tee. It doesn't have to be a t-shirt with an entire burnt out design, but you can incorporate it into your style when working with professional designers like those at Designhill. A classic crew neck style burnt out tee goes well with slim denim jeans. Since the burnt out style is often associated with rock n roll, the tee can be easily paired with funky converse sneakers that are also making their way back to mainstream storefronts. You will come to find that most burnt out tees are made from a combination of fabric like half polyester and half cotton to keep a better shape–a full cotton tee will easily shrink and wear thin.
2. The Elbow Style Tee
While you may find that most of the elbow style tee has be geared towards women's shirts, the fashion community is also coming to terms with collections that are tailored for men as well. The elbow style tee does a world of good for those that are looking for something that gives off a more sophisticated silhouette. The plain design and often solid colors can bring out the brighter designs of garments the elbow tee is paired with. For example, women can cover their arm problem areas while rocking a it with heels and seriously summery skirt.
3. The Button and Pocket Tee
An ideal summer wardrobe addition is an original linen jersey tee. The material is usually softer than expected and cut straight along the body for a neat–not rumpled–style. Nice detail to reinvent your t-shirt collection: Close the shirt at the neckline with a button or multiple buttons. Show it off on a mannequin with suede boat shoes for an elevated take on preppy basics. Not preppy enough for your t-shirt section? Add a diagonally slanted pocket to up it a notch. The fabric of the pocket can be cut to contrast nicely against the grain of the rest of the shirt. If it is made from a fine material, it's worthy of a casual/creative workplace, especially when paired with a blazer.
4. The Beach V-neck Tee
If you're looking to reinvent your collection with a more casual and summer feel then try a new design with a V-neck tee. With this design can be incorporated bright pastel colors for the summer season. But unlike true pastel colors, this t-shirt can have some washed-out brights–making it easier for anyone to pull off confidently. A tee like this can be easily paired with shorts and flip-flops at the beach; or over a white crew neck, with relaxed-fit jeans and sneakers, when running errands. A bold graphic design for this tee can be a standout factor without being clownish.
5. The U-neck Style Tee
Reinvent the classic women's tee with a u-neck shape for a more freeing feel this summer. Make it out of 90 percent modal rayon and 10 percent silk for a more casual chic look. The flouncy U-neck will give new life to the plain white tee. For a more feminine look to match a potentially girlish design, add bell sleeves and a long torso. This look can easily be paired with a black wool pencil skirt for the office, and fun enough to try with an edgier leather version. For women who love well-draped, well-made pieces that compliment curves–this is a perfect sell for any feminine graphic design. It can be worn under a blazer on weekdays and over a bikini on weekends. To play down the deep U-neck when modesty is required, simply slip on a solid black or white tank underneath. Today's tees are made from lighter fabrics than in the past, which makes them ideal for layering.