Modern technology development has endowed graphic designers with such an abundance of software that they are often faced with a dilemma in choosing. And, as you know, not only creativity but also project development speed and success depend on the right choice of software.
Which product to choose when the market offers so many different solutions? In this article, we'll show you the best software solutions to look out for in 2021. Hopefully, we're not going to make things worse for anyone! And no, we are not going to talk about Photoshop here – we know that you know – we have something else to discuss. So let's get to it!
Top 6 Software Solutions for Graphic Designer
Choosing the right software for your business can become half the success in any designer's career. Some prefer classic solutions, some are looking for cheaper alternatives, but everyone needs the best software to fit their project. In 2021, dreams can become a reality with the help of the best graphic design software on the market.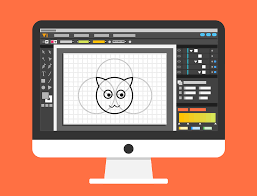 Below you will find famous solutions and free alternatives for both advanced designers and beginners since not everyone can afford to buy expensive software at the beginning of their career. Thus, we focused on providing well-balanced options below.
Yes, we decided to discuss Sketch instead of Photoshop. Sketch is one of the most popular design apps, so most software developers and designers are familiar with it. However, newbies may find this information really helpful.
Sketch is a professional vector tool for macOS. The powerful yet simple, fast, and flexible vector editor allows you to focus on interface design. It also provides access to a large community and a huge number of third party plugins.
This graphic design tool is intuitive and quite easy to use (you can easily switch to it from Photoshop). Sketch has everything needed any designer project may need: guides, grids, symbols, image transformation in perspective (for previewing designs on iOS), vector editing, prototyping, libraries, cloud storage (to share designs and libraries), file and even code export. Plus, there are tons of plugins and resources to combine.
Pros
Creates professional vector images, icons, retouch photos, and website design;
Lightweight software (only 38 MB);
Extremely easy to use and highly functional tool;
Simple design tools and intuitive controls;
Exports files in JPEG, PNG, TIFF, PDF, and SVG formats;
Supports series of layers and creates the same style for a group of objects, etc.;
Provides easy viewing of interface elements on your smartphone;
Continuous updates and cloud storage.
Cons
Sketch's biggest drawback is that it only works on macOS. The pricing is $99 one-time payment for individuals or $9/month (per 1 contributor seat) for teams. However, you can export projects to applications like InVision and Zeplin to create specs and guides for developers;
Can be confusing for novice designers.
Affinity Designer is the fastest, most convenient, and accurate vector graphics editing tool for iPad. You can use it to work on promotional materials, websites, concept art, icons, and other user interface elements. An excellent option in terms of Quality-Price-Ratio.
Affinity Designer exceeds expectations, combining every tool a professional vector editor should have. The application provides unmatched convenience and absolute mobility so you can work anywhere you want.
The app was developed by Serif Labs, a studio known for their professional graphics editor, Affinity Photo, available for Mac and iPad, as well as the Mac version of Affinity Designer. Now Affinity Designer is available on iPad.
The app will provide the ability to sketch anywhere at any time, giving your imagination a vector shape and freedom. You can export your finished projects in any popular graphic formats.
Affinity Designer gives you the ability to create any vector image you have in mind. It has all the tools you need to do this, including flexible switching to bitmap graphics and a set of over 100 brushes.
With this app, you have full control over color and layers (up to a thousand per project). It automatically prompts you for the right hue to use, opens up the space to work with gradients, and locks in the necessary layers of the image.
With this program, you can also work with any elements of typography. At the same time, you have the ability to use both ready-made fonts and create new ones via a whole set of tools with Apple Pencil support.
Pros
Affordable price;
Modern features, wide range of opportunities;
Works on Mac and Windows;
Collaboration capability;
Great pen tool different operation modes;
Quick and customizable vector brushes (calligraphic and emulating watercolor, acrylics, charcoal, etc). Stabilization feature;
Multiple customizable shapes;
Alignment, boolean operations;
Corner tool with multiple modes;
Useful Point Transform tool;
Drawing tool for isometric projection;
Symbols similar to Illustrator.
Cons
Complex terminology for some tools/functions;
Graphical user interface lacks some of the more advanced tools;
Needs a tool/settings for artboard management;
Tablet compatibility issues (excluding popular tablets).
AD is developed for experienced designers engaged in a wide variety of design tasks including web design, typography, concept art, and creating patterns for furniture, ceramics, and wallpapers.
Another interesting thing about AD is its cloud functionality, which makes this product a perfect deal for team projects and small businesses. By the way, there's a 50% discount right now – the product costs only $25 for Mac and Windows (subscription-free), and $10 for iPad. All in all, Affinity Designer is a reliable workhorse for an affordable price so if you need one – check it out!
Unlike the famous Adobe Photoshop, this evergreen classic in graphic design works with vector images (not raster images). In simple terms, raster graphics are created with a large number of pixels, each of which stores its own color. To build vector graphics, the program uses math formulas, which means the image is composed of primitive geometric shapes (circles, arcs, triangles, rectangles, etc.).

Another interesting thing about AD is its cloud functionality, which makes this product a perfect deal for team projects and small businesses. By the way, there's a 50% discount right now – the product costs only $25 for Mac and Windows (subscription-free), and $10 for iPad. All in all, Affinity Designer is a reliable workhorse for an affordable price so if you need one – check it out.
Illustrator is designed to create different graphic layouts, which makes it fundamentally different from Photoshop, in which you can create and process a variety of complex images. Illustrator is a very useful tool for graphic designers who want to illustrate an image or a text, rather than draw pictures themselves.
Pros
Powerful software (proven over the years);
Compatible with Photoshop;
Fast workflow with global editing;
Built-in Adobe fonts;
Bitmap graphics elements:
Wide range of brushes, operations, and effects.
Customizable toolbar;
Pixel-Perfect designs;
Access Adobe stock assets;
Built-in design templates and presets;
CSS Extractor Tool;
Color synchronization;
Path segment reshaping options;
Perspective drawing enhancements;
Dynamic symbols;
Live shapes;
Synchronized updating;
Magnification;
SVG export;
Works on Windows and Mac.
Cons
Expensive and not easy to master;
Intensive GPU.
There's probably no need to talk about how cool this product is, because every graphic designer has heard of it. This app is constantly being updated with new features, while staying available for both Mac and Windows.

The only significant drawback that can be highlighted is its cost. While you could previously buy the program separately, today you need to purchase a Creative Cloud package. The cost is $31.49 for one month and $20.99 per month with an annual subscription.
CorelDRAW is another design software veteran that is still relevant today. A full suite of professional tools for photo editing, vector graphics development, page layout, and text processing – in short, everything you need to create and implement design projects on almost any device.
CorelDRAW Graphics Suite is developing extremely fast, and it is continuously updated. This version includes programs as CorelDRAW editor for vector graphics, Photo-Paint Editor for bitmap graphics, PowerTRACE, Capture, and Connect (font and graphics desktop/online search engine).
CorelDRAW can do a lot of tasks on graphics, photo correction, and animation. The main function of the program is to make beautiful posters, advertisements, calendars, business cards, and flyers. With this program, you will have the ability to cut fragments of images from their background, correct photos, use video tutorials and tooltips, apply thousands of templates, fonts, and photos. You can also use all the vector/raster graphics tools you need. Create recklessly. Design thoughtfully!
Pros
Easy to use, suitable for beginners, and experienced users alike;
Continuous updates for Windows, Mac, OS/2, Unix, and Linux;
25+ new features & enhancements;
30-day money back guarantee;
Redesigned PowerTRACE™ feature;
7,000 clipart, digital images, and vehicle wrap templates;
Upsampling and artifact removal;
Professional print materials, 1,000 high-resolution digital photos
Collaboration and share features;
Works with variable fonts, 1,000+ TrueType and OpenType fonts;
Inner Shadow tool, artistic style effects, and raster effect lenses;
150 professionally designed templates;
Over 600 fountain, vector and bitmap fills.
Cons
High cost ($399.00 per year ($33.25/month, billed annually) or $785.00 for the full version);
Not so easy to use (confusing vector creation and bitmap editing);
Slow performance at times;
Collaboration features might need to be improved;
Requires a Corel account to add comments;
Guest login requires OTP verification.
This product can be considered a veteran in the graphic design field with a constantly growing number of users due to new improved versions being released every year. This program allows you to work with vector graphics and create multi-page layouts.
All in all, CorelDRAW Graphics Suite 2020 is a great option for experienced users, and although the basic product has been on the market for quite a long time, it always comes out with many useful updates stemming out from the latest design trends that might surprise you.
Platform: Windows / Linux (maybe Mac if you are tech savvy)
Inkscape is a full-featured and completely free alternative to Adobe Illustrator. This open-source software for technical drawing has powerful tools combined with a simple and intuitive interface for novice designers and those who cannot afford expensive software. An open-source feature allows you to manually modify code lines and improve the program. Inkscape will also be a good option for experienced users, although some tools still need improvement.
If you're a novice designer and don't like the subscription system that makes you pay for the product every month, or if you just don't want to buy expensive software packages, Inkscape is the right choice. It's also useful if you upload hundreds of different images or files on your site.
Just like most free software available on the Web, Inkscape focuses on SVG as its primary file format. This highly efficient editor has excellent integration capabilities and supports many of the more advanced features that are not always available in similar graphic design apps, such as alpha blending, cloned objects, and markers. SVG has fairly compact file sizes, without losing the quality of the original image.
Full support for various color modes means that Inkscape is a viable alternative to Illustrator for both print and web design. And although Inkscape's interface is somewhat simpler, you can still create complex artwork. Moreover, the ability to trace bitmap images, variable stroke width support, and native import of Illustrator files makes this app worth considering.
Pros
Free download for Windows, macOS, and Linux;
Perfect for working with large banners and billboards;
Finished file size is smaller than that of bitmap counterparts;
Great designer app for novices.
Cons
Can be slow at times, regardless of the power of your PC.
Sort of outdated design;
Text tools require tweaks;
Compatibility with Illustrator can be causing some lags.
If you are a novice and not ready to spend your money on advanced software, check out this product. Judging by the numerous user reviews online, this powerful vector design tool, can easily compete with Illustrator. Moreover, in addition to beneficial technical features, this program is free.
With Inkscape, beginners can do things that may be difficult for them in Illustrator. You can use various convenient tools for operations with texts, outlines, shapes, markers, gradients, transparency effects and much more.
Another significant advantage is that this program is suitable for both Windows, Mac, and Linux. However, even on the most powerful PC, this program can sometimes be slow but, given such an arsenal of tools and free access, this disadvantage is something you can pretend not to notice.
If you're looking for a powerful and fast-to-use software product, you might want to check Xara Designer Pro, which has demonstrated its effectiveness numerous times over. The software combines all design-related functional areas into a single easy-to-use and intuitive interface.
Xara Designer Pro X is a graphic designer tool that is simply perfect photo processing, creation of illustrations and animations, web design, and much more. Competent extension of the work will help you to create attractive logos and graphics in a short period of time, without having to switch between different apps.
Designer Pro X is suitable for advanced users that will surely appreciate its wide arsenal of tools. It's a comprehensive and fast designer solution, developed to meet the highest demands of ambitious and professional users.
Pros
Flexible all-in-one software tool;
Features high-performance vector rendering engine;
Direct Action Tools (transparency, shadows, bevels or gradient fills);
Easy drag-and-drop file import;
Zoom tool (up to 25,000%);
Infinite undo/redo feature;
Maximum screen quality;
Lightweight program;
Responsive web design software;
Advanced design functions.
Cons
Limited transparency options (compared to those of Adobe Illustrator);
Some features can be a bit confusing to understand;
Only suitable for Windows Vista, 7, 8, 10;
High cost – $199.00 (at the moment of posting this article – regularly it's $299.00).
This software is not only suitable for users interested in modern graphic design but also for those who want to experience typography and create amazing vector and bitmap images. As you understand, this means that Xara Designer Pro X has an impressive variety of tools related to graphic design.
Another advantage of this software is that it provides access to millions of archived photos and illustrations. You also get layouts and templates for various design elements. But these features are available after registration. The regular version costs £199. However, you can get it for £129.00 right now – they often drop discounts on the official website, so we recommend to keep an eye on the page if you want to get a better deal.
You can also get a "cut-down" version of the product, Xara Photo & Graphic Designer, for £41.99 (regularly £49.99) for quick and creative image editing and logo / symbol / sketch creation. This version comes with many templates, SmartShapes, photo filters, and more.
Bonus Graphic Design Software
Figma is a relatively new design app and, probably, one of the biggest Sketch competitors – and it's growing fast! Figma has all the same features as Sketch, plus a collaborative capability, to make it easy for several designers to work on the same project simultaneously.
The cool thing about Figma is that it's totally free if you have up to three projects. Otherwise, for just $12/month, you can unlock all the features to create an infinite number of projects. The app works great in any browser and can be used on almost any OS. The user interface resembles that of Sketch and Adobe XD. Thus, if those tools are familiar to you, you don't even have to learn anything new.
Figma is a great option if you are a beginner and want to try your hand without investing in expensive software. Figma is fast and easy to work with.
Platform: online, PC, Mac, Linux, ChromeOS.
Gravit Designer (ex goold old Gravit) is a full-featured vector design application suitable for all kinds of tasks, starting from screens and icons to presentations, illustrations, and animations.
With a simple and intuitive interface that can be customized as needed, this free graphic design software tool contains many features for creating detailed and beautiful vector images, including non-destructive booleans, various fills, blending modes, and a powerful text engine.
It can export files as a PDF, SVG, or bitmaps, and if you need to access your project on the go, you can use the Gravit Cloud service, which lets you get to work wherever you are.
Platform: online, Mac, Windows, Linux, Chromebook.
Available as both a browser-based web app and a standalone desktop app, Vectr is a free graphics software for creating 2D vectors. With plenty of vector features and numerous filters, shadows, and fonts, it's a versatile product, which is quite enough for everyday design tasks.
You can use collaboration and synchronization capabilities to send a Vectr document to your colleagues or friends. Connect to anyone and anywhere, create beautiful concepts together, and scale your designs to any size without losing clarity.
Platform: Mac, Windows, Linux
Developed with input from VFX and concept artists, illustrators, matte, and texture artists, Krita is an open-source drawing tool that has been in development since 1999. It's available at no charge and comes with a full set of brushes suitable for any 2D design task. Moreover, you can also combine it with a number of plugins available for download, starting with advanced filters and ending with drawing assistants for perspective work.
Notable Krita features include brush stabilizers for smoothing out any wobbly lines, over 100 brushes, 30 dockers for additional functionality, 9 unique brush engines, a wrap-around mode for creating seamless textures and patterns, and a popup palette for quick color selection. The app has a really convenient and flexible interface with dark and light themes and a customizable layout. With Krita, you can bring your drawings to life via customizable onion skinning, audio import, export to video, and easy-to-color code. Productivity features include PSD support, HDR Painting, Python scripting, enhanced OpenGL, full color management, layer management, drawing assistants, and various useful cartoonist tools.
Platform: iOS, Android
Pixlr is another free graphic design software tool that claims to be "the most popular online photo editor in the world." It allows you to edit photos for free right in your browser. You can try a new level of intuitive photo editing with AI-powered tools for simple, fast, but still professional editing.
Pixlr can handle almost any image format, e.g. PSD (Photoshop), PXD, JPEG, PNG (transparent), WebP, SVG, and others. Pixlr boasts more than 600 effects, overlays, and outlines, allowing you to do all the basic things you expect from a photo editor, from cropping and resizing to red-eye removal and teeth whitening. You can choose between Pixlr E (advanced) and Pixlr X (easy graphic design) options.
If you're used to using Photoshop, you'll find the interface in Pixlr to be quite easy to easy, as they're very similar. This free app is available for both iOS and Android.
Conclusion
All you have to do is decide which option is right for you. And with a list of software like this, it's easier than it looks! Remember that graphic design software is an amazing opportunity to enhance your creativity.
If you're an aspiring designer and don't have the extra money to invest in expensive solutions, that doesn't mean you should put it off – use free programs to practice! Otherwise, if you're an advanced designer, you can choose software based on the functionality of each product and the needs of your project. Good luck and plenty of creativity to you!