The upcoming year is on its way. It means that it's time to make plans about your profitable business. In case you already have one, it's advisable to consider how to promote it.
Have you decided to take up dropshipping? We have already written about the advantages and disadvantages of this dropshipping and how to start this process. Have you made a firm decision on this matter? Then it's necessary to choose the appropriate e-store platform. The theme you use to build a website also matters.
Here we focus on shopify dropshipping themes. Their design corresponds to the main aim of any business. In particular, to attract people and don't let them go without a purchase. Are you ready to best dropship with shopify? Let's see what you can use to achieve your goal.
Apparelix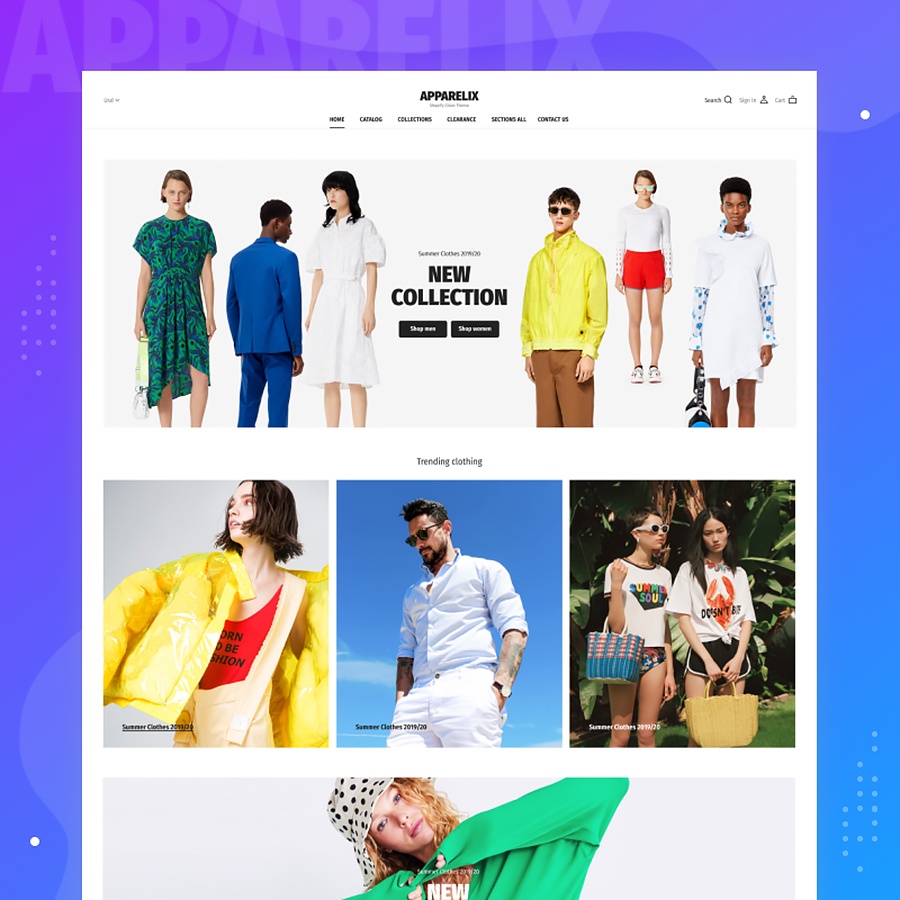 Apparelix is a clean dropship shopify theme with a variety of options. Its powerful design will work well for creating a brand. The theme contains the following features:
different layouts for online stores of various types;
Shopify Visual Builder to compose your own layouts in case you need them;
quick and user-friendly navigation that will have a positive impact on the conversion rate;
regular updates with a chance to use new items free of charge;
native right-to-left language support. Thus, you may translate your website into the Arabic languages. It allows you to expand your target audience.
Cosmetics Themes Bundle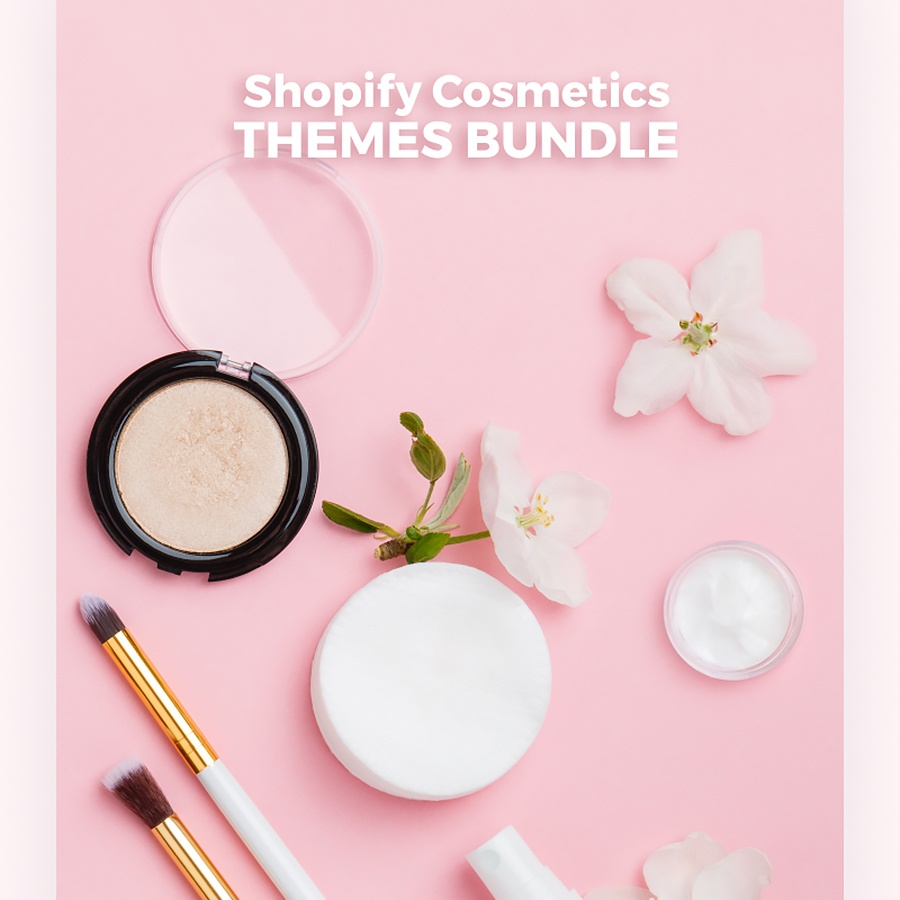 Cosmetics Themes Bundle includes 3 premium dropship shopify themes. It's a good offer for a spa or cosmetics business. The themes have such main features, such as:
the Home Page with different sections. You may customize them, as you wish;
the Shopify Visual Builder. It lets you create appropriate layouts for your store;
multilingual and multicurrency support. Due to these features, it's possible to enter the international market;
the Sorting Options feature. You will be able to ease the selection process for your clients;
the Product Carousel that will help you showcase your goods in the best possible way.
Simple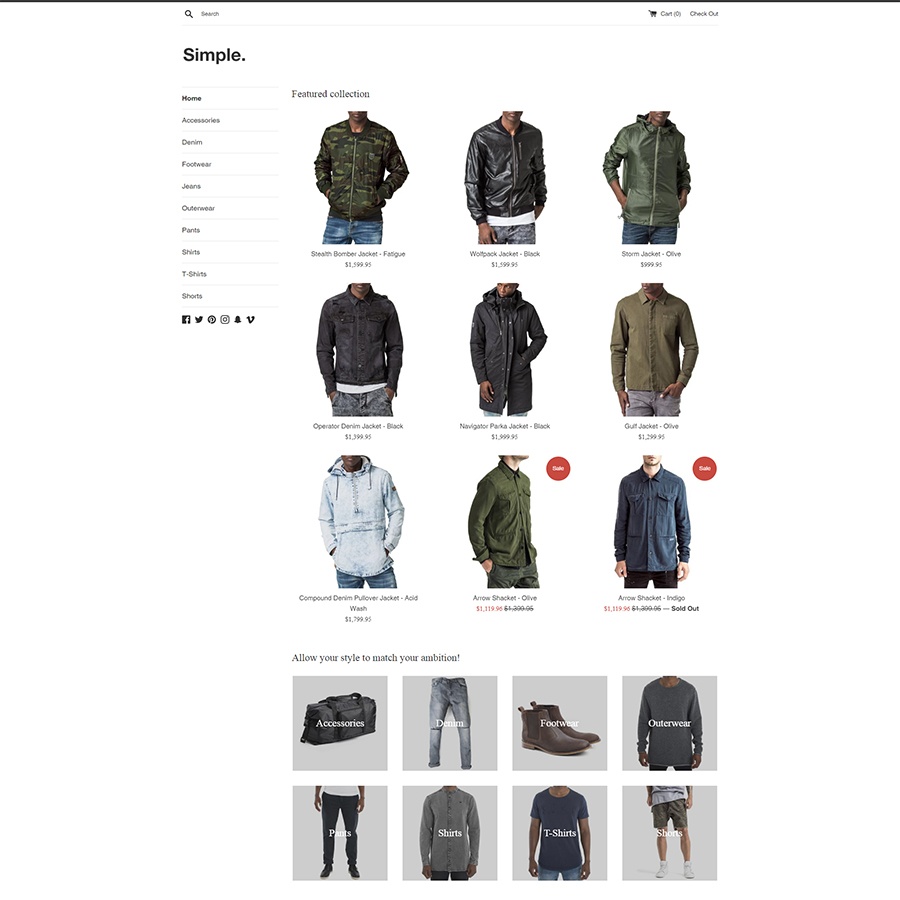 Simple is a free Shopify theme. Yet, it contains various useful features. This Shopify theme has a minimalist design. Thus, people will focus their attention on the key information and the products.
Using the Sidebar menu, you will present the collection of your goods properly.
Product image zoom will let your customers get acquainted with the item in more detail.
Image animations play a significant role in creating a smooth transition effect. You may take advantage of this feature to advertise either a product or a brand.
There is such an option as Product recommendations. It's possible to present the suggested items on the product page to promote them.
Arie Theme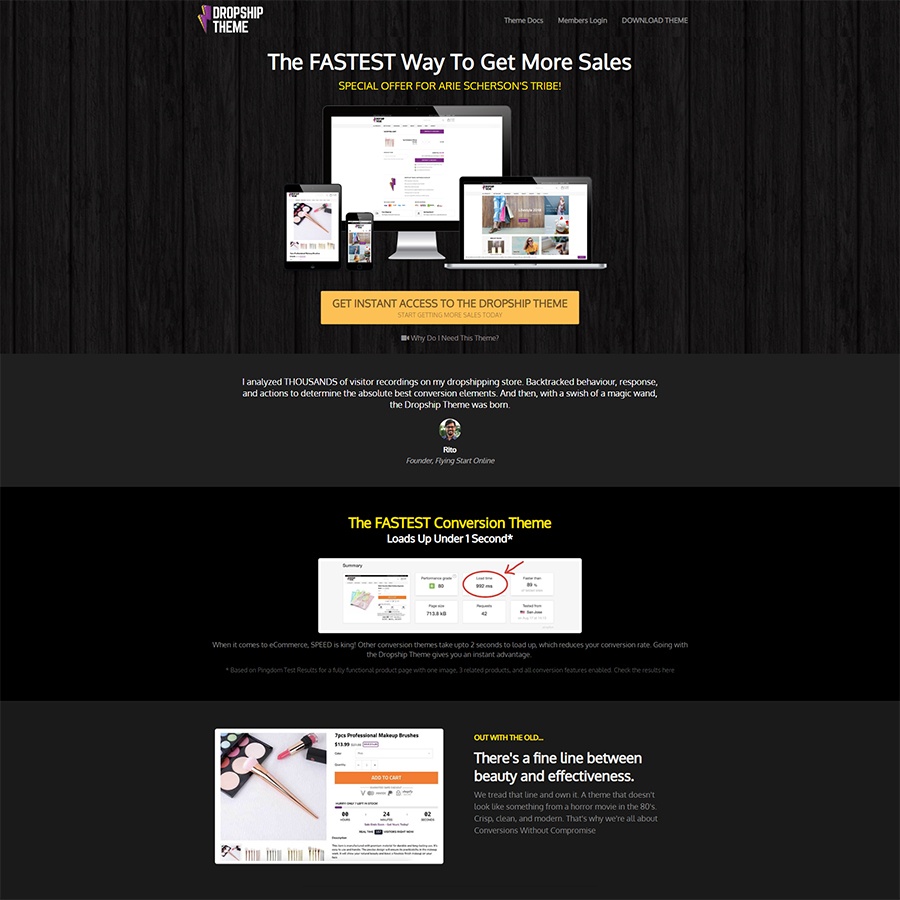 This dropship Shopify theme has a lot of advantages. They will open up new opportunities for your business.
The theme loads very fast which is important for conversion rate. Moreover, it means that Arie has nothing extra that may influence the website performance. There are more features at your disposal:
modular Home Page with flexible blocks. You may add or change something to make it look, as you want;
optimization and customization of all website pages;
mobile-first philosophy to guarantee a convenient shopping for your customers.
Pionita Cosmetics Shopify Theme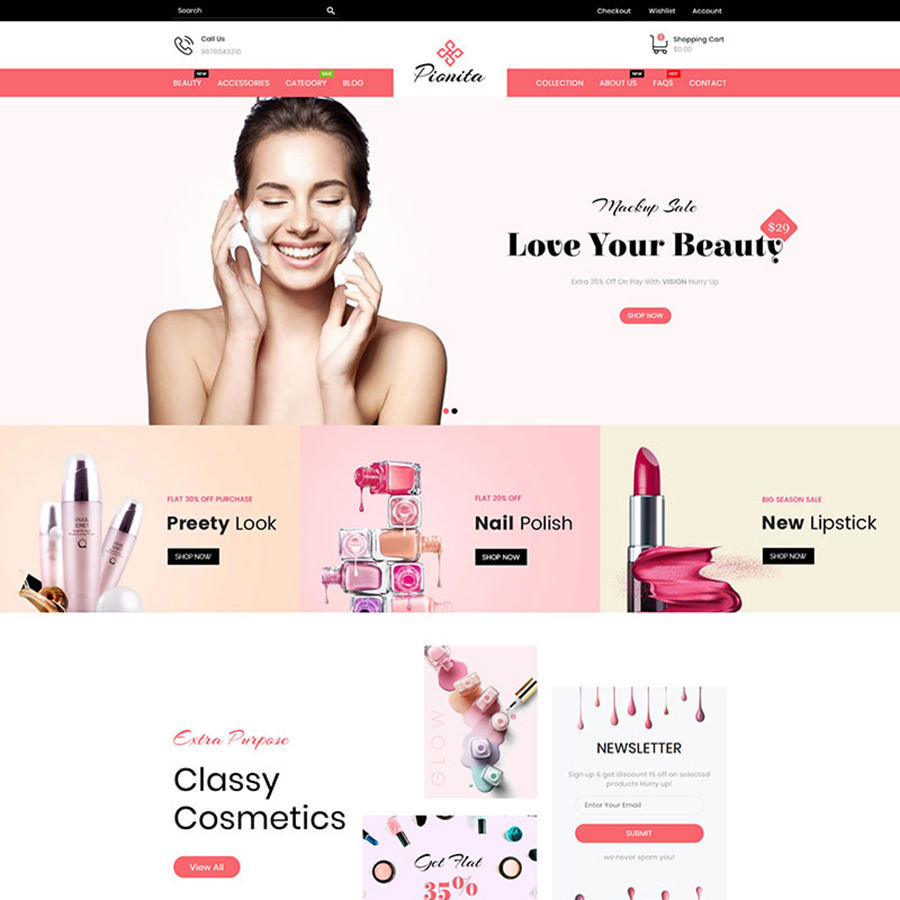 Pionita Cosmetics Shopify theme is suitable for those who specialize in beauty products. The key features of the theme are the following:
layouts for different pages of the website. It's easy to customize them, as you need;
the sticky menu that guarantees pleasant navigation between the pages;
Instafeed feature that allows using the opportunities of Instagram accounts;
the Product Reviews feature makes it possible to rate the items and write reviews;
unlimited banners to set in various media;
the Blog module to write engaging posts. It will help you motivate your visitors to take action.
Jimmy Moo Shopify Theme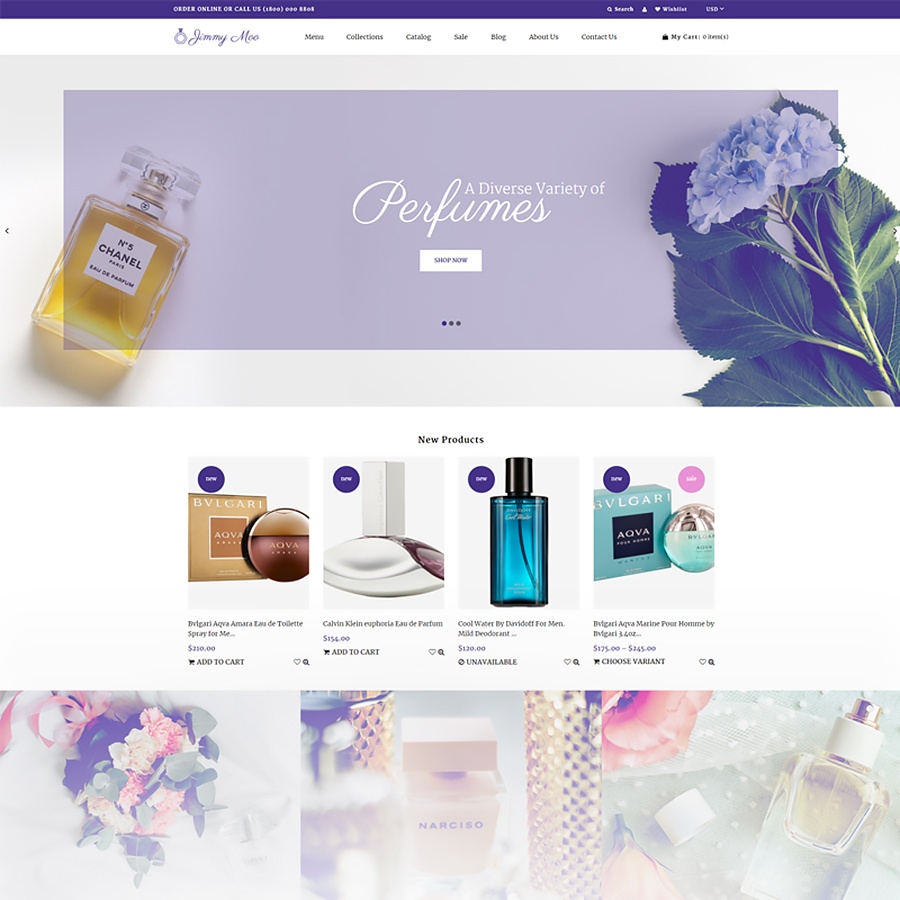 Jimmy Moo is a Shopify theme designed to sell beauty products. It's elegant but at the same time cleanly coded. There are different features to take advantage of. Let your imagination fly with the Shopify Visual Builder. It allows you to get various layouts to showcase your products.
The Add to Wishlist feature aims to increase sales in your store.
Jimmy Moo is cross-browser compatible and SEO-optimized.
There is an option for a blog. Use it to your advantage and enhance the flow of clients to your website.
You can manage the email addresses obtained due to the Newsletter Subscription. Offering new items or special offers to your clients via email is a good idea.
Ultimate Shopify Theme for Drop Shipping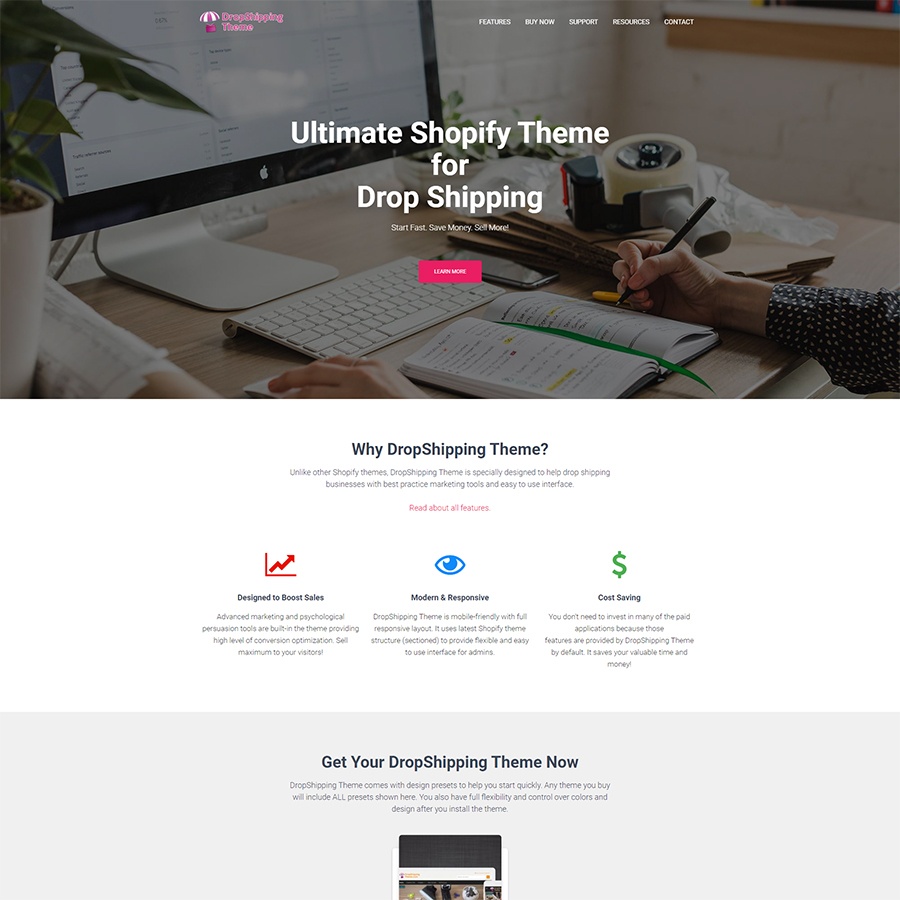 Ultimate Shopify Theme offers you different marketing tools to promote your business. What is more, it comes with a wide range of features:
powerful front page to impress visitors at first sight. There is an opportunity to add features video or collection to the front page;
countdown timers on the product page and shopping cart. The first one encourages people to add the product to the cart. The second one motivates them to finish the started action;
the search box with an autocomplete function. Let your clients find the necessary items fast;
an opportunity to add accounts from the most popular social media.
Palo Alto Shopify Theme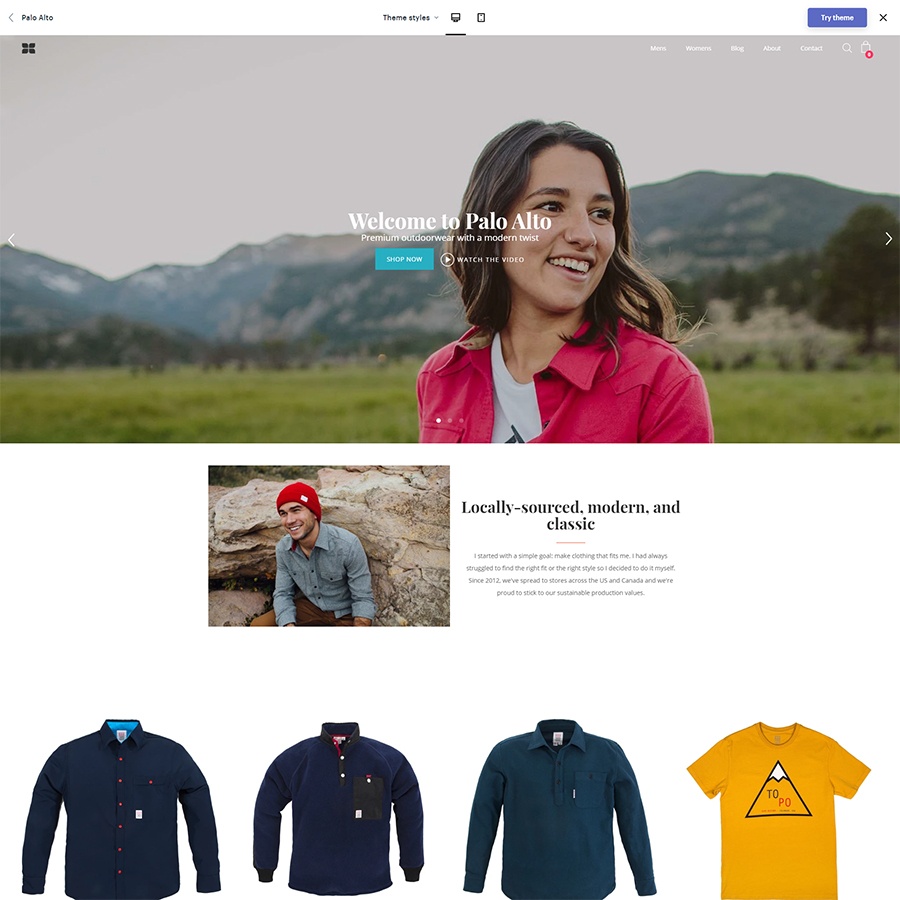 Palo Alto is one more droshipping theme shopify you can use. Its modern design will enhance the strong points of any business. There are different features to create an effective online store:
a convenient layout to add information about your goods, special offers, or posts;
an opportunity to place a video about your products or interesting suggestions;
the Single featured product characteristics lets you focus people's attention on one particular item;
free theme updates to make your store more functional;
Moreover, this Shopify theme is a good solution for the stores that offer a small number of items.
Diana – Furniture Responsive Shopify Theme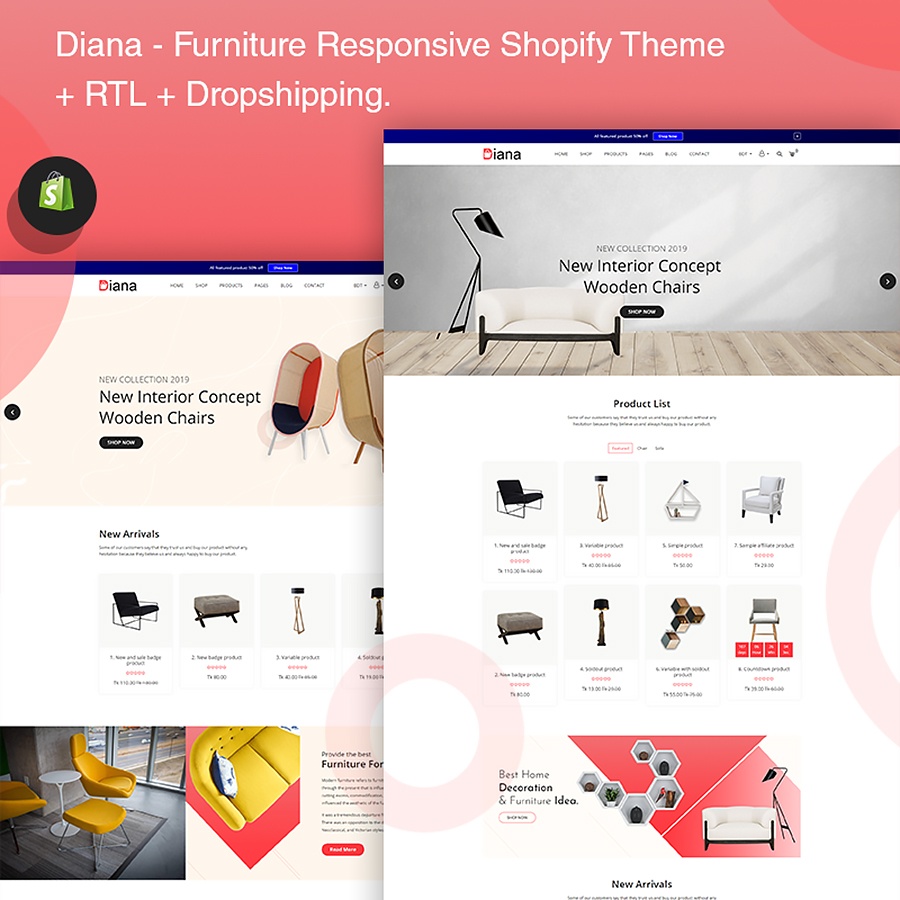 Diana is a responsive furniture Shopify theme. It's user-friendly and creative, with a lot of practical features.
There are premade layouts for various pages of the website. For example, you will find 2 Home Pages to choose from, shop and other pages, as well.
The theme comes with a collection of fonts to work with. There are 600 Google fonts to use for different elements.
The Ajax Contact Form makes it easier to communicate with people.
You have a lifetime access to the theme and all its updates.
It's possible to install Diana with 1 click and customize it easily.
So, this is the information about best Shopify themes you may take advantage of. Hope you have found the best shopify theme for dropshipping. If not, share your views in the comments on what theme you use for your online store.