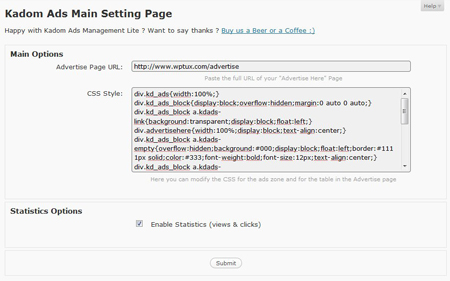 I recently stumbled upon Thomas Beal's latest WordPress plugin: Kadom ads management. I gave it a try on my CSS gallery and was quite impressed by the fact that it did exactly what I would expect from such a plugin: it's easy to install, campaigns are setted up in a snap and you get stats about the campaigns. I thought that Designer Daily's readers would be interested by an interview with the creator of the plugin.
Can you introduce yourself to Designer Daily's readers?
Hello, my name is Thomas Béal. I'm  27 years old, I live in Orleans (France near Paris) and I'm an engineer specialized in information systems. I'm also a web entrepreneur during my free time. I love everything around web design and websites' creation. I'm the webmaster of CssLeak and BrushKing and some other websites. My last project is Kadom.net ,  a WordPress themes shop. I just released Kadom Ads Management a few days ago, it's a free WordPress plugin to manage ads on your blog.
What does the plugin do and who do you recommend it for?
Kadom Ads Management allows you to manage all banner ads on your blog (of 125×125 pixels or anything else). You can easily create multiple ad zones (PHP code or Widgets) and campaigns. The plugin calculates advert end date and automatically takes it down. It can also give you statistics on views and clicks. I recommend Kadom Ads Management for people who wants to run direct Ads on their blog and save time.

How did you get the idea to create this plugin?
When I started to create Premium Themes. I included in my theme, like all other shops, the advertising feature. But I found it very poor in functionalities (generally with a limited number of spots and no time management…) so I searched plugins and I found this post on ProBlogDesign (and the features wish list). I thought there was something to do to help bloggers who want to run ads on their blog.
There is already some ad management plugins for WordPress, why should people use yours?
Lots of them are really restrictive, only Google adsense, only 125×125 ads… You can do what you want but it takes time. I think that my plugins have many little functionalities that help you to save time. For example the scheduled campaigns which start after an other, or the table of available ad zone that is automatically generated and always up to date (You can see many "advertise" pages that are never update with some statistics like  "impressions: 60 000 ( feb 2008)" ).
You told me that you may create a premium version of the plugin, what more would it do?
Yes, I project to release a premium version for people who have multiple websites and who wants to offer direct advertising with an other system like BuySellAds.Here are some of the main features :
A BuySellAds integration (or any other Ads Management Services) for people who wants to run both : direct ads and BuySellAds.
An email reminder system (for advertiser and blogger) when an ad will end with an auto-renew system.
A Text Link management for affiliates links.
You can limit the ads display on other criteria such as views and clicks.
Thomas, thank you for answering my questions and good luck with the plugin!