Prototyping tools have been with us for years, and there are plenty of good ones on the market. They are used to simulate a software application's flow. Also to test and evaluate its expected performance and user experience. For the designer, it's matter of finding and selecting a tool that's a good match for the task. It is better than looking for a "best" tool that will get the job done under any scenario.
Experienced web designers generally know what to look for. Also do those who have previously followed prototyping approaches.
With handoff tools it's a different story as they are a rather recent addition to a typical UI/UX toolkit. These tools are put to use when it's time to hand a finished design over to the developers.
In either case, there's no "best" tool and there's no "right or wrong" even though you could conceivably make a poor choice. Tools are selected according to the task at hand and with the intention of making a project's workflow that much smoother.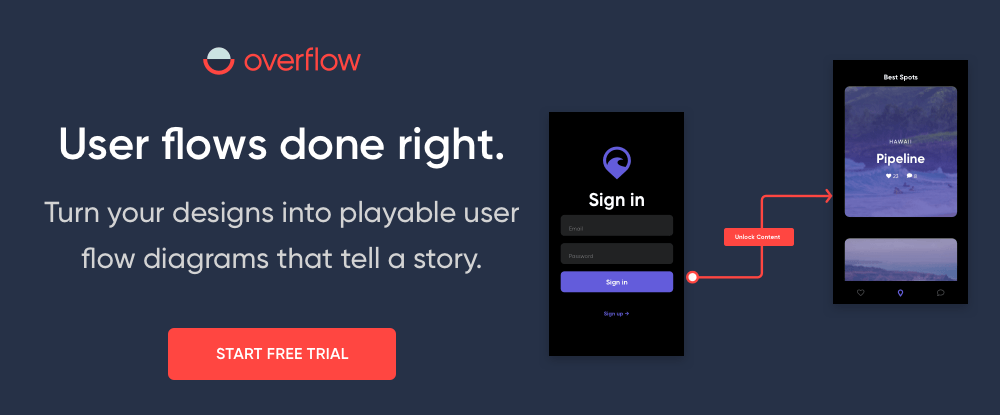 Overflow re-invented the way user flow diagramming should be done and offers a comprehensive solution to designers and product teams. This powerful tool integrates seamlessly with today's most popular design tools to enable designers to convert their designs into playable, interactive user flow diagrams.
Typically, a designer had to export static PNGs of their screenshots and attempt to import them into flowchart software that was not designed to work with visuals, and then draw lines and connectors between the screens, all in an attempt to produce a flow diagram that made sense.
Working with Overflow essentially involves syncing designs from Sketch, Adobe XD, or Figma, and adding device skins, connectors and annotations, all with the simple click of a button. Beautiful user flows that tell a story can be created in minutes and viewers can either get the big picture of the whole diagram to evaluate complexity and logic, or zoom to individual screens to focus on design details.
Overflow is available for a 30-day free trial on MacOS – a Windows version is expected in the future.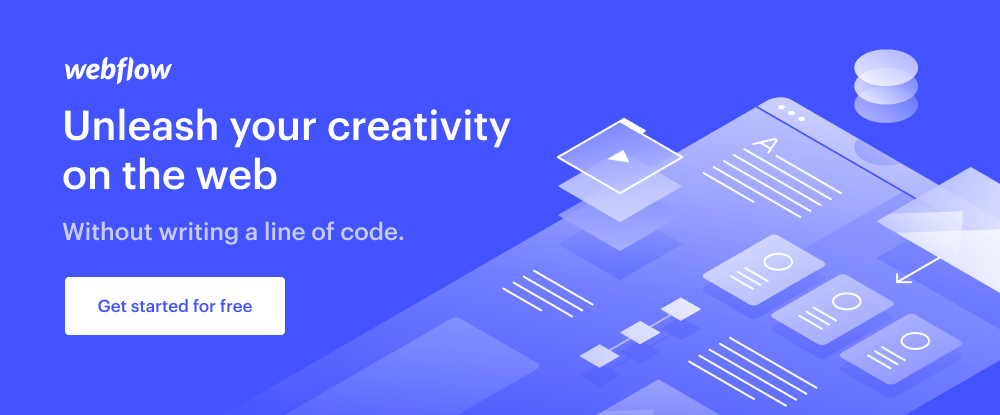 Design/build/launch is, in a nutshell, what Webflow enables you to do — all without writing a single line of code. You can start by creating prototypes of your design, easily incorporating real dynamic content and functional forms, and collaborating with others in the process.
Once your design's complete, you can actually skip the handoff to dev, pushing your site straight to production with a click.
You can create a custom, client-friendly CMS for every site, add immersive interactions and animations, and enjoy world-class, crazy-fast hosting — without any of the usual setup hassles.
Start a design from scratch, work from a template, or build with one of a host of community-created UI kits to build any type of website, including online stores.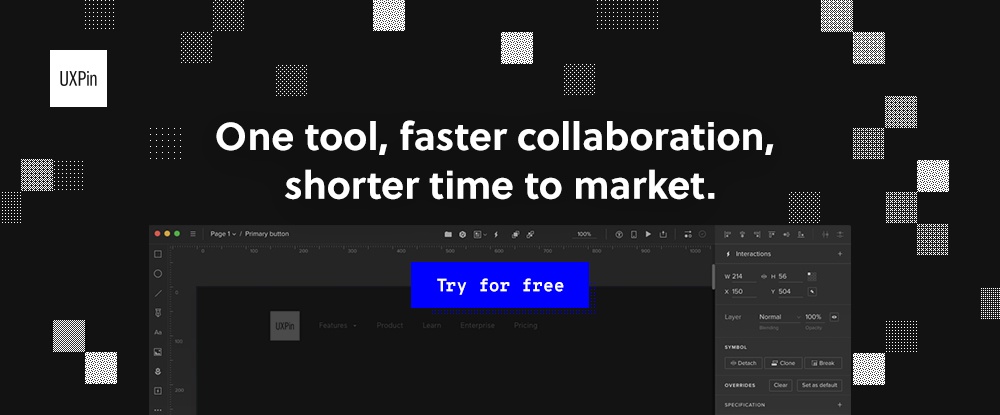 Gone are the days of linking static designs together! UXPin is the prototyping tool your whole product team dreams about. You can design, prototype, and collaborate in one place.
Starting with proof-of-concept wireframes, you can collect feedback in real time, and work your way up through interactive prototypes to easy hand-off. It has everything from interactive states, conditional logic, variables, code components, JavaScript expressions, and more.
Team collaboration gets truly simplified with UXPin –as proven by their clients, big and small like PayPal, Microsoft, but design agencies and freelancers as well.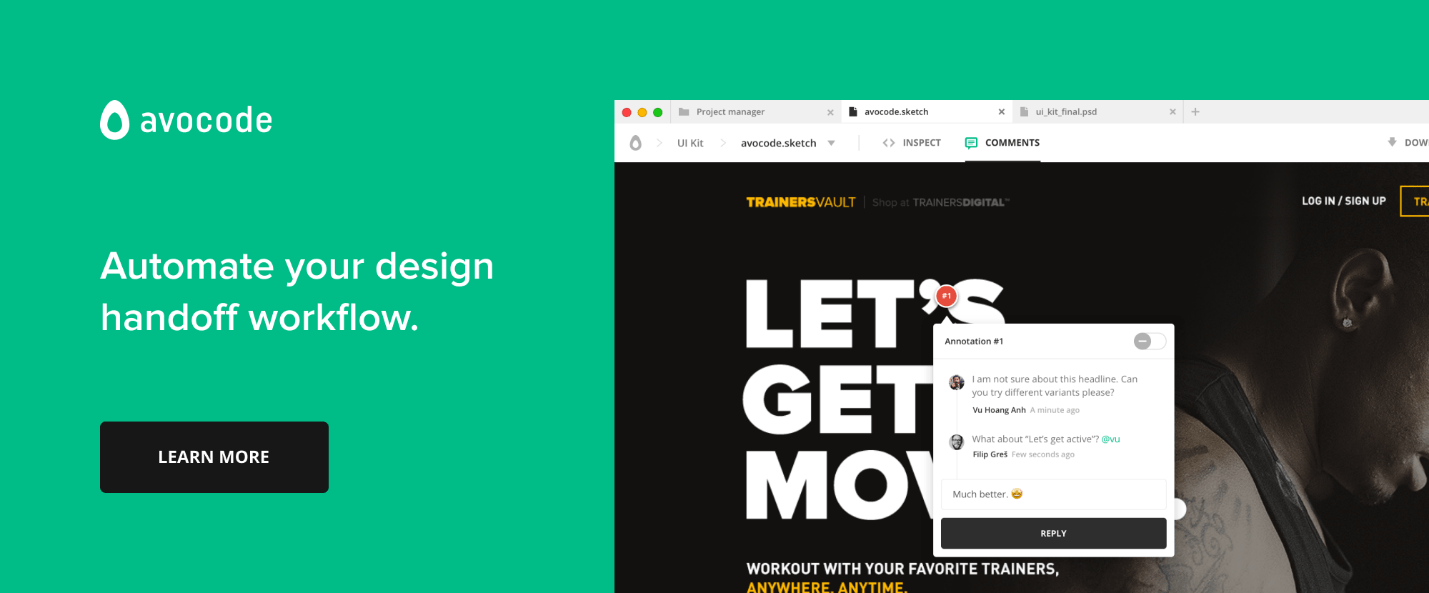 Avocode is a platform-independent tool that teams can use to sync Sketch, XD, PSD, AI, and Figma designs so team members, contractors, and clients can look at any design version you want to share with them. Avocode will help keep your design files organized and back them up on the cloud.
You don't have to prepare your files in any way to let Avocode do its job. It recognizes all layers and enables exports for all assets.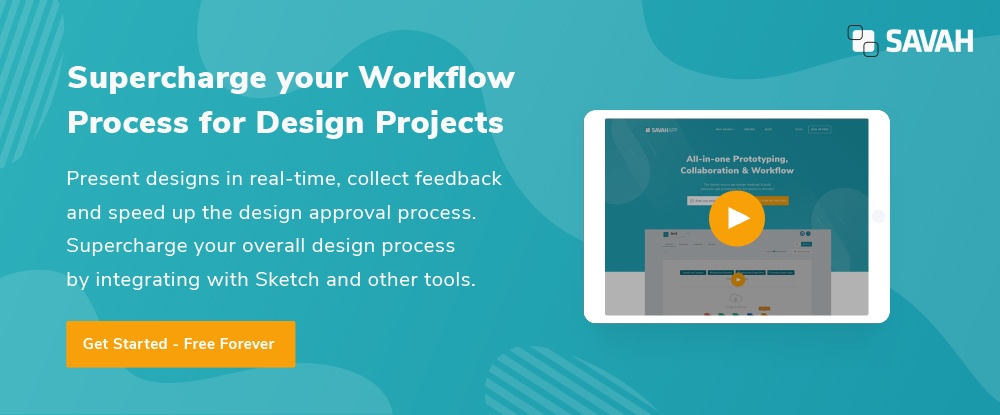 Savah is a digital design platform that allows you to create an end-to-end user journey for any web and mobile app project. Savah can be integrated with Sketch and auto-synced design with Dropbox and Google Drive. You can upload unlimited designs, present in real-time, collect feedback.
Savah is free to use for solo designers, and paid plans start from $40/m for a team of 5 designers.
What does the "best" prototyping and handoff tool look like?
With respect to prototyping, there are so many tools and methods on the market that finding one that will work for you isn't always an easy task.
What would the "Best" one look like?
There is no such thing since your choice would depend on what you need at the moment for a particular project! Here are some questions you want answered when choosing a prototyping tool:
How effective is the tool for collaborating and sharing information with others involved in the project?
What's the learning curve and how easy is the tool to use?
Do you need low-fi for testing ideas, Medium-fi for testing layouts and primary interactions, or high-fi for testing micro-interactions and visuals?
Does the price fit your budget?
When evaluating the pros and cons of a prototyping or handoff tool, you should take into account the following criteria
Fidelity: How powerful is the tool for visual and interactive design?
Consistency: Does the tool support design consistency?
Accuracy: Does it support your organization's "source of truth"?
Collaboration: Can you collaborate or co-design with others?
Developer Handoff: Will the tool correctly and effectively generate specifications and assets for developers?
All of these are important, but don't get tied up in knots worrying about making a "best" choice. These tools are supposed to help you shape your ideas, and not in themselves determine how your products are going to look or behave.
Conclusion
Naturally, you want to keep up to date with the latest tools and technologies. Selecting proper prototyping and handoff tools requires a lot of thought. Some tools will be more effective than others. It depends on a variety of factors including the level of collaboration supported, team size, the task at hand, the platform it will run on, etc.
The overarching goal is that of creating or maintaining a seamless product design workflow.