You probably think as long as it works, it needs no fix. But that doesn't work when you are running a website. When you don't migrate your site when it is necessary, you lose out on all the optimizations, code patch-ups, security enhancements, and the ability to do so many functionalities with ease.
You might lose your edge against your competitors and may not be able to keep up with the increasing user demands. So, when should you migrate your website? Here are some sample scenarios:
You want to upgrade to a new host but want to retain the same domain name
You want to move to a new host and use a new domain name
You want to set up your own staging site.
In each of these cases and more, you would want to migrate your site with the least amount of effort and time as possible.
How to Migrate Your WordPress Site?
Then the next question comes as to how you can migrate your WordPress site. Just like there is a load of plugins to accomplish every little thing you need, there are several migration plugins that you can use.
Migration plugins make it easy for you to carry out the migration process within a matter of just a few clicks. They can ensure a smooth migration with no overheads and get you back to running the site in the most efficient way possible. Doing the same process starting from backing up your site and reconfiguring all the settings can be both time-consuming and error-prone, if, by mistake, you leave out something important.
So, choose a good migration plugin and automate the process. Let us help you with this hand-picked list of some of the best WordPress migration plugins you can use today.
Things To Consider While Choosing Best WordPress Migration Plugins
Here are some pointers to help you choose the best WordPress migration plugins:
Look For Ease Of Use
The first and foremost reason developers use a plugin for migration is to avoid all the brunt work and automate it. So, if it is going to take a steep learning curve to use the plugin, maybe it does not exactly fit the purpose. Look for plugins that have simple and easy steps that require no prior experience to get the job done.
Backups
The biggest part of every website migration is the step involving backup. Migration plugins hence must be able to offer a good backup solution. Make sure you get a complete backup solution and options to schedule automatic backups
Storage
Along with backup, you should pay attention to the storage options provided. If you already have a cloud storage subscription, see if that provider is supported by the plugin. This feature is a must for making reliable backups of large sizes.
Compatibility
Any plugin you choose should be compatible with your WordPress version and be able to handle all the complex scripts you run.
Cost
Cost is definitely a deciding factor for any resource. So, check if the plugin subscription plans and payment plans work for you. Some plugins come with a basic version and provide additional features via paid extensions. So, calculate the actual cost depending on all the features you would need and decide accordingly.
Update Frequency
Regular updates indicate a strong developer presence, and you may have little worries as to get any technical support for the plugin. Any plugin that has not been updated in the past six months needs to be on the bottom of your priority list. Check if the plugin has been tested against the latest WordPress version and will work well for your site.
Support
Free plugins may not have as much of active support, but any plugin you pay for must be able to provide active tech support to address any issue you face. Check out the support section on the plugin download page or home page to know all the terms and available levels of support provided.
Look For Ratings And Reviews
The current user base for a plugin will have a lot to say about its efficacy. Do look into the reviews and testimonial section to see if the plugin does work as it claims to be.
All of the plugins listed below are compatible with the latest WordPress releases and have been tested well for quality and function.
Best WordPress Migration Plugins
Duplicator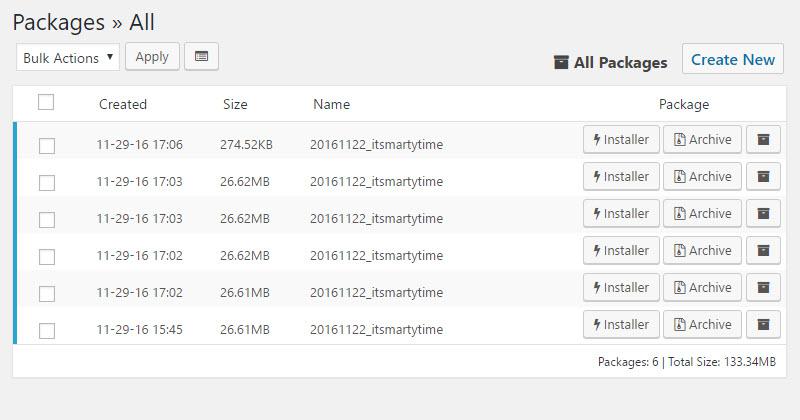 Duplicator is an efficient tool with the right level of flexibility and versatility needed for serving all your migration related tasks.
Here are some of the functions it provides:
Standard migrations
Site cloning to a new domain name
Setup different staging versions of the site
Complete site backup
Automatic file updates with respect to URL changes
Work on live site by bringing it down to localhost for development
Full WordPress migration
The entire site can be bundled up into a package
Duplicator creates a package that contains the information of your current WordPress site along with an installer file that helps migrate the site data to a new location.
To migrate your site, you have to upload the package and the installer to the new server and follow a simple installation process to complete the migration. If you just want a backup, store these files safely in remote or local storage.
Most of the migration tasks are automated by Duplicator. The plugin is available in both free and premium paid versions. The paid version would be necessary if you want to move a bulky site with large amounts of content. The pro version also has additional features like automatic backups and starts at $59.
Some features of the Pro version are:
Scheduled backups
Cloud storage
Multi-threaded support for large website and database migration
Installation of multi-site subside into a new standalone site
Email notifications
CPanel direct access
Better customer support
UpdraftPlus Migrator Extension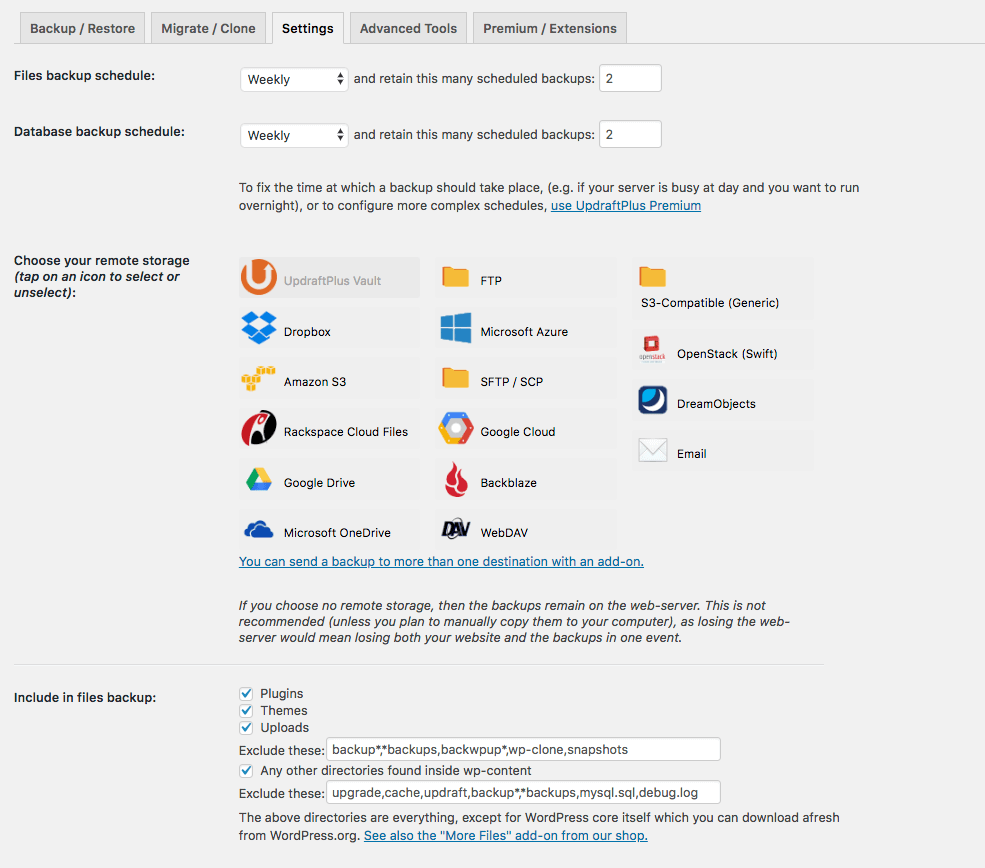 UpdraftPlus is more famously known as a WordPress backup solution. The free version does not have the migration features, but if you are willing to shell out $30, you can get an add-on to provide easy migration.
Some features of UpdraftPlus that help in easy migration are:
URL swapping
Fix database serialization errors with ease
WordPress dashboard support to use the plugin directly from the dashboard
Multi-site compatible
No limits on file sizes for backups. File sizes limits would be as stipulated by the web host only.
WP-CLI support
Incremental backups
If all you need is a simple site backup or if you are moving to a new host with the same URL, you can just use the free version. For any other advanced migration, you will have to opt for the paid version with The Migrator add on.
All-In-One WP Migration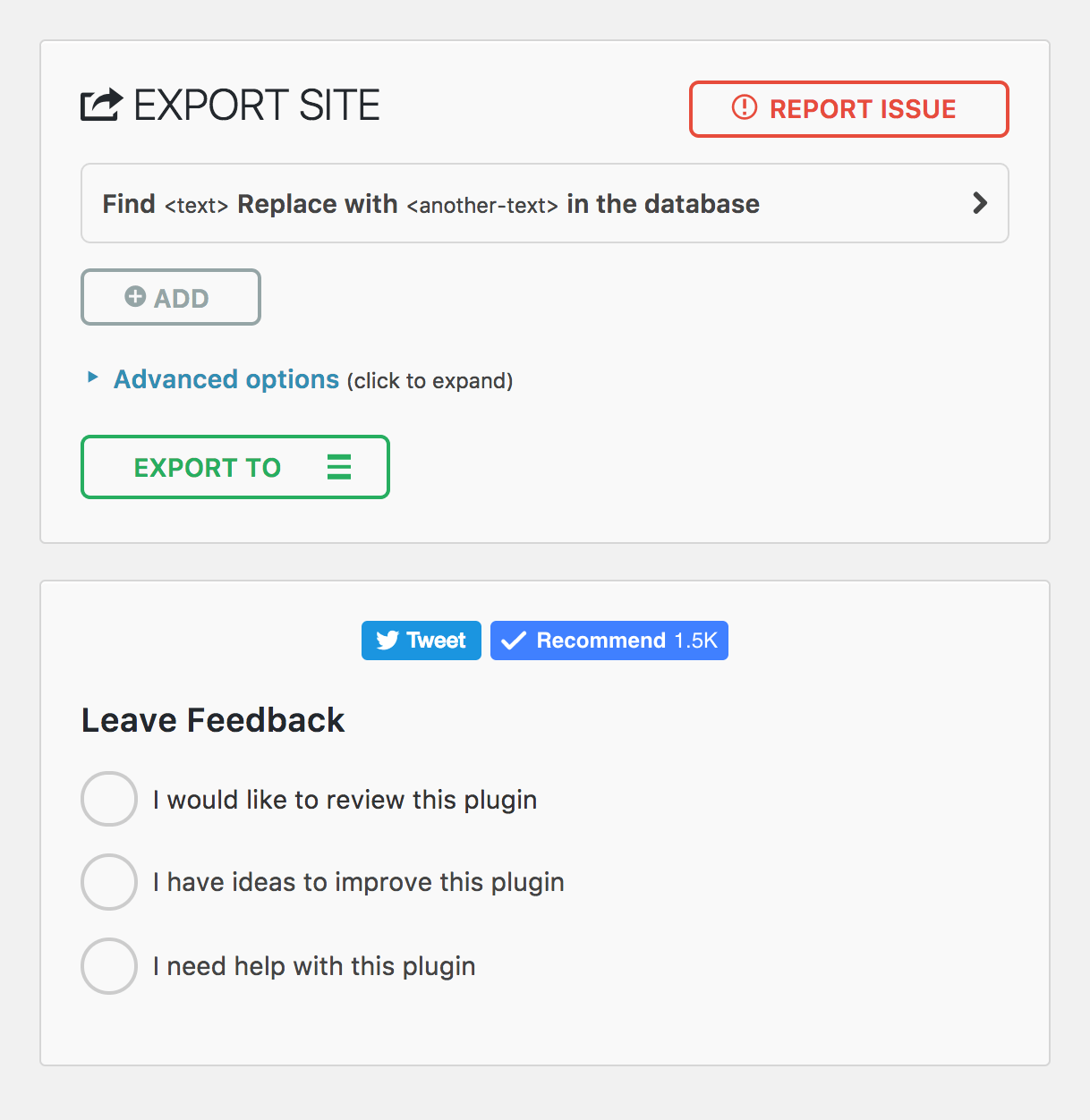 All-in-One WP migration provides a complete solution from backups to installation involved during the website migration process. The base plugin is free, and premium extensions provide added functionalities like cloud storage and more.
This plugin covers all aspects of migration, allowing you to successfully backup site files, databases and restore them to your new site with no added effort.
All the data import and export operations are carried out swiftly by dividing the tasks into 3 second time chunks. This relieves you of any restrictions on request rates placed by your host. And similarly, the plugin also allows you to bypass the max size limitations set by the host and upload your site without any failures.
Some more awesome features provided include:
Unlimited find and replace operations on a database to fix any serialization issues
Cloud storage to providers like Dropbox and Google Drive
No restrictions on host or operation system
Bypass upload size restrictions
WP-CLI integration
The free version has an upload size limit of 512 MB. By adding the unlimited extension, you can remove this restriction. Each extension may vary in price.
WP Clone By WP Academy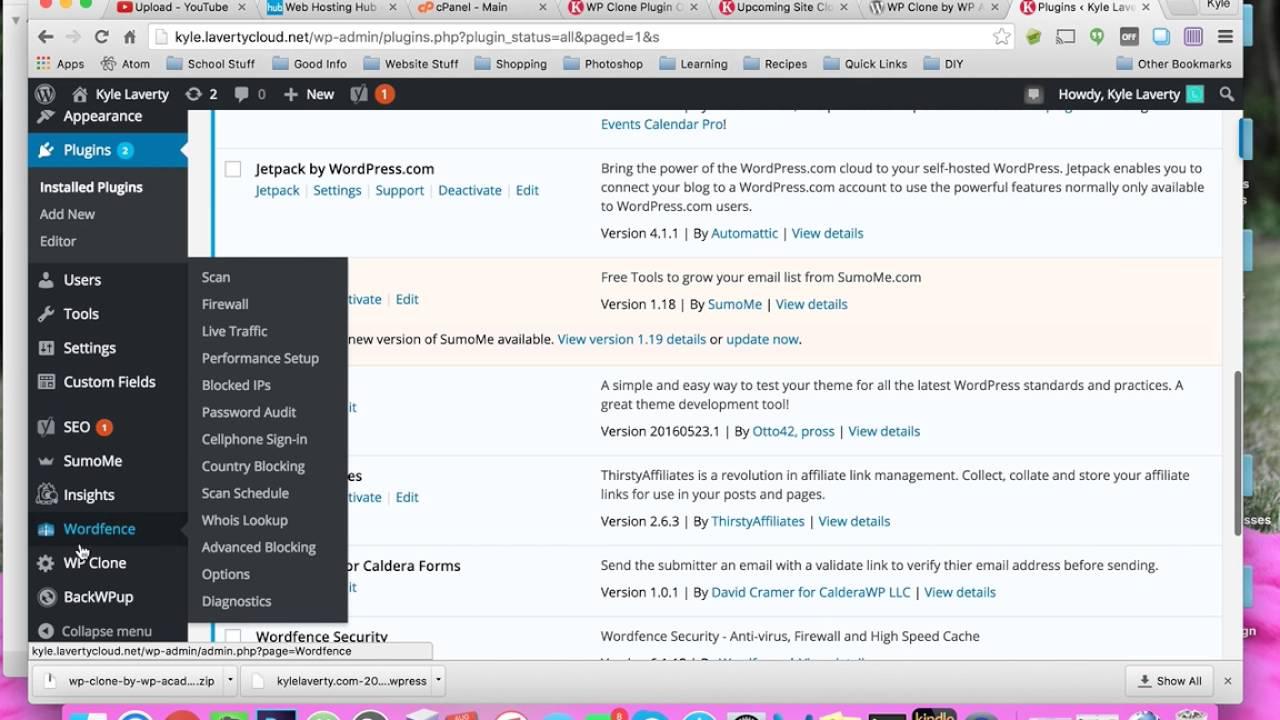 WP Clone is another well-known migration plugin specifically known for its features that provide an easy workaround to FTP file transactions. It greatly simplifies the website migration process. All you need to do is create a fresh WordPress install and add it to the WP clone.
The rest of the site migration and restoration will be taken care of by the plugin automatically. While this level of automation sounds too good to be true, it does not really have a 100% success rate. About 10-20% of the installations may fail, and hence why some users are reluctant to use the WP clone plugin. The smaller the size of the site, the higher the chances of successful migration with the WP clone.
If you own a site with a size of less than 250 MB, you can definitely give this one a try. It is a free plugin.
While it has been tested up to WordPress 5.5.1 version, it has been around three years since the plugin was updated. So do use it only when you have a small website and cannot handle all the technicalities of FTP.
But if you are planning to migrate a big sized website that has huge traffic, like forums, or community sites, in that case, it's better to sign up for optimized hosting companies as they will be able to better assist you during the migration process of these large community sites.
BackupBuddy
BackupBuddy is basically a high-performance backup plugin for WordPress sites. It allows for scheduled backups that make it easy for you to migrate your site whenever you need to.
It also provides cloud storage support, including FTP, Dropbox, and Rack Space cloud. Here are some notable features of Backup Buddy:
Scheduled automatic updates. You can set up daily, weekly, and monthly updates
Complete site backup including database and site settings
Cloud storage support
Email notifications on data backup
Website duplication and restoration
Access to support forums
1 GB storage
The plugin pricing starts at $80 and can go up to $199.
Migrate Guru

Migrate Guru is a plugin with a simple purpose. Making default WordPress migrations simplified and easy. You can move up to 1 GB of data within just 30 minutes, and you can move an entire site of size ranging up to 200 GB. And the best part is that it is completely free, and all of its features can be used without any more add on or premium extensions.
Here are some good things about Migrate Guru:
Regular status updates on the website move via email.
One-click migration
Supports site sizes up to 200 GB
Automatic site copying that does not require additional storage requirements
Real-time alerts via email notifications
Vaultpress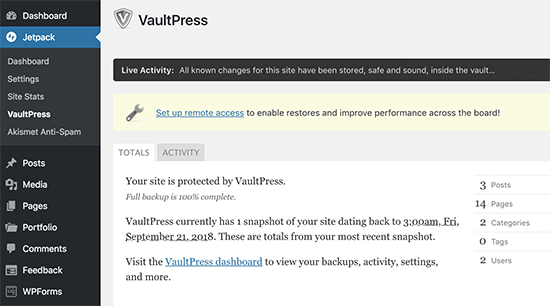 VaultPress is a paid plugin with a subscription plan starting at around $3.5 per month. It was developed by one of the WordPress co-founders, Matt Mullenweg. It has many features that enable you to perform website migration and site backups in a hassle-free manner.
You cannot use the VaultPress as a standalone plugin as it comes as a part of the Jetpack package, which is another security-oriented premium plugin.
So you can opt for VaultPress if you are already using Jetpack to help protect your site from malware.
Some of the features of VaultPress are:
Automatic file repairs
Site migration
File scanning for viruses, malware's and any security vulnerabilities
Spam defense
Backup and restore
Backup Guard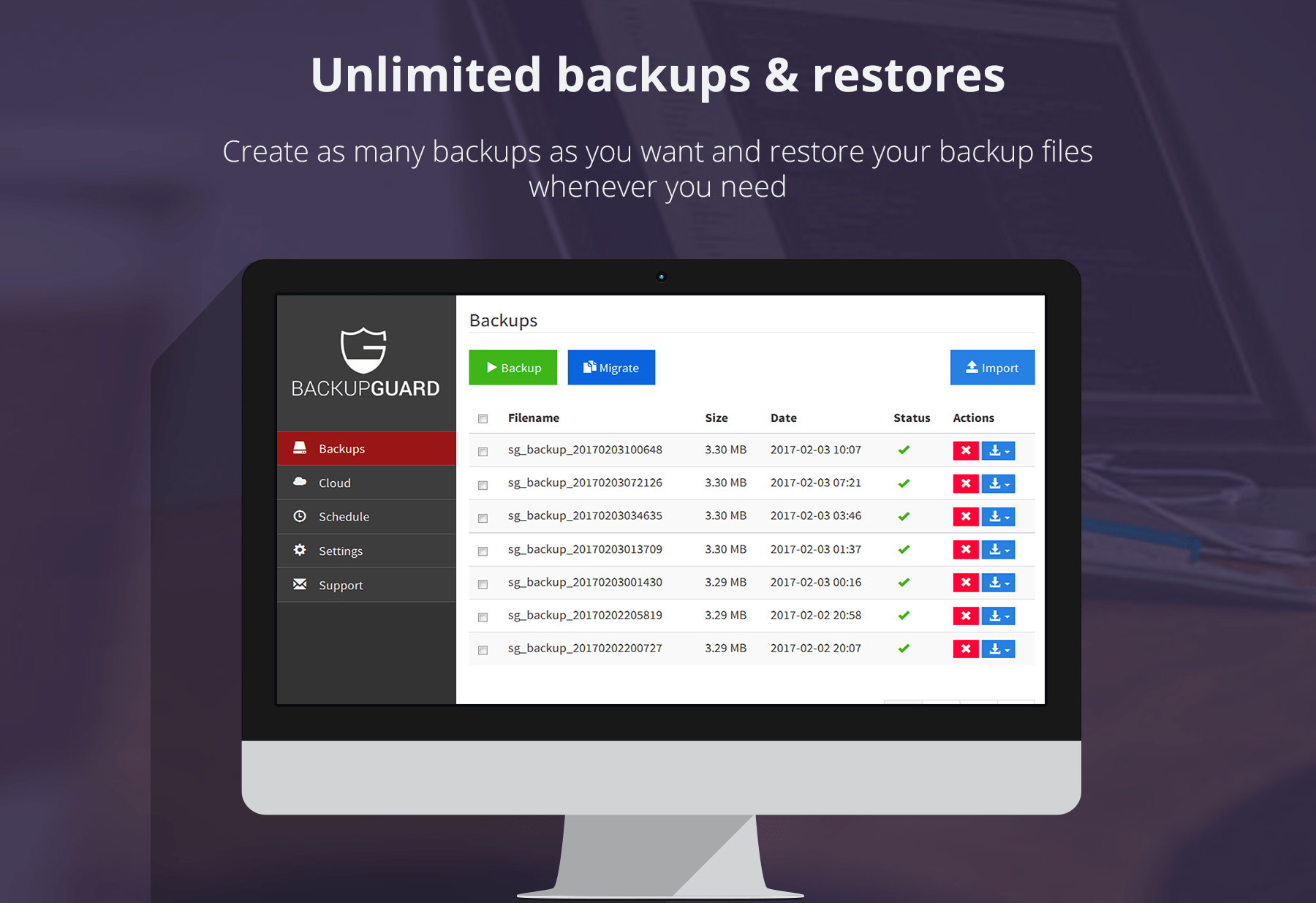 Backup Guard provides an easy to use backup features that facilitate a faster and easier website migration. Some of its core features are:
Selective backups
Restore backups
Download and import backups
Supports multisite WordPress network
Cancel the backup anytime
Check the live progress
Upload the backup to Dropbox
Scheduled site backups
Further Suggestions While Migrating Your WordPress Website
Let us give you some more additional tips that will come in handy when you are migrating:
Backups are important. Never skip this setup. While most plugins provide this functionality by default, it is recommended that you use an offsite backup tool as well.
Remember to test your backup to see if it works properly.
Do not shut down the original WordPress Install. Keep it live so you can make a new backup if necessary
Update your DNS only after the migration is fully complete.
The Wrap Up
This brings us to the end of this article. You can rely on these WordPress migration plugins to migrate your website on the go. All these plugins are easy to use and flaunt an extremely user-friendly interface.
Have you already used any of these plugins? How was your experience? Do share with us in the comments below.