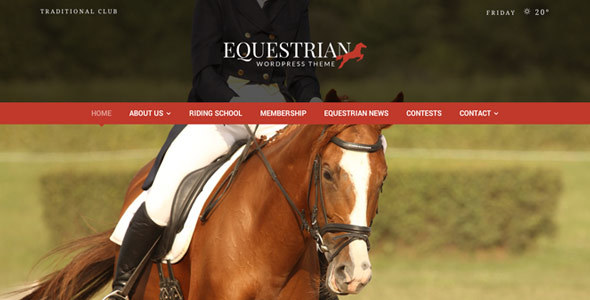 In today's digital age, building a website is as easy as making coffee in the morning. Utilizing web-building tools like WordPress, you can set up any kind of website in minutes only by installing a pre-made WordPress theme.
There are thousands of different WordPress themes all designed for specific niches and categories that you'll like to cover.
For the horse enthusiast, starting a website where you can explore the daily horse racing picks by TwinSpires.com or the top contenders for the Triple Crown is a great way to share your passion for this sport and for the animals.
So, whether you are breeding, training, building your own stable or just a horse enthusiast, here are some of the WordPress themes that are perfect for you.
Best WordPress Themes for Horse-Related Websites
Horse Club
Anyone wishing to build a website for a horse club or stable may consider using the Horse Club template. It has a basic, contemporary design that's ideal for showing your horses and an intuitive user interface that makes adding and managing information a breeze.
A blog area, photo galleries, and an events calendar are just a few of the elements that are specifically made for websites about horses and are included in the template.
This theme is also optimized for mobile devices, and it is SEO-friendly which will help you with your Google Rankings.
Equine Pro
Another excellent alternative for websites with equine content is the Equine Pro template. This template was made just for equestrian professionals and has a chic, classy look that's ideal for presenting your abilities and offerings.
A variety of features, including a gallery, blog, and events calendar, are included in the template, making it simple to keep your visitors informed of your most recent endeavors.
You can, for example, create a horse racing calendar that tracks all of the most popular horse races in the world, like the Kentucky Derby, and update your readers on every new piece of information that releases.
Horset
Here we have another modern-looking horse-related theme that will allow you to set up a website with plenty of features.
Horset is a WordPress theme for equestrian organizations and riding schools. You can develop any new thing, including websites with this theme that feature horses, horse power, equestrian services, horse clubs, and other types of businesses.
The Horset theme is compatible with all browsers, mobile devices, and the most recent version of WordPress. It also supports one-click import and straight import, for which reason you won't lose the mathematical information you enter into the item.
Equestrian
One of the best-looking horse-related themes is Equestrian. It has a gorgeous one-click import layout, that will allow you to add multiple features to your website.
Apart from having a beautiful design, the Equestrian WP theme also has plenty of features, such as a subscription/membership model, where you can charge your visitors a monthly fee, a blog, a tracking calendar, and much more.
Additionally, this WP theme comes with easy website building, which means that even if you don't have previous experience with WordPress, you can create your website easily.
Last but not least, it is optimized for speed, and it is SEO friendly which will help you to rank better on Google search results.
Horse Breeder
The Horse Breeder template is a fantastic option for your website if you are a horse breeder. With the help of this template, you may highlight your breeding program and show off your stallions and mares.
It has a variety of tools, such as galleries and a blog, that make it simple to spread information about your horse breeding operation.
Final Words
WordPress offers a vast selection of templates that may be tailored to any website with an equine theme.
There is a template for everyone, whether you want to promote your horse shows or highlight your horse club, stable, or breeding program. Before choosing, be sure to look at the features, compatibility, and style. If you do this, your website will be up and operating in no time.