You might have awaited this moment eagerly or maybe you have been dreading it from the very beginning. Either way, it's finally here: it's time to choose the worktops for your kitchen. The decision isn't one that is taken lightly and nor should it because the kitchen worktops are one of the most used pieces of furniture in the entire home.
With such a predominant role in the household, the worktops need to be exactly what's needed to complete the kitchen design but also fit in great with the rest of your home. This is a small guide that will help you take a decision if you're still confused about which way to go with your kitchen worktops.
Do you need something reliable?
If you are looking for something very reliable, you could choose something like granite, as the surface is very practical and offers a lot of benefits. Sure, there are some things that aren't really that great about the granite, such as the price, but that depends on the individual making the purchase to assess if it's worth it or not.
Do you have a light budget?
If you are looking for a considerably lower priced solution, hardwood might be the way to go. It's a great material for kitchen worktops but it isn't as costly.
Do you live alone and plan to install them alone?
If you have no one to help you, you need to keep in mind that stone based worktops like granite are very heavy and can be a serious problem for those that attempt to mount them themselves.
Do you need more texture?
If you're all about the different textures you can have for your worktops, you might want to go with hardwood because it offers a pretty loose texture variation with different wood grains which can add more or less depending on what texture you like most.
Do you want more color?
If you like the idea of having granite worktops but absolutely dread the color of regular granite, you might be interested in getting quartz kitchen worktops. The difference between the former and the latter is that quartz is treated with resin and that makes it available in a ton of colors. You can pretty much get it in any color you want and that is all that some are interested in, having the best color scheme.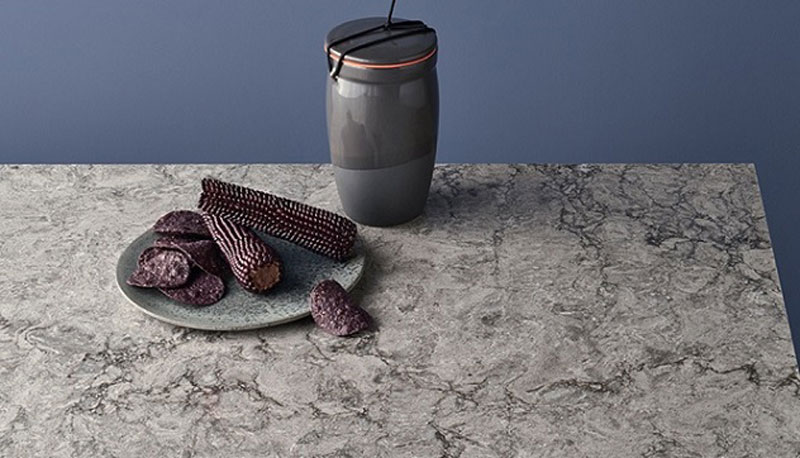 Image from caesarstone.co.uk, leading in quartz surfaces
Are you going for a vintage look?
If you're all about that "lived in" vibe and theme, then hardwood might be what you need. The more time hardwood will spend in your house, the better it's going to look. Before you know it, your worktops made out of hardwood will look like they've been in that kitchen for ages and it's going to look beautiful for it.
There are many things to base your decision on, and your personal input is what ties everything together in the end.