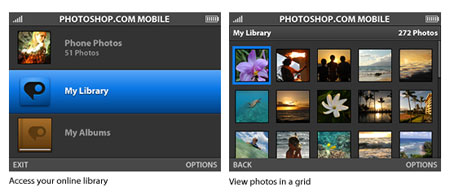 Starting in september, Adobe will be launchine a mobile photo sharing site named "Phoshop online". This is no big news for the graphic design industry, but it might be interesting for people using their mobile phone to take pictures.
Basically, the features will be:
Upload pictures from anywhere (with internet access of course)
Access from anywhere (still with internet access)
Share with friends and family
As you probably noticed by reading this list, there seems to be no photo editing functions, so the service's name is lame and totally misleading. My advice: stick to Flickr!
I guess that this is just the first step in the mobile market, but I was expecting more. You know what I'll like? A photo editing software that lets you adjust your pictures from your camera (or mobile phone), and then send it online. Just like this service name was promising.