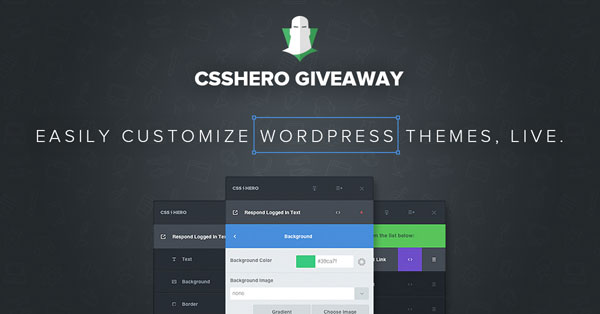 Thanks to the amazing team at CSS Hero, we have the opportunity to offer Designer Daily's readers 10 CSS Hero single website licenses.
How to enter?
You can enter the giveaway by retweeting this sentence: "Giveaway: 10 licenses for CSS Hero @designerdaily http://bit.ly/1wXzKDr". You can simply click here to tweet it.
When will it end?
We will pick the winners on wednesday, February 11, 2015. The winners will be chosen using a randomizing online tool
What is CSS Hero?
CSS is the language that enables internet websites look different; CSS Hero is a convenient WYSIWYG Theme editor for WordPress that will help you making visual changes to your website with a point and click interface, instead of coding; CSS Hero will automatically generate the required CSS code, and deploy it to your website upon saving.
A clean visual interface will let you leverage advanced CSS features like background fades in a snap, and is full of small helper tools which will make your life easier removing the need to remember values, copying and pasting color codes. You will find almost all CSS properties in CSS Hero, with preset properties, color pickers, shadow generators you can instantly try everything pushing further your CSS knowledge boundaries.
If you are a newbie or a CSS pro, you will love what you will be able to do with CSS Hero.
Comments
No comments yet