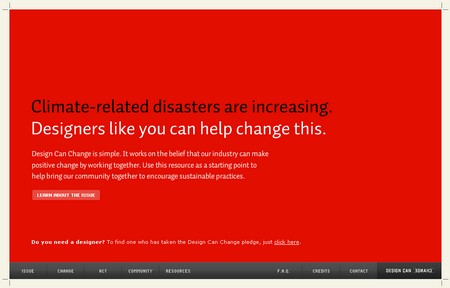 Yep, global warming will be a major issue in a "not so far away" future. I guess that nordic designers waiting for bikini girls in the streets are quite happy about the weather changes, but they still might be interested in taking a look at the "Design can change" website.
The website takes a serious look at the problem, its causes, and on how designers can make a change. A few of the things to consider are the following:
Is the project necessary and targetted enough? Billions are waisted in untargetted printed advertising, don't be one of those unefficient designers.
Work with local suppliers, minimize transports.
Use recycled material as much as possible.
Encourage your suppliers to provide environnement-conscious solutions.
This is only part of the list of things you can do easily, you can and you should discover all of them on the website: www.designcanchange.org