Has it really been two years since Alfredo Häberli was guest of honour at the bi-annual Interieur fair in Kortrijk? This year Spain's enfant terrible of design, Jaime Hayón will be trying to follow in his footsteps. To me, that will not be easy, since Alfredo left a very strong impression on me, both as an incredibly talented designer and as a person. I can still see him mixing cocktails behind an old counter at an afterparty at the old postal building in Kortrijk. A night to remember…
But this is 2008. Time for Interieur08. Belgium has quite a few authorities in the design world. Arne Quinze is probably one of the most notorious designer of the moment. But there are others. Apparently, by accident or not, Flemish lighting design is famous around the world. Our small province of West-Flanders alone houses five top lighting companies. Some of them make quite some noise in the world of design, others quietly but solidly work on new, highly innovative products. I'm talking about TAL, created in 1996. Their work has not gone unnoticed. Early 2008 TAL released Victoria. It got them a Design Plus Award at Light & Building in Frankfurt (Germany) last April and a nomination for the 'Preis der Preisen", the most prestigious German design award.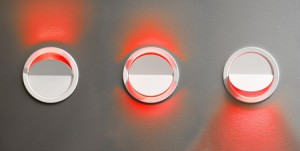 The Victoria is an interactive lighting fixture, the perfect proof that design, functionality and creativity go hand in hand. The central design feature of Victoria is the double sided mirror, which rotates around a central axis, allowing infinite user choice of uplight/downlight balance.The PowerLED light source is available not only in single colour, but also in combinations, giving an array of possibilities. Thanks to this feature the user has the ability to simply change the light and atmosphere in a space in an instant. I love it!