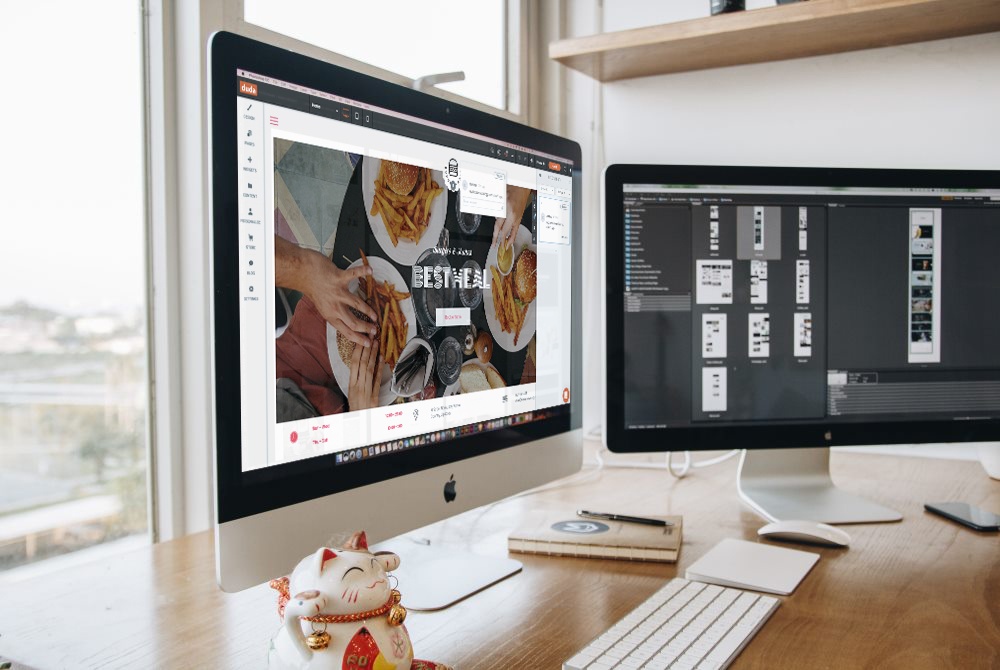 If you run a web design agency, you probably already know that having the right tools in your tech stack makes all the difference. Settling for anything less than the best can not only make it difficult for you to manage projects – it can also compromise your agency's brand.
The question is: with a plethora of web design and development platforms out there to try, how do you separate the wheat from the chaff?
Enter Duda, a website builder that's equipped to match the needs of fast-growing web design agencies. Duda offers tools that enable teams to bring productivity and scalability to their agency's workflows. In this article, we'll dig deeper to see how Duda enables design agencies to offer clients tailored experiences while designing websites at scale and growing your business.
A Powerful Website Builder for Growing Design Agencies
Duda's robust website builder is equipped to handle the needs of your design agency, whether you want to create a few dozen websites or a few hundred. It packs cutting-edge technology – such as its custom import algorithm, PageSpeed optimization, dynamic content personalization tools and communication modules – to help you build high-performing websites at scale.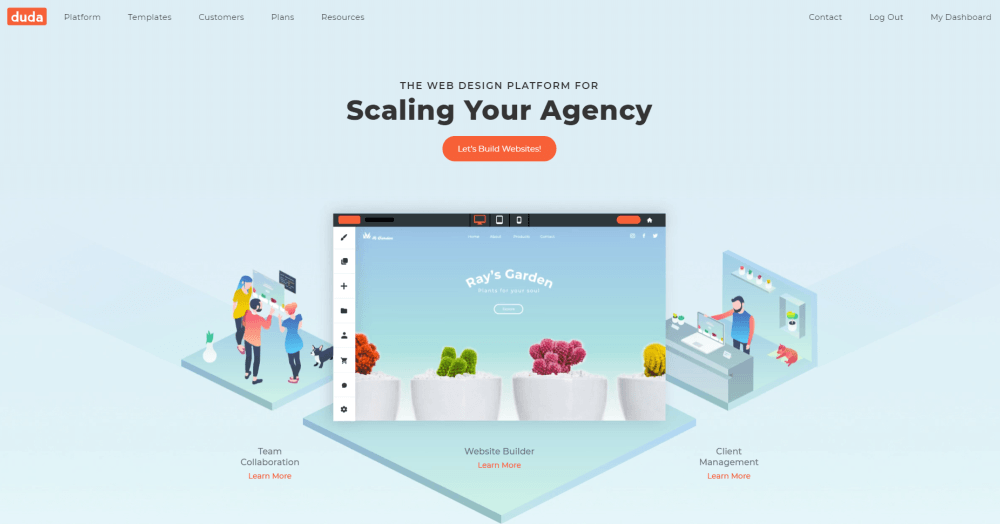 Its team collaboration functionalities enable you to build, personalize, import, and share assets with your team members and clients. In addition to this, it allows you to diversify your offering and continue offering clients services after their site is up and running.
Simply put, Duda can help you optimize your workflow, boost productivity, and increase ROI.
Here, we'll take a closer look at some of the main features you can expect to get with Duda, along with some notes on how they help agencies scale.
1. Built-in Collaboration Tools
A lot of the time, web designers build similar sections on client sites. Some common examples include pricing tables, product feature sections, "our team" headshot grids and contact forms. Duda allows you to create, share, reuse, save, and even designate separate Sections of a website to specific team members.
It also lets you save custom designs in the Templates library, so you can quickly import, modify, and use complete website designs as the bases of future projects. This way, you can effectively shrink project delivery times.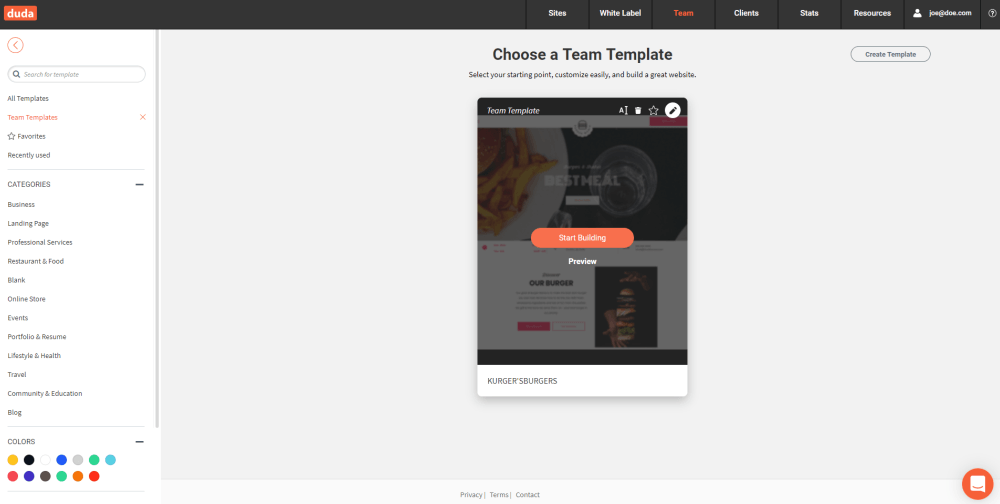 Duda's assigned Sections functionality enables multiple team members to work on different aspects of a website. For example, someone might be designing landing pages while another team member works on the contact form.
You're able to assign team members access level permissions allowing them to complete the tasks assigned to them without stepping on anyone else's toes.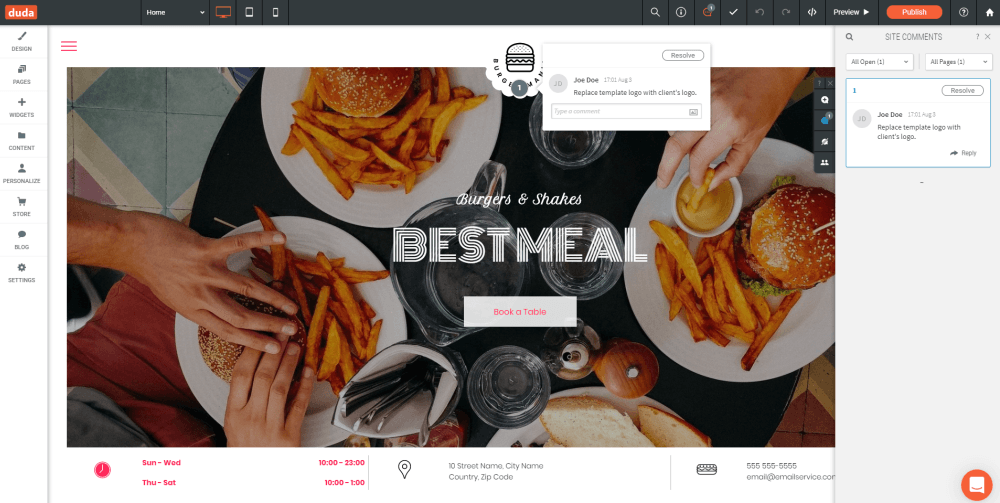 The platform also features built-in Site Comments, which allow your team members, and their clients, to leave comments on specific elements of the website (such as sections, widgets, or buttons) while it's being built. This is a convenient way to address design flaws or imperfections right away, instead of waiting for the next design review.
2. Smart Asset Collection Tools
Gathering existing site content and image assets (such as logos, photos, landing page copy or blog posts) from clients can be difficult and unnecessarily time consuming. Duda simplifies this by allowing you to send automated emails that asks them to forward you the required assets using a Content Collection Form.
Here's a look at how easy it is to ask for site content from your clients. From the Duda Site Editor, click the Content button in the left sidebar and click the Collect from client button.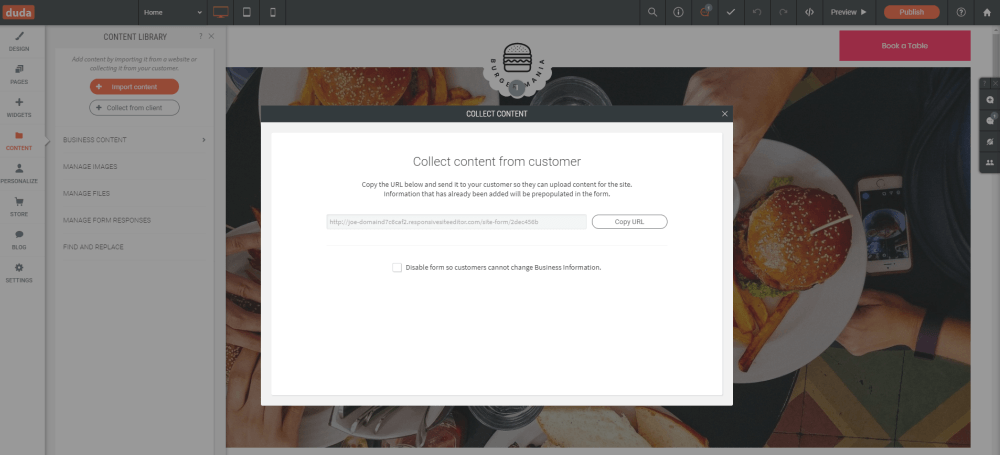 You can preview the Content Collection Form by copying and pasting the link into your web browser. It should look something like this: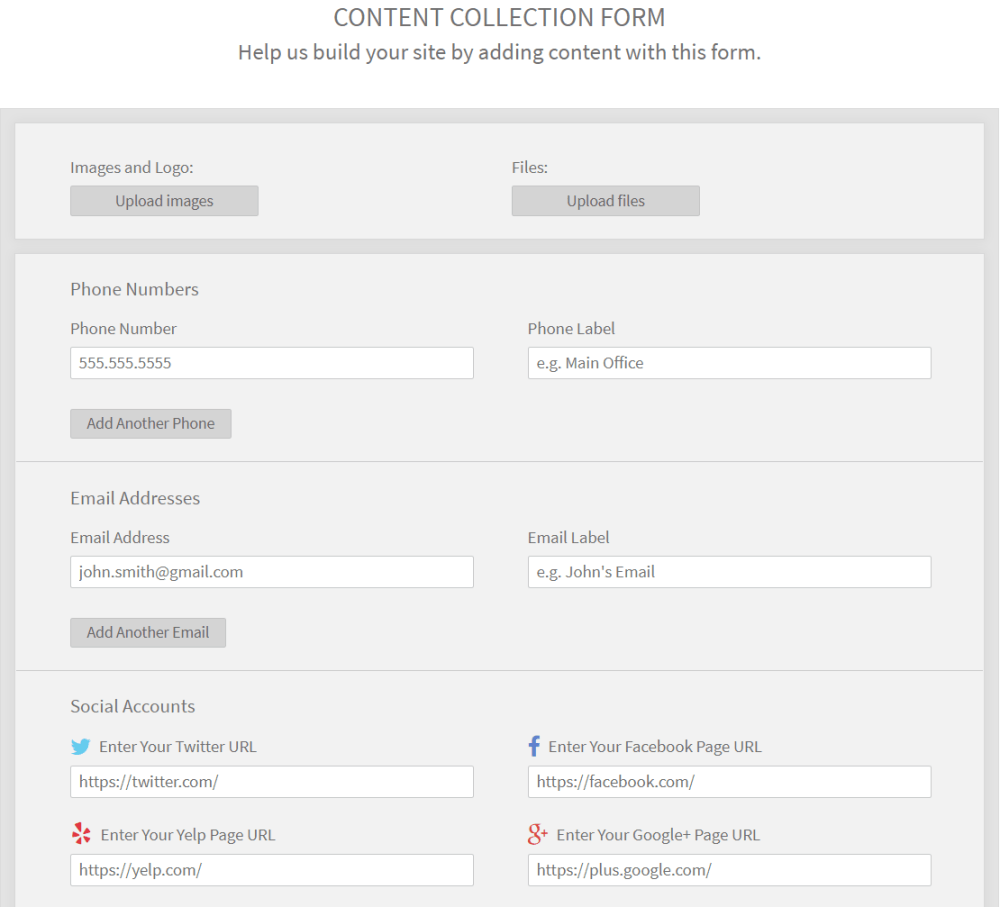 In addition to this, you can extract existing content from a client's existing website or from their Facebook page by clicking on the Import Content. This way, all of the assets will be imported into your project libraries.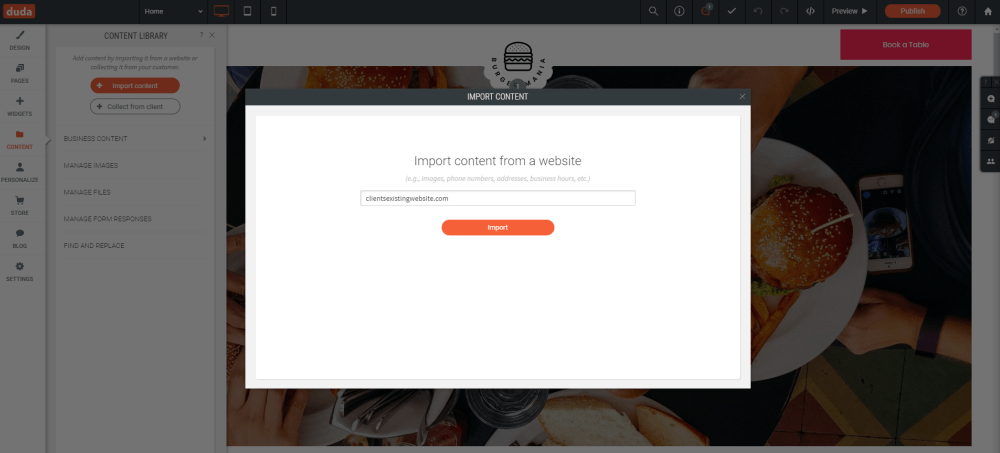 You also have the option to scrape site assets from their existing websites and social presences, allowing you to unilaterally import media directly into your own working environment.
Duda's smart asset collection tools enable you to significantly speed up your project delivery cycle freeing you up to take on new projects, faster.
3. User Roles and Permission Capabilities
Duda enables you to manage account permissions for team members and client-side contacts from a single, centralized platform.
From the Users & Permissions page, you'll be able to view specific permissions given to different user groups such as creating pages, admin rights and editing the website's HTML and CSS.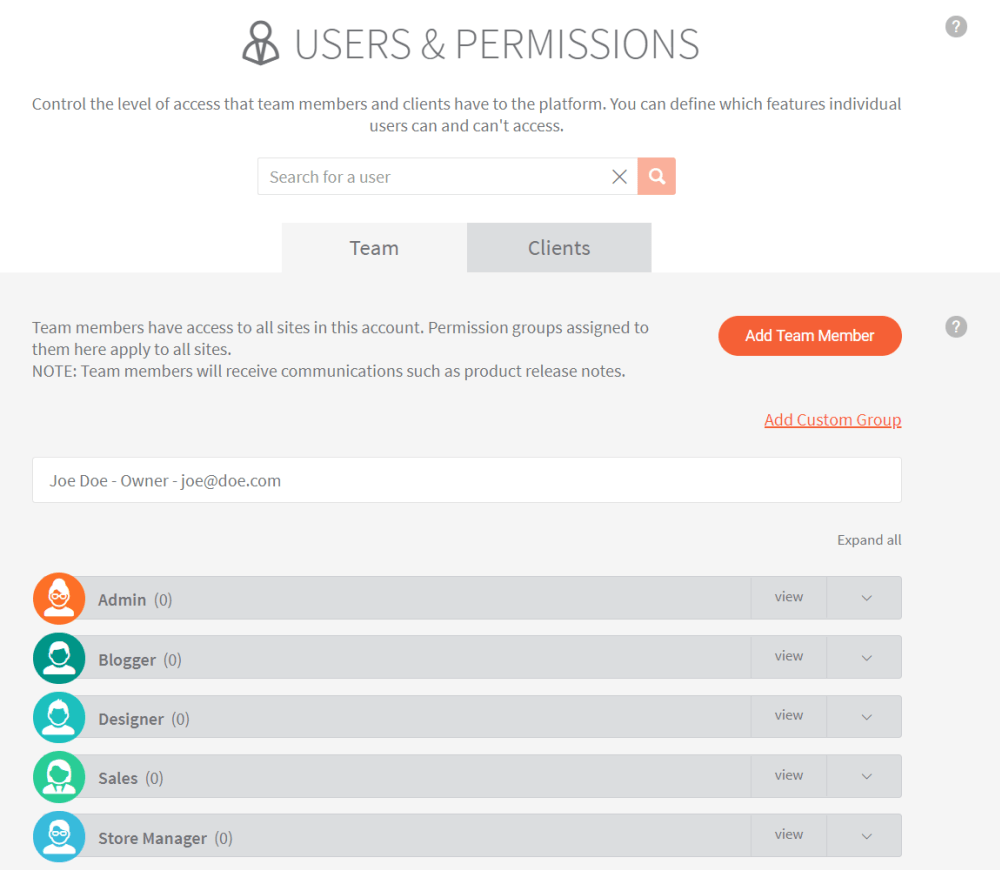 For projects that involve larger teams, you can also create a new user group and assign it unique permissions by clicking on the Add Custom Group button and choosing all of the access privileges you'd like to grant.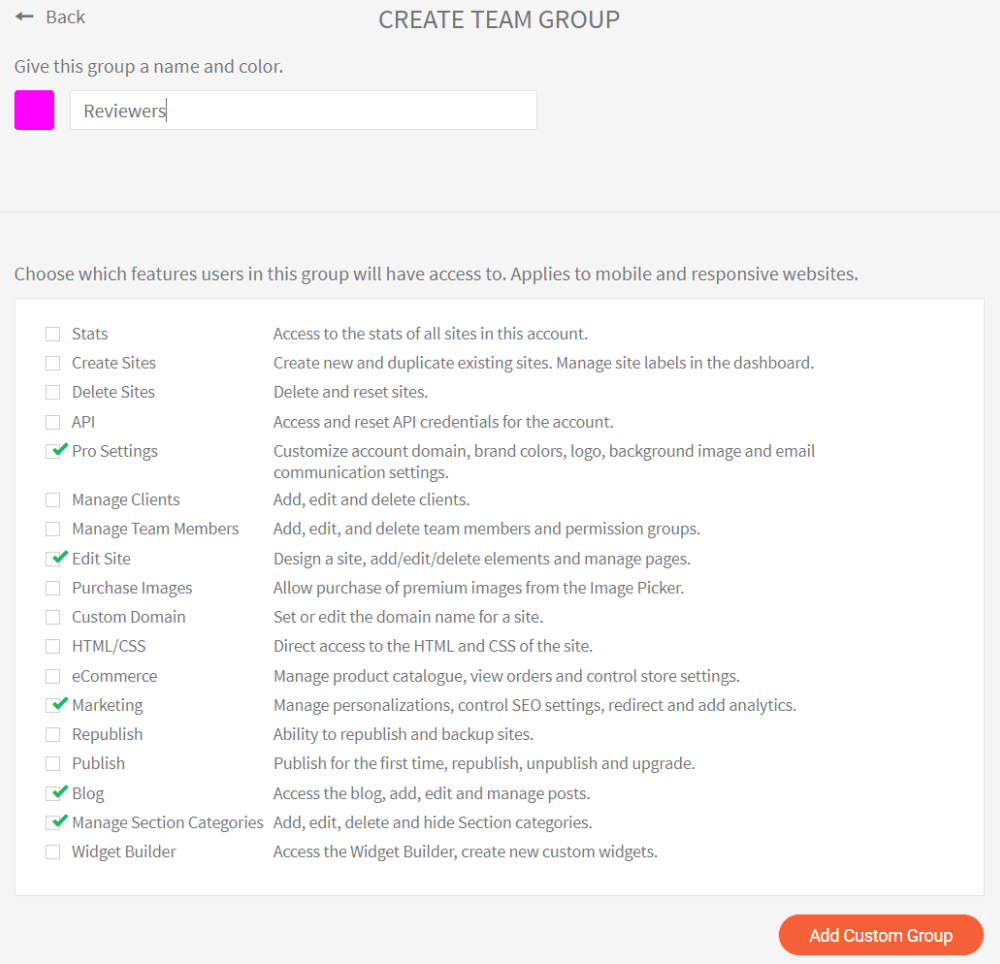 Assigning team members and clients access permissions is a great way to speed up project delivery. For instance, if you have a content manager on your team in charge of producing microcopy and a design lead in charge of designing landing pages, then both team members can work on the project without worrying about stepping on each other's toes and accidentally breaking the site.
4. Custom Branding and White Label Editor
Duda is a completely white-labelable solution, which means that it lets you add your agency's custom branding on the backend admin interface. This helps impress clients and differentiates your business from the competition, because you'll be inviting them to collaborate with you in a production environment that's yours.
Duda also makes it easy to incorporate branding elements to different sections and pages, including the website builder, editor, preview screen, dashboard and client login screen. Additionally, the emails you send out – password reset emails, login credentials, or weekly reports – will also carry your branding.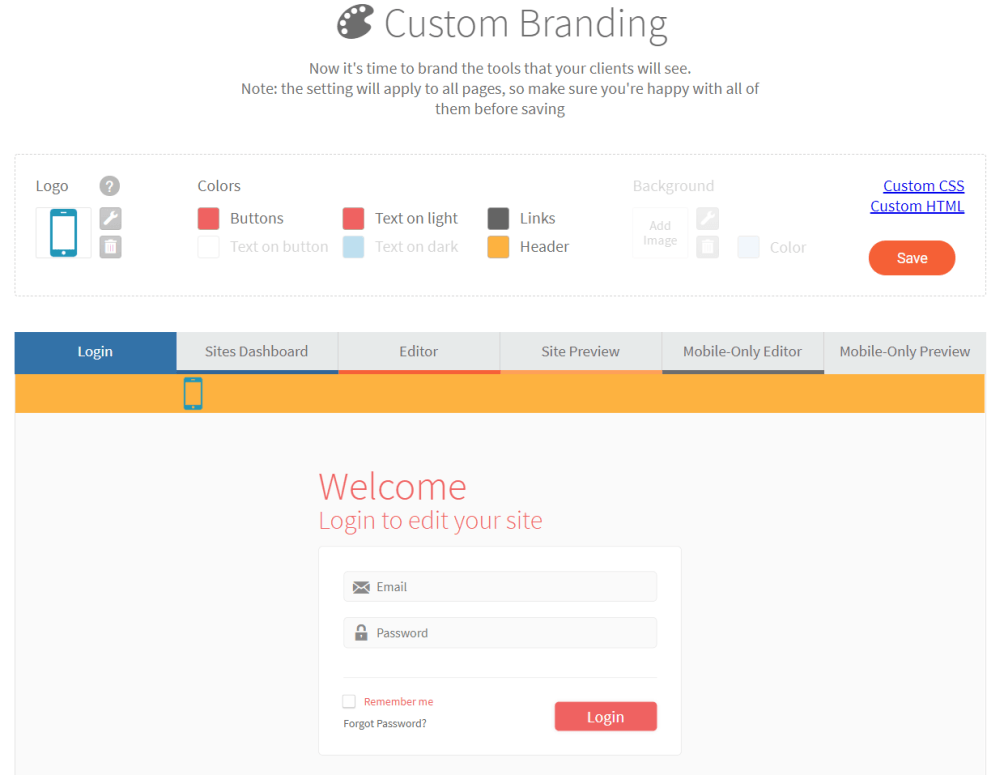 Duda lets you personalize and select default branding elements such as colors, background images, logos, buttons, and text. Plus, you'll also be able to use HTML and CSS code to tweak and customize white-labelable areas.
With a white label editor, you can offer post-launch site management tools that clients are happy to pay a premium for, potentially increasing your customer lifetime value.
5. Client Management Features
Duda's client management features make it easy for agency teams to coordinate with clients efficiently.
You can directly engage with clients strategically in website projects via its Site Comments tool. By letting your clients post comments directly on design prototypes and mockups, you'll be able to minimize design iterations and speed up your project delivery cycle.
What's more, Duda helps you optimize your workflow by letting you offer various levels of site-specific permissions to your clients.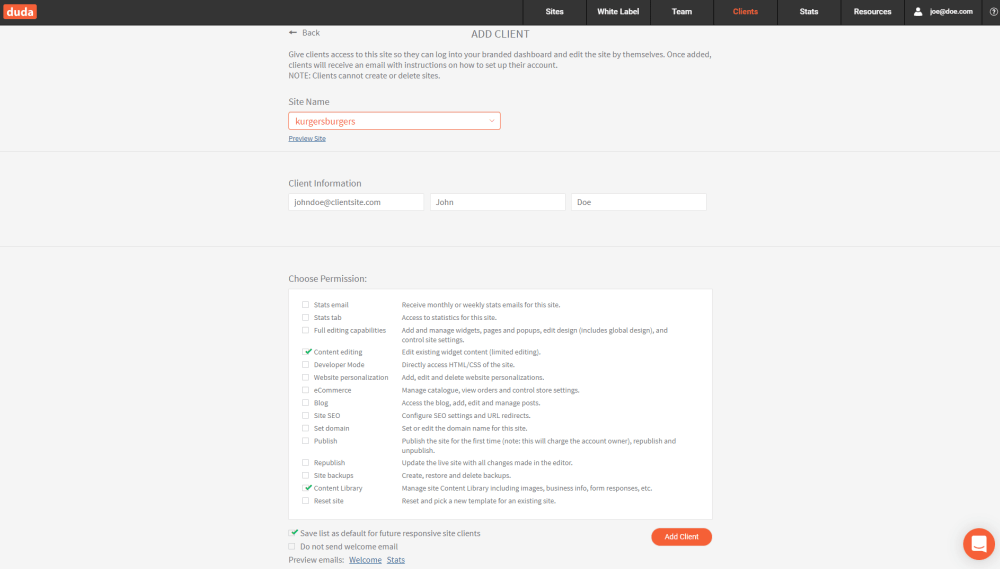 These include permissions for content editing, full site editing, publishing and developer mode. This level of flexibility makes Duda a powerful solution for growing web design agencies, as it allows you to improve your offering without having to kill productivity.
Duda also lets you keep your clients informed about website progress and monitor performance. You'll be able to automate emails to notify clients when project milestones are completed, as well as sending them weekly or monthly automated tracking and analytics reports. And, of course, all of this content will have your agency's branding to give it a professional look and feel.
Conclusion
Fast-growing web design agencies need tools that allow them to design websites at scale, improve communication and collaboration with clients, as well as to diversify their offering to gain competitive advantage. Duda ticks all these boxes, and more.