If you have ever written an email, you have likely added a signature to it. In the case of personal emails, a short signature with your name is usually enough. However, when sending professional or business emails, you may wish to let others know more about yourself or your company.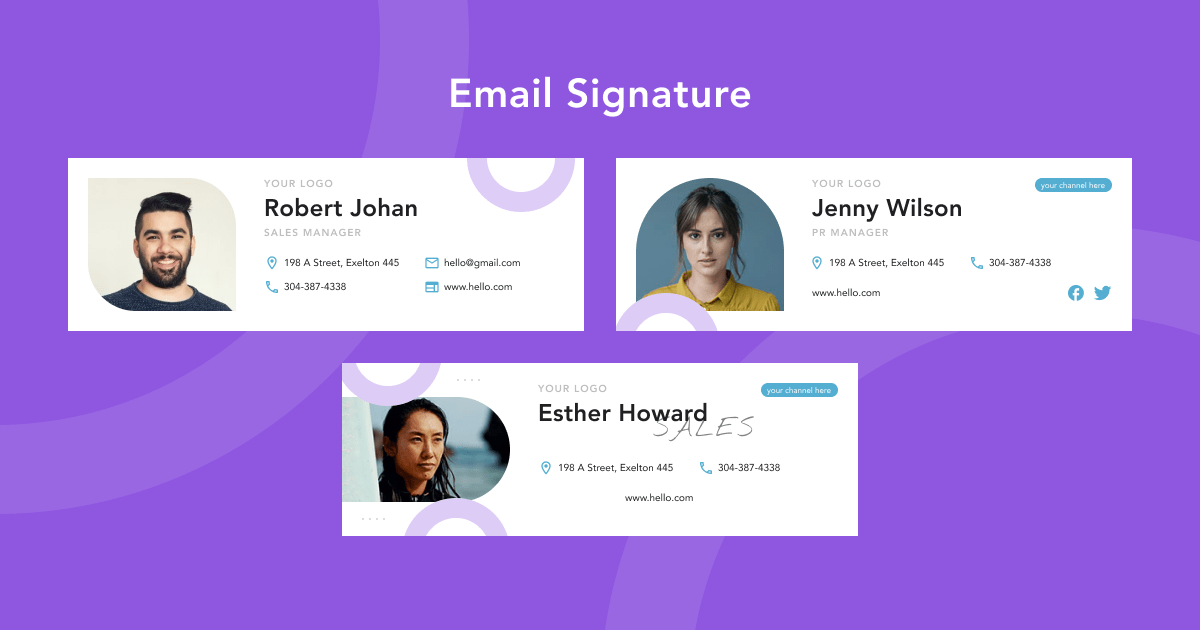 In this article, we'll look at what email signatures are and why you should use them. We'll also look deeper into the best email signature design and development practices as well as find out if creating a custom email signature is worth your time and effort. Let's dig in!
Email Signatures: What and Why
An email signature, or email footer, is a text block at the end of an email that provides the recipient with information about the sender. Most commonly, you'll find the person's name and job position. Sometimes, however, email signatures may be more generalized and refer to a group of employees (such as a Support Team, for instance).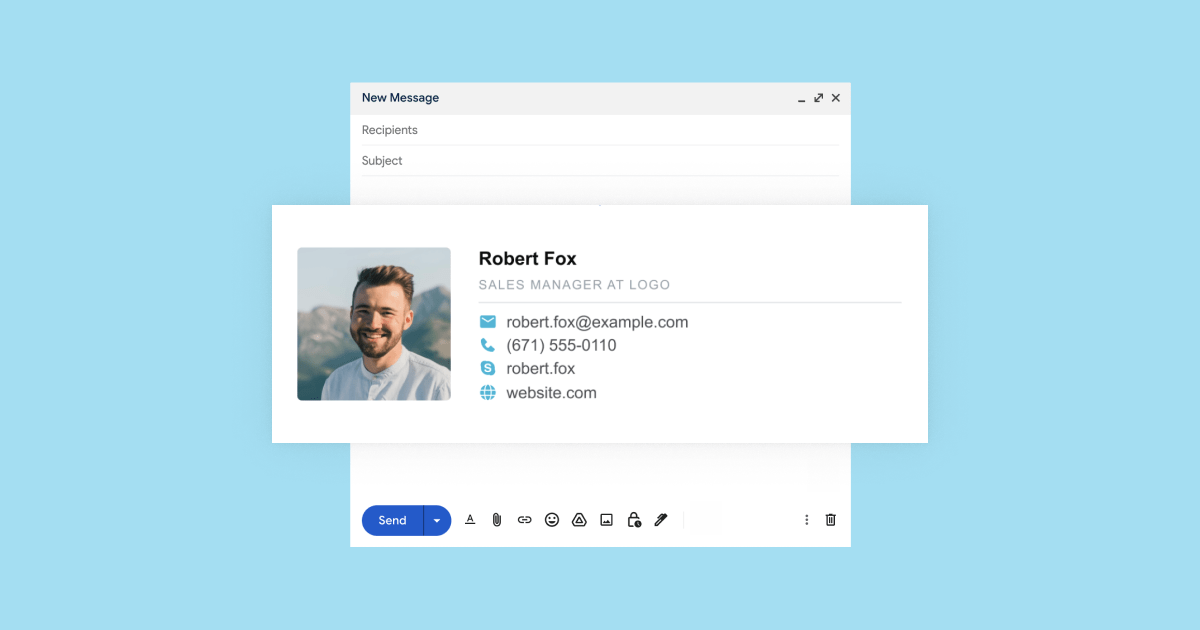 To add a custom signature to your emails, you'll need to create a design and integrate it into your mail client with the help of a code snippet. You can create the code snippet yourself with different tools or by ordering professional email signature development services.
Why Use Email Signatures
Email signatures can make a nice impression on recipients and draw their attention to your personality or company which is always an added bonus. There are also other reasons why email signatures are a good idea to use so let's take a look at a few of them below.
1. Getting Acquainted
One of the main points of email signatures is 'introducing' yourself. Whether you are a self-employed professional, an employee, or an executive, a good email signature will tell your recipients who you are. That equates to becoming more personal to others and in turn building trust.
2. Increasing Brand Awareness and Loyalty
Often, email signatures contain links to resources with information about the organization. Adding a website address to your company's logo lets people reach your page easily and find out more about you or your services. For recipients familiar with your brand, a logo will be a visual reminder that can increase brand loyalty. Likewise, social media icons can help you engage customers.
3. Advertising and Promotion
Email footers can be created for specific advertising campaigns. Thus, including banners and CTAs in the email helps to promote goods and services. Companies use such emails to inform others about sales and other special offers.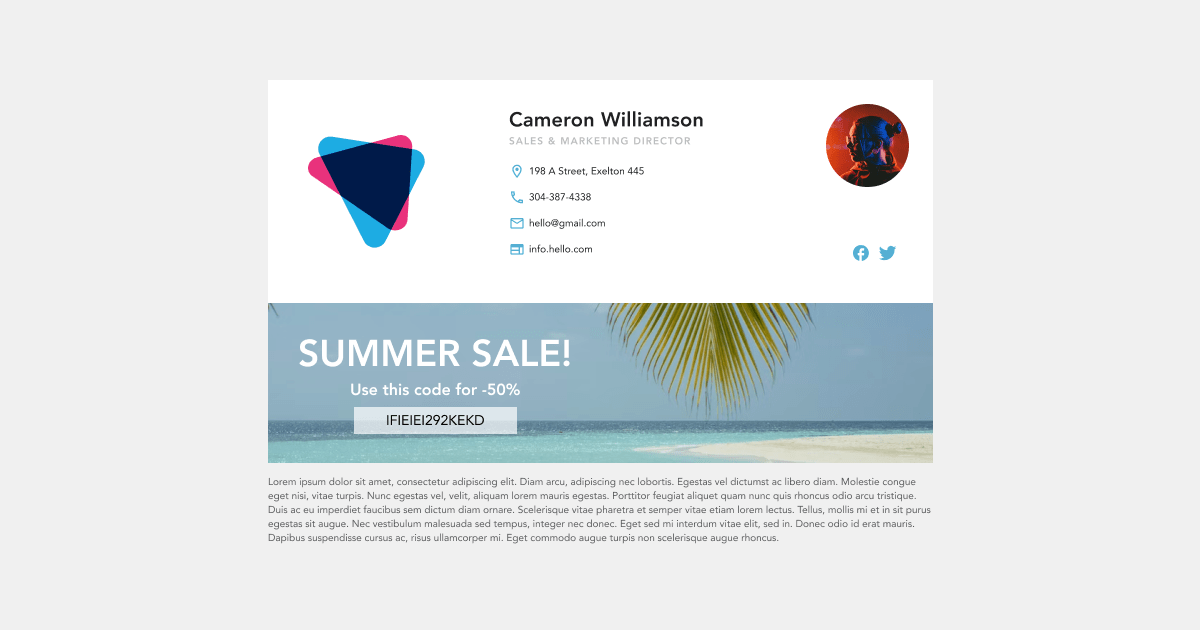 Email Signatures Design
Now, let's talk about the best practices for designing email signatures.
Step 1. Select the Style to Show Your Identity
The impact produced by email signatures largely depends on the chosen visual style. Consequently, it's essential to decide which design style you'll use. Minimalistic or full of color, contemporary or retro, abstract or pattern – it's up to you to choose what represents your personality or brand the best.
Additionally, it's vital to remember that email signature designs for brands must follow the general style that is present on the website and within social media accounts. This ensures consistency and brand recognition.
Step 2. Choose Size and Format
The information you wish to include in your signature will influence the size of it. The most important rule is 'Don't overdo it.' Adding contact details, a banner, an inspiring quotation, and confidentiality notices will make your signature extremely bloated. There is a high chance that it will not produce the desired effect of drawing people's attention and encouraging them to learn more about your company.
Your signature should be 150px-200px in height and 300px-600px in width. As for the format, email signature images are usually created with graphic design software such as Photoshop or Adobe Illustrator.
Step 3. Decide on Your Unique Email Signature Components
Once you've decided what information you want to share with your signature, you will be able to drill down into which elements will help you achieve your goals.
Must-have signature elements include:
the sender's name (either a person's or the team's name such as 'support' or 'marketing department')
the company name
the sender's job title, position, or services provided (if you are a freelance web designer, developer, digital marketer, etc.)
contact information, such as email, telephone, address, website, and social media channels
There's no need to overload your signature by including too many communication channels and social media accounts. Your email, your website, and telephone number will suffice.
Additional signature element add-ons:
a brand logo, which can be clickable and refer customers to your website


– banners and calls-to-action (such as 'Learn More')


a company slogan or your favorite quotation
disclaimers and legal notices
Step 4. Determine Your Design Flow
Now that we've covered the 'factual' signature parts, let's analyze the essential visual graphic design elements that you should consider.
The Layout
The way elements are arranged within the signature influences the perception of information. In the picture below, you can see the same elements arranged in two different ways. Both signatures look attractive, yet the second variant, where the person's photo divides textual information, makes the perception of text a bit easier compared to the first variant.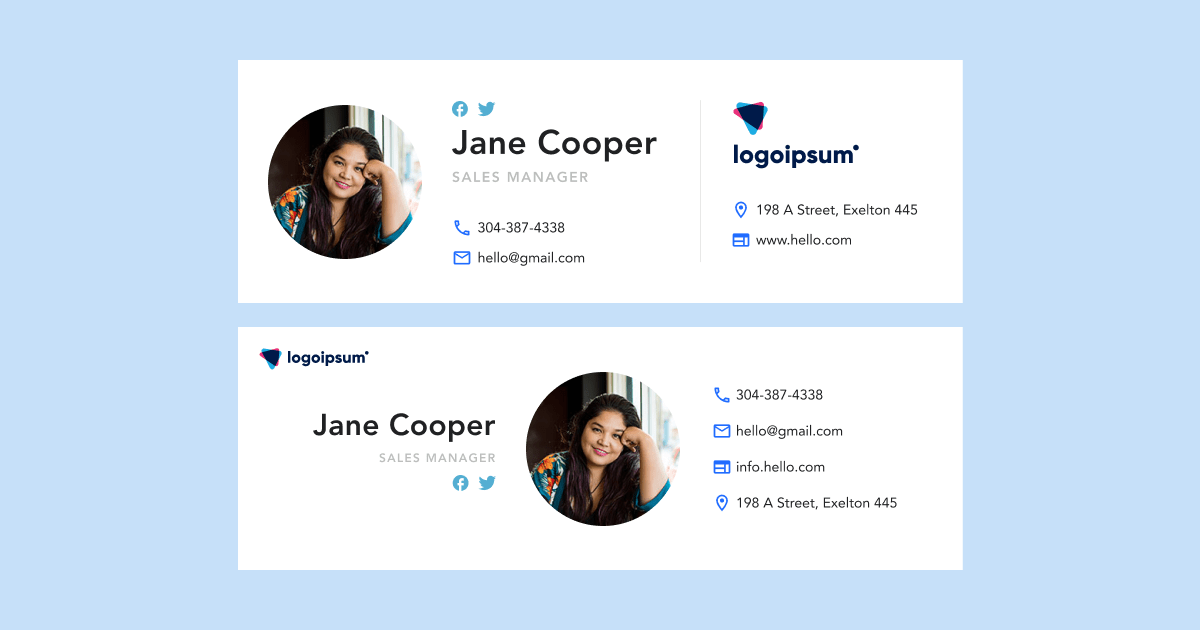 The layout helps to manage the feel of the space and separate the information. With a poorly-chosen layout, your signature may look too cramped.
Colors
The choice of colors for email signatures is no less important. If it's a company-wide signature, it should follow a general branded color palette. When creating a personal email signature, you will obviously have more options. In any case, there shouldn't be too many colors used in the signature.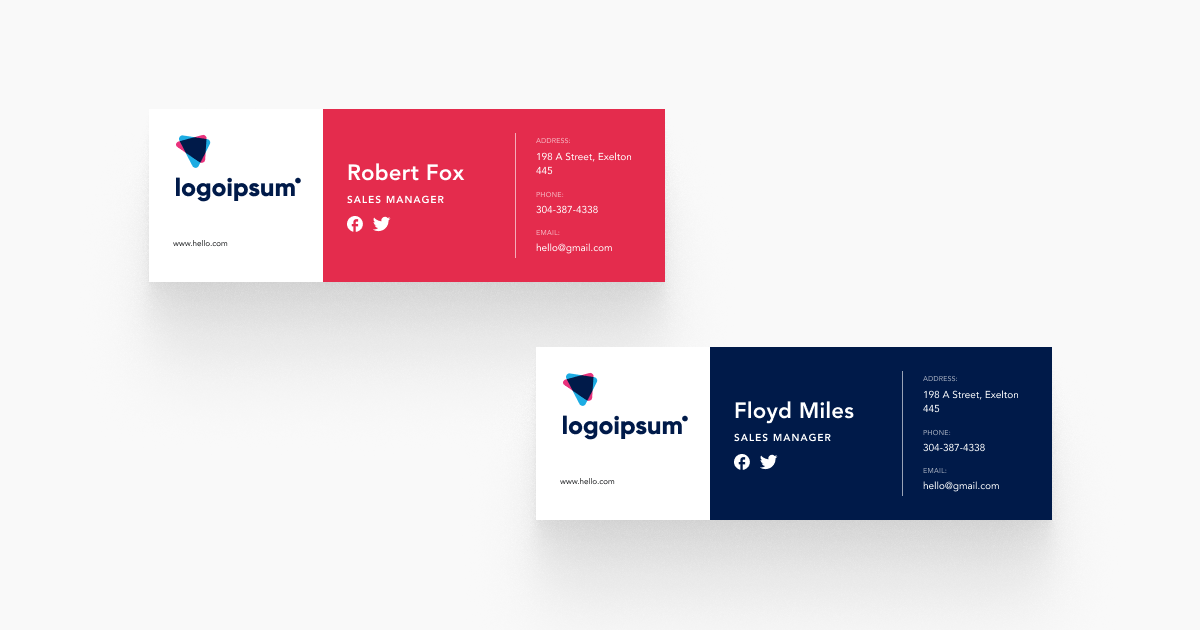 In the picture, you can see similar information emphasized by design elements of different colors. You can experiment with vibrant colors or intensity but make sure that your text elements are legible. Keep in mind that bright colors, although fun, can distract the recipients' attention.
Background
The background of your email signature is also essential. For the most part, people stick to a white background but you can select any other color or a gradient to make your signature more attractive. The image below shows the difference in text perception between designs with various backgrounds.
Also, if you prefer to express your creativity, it's possible to experiment with textured backgrounds (like the one in the second variant on the image above).
Typography
You can use fonts as a tool for emphasizing your style. However, it's better to stick to standard fonts without making your signature too sophisticated.
Shapes
Various shapes are commonly used to add the sender's picture to the email signature. Below, you can compare the same information provided in different ways with the help of a layout and various picture frames. The most prevalent are square and round frames; the octagonal one, shown in the example, makes the signature more unique.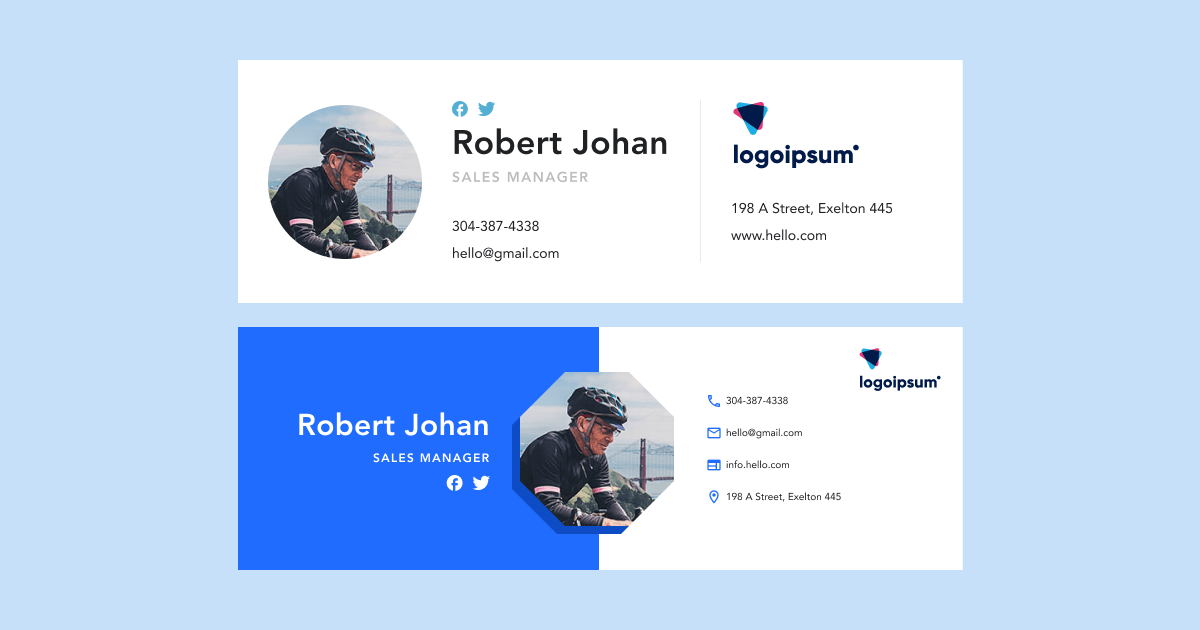 Decorative Geometric Elements
Another common practice is to add various geometric elements and patterns to email footers. These can be small, slightly visible lines and dots.
Implementing a larger number of such design elements will make your signature look less strict. Just compare the examples below.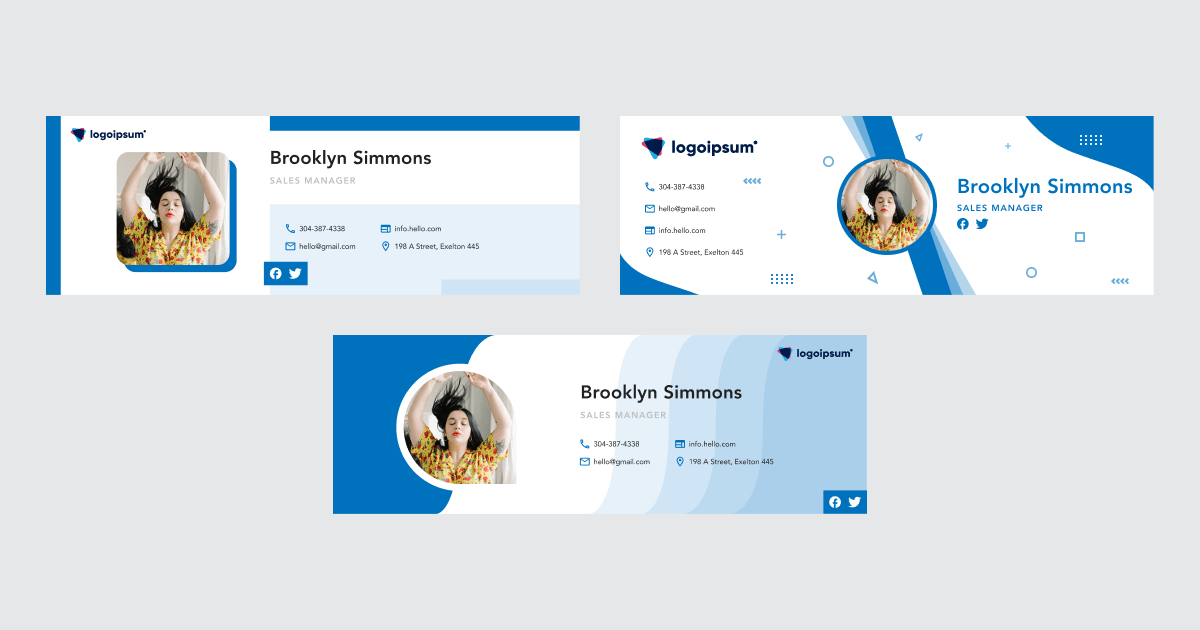 Alternatively, you can use geometric patterns to make your signature stand out.
Step 5. Create Your Email Signature Design
When you have a clearer idea of what you want your email signature to look like, you can start creating it. There are two basic options here.
Design your signature from scratch. If you are experienced in using graphic design software and wish to create a truly unique signature, this is your perfect solution.
Use downloadable email signature templates. To save time, you can choose a ready-made email signature template (for instance, through EnvatoElements or Design Template Place). After downloading a template in AI, EPS, PS, or another format, you can open the file on your computer and customize it according to your vision.
Ready-made templates can be a source of inspiration when you start creating your own email signature.
Email Signature Development: Online Tools vs Professional Development
As we mentioned at the beginning, email signature development means creating an HTML code snippet that you can add to your mail client. In other words, if you have created an email signature design in an image format, it's necessary to 'transform' this image into code. You can get a code snippet by using online tools or ordering professional services.
Online Signature Generators
The popularity of custom email signatures led to the creation of numerous online tools offering signature generation services. Here are just a few of the more popular ones:
Advantages of Using Email Signature Generators
Online signature generators have several undeniable advantages.
Convenience. Online generators are relatively easy to use, as you can choose from available layouts and customize a signature on the go. Depending on the tool, you can change colors and styles, regulate font size, add fields, etc. Moreover, you can generate a code snippet after creating your signature.
Free solutions. You can find tools that will create your signature free of charge.
Disadvantages of Email Signature Generators
Using online generators, especially free versions, may sound very optimistic. Yet, there are several disadvantages that you can face when doing so.
Limited design and customization options. Some functionality that you want may be missing. Hubspot doesn't let you change background colors for instance.
Limited time offers. Some generators, such as Gimmie, let you start a free trial to see how everything works. Afterward, you'll have to pay to create your signature.
Required sign-in. There are some generators such as MySignature that request that you sign-up to save your signature.
Free vs pro versions. Usually, only basic features are available in free generator versions. So to choose a theme or style, upload images, customize a layout (add fields, change their width and height), etc., you'll need to pay for pro packages.
A limited number of signatures. With free email signature generators, you can create only a limited number of signatures. This is not a good option if you need to produce signatures for many departments or employees.
Watermarks. Some generators create watermarks (such as 'Get your own signature'). To remove them, you need to sign up/purchase, leave a review, or share the service on social networking sites. (Gimmio is an example of such).

Compatibility issues. Online generators can offer a code snippet for a limited number of email clients only (usually for Outlook and Gmail and not guaranteed to function correctly in other email clients). In MailSignatures, for instance, you have to choose an email platform manually and copy the code for each one separately.


A time-consuming process. You must compare online email generators to know which one will cover your needs. Then you'll need to spend some time mastering available customization features and experimenting with your signature.
For instance, if you want to create an email signature with a banner on Mail Signatures, you should know that to add a banner image, you will need to upload your image to a file hosting server, copy a direct (non-shareable) link to the image, and paste the link into the image URL field. If you don't know how to do it, you will need to spend time reading over their developer manuals or guidelines. And if something goes wrong (like in the screenshot below), you'll have to spend more time trying to understand and fix the issue.


When you need to create multiple email signatures with different text and images for various departments and employees, it can be quite a long process.
Tricky pricing plans and subscriptions. Online generator prices vary by the number of signatures you need to create and the amount you are willing to spend (in a nutshell, you'll need to subscribe to the service). For example, MySignature offers a one-time $69 payment for a single signature, a 3-signature package for $36 (billed quarterly) or $108 (billed yearly), a 100-signature package for $405 (billed quarterly) or $1200 (billed yearly). Consequently, you will need to figure out how many signatures you will need, whether the subscription for a longer period is worth it, and dish out your hard-earned cash.

To sum it up, you need to understand the difference in online signature generators' functionality and pricing plans to choose the one that will suit your needs which can be time-consuming and tiring.
Professional Email Signature Development
Trusting your email signature creation to professionals is another way of getting the job done right. No matter how sophisticated your email signature design looks, you'll get a fully functional signature with professional email template conversions. Let's look at the main advantages of these services.
Advantages of Email Signature Development Services
1. Quality Code to Match Outstanding Design
Professional email signature templates are hand-coded. It means that developers will create code where every single line is clean and written according to accepted standards. If necessary, you can get assistance with implementing the design or professional advice to help make your signature look great in all browsers.
2. Cross-Client Compatibility
Quality code ensures cross-browser and cross-client compatibility. It is usually backed by extensive email template testing in various clients and browsers. This way you can be sure that your email signature will look perfect no matter how recipients view it. Online generators create automatic code snippets without testing. So there can be a risk that your email recipients will get a distorted signature.
3. Responsive Design
As people use various devices to open emails, you should be sure that your signature adapts to different screens and looks good on any device. Professional email signature development usually guarantees this.
4. Integration with Email Marketing Automation Platforms
Besides smooth integration with email clients, your professionally developed signature can be added to various email marketing automation tools. Thus, you can launch campaigns using a unique email signature.
5. Fast Results
If you need different signatures developed (for various departments, specific advertising campaigns, etc.), a professional team will produce them quicker using a parallel development method. Additionally, experienced professionals can start immediately to provide you with results in the shortest possible time.
6. Human Interaction
You'll discuss all the details of your email signature with a project manager. If necessary, you can get design and development advice from an experienced person to guarantee a successful result. Also, in case anything goes wrong, you can address the team directly and get everything fixed. Online generators don't provide you with such a benefit.
7. Time and Cost Effectiveness
When you order bulk email signature development, you get a set of identical simple or custom signatures for multiple people within one company. Consequently, you don't need to spend time producing and saving these signatures manually (like with online generators). Also, there's no need to learn how specific features work (such as image upload). Moreover, if you don't need to change signatures frequently, ordering professional email signature development will often be cheaper than paying for quarterly or yearly subscriptions.
In short, with professional email signature development, you are more likely to get a working code snippet and quick, personalized communication to solve your requests. This solution works best for organizations requiring a set of branded signatures. You'll get exactly what you expect to get without any hassles.
Conclusion
Email signature design and development aims to create a custom solution to represent and promote a brand or professional via email communication. While creating the email signature, it's essential to pay attention to the general style, color palette, typography, graphic elements, and layout. Additionally, to make your email signature work properly, you need to get a quality code snippet and add it to your mail client. Online signature generators and professional design and development services will assist you in producing a signature that meets your needs.