Every business involved in the gaming industry needs a web presence that stands out. Gaming is now one of the most crowded marketplaces in the world, with thousands of game studios, tech manufacturers and promotions all competing for a share of the $180.3 billion pie. Effective website design is key to ensuring that web pages and portals don't just look good, but also inform and engage the global gaming audience.  
Types of Gaming Websites 
Much like video games themselves, gaming websites come in a diverse range of forms. There are, however, certain types of websites that are more useful for certain types of businesses.
A video game development studio, for example, needs a comprehensive website that is functional on a corporate level. Ubisoft's website strikes the perfect balance between offering plenty of corporate-related content alongside fun, engaging content centred on its huge portfolio of games.
Game review or news aggregator organisations, on the other hand, would be better served developing information portals, while a classic blog-style site pairs more naturally with game streamers or individual players.
In some cases, creating a stand-alone website for an individual video game or game series can prove to be beneficial, as well as being useful on a multi-functional front.
Game websites are a great way to generate promotion for titles before they're released, and also serve as content storage platforms when a game is on the market. But they can also host community platforms that encourage further levels of engagement with the game and the brand behind it.
Some stand-alone game websites can also be expanded to include an e-commerce platform for gamer merch, opening up more levels of business development for the company behind it.
Why Web Design is Important for Gaming Businesses 
An effective website is a core part of any gaming business's marketing strategy and, without a clear design, it's likely to be ineffective.
Proper website design can have a significant impact on the KPIs of all gaming businesses, not just those involved in directly creating or selling games. The type of improvements that can be felt with a clear, well-designed website include:
Increases in daily and monthly active users.
Expanded reach to new users or subscribers.
Increases in the average time or money spent by users.
When it comes to knowing what type of website and design suits your gaming company, you need to have a clear idea of what you want to achieve with it and the type of content you're intending to publish. As mentioned above, some types of websites can actually work against the company, especially if its design doesn't maximise its potential as a powerful business development tool.
It's also important to consider other factors, particularly those that centre on your target audience. What are the specific wants and needs of your target customer and what information will they be looking for?
UX Tips for the Best Gaming Website Design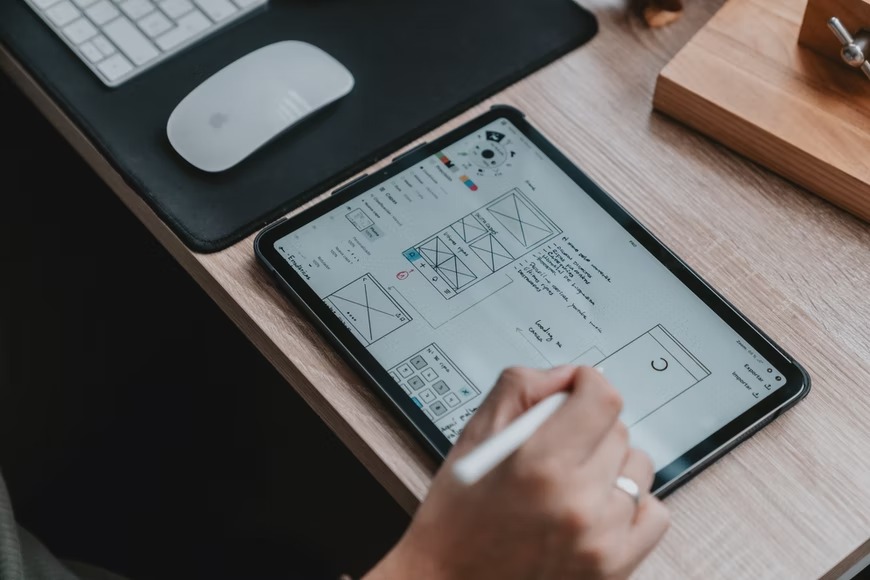 As with any web design process, a successful website for gaming companies is achieved when designed with usability and user experience in mind. The best website is one that is aesthetic, usable, engaging to use and responsive to different browsers and devices.
Here are three essential UX tips to ensure effective web design for your gaming company.
1. Responsive Layout
First things first, let's start with the basics. Responsive layout refers to a website's ability to fit across a range of different devices irrespective of their aspect ratios (height and width of a display). Today's web users spend a lot of time browsing on their mobile devices, so you want to ensure that your site works on smartphones, computers, laptops or any other display device.
Begin with the 'mobile-first design approach': streamline your content to focus on important details, keep text at an appropriate size, provide easily-identifiable interactive elements, and optimise images and video content.
If you're looking for inspiration, Hello Games has done an excellent job with the responsive layout of its website for the game No Man's Sky.
2. Content that meets User Goals
Today's consumers are time-pressed. If a visitor to your site isn't able to identify the information they're looking for within seconds, they'll likely leave and engage with your competitors instead.
The content you publish on your site needs to be specific and focused on what your users are looking for. Make it easy to search and, where necessary, call out concrete steps or pathways site users can take.
If you offer a range of different products or services, you need to make each one clearly identifiable. PokerStars, for example, has done an excellent job of differentiating between its range of free online poker games and tournaments, and the real-money gaming offered in its content.
3. Easy and Comfortable UI
Visitors to your site will interact with your brand through its User Interface (UI). On a basic level, if the UI of your site is positive, people will spend more time on it. If it's poorly thought out, however, you run the risk of alienating your customers.
UIs need to be intuitive and connect with a user's own experiences. Keep the interface simple with an effective page layout, keep fonts and text colours consistent across your site, and remove all irrelevant information.
It should be an easy and genuinely pleasurable experience for your target audience to navigate their way around your site.