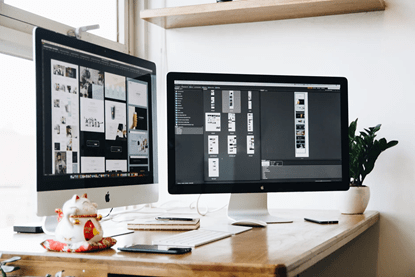 There is nothing better to represent your online presence than your website. Be it of business, blog, or both, your website promotes your brand and creates a platform to establish a unique interaction with your audience. When designing your own website, there are a lot of ways you can go about it, from a minimalistic approach to a vibrant, sophisticated feel.
Here are some tips to consider when designing a top-shelf website:
1. Branding
You must always consider your brand when designing every page of your website. It must reflect your own or the organization's brand of service, advocacy, or reputation. Although you can add some unique twists here and there, it must always go back to what you want your audience to feel when they see your name by their experience when visiting your site.
Logo and name placement should be prioritized over any other content. There are a lot of online stores that sell CBD oil, if you're going to let the products and other taglines overshadow your store's name, the customer will find it far easier to remember what you sell than your name. Your brand must be synonymous with what you offer and not just "that online shop which sells me my fix".
2. Make Your Homepage Standout and Easy
Your homepage or your landing page must be able to convey the core message or theme of the website right off the bat. People will usually just skim through or scan the page, looking for the information they need. It is here on this page where your web design must capture your audience's attention and make an impression. This means that you must appeal to the emotional side of every reader rather than how much content you post.
3. Organize Your Site Visually
Since users won't have the time and attention span to scrutinize every corner of your website, you must design your website so that you can visually prioritize certain contents of the site to your viewers. This means the size and weight of the elements must be thought out carefully. Brand names and logos must be prominently displayed, in bold or sizable fonts and images, so that it catches their attention first. Placement is also an integral aspect when you're organizing your site's layout. The right layout will help you direct the user's attention to certain parts of the site, and there, you can place a call-to-action button or your logo.
4. Manage Your Content
Your website's content must also be legible, texts must be easily understood, and the users can easily scan through your web pages with less or no inconvenience. The proper use of font size and face is key as well as a contrast so that they won't have to squint their eyes when they read the text of similar color as the background.
5. Make it User-Friendly
Lastly, being user-friendly also means your website can easily adapt or respond to other mobile devices. As today's usage of smartphones or tablets is higher than those who use the desktop, the responsiveness of your website is now more important than ever.
Web designing is evolving at a fast pace, continuously keeping up with the preferences of online users. But what remains constant are its functionalities, and user experience must always be a priority whatever feel or design you choose.