Are you living alone in a small pad and you try to keep your things together yet it seems that you still need more room to be able to move freely around a very limited space? When you're done repainting the interiors – covering up the dark colors and heavy textures – it just adds an illusion of space but that doesn't cut it. Usually, it's the furniture that eats up the whole area. So what do you do? Exactly. You pick the right furniture that saves space, has a double purpose, visually appealing and functional at the same time and most importantly, something that matches your personality.
And there's only one word which describes that: Transformable/Convertible
So where do you want to start rearranging first? Hmm, perhaps we shall go to your living room first – where you entertain guests. Among the many choices I found while browsing, this has got to be my number one pick. It's a comfy couch which converts into a double-deck bed – something you can share with.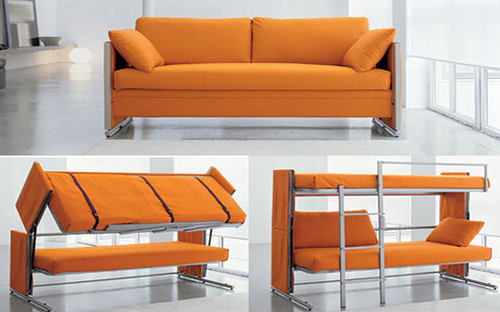 via WebUrbanist
I love our sofa beds at home, in fact I find it more comfortable sleeping there than in my own bed.
However, if you need additional chairs which doesn't look as bulky as that one, try these hanging wall chairs accented with delicate designs – just like a piece of artwork.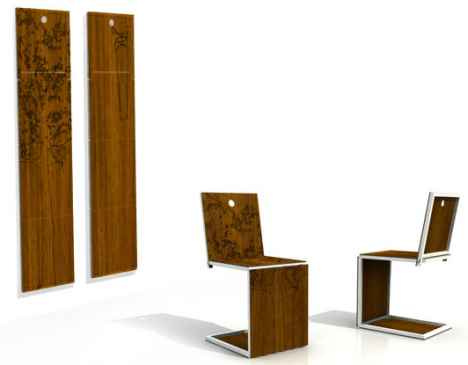 via Inhabitat
Now, let's move to the kitchen…But first we have to separate the kitchen from the living room with Molo's flexible wall (yes, it's similar to an accordion door/divider). It's so nice isn't it?;)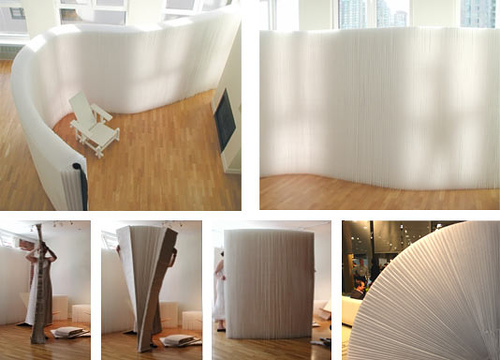 via Unicahome
Then set up this amazing kitchen set with pull-out chair and table plus built-in cabinets where you can stock food supplies in. Something nice from Hinkley Lighting would help keep the minimalist style.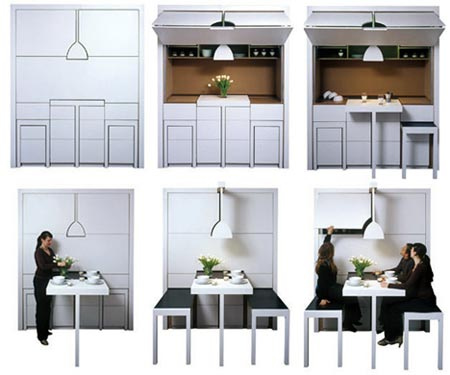 via STL Loft Style
Suppose you have a study room apart from your bedroom, what would you like to have there? For me, it's just books and my desktop computer. So, let's get a book shelf.

The first one is called a chair library and you would need one if your books are already overflowing from your bookshelves. But if you still have some gaps in your book shelf to fill in, buying this and sitting on it the whole time while you're reading would only give you neck pains.
For a more private reading and perhaps more comfortable, here's a book shelf with body room for you – that's if you can fit yourself in.
via Popgadget
Your study room could also turn into an entertainment room with this Work and Play combo furniture. It features a foldout working table on one side. Now as soon as you're done working, just flip it to the other side and relax with a movie.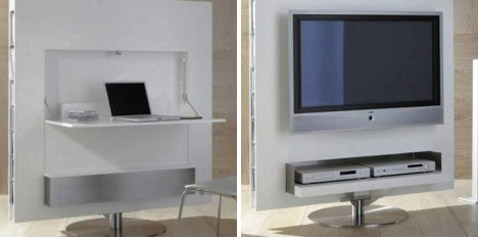 via Gizmodo
And lastly, if you'd rather pick up from the middle page of the book you've been trying to finish or get some sleep after working for long hours, I doubt if there's anything that could come close to this – in terms of what we call, satisfying ones needs. Work + sleep.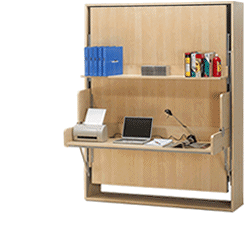 via Inventor Spot
You could just pull out a book or your laptop anytime while staying on your bed. Just don't be in the habit of sleeping on your job or you'd be in a danger of packing all your things because you could no longer keep your apartment. Having these furniture would be pointless if you're living on the streets, right? So if you'd take my advice, I would suggest that you should only get what's necessary, carefully sort things out, keep them in one place to avoid clutter and be inventive enough to come up with your own home furniture. 😉