There are numerous voice changers all over the internet, and we fully comprehend the importance of these amazing tools. Nonetheless, it is a source of entertainment for youngsters especially playing games, right? But do you know when the first voice changer was made? It was made in 1928 by a renowned Engineer, Homer Dudley. However, it was a really basic changer, but over time, voice-changing apps continuously evolved, and now it is a really good source of entertainment for gamers like YOU! Some voice changers are free, and some are paid. But do you know mostly free voice-changing applications are unreliable, and even some paid apps need to provide better results? So for that reason, today we will tell you about one of the most exciting and leading voice changers that can amplify your gaming experience!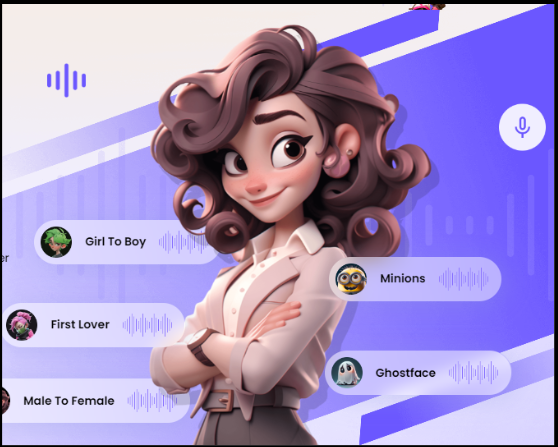 What's HitPaw Voice Changer
HitPaw Voice Changer is an advanced voice changer that can be used in real-time to enhance your online gaming, streaming, Vtubing, and virtual meetings. The app features a range of fantastic sound effects that enable you to seamlessly modify your voice while playing popular games such as Call of Duty, League of Legends, Fortnite, etc. HitPaw Voice Changer works with all your preferred programs, like Discord, Google Meet, Skype, and Zoom. This makes it the perfect tool for content creators, gamers, and streamers who want to add captivating voice effects to virtual gatherings while eliminating background noise and echo for clear communication. You can easily switch voices with convenient key binds for hassle-free interactions. If you want to add some fun to your online gaming sessions, try using the free Clownfish voice changer or Girl voice changer to transform your voice into various exciting characters.
How to Change Your Voice for Gaming with Easy Steps 
The HitPaw Voice Changer provides an extraordinary gaming experience by allowing users to alter their voices uniquely. HitPaw's AI voice changer is an advanced tool that easily produces authentic voice alterations, elevating gaming immersion. Applying this remarkable feature requires minimal effort and involves following a straightforward set of instructions.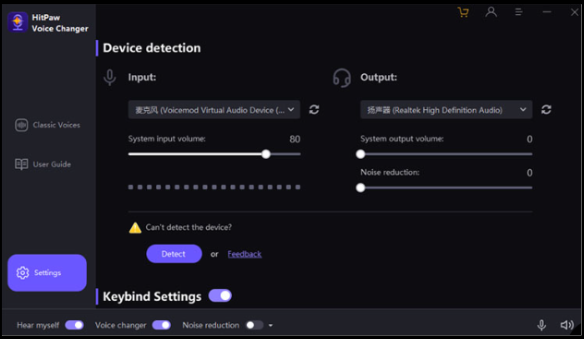 1. Download and Install
Whether you need a Joe Biden voice changer or Ghostface voice changer, before using the HitPaw Voice Changer, it is imperative to download and install it onto your device. This initial step is crucial to ensure that its full range of features is accessible and operates optimally. Upon installation, the HitPaw Voice Changer permits you to modify your voice by integrating diverse sound effects, adjusting pitch and tone, and replicating different accents. With user-friendly functionality, this software is adaptable to various devices, including laptops, smartphones, or tablets. Henceforth, invest some time into downloading and installing this potent tool from an esteemed source to relish effortless voice alteration.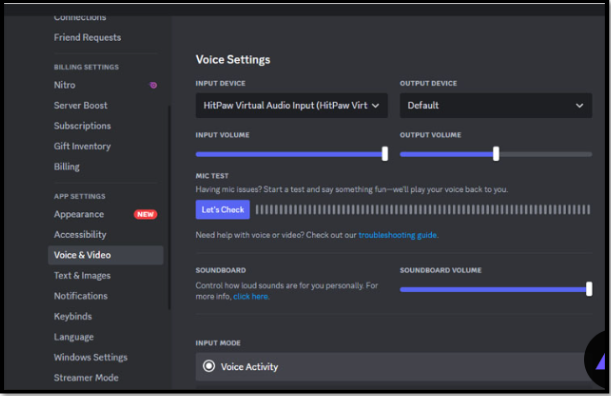 2. Input and Output Settings
To use this voice changer app, access the "Settings" menu to customize your audio input and output devices based on your preference. You will find various options in this menu to modify your audio settings. Choose the "HitPaw Virtual Audio Input" option from the settings menu to use an application like Steam to alter your voice. Afterward, go to the application where you intend to change your voice and set "Microphone (HitPaw Virtual Audio Device)" as the input device. This approach facilitates smooth customization of audio configurations according to your requirements while utilizing different applications.
3. Select Voice and Sound Effects
So, after that, you must be waiting to use Joe Biden voice changer, girl voice changer, or Ghostface voice changer, and because of this, AI voice changer unleashing your creativity is now easier than ever. With such vast options, you can explore a world of endless possibilities and experiment with different combinations to achieve the perfect sound effect that best suits your needs. Whether you are creating a podcast, a musical track, or simply having fun with friends, this advanced feature is sure to take your game up a notch. Why not dive in and embark on an exciting journey into the world of sound?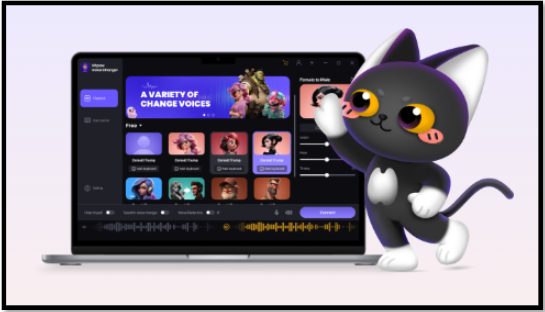 4. Change Your Voice on Steam
We know that after downloading this AI voice changer and following all the instructions that when you will be able to use it, right? So, the good news is that after following all the instructions, you can start using the HitPaw voice changer and start trolling your friends. Nonetheless, for some pro tricks and tips, you can always check the website of HitPaw and try them on your friends and enemies in the game. Moreover, you must remember that this voice-changing app not only works on games, but this is a really amazing application for changing your voice over Discord too. Isn't it great? So start using it and enjoy the services of HitPaw!
Frequently Asked Questions 
1. What are the features of HitPaw Voice Changer? 
Live Voice Changer
Easy Setup
Noise Reduction
Keybinds Control
Integration
Ideal for Gamers, Content Creators, Vtubers, and Live
Streamers
High-Quality Voice Modification
2. Is HitPaw Voice Changer safe to use? 
For a user, all voice changers are safe. Still, you have to notice that for what things you are giving access to these apps, well that might confuse you, but thankfully, HitPaw does not play with your emotions and lives, so HitPaw does not try to access things on your devices that are not related to changing the voices. Well, numerous criminal things happening nowadays due to AI voice changers that criminals are impersonating and stealing the data of several users. So we must inform you that HitPaw does not allow or promote criminal or unethical activities with its AI voice changer.
3. What platform can HitPaw Voice Changer be used on? 
The HitPaw Voice Changer application is highly flexible, as it can function on different versions of Microsoft Windows. These include the latest edition, Windows 11, and its predecessors, such as Windows 10, 8, and even outdated operating systems like Windows 7. Additionally, this application operates seamlessly on any system configuration that supports a 64-bit OS architecture. Therefore, whether you use an up-to-date computer or a legacy machine for your audio assignments, the HitPaw Voice Changer app is an all-inclusive solution.
4. How much does HitPaw Voice Changer cost?
Free Trial
1 Month License: $15.95 (Tax Excl.)
1-Year License: $35.95 (Tax Excl.)
Perpetual License: $65.95 (Tax Excl.)
Conclusion
The HitPaw Voice Changer is a fantastic tool that makes online gaming, streaming, Vtubing, and virtual meetings much more fun. It lets you change your voice in real-time so you can sound like anyone or anything you want – like a hero, Joe Biden, a girl, Ghostface, or even an imp! The best part is it's super easy to set up and works great with all the popular games and software programs. Plus, it filters out annoying background noise so you can focus on having fun.
Undoubtedly, the HitPaw Voice Changer is an excellent tool that lets you change your voice without any worries. You can make all sorts of awesome audio changes without sacrificing quality. Plus, it's super easy to use! The interface is straightforward, and the controls are designed to be user-friendly, so you can have fun altering your voice stress-free.