Have a couple of days to launch a website? It is absolutely possible unless you don't plan to learn HTML or CSS for this purpose.
Creating a website using one of the CMSs is a fast and progressive solution. Occupying 60% of the market and being used by 30% of the websites worldwide, WordPress becomes an optimum decision for several reasons:
WordPress is free and comes along with a large number of free themes and plugins (unlike many website builders);
an intuitive design turns WordPress into one of the most user-friendly CMSs ever.
It makes it indeed possible to create a website in a couple of days. The process includes several steps that will be covered thoroughly further:
choosing web hosting and domain name;
setting up a website;
creating an outstanding design;
filling it with content.
Fortunately, no knowledge of coding is needed to perform these tasks. Still, there is even better, package solution. TemplateMonster launches a super discount on the all-in-one package for website creation.
Below, you will find information about the ready-to-use solution. In addition, if you still decide to create a website on your own, you will familiarize with the detailed guideline and some recommendations.
An Ultimate Package for Creating a Website (under a Flat Price)
Without a doubt, WordPress makes it possible to create any kind of website without skills of coding in a couple of days. Still, if you want to go through this process even faster and with less effort, you can consider a special offer from TemplateMonster.
This ready-to-use website offer includes:
professional hosting (InMotion) and a domain name for 1 year;
a website template and installation;
adding Social profiles links.
For non-eCommerce websites:
5 pages & 10 posts customization;
logo and color scheme customization;
SSL certificates.
For eCommerce websites:
Currencies, Shipping, and Taxes Setup;
Payment Modules setup;
Products import (up to 1000 items);
Screen reader support.
Above all, it's important to point out that this package is a universal solution. It is suitable for creating a blog, a business website, eCommerce store, gallery, etc. Moreover, you can choose any theme from the list with the best-selling products and customize it to your taste.
Currently, the offer is available with a discount. From February, 4 until February, 8, this ultimate package costs $149 instead of $279!

In fact, even if you have already created websites on your own, it is still a beneficial all-in-one offer that will save your time and money.
Otherwise, if you want to take control over the creation process, take a glance at the following step-by-step guide. With its help, you will go through the process avoiding the common mistakes and difficulties.
Step-by-Step Guide on Creating Your own Website within a Week
1. Choose a Web Hosting and Domain Name
Without a doubt, a great diversity of the web hosting companies and plans makes it difficult to make a choice. Still, the right choice is usually based on thorough research grounded on the needs and financial capabilities.
So, when you look for a web hosting company, make sure you consider:
● Server Reliability and Uptime Scores
Unstable work of the website leads to visitors/customers dissatisfaction, reduce in views and sales. Furthermore, search engine machines usually rank the problematic websites lower. Therefore, pay attention to the uptime score – it shouldn't be less than 99.5%.
● 24/7 Customer Support
A reputable web hosting company manages to assist its clients 24/7. It's better to choose services with chat support rather than email one (support tickets are also less effective). A perfect variant is a company with an in-house customer support department.
● Website Backups Option
Under conditions of the possible server or hard disk failures and other damages, it is extremely crucial to back up the data on the website. Thus, give priority to the services that guarantee regular data backups.
● Renewal Charges
Some hosting companies offer super affordable prices for a specific period or under certain conditions. Afterward, they can charge several times more. For instance, when a website with a shared hosting grows and needs a VPS or a dedicated plan, hosting providers can charge extremely large renewal costs.
Therefore, it is important to clarify all financial issues at the very beginning and choose a company with clear financial policies.
● Possibility to Add Several Domains
As a website grows, it might also need additional domains or subdomains. Before making a choice, make sure it is possible to add extra websites to the hosting account and it is financially beneficial.
● Clear Terms and Strict Account Limitations
Before signing the contract, check out the terms and the account limitations. Make sure everything is clear and you agree with all states.
● Email Hosting
Email hosting is a nice addition to the ultimate hosting package. If choosing between two companies with the same offers, give priority to the one that offers an email hosting. Thus, you get a good-looking email address, backups, beneficial additional features, and more.
Speaking of the domain name, it goes without saying that creating a brief, appealing, and memorable one is a vital step. Furthermore, it should somehow reflect the brand identity of your business, blog, or store. A good and strong domain name adds professional credibility and inspires trust among the audience.
A domain name of the website for a company or an eCommerce store might contain the name of the company itself. Still, those, who need a website for non-commercial purposes, should rack their brains to be creative and recognizable. Here is a short tutorial that covers tools for choosing a website name.
After deciding on the web hosting company and a domain name, you can move to the next step.
2. Set up the Website
Another WordPress advantage refers to the super fast installation process. Moreover, all reputable hosting companies implemented one-click installation for WordPress.
For instance, InMotion hosting offers a Softaculuos Apps Installer available on the cPanel. The user must only click on the Install link, fill in the WordPress installation details and wait a couple of minutes until a website will be ready for a visit.
Other web hosting companies (such as Bluehost) also make it possible to install WordPress in a couple of clicks right from the control panel.
If a hosting (for some reason) doesn't provide a one-click installation process, you can set it up manually. Here is a detailed tutorial that will help you!
3. Create an Appealing Look of Your Website
Here comes the most creative part of the process – designing a website.
Probably, the easiest way to do it is to install one of the hundreds of the elementor WordPress themes. You get a ready-made solution with a drag and drop nature that allows adding, editing, and removing elements in a couple of clicks.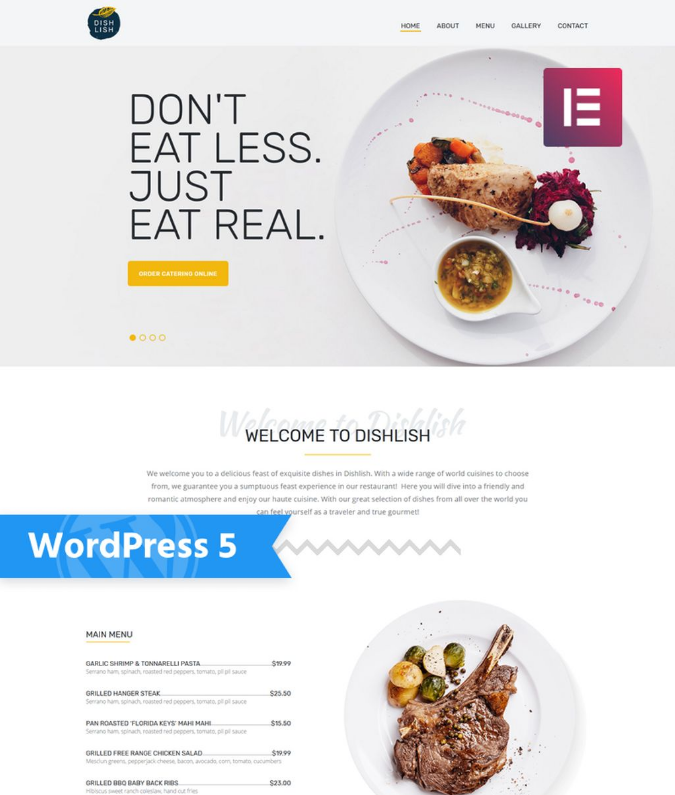 For instance, you don't need knowledge of coding to organize content in columns, adding a background video, a contact form, or a banner, or to change the color of the header, etc. It's enough to open a specific category in the admin panel and make changes.
By the way, another WordPress pro is that there is no need to start everything from scratch after changing the theme. All information will be saved and just framed in another theme.
A website designed with a WordPress theme looks professionally indeed. Still, it is you, who customize it to your taste even without knowledge of the programming languages.
4. Add Content to Your Website
As it was mentioned, WordPress themes are super customizable. Therefore, you can spend hours stuffing a website with content elements just because the opportunities are almost unlimited.
In order to add content, you should create and edit pages first. You can do it right from the WordPress Dashboard. Click on the "Pages" then on the "Add New" buttons: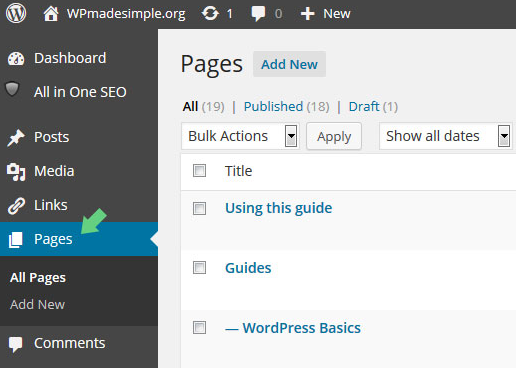 Afterward, you can add text, visuals to the page, add titles, headlines, and edit it in multiple ways. Save changes and you are done.
In order to add a page to the menu, don't leave a WordPress Dashboard and go to "Appearance" > "Menus", find the page you created, add it to the menu, and review the settings.
Also, it is an opportunity to create and edit different types of posts. It is possible to group different posts and form categories. In order to add one, go to "Posts" > Add New" and choose a category.
In fact, once you visit the Dashboard, you can make any changes you want from there. No need to deal with coding.
In addition, you can add, edit, and remove sidebars. For this purpose, go to "Appearance" > "Widgets" in the WordPress Dashboard. There, you can add and remove "boxes" with multiple elements to or from the sidebars.
Moreover, don't forget to add some useful plugins to the website. It's crucial to not overdo with that. An overloaded website looks aesthetically monstrous. Plus, it slows down the load of the website which is bad for UX and ranking.
In order to install plugins, go to "Plugins -> Add New" and start choosing. WordPress itself offers 25,000+ free plugins for different purposes. Once you choose the one, just click on the "Install" button.
Here is a list of the most popular WordPress plugins. In fact, pay particular attention to the SEO-oriented plugins such as Yoast SEO for WordPress, speed and performance optimizing plugins such as WP Rocket, and some analytical tools such as MonsterInsights.
Congrats! You are on the Finish Line!
If you followed the aforementioned instructions, then, by that moment, you must have reached the finish line. The last important recommendation lies in improving a website.
Launching a website isn't enough for its outstanding lifetime performance. It is crucial to keep up with times, optimize it for speed, increase conversions, etc. Therefore, don't stop in generating ways to improve the website and make it look more appealing to the viewers. As you see, launching a website within a week is absolutely possible. Don't forget about the tempting opportunity to get an all-in-one package from TemplateMonster with all needed tools to create a website in a couple of days. Once you purchase it, specialists with more than 16 years of experience start implementing your expectations in real life.