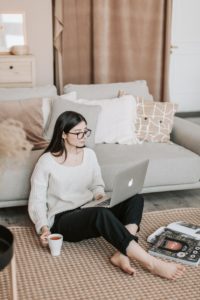 Video content is at the peak of popularity in 2022 and will not lose its relevance in the future. Therefore, if you want your page on social networks to stand out (this is especially important for business brands), you should pay attention to the design of the form. It's not enough to just shoot a video and post it. The video should be bright with an attractive cover to grab the user's attention right away. The splash screen should give a reason why he should watch it.
Step 1.  Account rebranding & deleting the unnecessary
If you do not have time to shoot new content, you can work with the old one. To do this, you need to open your page and evaluate it critically. Users usually do not watch a video that was released earlier and has already moved to the end of the tape. By changing the cover design, you can draw attention to old videos and present them in a new way. To do this, use Inflact downloader Instagram. This is a simple and free Instagram video saver that will save clips to your phone or computer for later processing.
To download a file, simply copy the link to this publication and paste it into the window on the main page of the service. After 30 seconds, the file will already be on your device. do not rush to remove everything at once from the page. Perhaps not all videos are in good quality and not all are interesting. Mark the ones that are still relevant. Then we will work with them.
Step 2. Video redesign
So let's say you have 10 videos that you want to use in the future. To get started, download one of these simple video editing apps. For example, Canva, Supa or Crello. Although there are a good deal of different software, these apps are good because they have a free period. And even in the free version, there are many templates and useful options available. Canva, for example, is available on desktop and mobile.
Next, upload your files to the app. Now you can start creating! Here are some options for what you can do with old files to present them in a new way:
Convert video to Stories (Choose a template with a size of 1920×1080 pixels).
Cut one long video into 2-3 parts and split into different posts.
Add subtitles in your native or foreign language.
Make a cover for the video and designate the theme.
For example, Canva has many templates that are suitable for different topics, for families and children, for business, as well as for holidays like Christmas or Easter. You can also add funny animation and overlay music to make the video even more creative. Furthermore, it is possible to insert slides with text into your video recording if necessary. You can adjust the time for the video. Keep in mind the 15 second limit for Stories and 1 minute for posts.
In practice, it looks like this. Suppose you have a video about your production, for example, tailoring dresses. Divide it into parts and give each a title. To insert a cover with text, simply add an extra slide before the video and write a title (Canva has many fonts to choose from). And then download the file including the cover in mp4 format.
Step 3. Republishing
By cutting the existing videos into several parts, you will multiply the amount of content several times at once. Now you can rest easy and not worry about making new videos. But the most important thing is that your videos are published at the right time for this you need to use the scheduler. You can use Facebook Business Suite if your Instagram page is linked to Facebook. It is very convenient to set the date and time of publication, as well as to sign media materials with text.
As you can see, in order to create new content for your Instagram page, it is not necessary to pick up a camera and go shoot something. You can use existing videos that you have posted before to fill your feed. This solution helps in a situation when there is no time or no imagination