When the time to comes to share your create talents with the world building a portfolio website is the most effective way to do just that.
You would rather not take the time to try to create a portfolio website from scratch, but you may still have a problem in that you don't know which website building tool out there would be a good choice.  
A fast and easy website building tool would be nice to have but you don't want to skimp on quality or performance. You want to present your offerings in a way that will best gain the attention and trust of potential clients or customers.
There are several portfolio-building features you should be aware of that are designed to save you time and ensure a successful outcome in terms of website performance. We'll use the Portfoliobox portfolio-builder solution to describe these features so you can take advantage of them.
5 Time-saving and Quality-boosting Portfolio-building Features You Should Be Aware Of
Don't let your portfolio be a deterrent to your success. Instead, find a portfolio builder you can count on to get a high-quality website up and running in no time at all.
That said, exactly what do you know what to look for?
Here are five time-saving and quality-enhancing features any potential website-building candidate should have.
1. Page-building templates you can mix and match
Themes can be great time savers and can also be ideal for certain situations. One of the problems in using them however is that they often force you to commit to a layout or style that significantly differs from what you had in mind.
Customization is a way around this problem but customizing can take time you were otherwise trying to save and could involve a great deal of effort depending on how close the theme is to what you have in mind.
The need to customize can be significantly reduced and even eliminated if you choose a website builder that offers templates you can mix and match to create the style or layout you want.
By doing so you won't have to put up with:
Someone else deciding what the final result will look like
Wasting hours customizing a theme
Having to design and build the entire website from scratch
What Portfoliobox does for instance, is to let you start with a blank slate and build your portfolio site's pages one section at a time.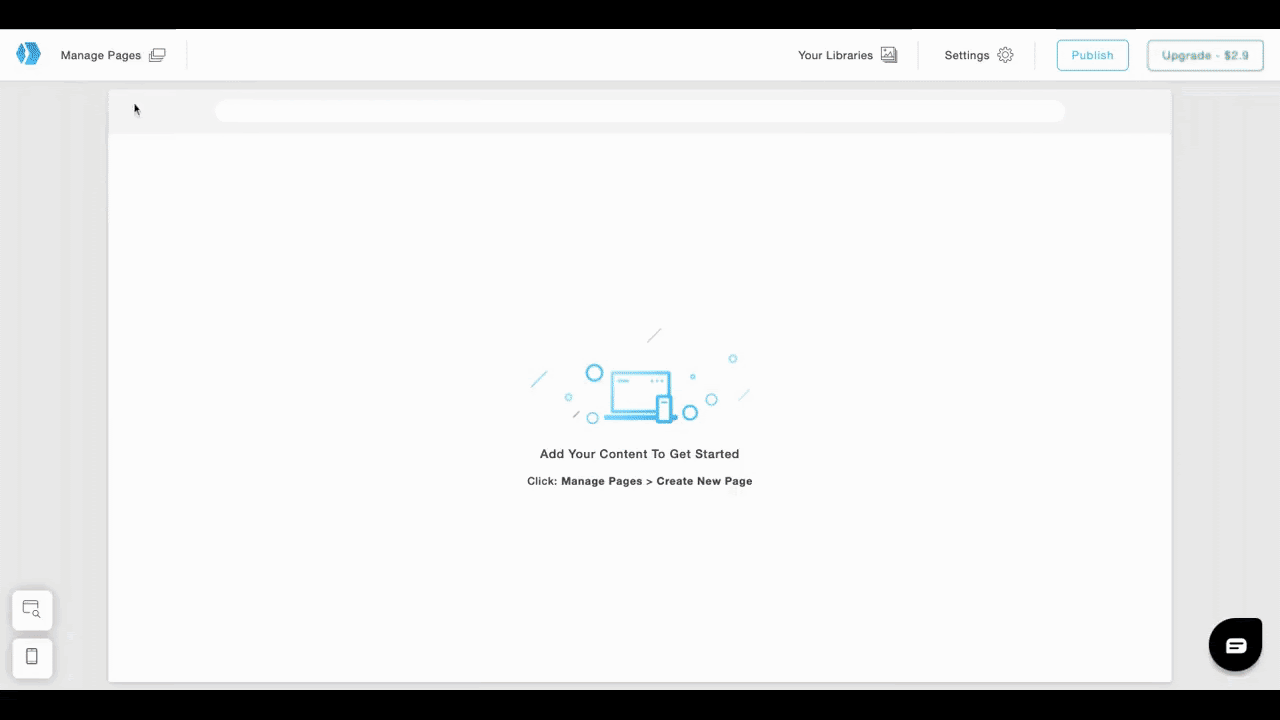 There's a ton of flexibility with respect to how each section template looks, making it an easy task to find something that lines up with what you're looking for in your portfolio pages as well as testimonials, your contact forms, and the like.
In short, filling out details is usually easier and much more satisfying that trying to make things fit.
2. Look for all-in-one pricing and affordable monthly plans
If a "free-to-use" website builder can give you what you want, good for you. You're likely to discover however, that using a free website builder, like a theme-focused website builder, may provide you with something less that you had counted on.
Free is nice, but you may end up paying for an upgrade to get what you want. You should check into what an upfront transparent pricing plan offers rather than risk being unpleasantly surprised down the road.
Portfoliobox, for example, offers three annual pricing plans: Light, Pro, and Pro Plus. There are also month-to-month payment options and Pro is free for students.
Notice how Portfoliobox explains exactly what features are included in their plans:
A custom domain name (on Pro plans)
Web hosting and unlimited bandwidth
SSL certified for security
Mobile responsive website editor
Image storage and protection
eCommerce functionality for selling products
SEO tools
Expert and quick response customer support
Everything needed to build a high-quality portfolio site is included, whether you opt for an annual plan or prefer to subscribe on a month-to-month basis.
3. 4 Creative features that will help boost your business
While having the tools to create an impressive portfolio is of paramount importance, you also want a website that will help streamline the business side of your operation.
The following four business enhancing features may seem innocuous at first glance but incorporating them into your site can make your business life much easier.
For instance: 
Right-click disabling – helps to protect your online work from theft. Doing so is simply a matter of toggling the Disable Right Click feature as shown below.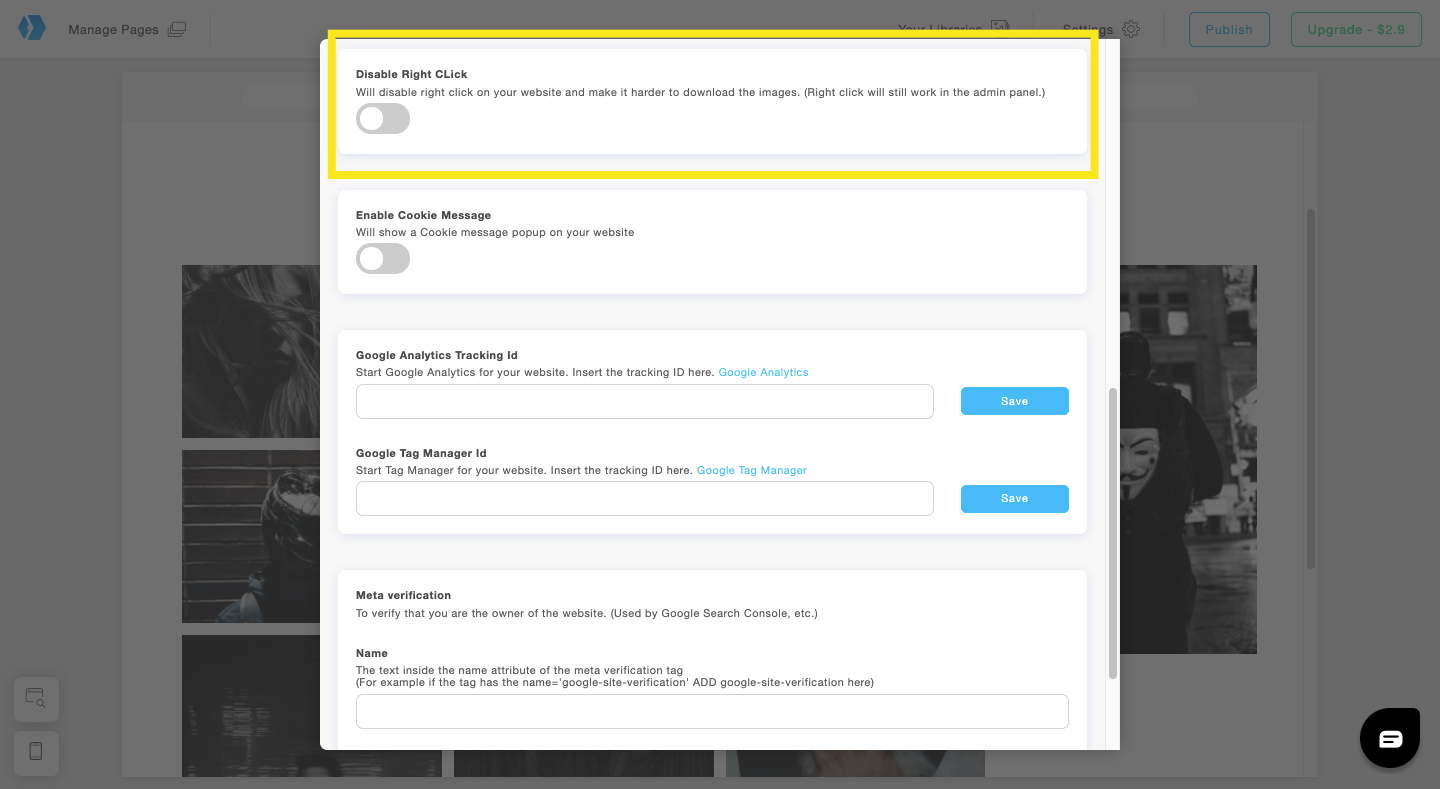 Private client galleries – provide the means to securely send work to your clients. There are other platforms that provide this feature, but why waste your time setting one up when a portfolio website builder like Portfoliobox allows you to create private galleries internally.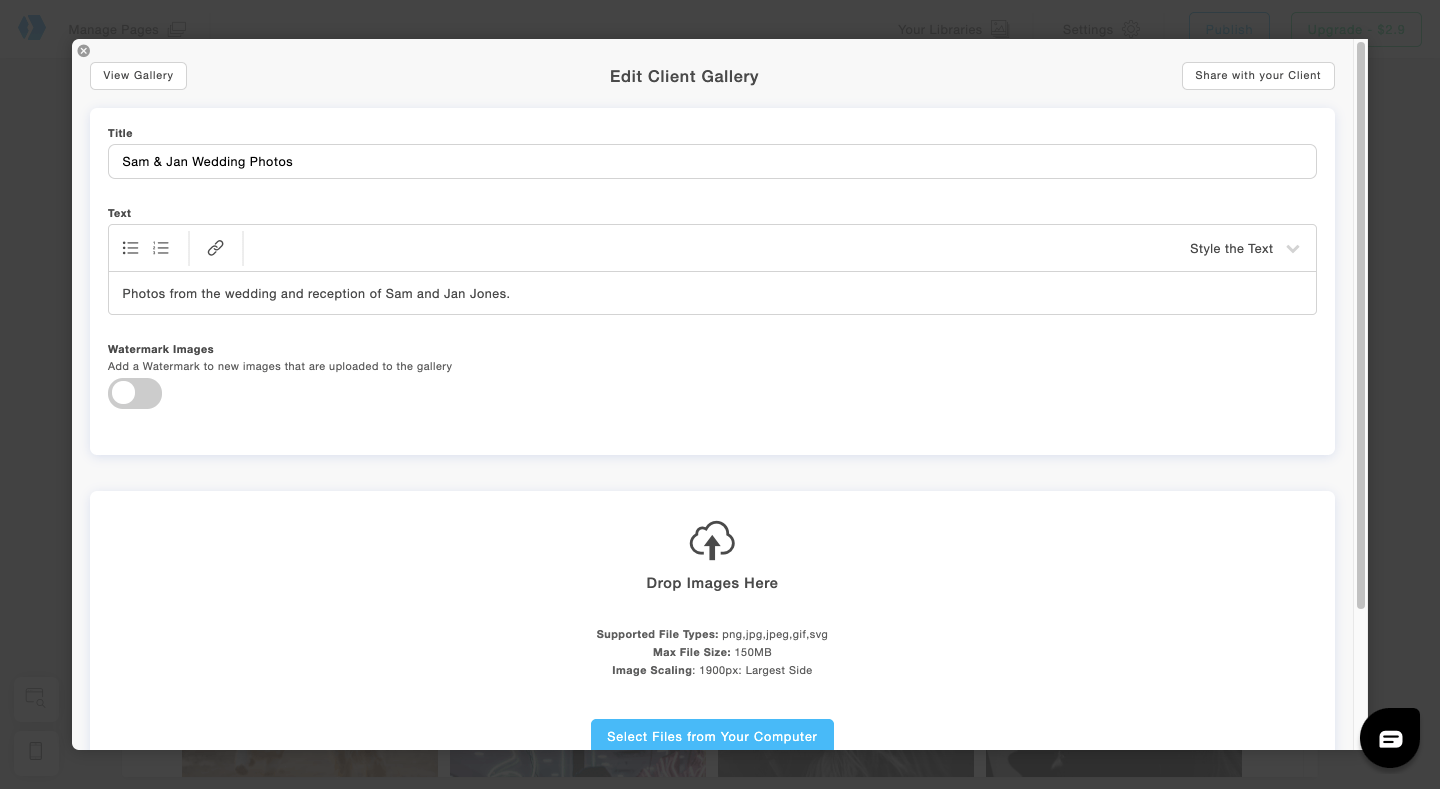 Conducting business is a great deal easier when you can manage your portfolio and your client communication and collaboration from a single platform.
Image watermarking – provides two important functions at once. First, it prevents theft (who wants to display an image with your watermark on it?) and second, it enables you to ensure your client has approved of and paid for your work before being able to put it to use.
Adding your watermark is as simple as this.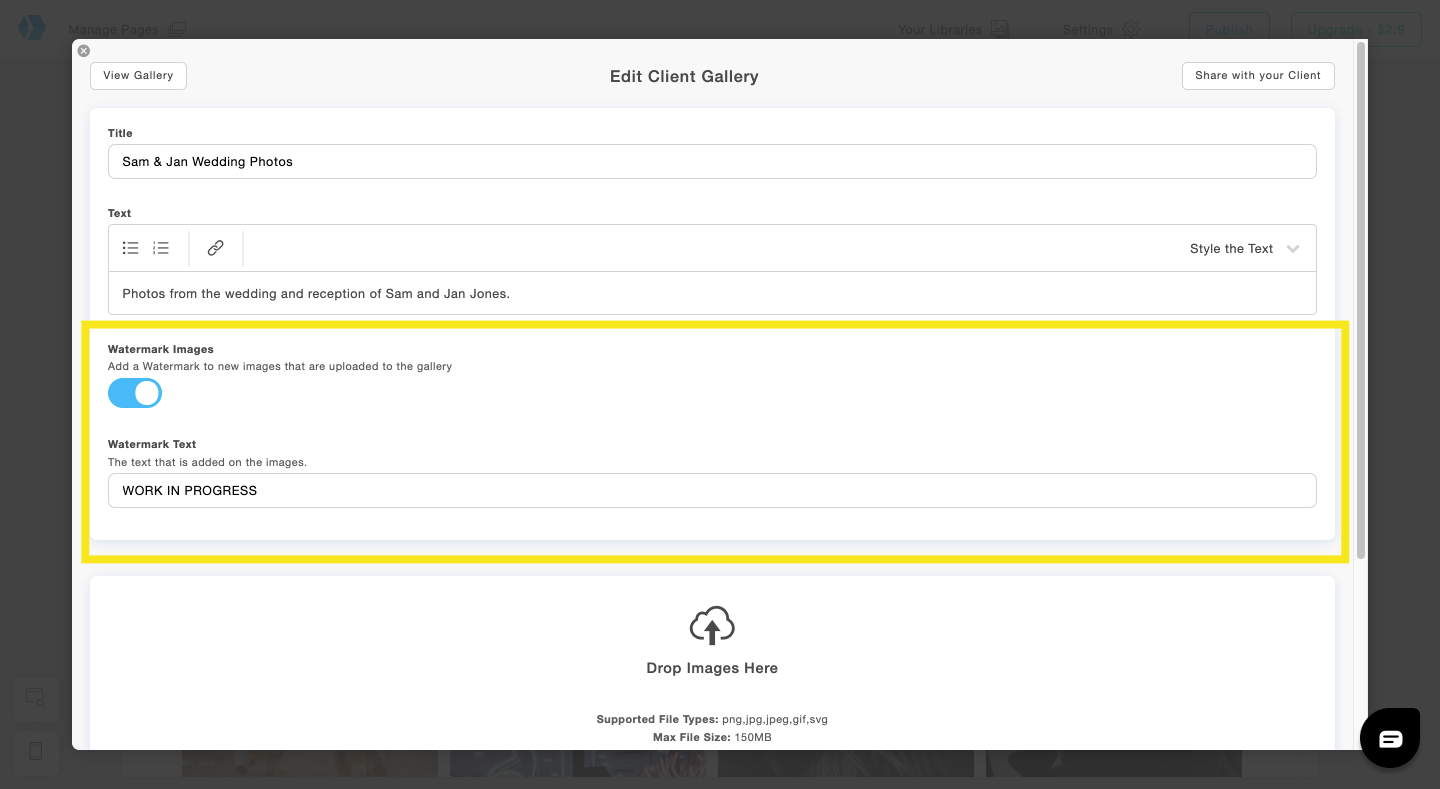 And with Portfoliobox you can apply this feature to any client gallery. 
Third-party integration – is a time-saving tool you'll quickly learn to appreciate.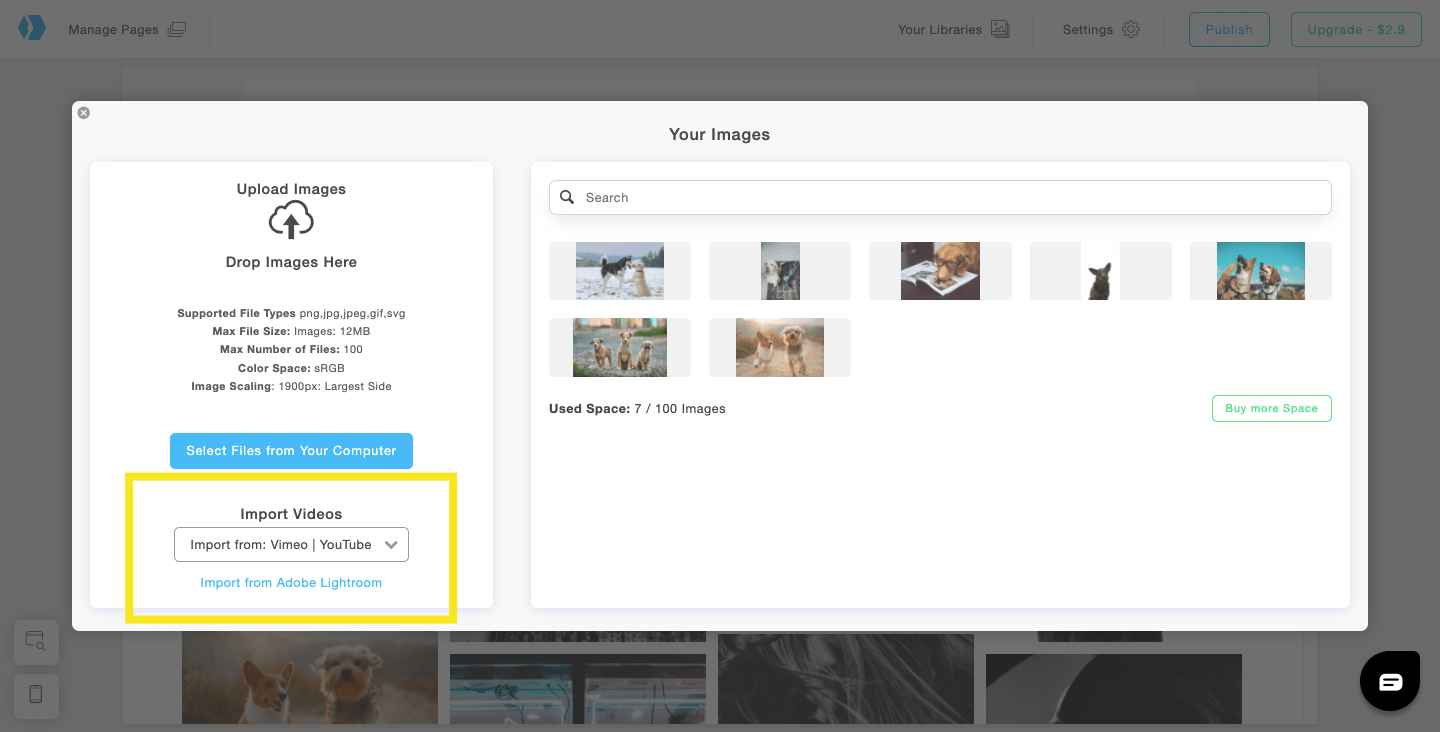 If you edit your images or videos in a third party platform (e.g., YouTube, Vimeo) you can instantly pull the files into your website.
4. Integrating eCommerce Into Your Portfolio Website
If you intend to sell your art, crafts, or creative services, it doesn't make sense to create a separate eCommerce platform if you can do so from your portfolio website.
Take Portfoliobox, for instance, where eCommerce is built right into the platform. You don't have to coordinate activities between two platforms and your other site settings are applied to the store.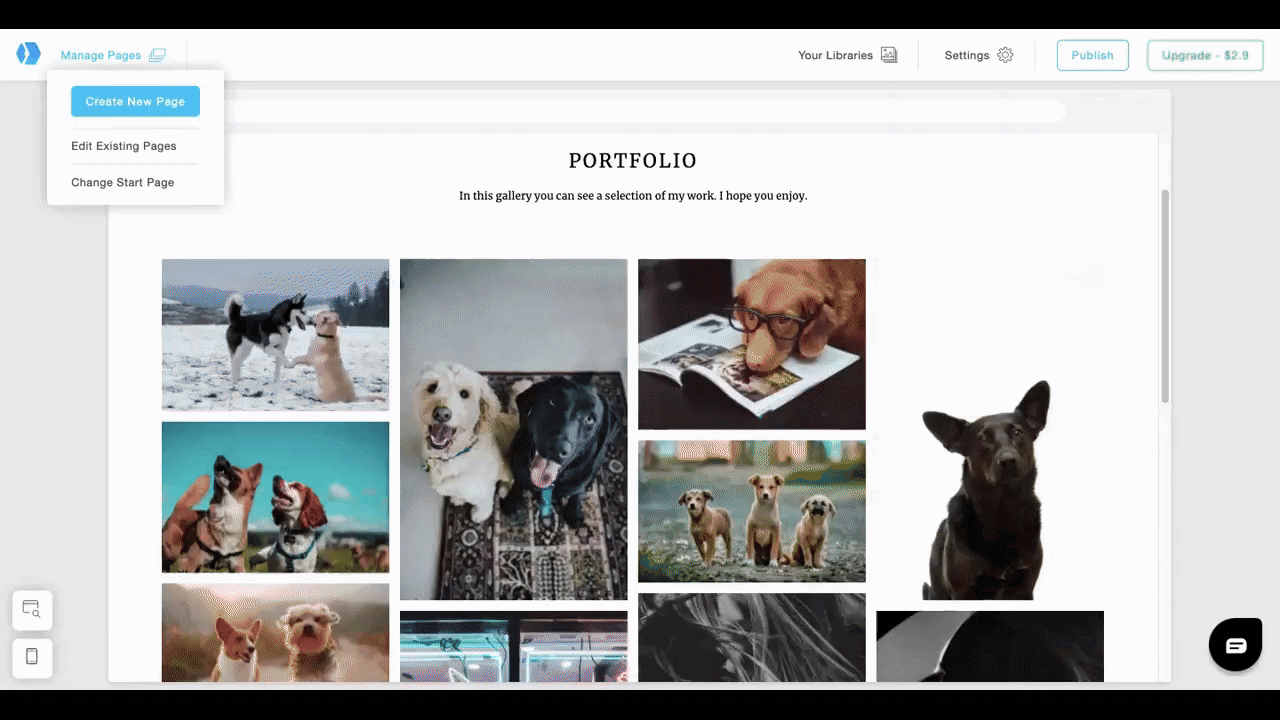 Nor do you have to worry about add-ons. It's a simple a matter of choosing a template, adding the store as a new page on your site, and uploading your products.
5. Customer Service When You Need It
Helpful user documentation can be nice (please do not rely on an FAQ page), but if you have neither the time nor inclination to troubleshoot website issues, you'll want to have access to the support you need, when you need it.
Besides making life easier for you, great customer service helps to reduce downtime, page loading problems, and other issues that could cost you potential business, to a bare minimum.
Great Customer Service is another feature you can get with Portfoliobox.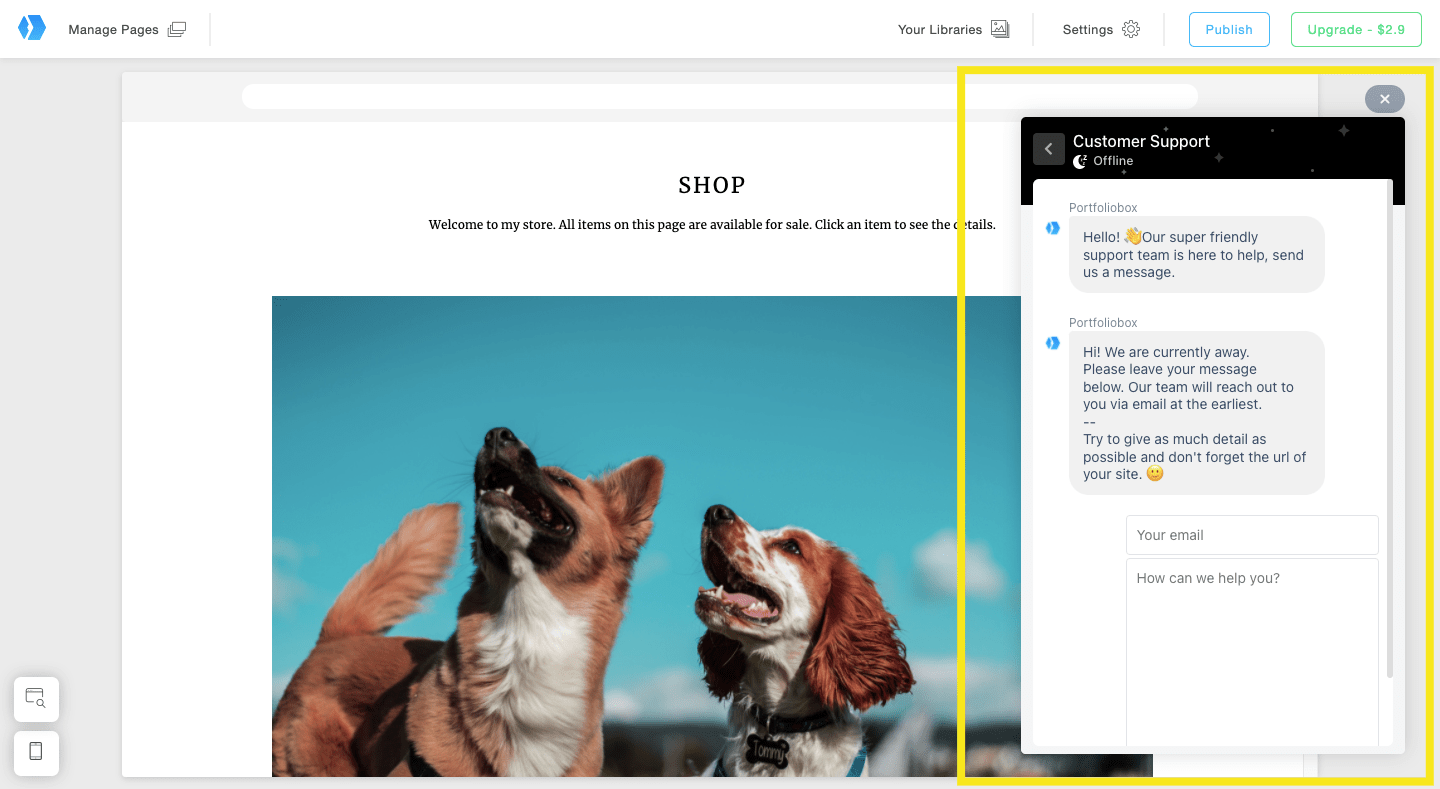 When you're on one of the Pro plans, the Portfoliobox chat widget on the bottom of the screen gives you access to 24/7 customer support. 
Fast, Affordable, and Intuitive is the Ideal Way to Make a Portfolio Website – It's Also the Portfoliobox Way
While there are plenty of website builders on the market that feature portfolio-building tools, Portfoliobox was built specifically for creatives who want their portfolio to be their website's main attraction.
Portfoliobox allows creatives to showcase or sell their works, or offer their services to clients, and be able to create their portfolio site quickly, easily, and affordably.
Simply put, Portfoliobox is by far one of the best website builders on the market.