There's no question that a drag-and-drop editor makes building websites easy, but its only as good as the design elements it can access. The Visual Composer Website Builder, working in combination with the Visual Composer Hub and its massive library of content elements, templates, blocks, and stock images, makes building a website as fast and easy as can be.
With the Hub, you don't have to settle for what's there, since each of the content elements, blocks, and templates is easily personalized, so you'll always get precisely what you want and need.
There's more to the Visual Composer Hub than first meets the eye.
That said, let's take a look at how it works and what's inside.
What is the Visual Composer Hub and What's Inside?
The Visual Composer Hub is a cloud-based marketplace of web design elements and features. It connects to your Visual Composer account and alleviates the problem web designers often have of having to rely on plugins or custom code to achieve the results they want.
Your Visual Composer Hub access allows you to search for ready-to-use content, and once found, download it directly to your Visual Composer Website Builder account.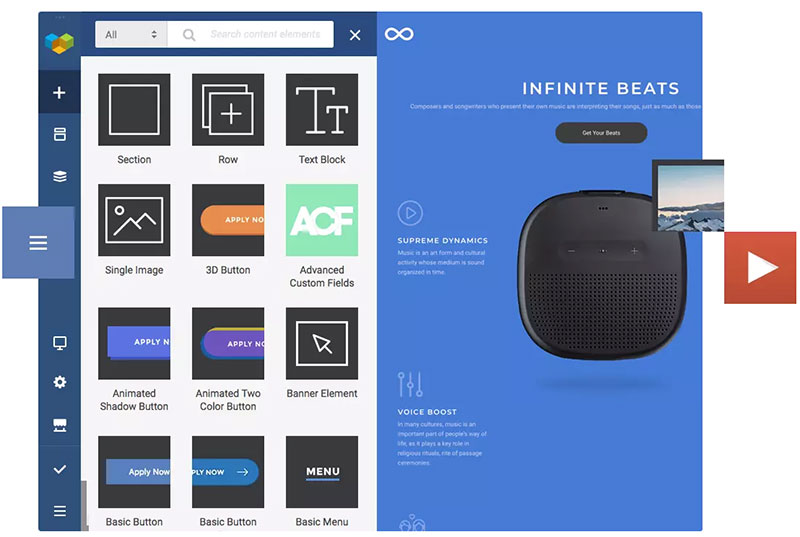 Once downloaded, the selected element will be in your account and ready to drag, drop, and put to use.
The Visual Composer Hub Library
The Visual Composer Hub's library of content is massive and diverse. The content can be used with any theme, including themes you already have or are using. You can always view all the content in the forever-free Visual Composer Hub although you need to unlock Visual Composer Premium for full access and unlimited downloads.
What's Inside the Visual Composer Hub?
There's really no other solution like it for access to virtually unlimited website content and easy content downloads; whether you need –
Content Elements
Page Templates
Block Templates
Stock Images
Or, all the above.
Let's examine each in detail.
1. Content Elements
Simpler and slicker than ever best describes searching and downloading the Hub's first-class content elements from its huge library. With Visual Composer Premium you can have an unlimited number of downloads.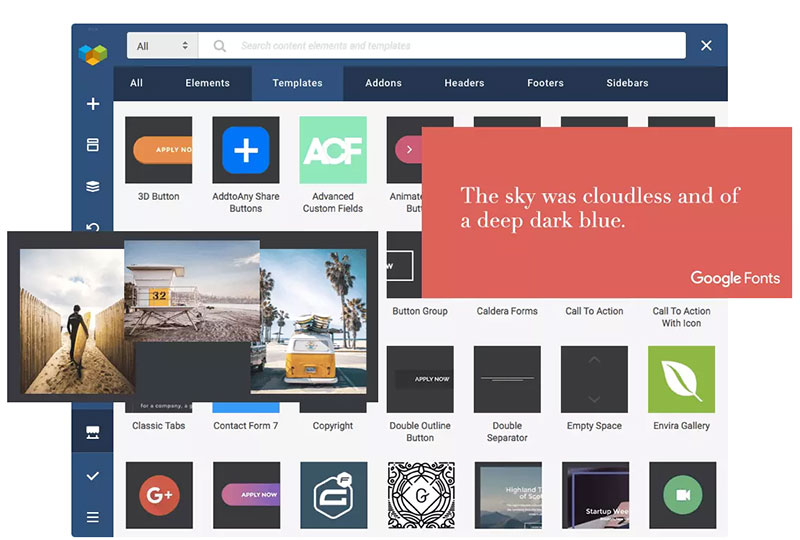 These Hub Content Elements, which are constantly being updated consist of:
Media
Social
Post Grids
Buttons
Compatibility elements that can be integrated with MailChimp, Ninja Forms, Envira Gallery and more.
Advanced Elements that include hover boxes, logo sliders, tabs and more.
and, an E-Commerce Plug
With these easily accessed elements you can forget about any need for coding while building your site.
Furthermore –
You can edit any element. Multiple edit options are available for each element. The edit feature even includes Element CSS Animations you can use right out of the box to create beautiful and amazing transitions.
You can easily replace elements and also switch between them. The Smart Replace options enables you to change the look of your content easily and in an instant.
There are several advanced features you can use; some of which are only available to Visual Composer Premium users. You can create content types that allow you to organize elements and create element hierarchies. Turbo-powered editing flexibility is another feature as is the ability to leave notes to team members.
If you're really interested in gaining access to all the designer content elements, take a look at what having a Visual Composer Hub Premium account will do for you.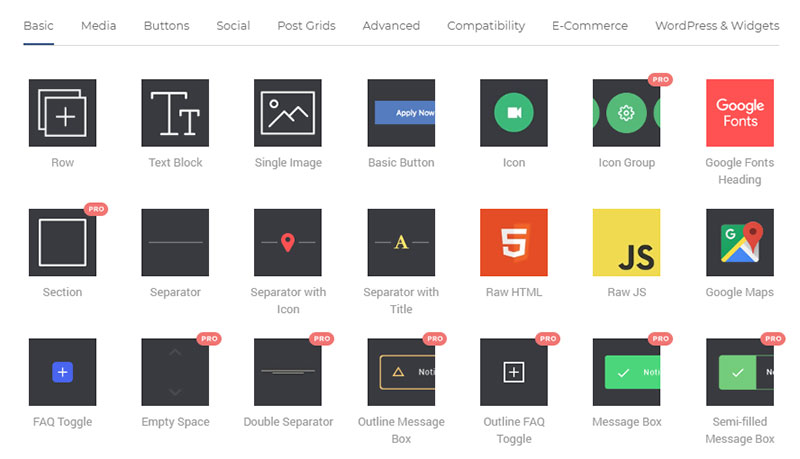 2. WordPress Templates
Page templates make up an important part of the Visual Composer Hub Library. Here, you'll find templates for any theme; and those you find will be fully editable. It's simply a matter of searching for a template that fits your website look and feel. Having found what you want, simply click download to add it to your account. Adjust it to satisfy your needs and you'll have a beautiful page in no time at all.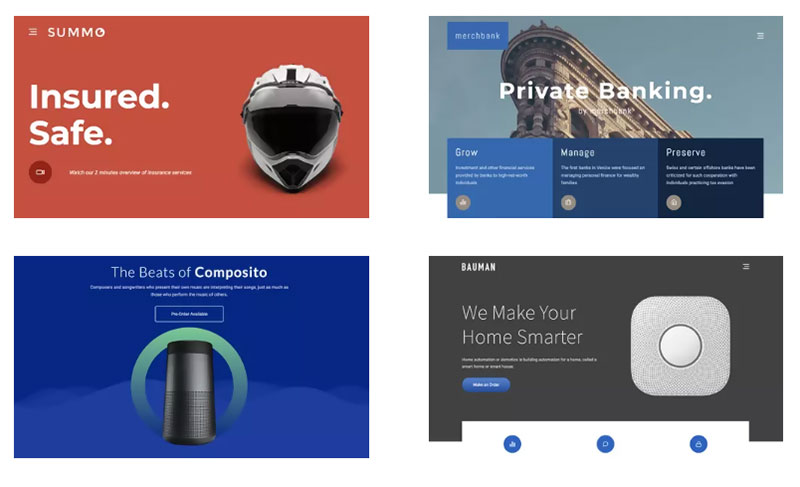 Any template you use or modify can be automatically stored in the library. You can also store any page you create to be used in the future as a template, export and import templates, add global templates, and even add and store template widgets.
Given what's already in the library, and having the ability to store pages, other templates, or templates you've customized means you don't have to be a web designer to create awesome pages; you have drag and drop and a cloud base solution consisting og a unique library of designer templates to work with.
3. Block Templates
With a huge arsenal of content elements and templates at the ready, you're set to turn out one stunning website after another; each one faster and easier than the others.
Yet, something is missing. Something that combines the flexibility an array of content elements provides with the speed and simplicity templates offer. Something making up the middle ground, the designer's "sweet spot".
Block Templates represent the Goldilocks standard for the combination of custom design and easy drag-and-drop functionality. Simply put, they can make your work as a designer oh-so-much easier.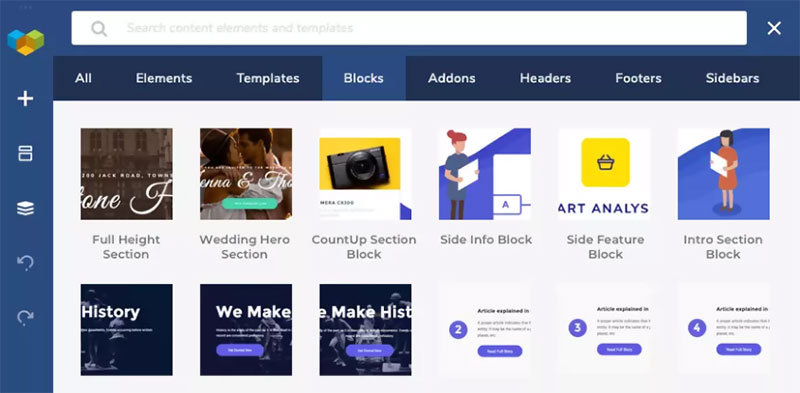 A Visual Composer Premium subscription allows you to unlock Block Templates; giving you the ability to build pages in sections. It doesn't get much better.
4. Stock Images
You're good to go, except for one thing. If you're going to build stunning websites, you're going to need some good imagery. The Visual Composer Hub solution to that problem lies in its seamless integration with Unsplash stock photography.
Find a high-quality stock photo to your liking? Simply download it from your Visual Composer Website Builder's Frontend editor and it's ready to use. It just doesn't get any easier.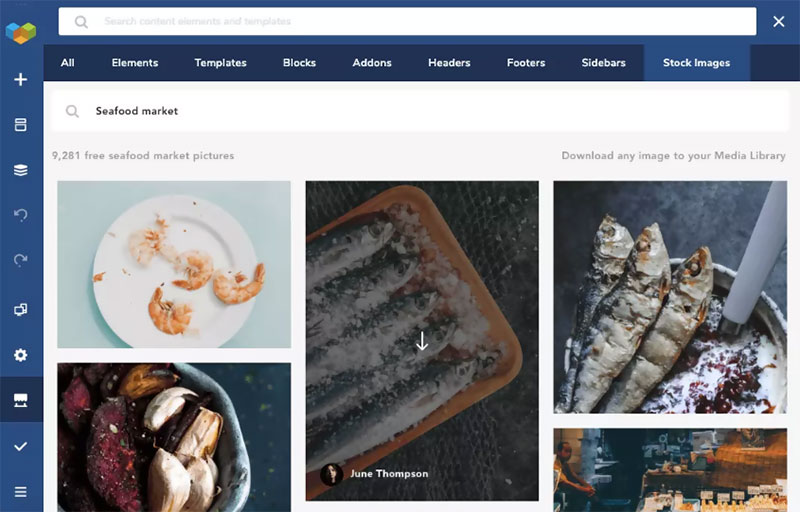 If you find an especially appealing image, and you'd like to see or use more of the same, simply hover over an image, click on the name of the author, and you'll be able to download other works by that author to give your website a more unified look and feel.
Conclusion
It's indeed true that a drag-and-drop visual website editor isn't enough to get the job done. It takes a library of content elements, templates and stock photography to make web design possible, and truly simple at the same time.
You now know the basics of what you'll find in the Visual Composer Hub. When we said the library is massive, we meant it. What we didn't mention were add-ons and other premium hub elements you can also check out. Why not log in now to the free version of the Visual Composer Hub? You've nothing to lose, and everything to gain.