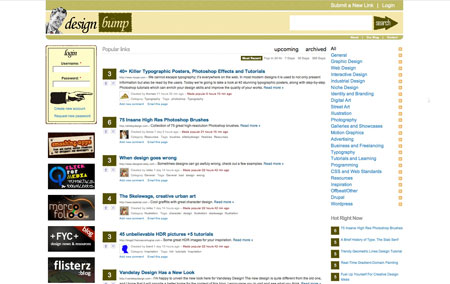 DesignBump is the newest Digg-like for designers. Just like Digg, it lets you submit articles that you like to other users who will vote on it. If the article gets enough votes, it makes it to the front page and gets more exposure.
This new site is a project by John Campbell, a self-employed designer, web developer and entrepreneur. I asked him a few questions on his project.
What are your goals with Design Bump?
I really hope to make DesignBump into a social hub for all the great designers on the web to get together and share articles, news, creations, and ideas. I have been working hard on, and will be implementing soon, customizable profiles and forums.
How will the site be different from Designfloat or other design digg-likes?
DesignFloat is a great site, but I wanted to allow for more interaction between my users. I hope to implement galleries and showcases soon so that users can share their work with others in one centralized location. As well as interact and make contacts through the social networking aspects of the site.
Who are the designers that inspire you?
I have so many people that inspire me everyday it is impossible to narrow it down to just a few for this list. I like to see different creations and implementations of ideas from a lot of different people so that I can be inspired and learn from multiple different sources.
Can you name 5 design blogs that you would recommend to other designers?
I have well over 100 design blogs booked marked in my RSS feeder, so narrowing it down to just 5 is really tough. I have to say that I always visit and enjoy SixRevisions, Vandelay Design, Fuel Your Creativity, Just Creative Design, and, of course, Designer Daily.
About 5 non-design blogs that would be a profitable read for designers?
I don't really have a set list of non design blogs that I read regularly. I generally scan the internet and end up finding create content. But designers should definitely remember to use social networking sites, make sure they have a good understanding of the market they are in, and stay up to date on news and current trends.
Thanks a lot for answering my questions, anything to add?
Thanks for giving me the opportunity to answer them. I just want to mention that DesignBump is still very new, but we have already seen great growth and support from the design community. We are completely open to suggestions on how to improve the site so feel free to join and start submitting great design related content today!