If you use Gmail to help run a small business, then Keeping is a tool that you would do well to investigate.
Traditionally there have been two main ways of managing customer support requests. Some businesses try to manage them as a part of general company email, but it can become difficult to maintain track of who is managing each support request. This can result in the customer receiving multiple replies being overlooked entirely.
For many businesses the obvious solution is to use a dedicated customer support system. The difficulty here is that these services are expensive and often come with features you will never use. It is also clear to customers that a support system is being used and this can appear intimidating with long support ID numbers, and obvious template replies.
Keeping meets the need for a streamlined support service which offers the flexibility your support team need without the expense of relying on a dedicated help desk: Keeping is a help desk that integrates inside your mailbox
Getting Started is Simple
Gmail and Google Apps are vital tool for many small businesses, Gmail does everything business email needs, it is easy to use and secure. Keeping™ builds on this base, and adds customer support functionality to Gmail.
Setting up Keeping is an easy two step process. Chrome users can register for free at Keeping.com and get a 15 day free trial. Simply click on the Add Keeping to Gmail button and you will be prompted to download the Chrome extension.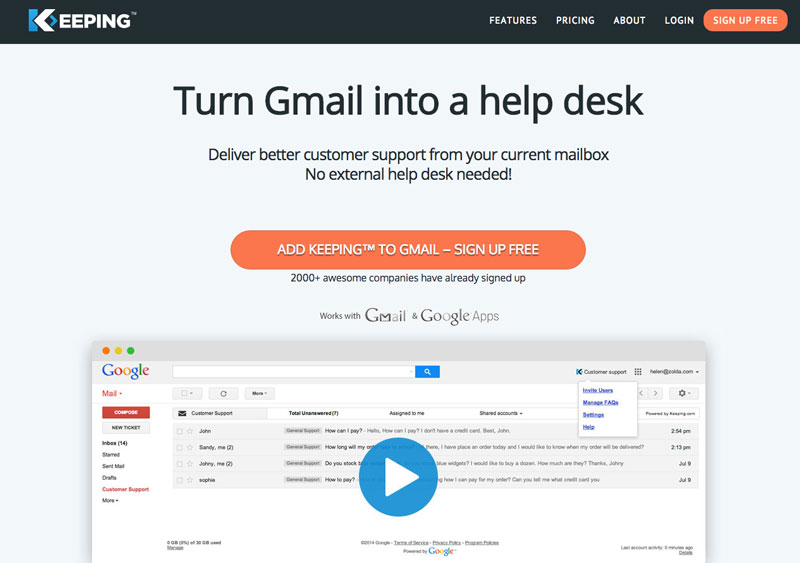 After the extension is downloaded you will need to log in to Google to link Keeping to your Gmail account. Once your account is successfully linked the Keeping toolbar will become visible. You will then be prompted to begin the last stage of the process and set up a support mailbox and add team members.
Collaboration Made Easy
Very often answering customer support queries requires input from more than one person, in these cases the ability to assign responsibility for incoming emails to different employees is vital. The ability to add comments to the emails explaining what has already been done, or what needs to be done is also helpful.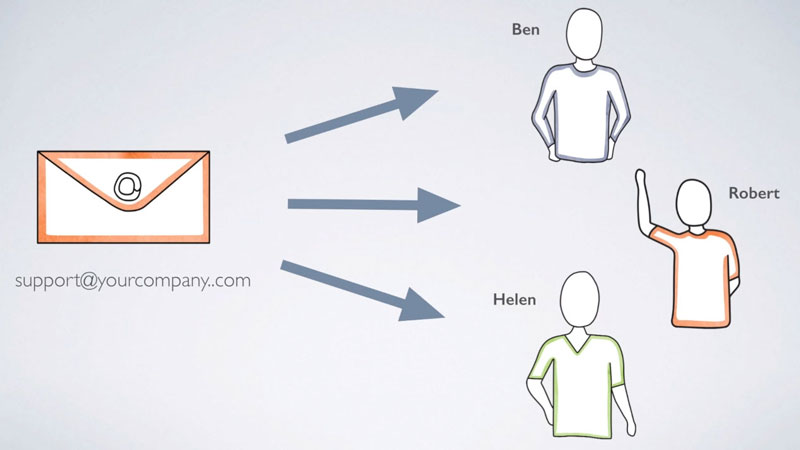 Keeping makes it simple to do both of these tasks. Any employee logging in can see at a glance all the customer support emails which have been received. There are tabs to show which messages have been assigned to that employee, and whether each case is open or closed. Clicking on any email will allow you to see if any internal notes have been attached. Internal notes are visible to all members of the team, but remain hidden from the customer.
It is also possible to add additional filters to help you make sense of the different types of support requests you receive.
Answer Your Emails Automatically
Anyone who has worked in customer support knows that 80% of the support teams time is taken up with answering the same few questions over and over again.
Keeping helps your staff save time by building up a knowledgebase of previously asked questions. Each time one of your agents replies to an email they will have the option to save their reply in the knowledgebase. The next time that question is asked instead of typing out the answer again they can choose Auto Response and select the answer from the knowledgebase.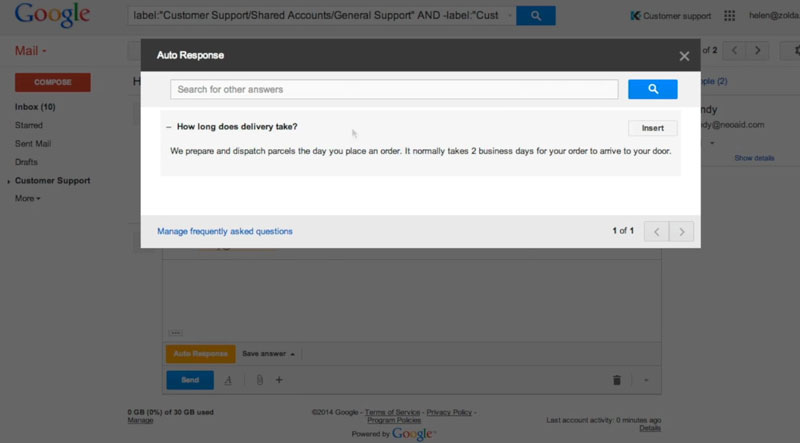 As the knowledgebase grows agents are automatically offered possible replies to each question from the knowledgebase so that even if they have not encountered a particular question before, if another agent has saved the answer they can still reply to the customer quickly without having to research the answer for themselves.
Track Your Response Times with Keeping Reports
Responding to customer enquiries promptly is vital to maintain good customer service. Keeping provides reports which help admin staff track how quickly your business is responding to your customers. Reports can be accessed from the settings menu on the customer support tab.
You can pick a specific date range to check or look at team performance over time.
Users can see how many emails were received each day and how long it took to respond to each email, as well as the average trends over a longer period.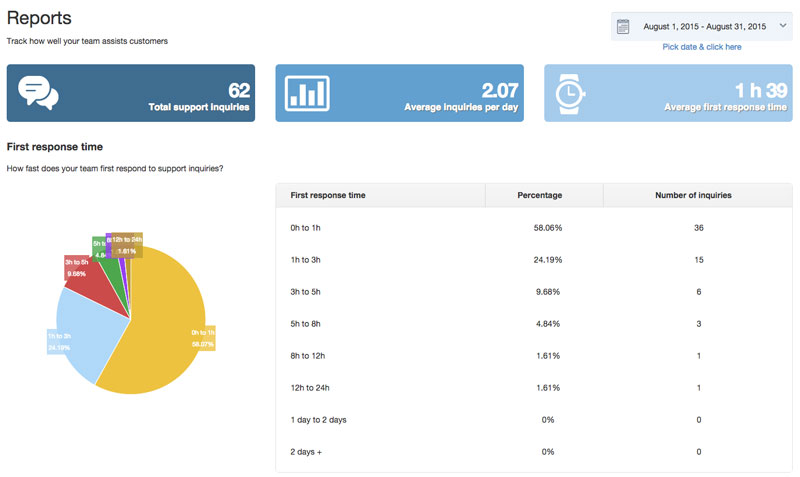 This helps managers understand if the customer support team is keeping on-top of their workload, or if changes need to be implemented to improve the way they operate.
Six Great Reasons to Try Keeping
If you are still unconvinced here are six final reasons to try Keeping™.
Works inside Gmail – Why log on to a separate support site to deal with all your customer support emails? With Keeping you can conveniently view and reply to them directly within the Gmail and Google Apps.
All Gmail Features Retained – Everything you love about Gmail still operates as normal. Keeping simply adds functionality to the interface.
Nothing to learn – If you are already using Gmail there is hardly any learning curve. You can forget about lengthy training sessions while staff learn about a new system. Keeping integrates seamlessly with what they are already using.
A Tidy Inbox – All customer support emails appear in a separate folder underneath your existing Gmail inbox. They are easily accessible, but remain distinct from your general company emails.
Customer Friendly – It's not just your staff who will benefit from Keeping™, your customers will be able to enjoy friendly, direct emails from your staff. They won't have to cope with long case ID numbers or obviously system generated replies. Keeping™ offers a customer-friendly approach to support.
Safe & Secure – Cyber-security has to be a major concern for any business. You already trust Google with your business email, so why risk introducing an external support company with all the security worries that brings. By staying within Gmail you can retain the Google security you already enjoy.
Keeping has a lot to offer small businesses. If your customer support is causing you a headache and you'd like to respond to your customer more efficiently and more quickly you should definitely try out Keeping today.