Born on 14th May in Reading, Pennsylvania, Keith Haring is one of the 20th-century artists who brought various elements of culture into the galleries and museums through his drawings. In most of his drawings, Haring drew his inspiration from locally based techniques such as graffiti and murals. He would create stunning images that portrayed various concerns on the society using a number of artificial colors which would resonate well with the audience. Most of his drawings commented on various issues in the society such as AIDS, drug addiction and issues to do with apartheid. Regardless of how serious the issues were, Haring would incorporate comedy in his drawings with funny cartoons which made his artwork stand out. Since his unfortunate death, Haring has been the subject of several international retrospectives. Haring's art, with its deceptively simple style and its deeper themes of love, death, war and social harmony, continues to appeal strongly to viewers.
Inspiration from Disney Cartoons
As a child, Haring was inspired by the work of Walt Disney, Dr. Seuss, and Charles Schultz. Haring spent most of his time as a child practicing drawing with his father who was an engineer and did cartoon as a hobby. After finishing his high school, Haring attended Ivy School of Professional Art in Pittsburgh but later dropped out of school. However, in 1978, he made a turnaround and went back to school where he joined the School of Visual Arts in New York.
Practicing Artwork in New York
After moving to New York, Haring immediately befriended great artists such as Kenny Scharf and Jean- Michel Basquiat with whom he shared a number of interests. Together with the other artists, they would organize the art exhibitions in the various clubs which were in downtown and other locations where events such as fashion and music were carried out.
Apart from presenting his artwork in the various nightclubs in New York, Haring began using the empty advertising panels which were placed in the station walls to draw art. Most of the arts which he drew on the streets were quickly drawn and they included the dancing figures, large hearts, barking dogs and a flying saucer. From 1980 to 1985, Haring had made hundreds of drawings which attracted a large crowd of the commuters who would stand by to engage with the drawings every time they came across them.
Recognition and Success
Haring began participating in a number of international art exhibitions which were held in New York. Sometimes he would collaborate with other artists such as William S, Borroughs, Andy Warhol and Grace Jones. He also carried out his first solo painting at Westbeth Painters Space in 1981. The following year, he made another popular exhibition at Tony Shafrazi gallery which would later represent him. Haring also took part in a number of international exhibitions such as Documenta 7, Sao Paulo Biennial and Whitney Biennial. Most of these international events opened up opportunities for him in other fields such as advertising. He was involved in the animation of the Spectacolor billboard in Times Square. He also carried out an advertising campaign for Absolut vodka and created a number of murals worldwide.
In April 1986, he began extending his artwork and opened a retail store in Soho where he would sell t-shirts, buttons, and toys which were bearing his images. He called it Pop Shop and the entire painting of the shop was inspired by his artwork. He painted the interior of the office on abstract black on a white mural which created a good artistic environment. Most of the other artists criticized his painting but this did not deter him from doing the best. He was committed in his efforts of making the artwork available for his fans within and outside New York and he received a lot of support from the friends, family, fans, and mentors such as Andy Warhol.
In his painting career, Haring did most of the work for the public that conveyed social messages. Between 1982 and 1989, Haring created more than 50 public works which were made available to a number of cities across the world. They would go to various charity organizations and hospitals. Haring also hosted a number of art workshops where he would train children on how they would develop their art skills. He also involved the children in his work. For instance, in 1986, he worked with about 900 children and came up with a mural used during the 100th anniversary of the Statue of Liberty. Other international projects include; a mural of the exterior of Necker's Children Hospital in Paris in 1987, A mural of the Berlin wall, an anti-drug mural called Crack is Wack displayed along Harlem River Drive in Manhattan.
Popular Artworks
Free South Africa (1985)
This was one of the popular arts which Keith used to present a political message on the apartheid that was existing in South Africa. He used a black figure who was bigger than the white figure to illustrate how the white minority suppressed the black majority in South Africa.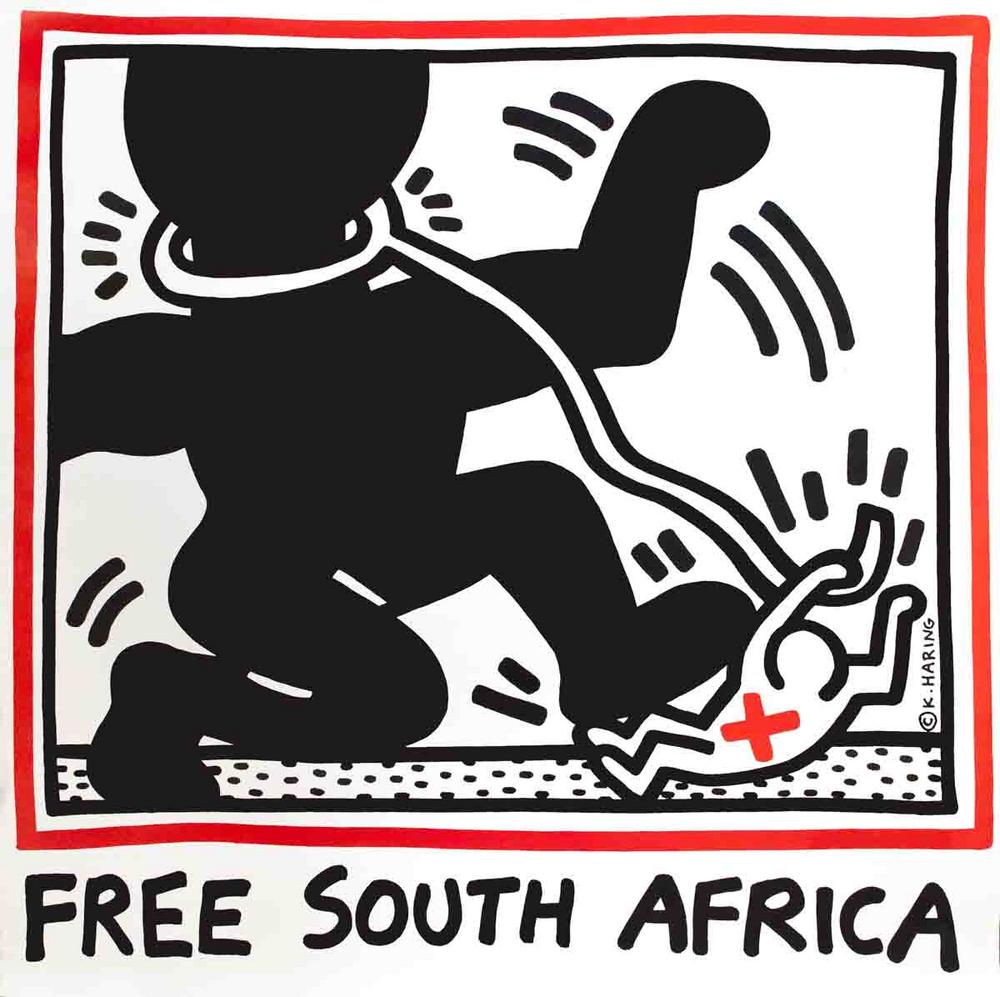 He used the image on the T-shirts which he was selling and the posters which were used during demonstrations. The artwork played a great role since it raised awareness on the apartheid issues which were existing in South Africa and there was pressure from people all over the world to end apartheid.
The wave of protests by people from different parts of the world led to the release of Nelson Mandela from prison and he was later elected as South Africa's president in 1994.
Radiant Heart Love (1982)
This was one of the popular works of Haring which show the image of two men who are in love. Haring was bold in presenting the various incidences of homosexual which were taking place in America at the time. The drawing also gave him the courage to make more sex-explicit drawings which would talk on the issues of sex.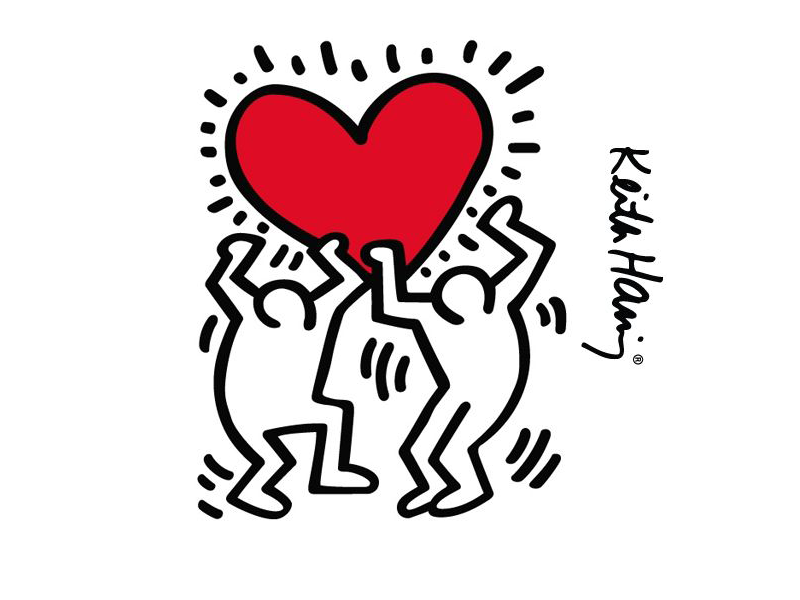 He used black thick lines in most of his artworks and some argue that the use of the thick black lines was inspired by the hip hop in which the black thick lines were used to show the impact that the music had on the listeners. It is also reminiscent of the earlier artworks of popular artists such as Picasso.
The image showed that indeed Haring believed in the strong power of love, humanity and the ability of human beings to express themselves when it comes to issues to do with love.
Establishment of the Keith Haring Foundation
Haring was diagnosed with AIDS in 1988 and in 1989, he established Keith Haring Foundation which was dedicated to providing funding to a number of AIDS organizations and other children programs which were running at the time. The foundation would also play a role in growing the audience of his artwork by carrying out various exhibitions and publications.
During the last years of his life, Haring became an activist and began spreading the awareness of AIDS. He carried out various talk events where he would inform the people about AIDS and the ways in which people can live a positive life even though they have been infected with the disease. He also fought drugs and drug addiction which was one of the vices which were affecting the youth at the time.
Haring's Death and Legacy
On 16th February 1990 at 31 years old, Keith Haring died of AIDS-related complications. A memorial service was later held on 4th May 1990 at St. John the Divine Cathedral in New York City. Over 1,000 people attended the memorial service.
Keith Haring left a legacy and brought a number of changes in terms of presenting messages to the audience. During his short time as an artist, Haring's work was featured in over 100 solo and group exhibitions. His work also made him be recognized and in 1986 alone over 40 newspaper and magazine articles were written about him. He was also the most sought after artist and he collaborated with a number of artists in giving his fans a number of drawings which inspired them and made them realize the various problems happening in the society.
In most cases, the previous generation of artists used conceptual and abstract approaches to present their messages. Haring redefined and in most of his drawings, he presented the message in a simple manner which made it easy for anyone to understand.
Haring also made use of a number of public sites which were not previously used. He would draw his messages on the street walls and present his message to a large audience who were mostly commuters. Through his street art, he made many artists to be inspired and take their artwork to the galleries to increase the reach of their message.
Even after his death, his works are still seen in a number of prestigious museums in various parts of the world. He had spent most of his time building his career as an international artist and the various charity works which he carried out in another county made him be known. Some of the museums which have his artwork include Museum of Modern Art in New York City and Centre Georges Pompidou located in Paris, France among other areas.