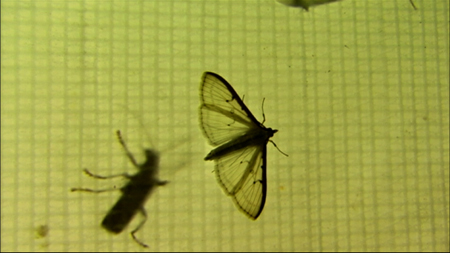 I am glad to announce the opening of a poster design contest on Designer Daily. You'll get a chance to win $350, get more paid design work for the movie and work on a very graphical topic: insects. Please make sure you read the entire post before submitting your work.
Quicklinks
How to submit
To submit your entries, please send an email to mirko(at)designer-daily(dot)com, with the words "Poster contest submission" as subject. In the email, make sure to include your:
Name
Location (city, province, country)
Age
Website and email adress
About the contest
Assignment
Design a poster for the movie "Beetle Queen conquers Tokyo".
Timeframe
The contest begins on wednesday, june 10, and ends on saturday, july 18. The top five contestants will be judged by a jury composed of Jessica Oreck, Michelle Enemark, Dylan Thuras, Anna Seidman and Amy Azzarito.
Rules
You may submit as many designs as you like but each one has to be completely different from the others that you submit.
Do not use any copyrighted material within your design (unless you own the rights).
Each entry must include artist's name, phone number and valid email address.
Once you submit your entry, you cannot change your submission.
Any media may be used, don't feel limited by your computer.
We reserve the right to make changes to your design (if needed) for printing.
The poster must include specific text included in the "contest materials" folder
Please download the "contest-materials" folder, which includes potential images for the poster (must be scaled appropriately to maintain 300 dpi – but feel free to manipulate them), the text, and the hi-resolution laurels.  Please note: you DO NOT need to include any of the film stills or laurels if you do not wish.  The only elements you must include are the title and the text.
Specifications
Finished poster should be 27″ wide x 40″ tall.  Max file size for contest submission is 10Mo. Submissions must be in .jpg format. Actual artwork for poster production has no file size limits, and should be saved in an uncompressed format.
Original artwork should be either vector-based (such as an Adobe Illustrator file) or at least 300dpi if a raster file (such as an Adobe Photoshop file).
Poster should include a 1/4-inch bleed on all sides.
Artwork should be CMYK.
About the Movie
Jessica Oreck's first feature documentary, BEETLE QUEEN CONQUERS TOKYO, delves into the mysterious development of Japan's age-old love affair with bugs. Using insects like an anthropologist's toolkit, the film uncovers Japanese philosophies that might just make you question if your 'instinctive' repulsion to bugs is merely a trick of western conditioning.
If you are entering the contest you will get a link and password to view an exclusive clip from the film.
To view an exclusive clip from the film, please send an email to mirko(at)designer-daily(dot)com with the words "movie link and password request" as subject (there is a filter with an automatic reply, so make sure you write those words).
A note from the Director
In terms of movie posters, I am often drawn to the starkness of certain Japanese and Eastern European designs of the 1970's.  I love that their simplicity can also hold so much tension and energy.   And I love that they don't look like they were made on a computer.  Especially in terms of fonts, I prefer the imperfections of something hand printed (or hand drawn). As the title is highly ironic, I have no preference whether you work along the context of the title or more along the lines of the film in terms of the overall idea of the poster.  (Please read more about the film on the website).  The beetle attacking the Japanese sun has become a bit of a mascot for us.  You are welcome to include it, disregard it, or create an entire poster modeled on that theme. In general I am very open.  The film is a far cry from a generic nature documentary and doesn't follow the norms of narrative structure – so a poster that breaks a few rules would be welcome.
Prizes
1st prize
Poster used for the movie promotion, opportunity to design the DVD case and other marketing aids (paid jobs).
$350 in cash via PayPal
$300 in credit at Pixmac
Pixmac is a microstock photo agency and a great resource for high quality royalty free images.
Awagami+1's new "kamon" (Japanese family crest) stationery items (total value $60) by Awagami Factory.
Awagami+1's newly created "kamon" stationery collection consist of 3 items made with awagami's "shin inbe" paper each deeply embossed with a gold kamon (japanese crest) design:  the collection consists of 1) a pocket-sized "jotter" (with refillable notepad and pencil), 2) an "open spine" journal which features a unique "open" binding that allows the book to open completely flat,  and  3) a geometric pencil box which utilizes a secure rivet+ elastic closure.  all awagami+1 items are completely handmade by skilled artisans and craftsmen using only the finest materials and tools.
1 license for Fanurio time tracking software
Fanurio is a time tracking and billing software application, highly appreciated by freelancers for its intuitive interface, flexible timer and ability to produce detailed invoices. Whether you need to round time, use multiple currencies or create invoices with your own layout, Fanurio has the right tools to help you get paid.
1 free font from Reserves
Reserves is a premium visual design resource consisting of typefaces, illustration and images for creative professionals. Our background in fine arts with well over a decade designing with some of the top lifestyle, action sport and corporate brands gives us a unique creative perspective that infuses our brand with an unparalleled quality, style, authenticity and meticulous attention to detail. You can find them on Flickr and follow them on Twitter.
1 copy of the book "Grids for Dynamic Image" by A Design Mafia
A Design Mafia is a repository of creative inspiration from around the globe. We draw inspiration from many aspects of design across many disciplines including, but not limited to, graphic design, illustration, motion graphics, industrial design, and architecture. It was founded and maintained by recent graduates from Purdue University's Visual Communication Design program as well as contributors from the University of Oregon. A Design Mafia strives to bridge cultural gaps and bringing a wealth of inspiration to the masses.
3 pages web design by En7Design
En7design is an up and coming web design company based in glasgow offering professional work at afoordable prices.
$75 Blurb.com gift certificate
Blurb is a creative publishing and marketing platform that enables anyone to design, publish, share and sell bookstore-quality books. Design your book using Blurb's free, award-winning BookSmart software, or use the design tool of your choice. Blurb's PDF to Book workflow enables you to design books using the design application of your choice, save the file as a PDF, and upload it directly to Blurb. For more information, visit www.blurb.com.
2nd prize
1 set of Prismacolor Marker pens (18 colors set) from Product Design Hub.
Product Design Hub is the online community place, where industrial designers from all over the world come together to socialize and to create, share and find useful resources. Follow on Twitter.
1 PSD to xhtml/css conversion ($130)
Above Function is a creative agency based in Glasgow, Scotland. Offering services such as web design and graphic design for print and web. They are famous for their one day designs, They basically can have your own unique web site designed and up and running within one day all for £150 (around $200).
$200 in credit at Pixmac
1 license for Fanurio time tracking software
1 vector pack from GoMedia Arsenal
Go Media's a progressive design studio in the US.  They do art/design for clients in the entertainment and fashion industries.  http://www.gomedia.us They also have a brand of stock art and design resources called the Arsenal.  http://www.gomedia.us/arsenal And finally, they write articles and tutorials to give back to the design community at the www.gomediazine.com
3rd prize
The world flag

icons

pack from InkArcade.
Features 260 high quality flag

icons

from around the world. They are the highest quality and come in all possible sizes and formats with editable source files included. The sort of thing every good designer should have in their toolbox.

InkArcade

is an awesome site for loads of daily free web resources. It's definitely one of the best places to find out about all the latest cool stuff before everyone else.

$100 in credit at Pixmac
1 license for Fanurio time tracking software
About the Jury
Jessica Oreck
Jessica Oreck is the Producer, Writer, Director of Beetle Queen Conquers Tokyo.  Jessica works as an animal keeper and docent at the American Museum of Natural History in New York City.  When not at the museum, Jessica spends her time inventing new ways to create a sense of wonder in the world.  "Beetle Queen Conquers Tokyo" is Jessica's first feature film.  She is currently in production on several animated science shows, building her own museum exhibition, and research for her next feature film.
Michelle Enemark and Dylan Thuras
Michelle Enemark and Dylan Thuras are the creators of Curious Expeditions, a site devoted to traveling and exhuming the extraordinary past. Artists, writers, and historians, the pair are currently working on a documentary about wax anatomical models and the history of dissection. Michelle is a motion graphics artist and web designer, and her photography has been featured in numerous publications and book covers. In her free time she enjoys putting together and mounting animal skeletons. Dylan is a video editor and creator of Atlas Obscura, a compendium of the world's wonders, curiosities, and esoterica. He is also a talented visual artist and is currently working on a graphic novel about the London Beer Flood of 1816.
Anna Seidman
Anna Seidman is a native New Yorker and a former child star. She is currently employed as a jewelry designer and small office maven, and dabbles in multiple other creative pursuits including textile and movie poster design, interior design, and creates her own line of handmade greeting cards.
Amy Azzarito
Amy Azzarito received a Master's Degree in the History of Design from Parsons The New School for Design.  She currently works for the New York Public Library as a Digital Producer and blogs for Apartment Therapy.
Legal information
By submitting your poster you agree to the following:
You grant Myriapod Productions, LLC. the right to sell the poster using your artwork without receiving any remuneration in return.
Your work can be reproduced in print and web-based materials for promotional purposes and resale (winning entrants only) by Myriapod Productions, LLC.
An initial batch of 100 posters will be printed, but Myriapod Productions, LLC. reserves the right to reproduce additional copies without necessary approval from you.
The artwork itself remains your property and you can use it for any self-promotional uses. However you grant Myriapod Productions, LLC. the right to reproduce it for promotional and resale uses in both web and print formats as long as necessary.
Myriapod Productions, LLC assumes all entries are original and are the works and/or property of the entrant with all rights granted therein.
Myriapod Productions is not liable for any copyright infringement on the part of the entrant.
Myriapod Productions, LLC  reserves the right to alter the final poster design or to reject all submissions for the final poster design.
If a prospective participant is a resident of a jurisdiction that deems him/her to be a minor, he/she must obtain parental/legal guardian consent prior to entering or voting in this Contest.
Notification: Finalists will be notified by email or phone  by Jessica Oreck at the email addresson the Finalists' Entry. Winner will be notified by phone, mail, email and/or announced on the Web Site by Mirko Humber. If a potential Finalist and/or the Winner cannot be reached after a reasonable effort has been exerted, if he/she is found to be ineligible, or does not comply with these Official Rules, such potential Finalist and/or the Winner will be disqualified.
Participants agree to be bound by these Official Rules and by all decisions of the Sponsor, whose decisions are binding and final in all respects.
Download the Poster Materials
Zipped folder with movie stills, awards and info (64Mo).