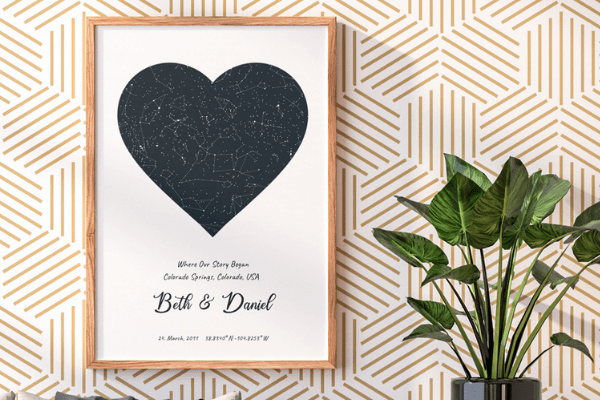 Looking for something extra special to gift your loved one? Look no further than Printed Memories! A customized star map is the perfect way to let your loved one know how you feel about them. A star map makes the perfect gift for any loved one, whether you're looking for a heartfelt present for your mom this Christmas or something to light up your wedding anniversary. All you need is a special date in mind, and Printed Memories will do the rest.
Print Guilt Free
Printed Memories is an eco-friendly brand that takes great care in helping to protect the planet with every map they print. So when you buy a star map (or any personalized gift) from Printed Memories, you're helping to protect the planet too! 
Printed Memories utilizes carbon-neutral shipping as well as local distribution in a bid to reduce carbon emissions with every order. Each map is beautifully handcrafted from FSC-certified paper sourced from sustainably managed forests. 
That's not all! Since Printed Memories is a print-on-demand company, they only print to fulfill orders. This means they can print exactly what they need, ensuring less waste overall waste and a happier planet.
They also plant one tree for every single product they sell. Pretty cool, huh?
Building a Star Map: How it Works 
It's never been easier to turn a special memory into a beautiful map of the night sky. Printed Memories likes to keep things simple, so you're not left spending hours and hours trying to create the perfect gift. Their interface is easy to use; all you have to do is follow the instructions on the screen. 
You just need a special date you never want to forget. From your wedding day to the day your daughter was born, capture and keep that special moment in print forever.
Designs For All Decors
No two people are the same, and their star map shouldn't be either. Printed Memories star maps come in a range of designs and styles to match a range of different people. Choose the color that suits you, and pick from a selection of map styles: circle, moon, star, or heart. We love the heart style for a special anniversary, and the moon map is perfect to celebrate the birth of a baby. But ultimately – it's up to you!
Personalize
The magic is in the personalization. 
Add text to make this a truly one-of-a-kind gift your loved one will never forget. Include a meaningful quote, a thoughtful message, a funny inside joke only the two of you understand, or keep it simple and stick with the name of the person you're gifting it to. The choice is yours!
Frame and Size Options
Printed Memories star maps come in three sizes: 
Small (12" x 16")
Medium (18" x 24")
Large (24" x 36")
So whether you're looking for something subtle for your loved one or a statement piece they'll be proud to show off, Printed Memories has got you covered.
Choose between two classic frame styles: black wooden or natural wooden. Or, do you already have a frame in mind? That's fine – you can opt to order without a frame, too!
Free and Fast Shipping
As soon as you've placed your order, your map will be sent to be processed. With a production time of 1-2 days, and an express shipping time of 2 – 4 days, Printed Memories is among the fasted print-on-demand gifting brands on the market. Say goodbye to waiting months for the perfect gift – get your beautiful star map as soon as a week after you order!
If you're looking for an extra-special gift to spoil your loved one, look no further than this beautiful star map from Printed Memories.