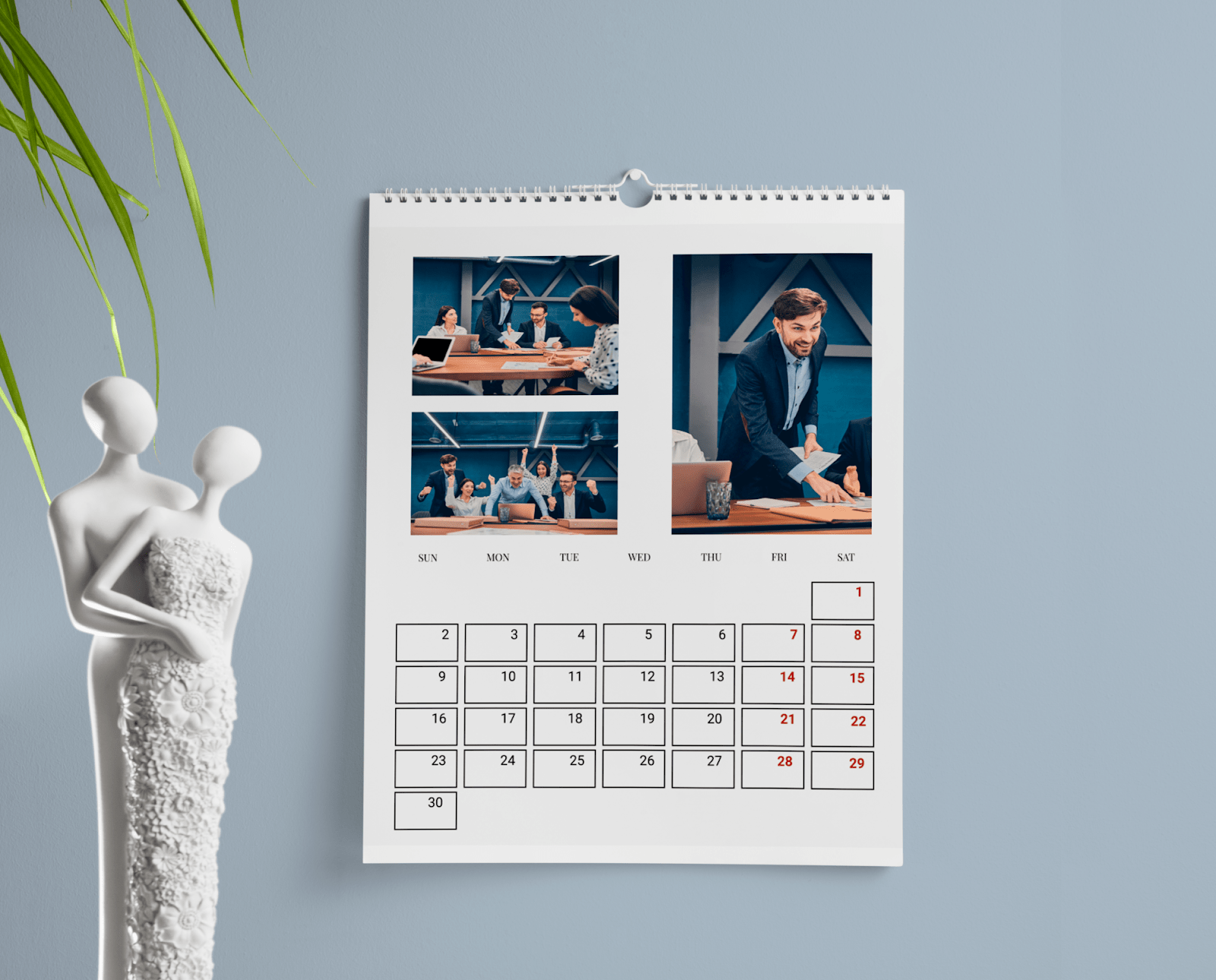 If you have a neck for graphic design and you want to make money off of it, you need to find a niche. While there are countless options you can go for, one of the least populated one is calendar making. Custom made calendars are in demand since they are not only a great time management tool but also a sweet piece of home or office decor. Luckily, there is no need for you to look for complex software to make pro calendars for sale or any other causes. You can easily make awesome designs with Photo Calendar Creator. This calendar creator software is a specialized program that finds a balance between being intuitive and feature-rich. Let's have a closer look at it to see what it holds.
Interface and Workflow
Let's start with the basics. Since Photo Calendar Creator was developed for people of all skills, it has a streamlined interface and it is quite easy to master. The biggest advantage of this calendar making software is its calendar wizard with 250+ templates that allows you to make calendars of almost any type in mere minutes. You can go with the following options: yearly, monthly, quarterly calendars, planners for various time periods (like week or month), poster, spiral-bound, desk, or pocket designs. Basically, all you need to do is to pick a template. Add your photos to it and the design will be ready.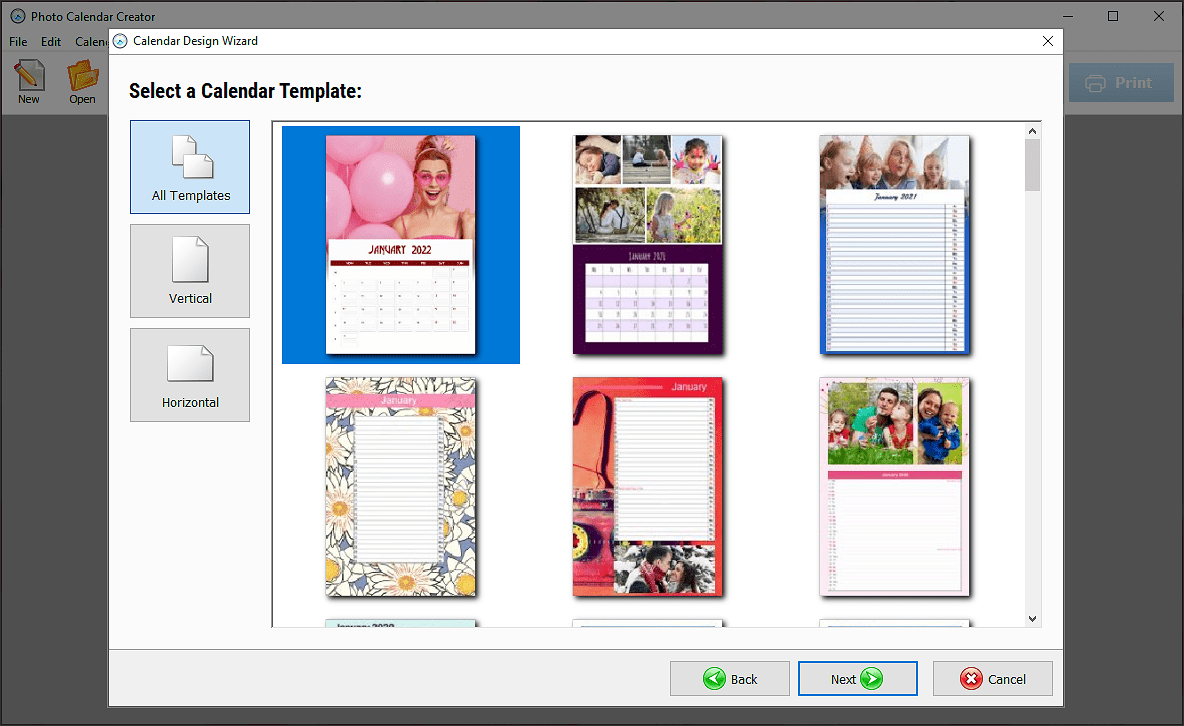 Customization Options
In case you want to customize the default design to make it unique, this calendar creation software gives you all the tools for it. For starters, you are free to personalize the month grid the way you like. You'll have access to an extensive library of grid templates. Better yet – if you have a concept of your own, you can realize it by changing any aspect of the grid to your liking. You can customize anything – the font of the day names, their sizes, or even the color of the grid itself.
What's more, all the designs can be customized as well. Feel like the featured photos could use some decorations? Then adorn them with frames or masks. Change the background in a few clicks, add a caption, or a clipart. Every little detail of your calendar can be personalized for a unique look.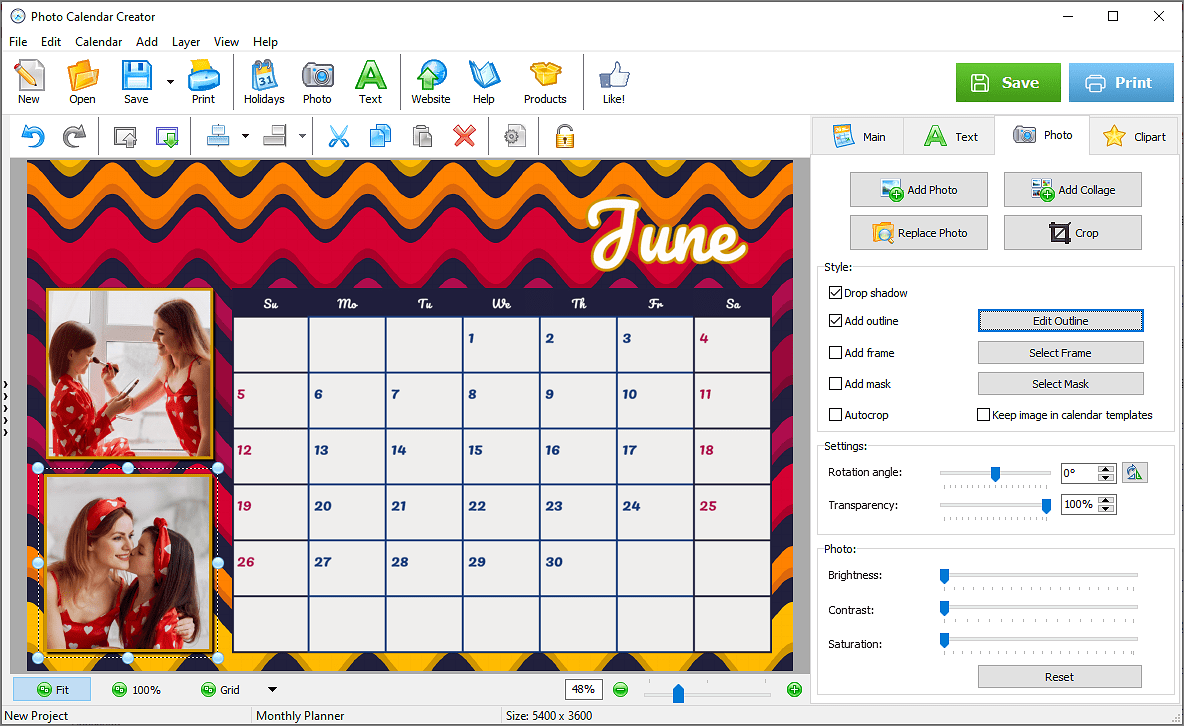 Holidays & Important Dates
Know for sure that the recipient of the calendar would like to have holidays checked in it? It doesn't mean that you have to change the color of every cell by hand. Photo Calendar Creator comes with a built-in database of holidays all the way up to 2025. There are lists of most of the European countries, as well as the U.S.A. and Oceania. Just tick a box, and the chosen holidays will be marked.
You can even create custom holiday lists (if, for instance, you are making a one-of-a-kind design for some special person). Just enter the bid dates, type in the names or occasions, assign pictures to this date, and you'll have them all displayed automatically.
If you know that your client would like to have their calendar in some language other than English, it's a piece of cake if you use this professional photo calendar software. It allows you to automatically translate your calendar into tons of world languages in a click. What's more, you can even create bilingual calendars, should your clients desire to.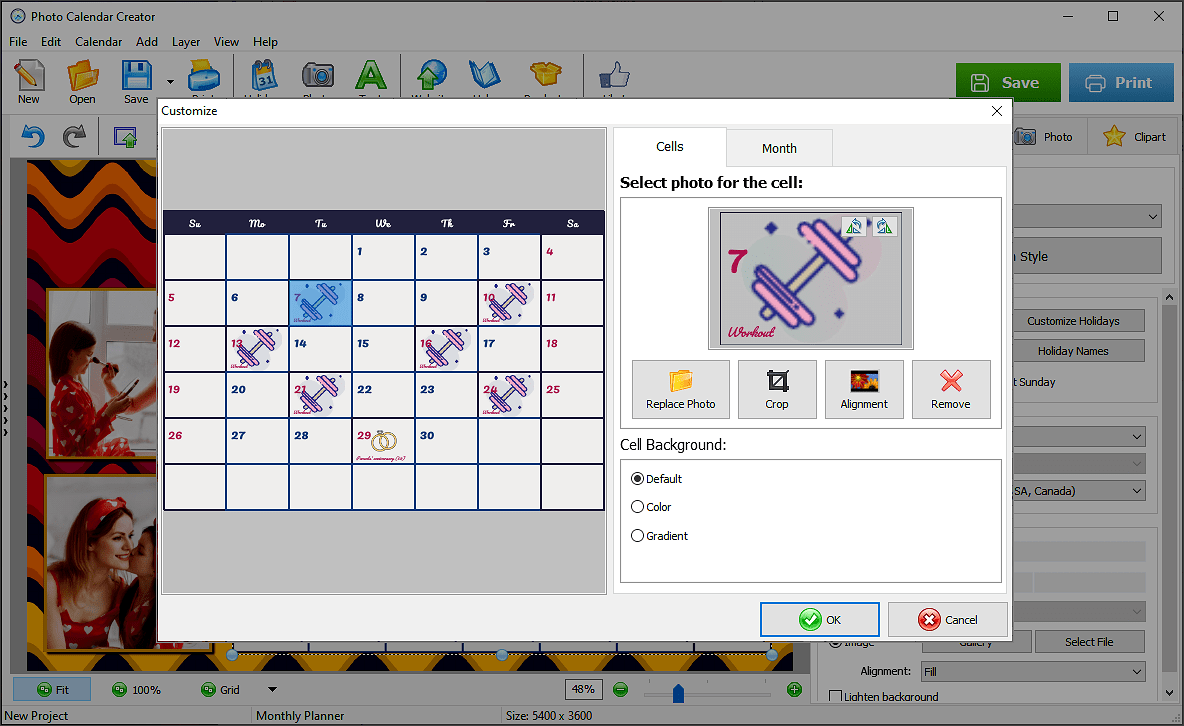 Smart Printing
No calendar design is complete unless it gets its physical form, which can be a problem. But not with Photo Calendar Creator. This program is equipped with a smart printing module that ensures that any form and size that you set for your calendar is properly printed. The program will automatically adjust all the margins and even mark the bending lines for your desk calendar – a calendar type that is notoriously difficult to assemble. You can choose the proper resolution depending on your clients' preferences. In case you want to save your creation as a temple for later use – to it with a click. You can even export your design to Photoshop all the while preserving the layers.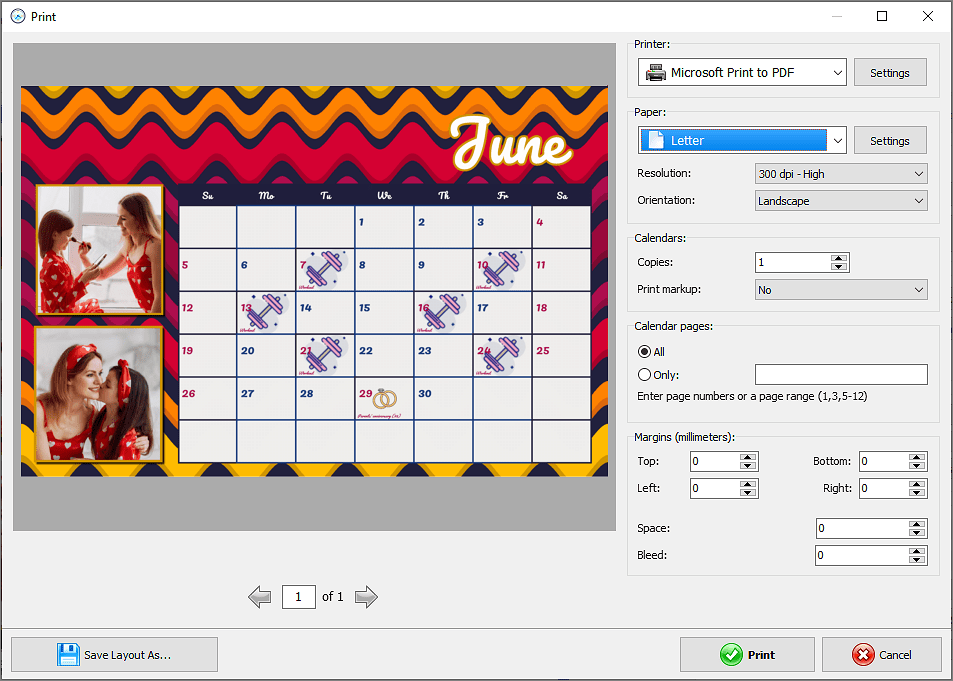 This has been our short review of Photo Calendar Creator, a smart but easy program. So if you are considering designing calendars as a side hassle, you'll never go wrong with this software. Its abundance of templates and endless customization tools will help you create calendars to sell that will take your clients' breath away.