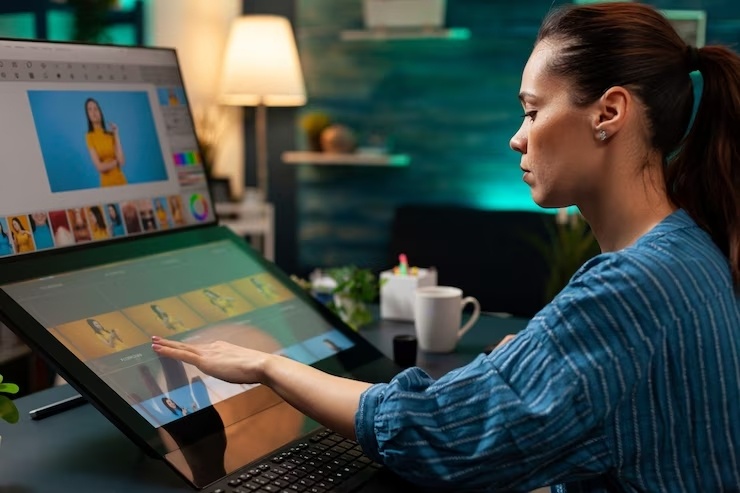 To hire or not to hire a graphic designer. That is the million-dollar question. There are so many free pre-made templates out there – why hire a professional? Many companies are asking themselves whether 'do it yourself' graphic design is best for their business.
Like everything else, it depends. Creative design calls for in-depth business knowledge, but the budget can be a real obstacle.
You may be thinking: is it best to "DIY", or spend money on a designer? The answer is not so simple, as we will see below.
Is 'do it yourself' graphic design a good idea?
If you have design skills and time to spare, there is no harm in doing it yourself. But most people don't know the tricks of the trade, and struggle to put their ideas into practice.
If that is the case with you, then it's best to admit defeat and hire a professional: someone who already knows how to translate ideas into images. You will save time, and time is money.
Even if you have design skills and can do it yourself, the time you spend designing could be devoted to other important aspects of your business.
When is 'do it yourself' a good idea?
If you don't have the money to invest in design, then DIY may be a good way to start.
If you know what you want but don't have the necessary design skills, there are many free and paid online tools out there that can help you to build a nice-looking design.
The downside to this approach is that many other people are probably using the same templates as you… so try to add your own personal spin on them.
You may also choose to do a basic design course, use professional programs such as Adobe Illustrator, or even try simple design tools such as Canva, for example.
Looking for a design for your website? Other tools can help you with a nice, pre-made template, and you won't have to worry – yet – about the technical part.
Why is hiring a professional a good idea?
There are no secrets here. Hiring a professional is always the best and fastest way to achieve your goals, and graphic design is no different.
Whether you are a new or old company, hiring a designer to accurately represent your company is a great starting point.
Design is not just about creating things. It requires knowledge of color, art history and theory, fonts and other topics that can impact the story you want to tell through your campaign.
Your brand should be cohesive. Think of the yellow McDonald's brand, or Nike's distinctive swoosh. That is what hiring a graphic designer can get you.
A good designer has all the tools and knowledge required to represent what you are thinking visually, and help your brand to achieve its goals.
Design is about discovery and experimentation, which can complicate things, especially if you are just starting out. As your company evolves, make sure to nail down the essence of your business. Do plenty of research before hiring someone.
Ask to see a portfolio. Get to know the designer's prior work, and how it has held up over time.
Your brand won't remain exactly the same forever, but you want it to last for as long as possible.
How much is it going to cost?
Now we come to the most important part. Do you have the budget to hire a professional graphic designer? Doing so can be a huge investment.
Look at your budget and make sure that you are able to invest in a reliable professional. Redoing a design is even worse than doing it yourself without any skills. You want to get it right first time.
If money is tight, at least get your logo designed by a professional. You can invest more in graphic design at a later date. But your logo should provide clarity about your company mission and essence.
We have seen whether companies should rely on "do it yourself" graphic design There are many things to consider before answering this question, but if you have the budget for it, we always recommend hiring a graphic designer to take care of your brand's image.