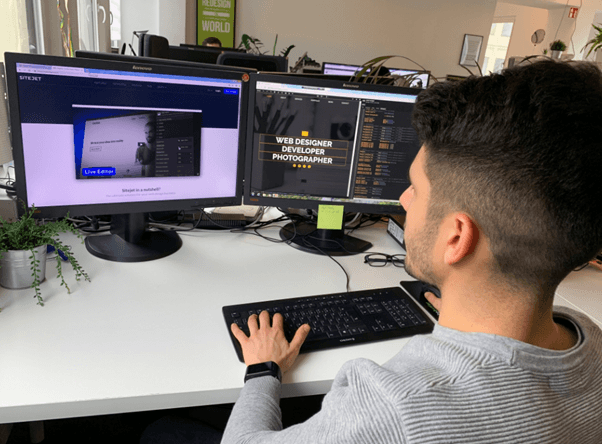 It may be an old cliché, but "time is money" is a phrase that rings true in the world of web design. With so much competition in the industry, completing projects on time and to a high standard is a constant struggle.
Web design agencies know this better than most. As well as design work, staff have to juggle communicating with clients, co-workers and managing projects all at the same time. As a result, the software they choose to carry out all these tasks can have a big influence on their overall productivity.
In most agencies, staff will use a number of different productivity, chat and design tools to complete their work. Having all this data spread out across different platforms can result in both delays and things being missed, something that a new CMS called Sitejet is hoping to solve.
An All-Round CMS Package
Sitejet was created by four German web designers as a way of streamlining their working process. The four men had become frustrated at just how much time they were wasting by speaking with their clients face-to-face or over the phone when other forms of communication could prove just as effective.
As a result, they designed Sitejet not only as a web design tool but also a creative hub where they could easily communicate with clients and manage their projects at the same time.
After completing over 4,000 websites using the software, the men finally decided it was time to release it to the general public this month. Find out whether we thought it lived up to the hype, below:
An Easy-to-Use Design Tool with Extra Trimmings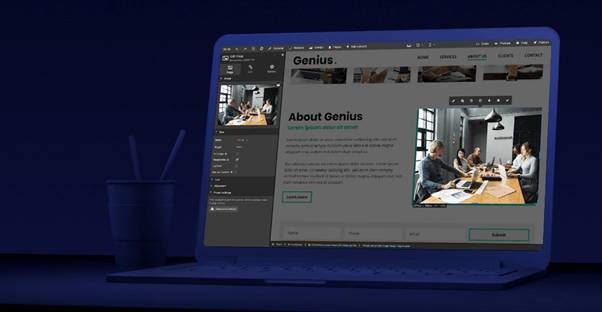 Underpinning Sitejet's raft of features is its beginner-friendly web design tool. Automation is on hand here to help speed up the design process. It can generate a site's colour scheme purely from an uploaded logo and create a site template using client briefing notes entered into the system.
The software comes with dozens of ready-to-go templates out of the box from a range of different industries. All these templates, like all of the software's in-built design tools, are fully responsive to ensure that any site you make looks as good on mobile as it does on a desktop.
Whether you're editing a generated template or starting a site from scratch, Sitejet's intuitive drag and drop blocks for headers, forms and menus make design work a doddle. All the software's features are built-in, so you never have to spend time searching for relevant plugins.
Sitejet also allows users the chance to add their own HTML, (S)CSS and JavaScript via the click of a button, so you can tailor sites exactly to a client's tastes. You can preview how any added code affects a site's skin using the interface's "live site" preview tool. It's here where you can adjust your screen's viewport to see exactly how a site will look on every type of device.
Manage Every Project in One Place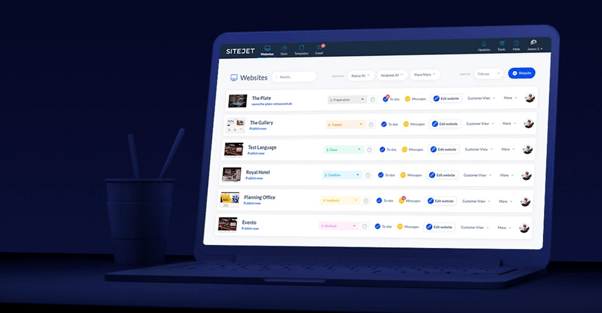 Nearly all CMS offer website design tools. Sitejet, however, is the only CMS that offers both a project management and client communication suite as part of its package.
The final result is an end-to-end CMS that seamlessly integrates everything you need as a web designer.
Sitejet's project management screen allows you to see every site you and your co-workers are working on. From here, you can assign tasks, complete to-do lists and track what your fellow team members are doing. This integrated dashboard makes it easy to move around resources should an urgent task arise.
The software's customer portal lets you contact and share files much in the same way as any other popular collaboration software tool. It also features a client privileges toggle, which allows you to pick which elements of a site your client can access and edit.
One standout feature of the portal is the client comment feature. This feature allows clients to leave written feedback on top of the skin of the website, making it easier to decipher any requested changes.
Conclusion
Sitejet is a CMS designed by web designers for web designers, and it shows. The little touches, such as keyboard shortcuts and automatic updates, all help to create a cohesive design system that has been optimised for speed. Perhaps more importantly, it manages to achieve this without sacrificing the thing that matters most – client interaction. For that reason, as well as the many points mentioned above, Sitjet is a must-try CMS for any sized web design agency.