After giving it a try, I can say that Squarespace succeeded where Adobe Muse recently failed. Squarespace is a hosted tool for quick, beautiful and easy website creation. We took a little tour of the service for you.
Account creation
Creating an account on SquareSpace is a snap, it took my about 30 seconds, no confirmation or email verification required. You'll be ready to go very quickly.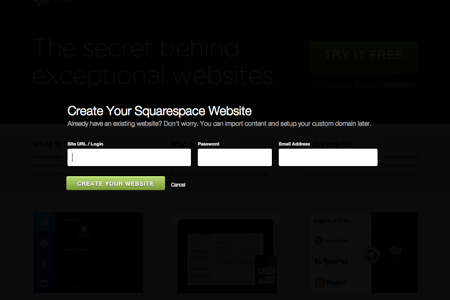 The tour
Once you are logged in and ready to start, Squarespace give you a quick tour of their service. Take two minutes to read the info and you'll be ready to go.
Creating and editing your website
Out of the box, Squarespace presents you with a homepage, a blog, an about page, and a contact page. To edit anything on those pages, all you need is to be on content mode and click the buttons to edit wherever you want. Creating pages and post is also easy, you just need to go on the structure tab and to add a new page, gallery, or whatever content type you want to create.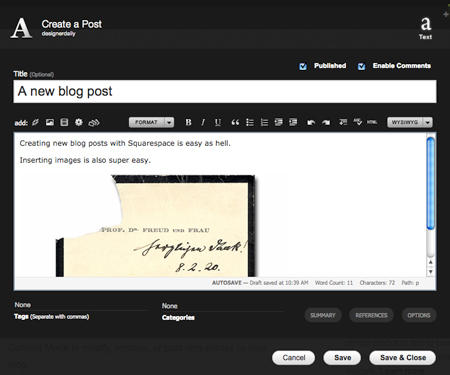 Styling your site
Customizing your site with Squarespace is also very easy. Chose the style tab and you'll be able to pick one of the 60+ templates, all customizable easily. Then you can also change fonts and colors quickly.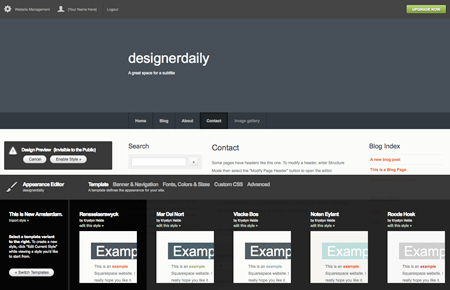 Website management
For me, the website management tab is one of the main arguments to work with Squarespace. The tools in there are really simple and time-saving.
Under Structure, you'll be able to have an overview of your site's architecture, change the URL of your site, or change the global settings. In members, you can manage all members and set the permissions very accuratly. Yes, Squarespace is an awesome tool if you want to manage your site with multiple authors.
Statistics are another great feature in Squarespace's website management, you get all the most important stats you need for getting a good overview of your website. The stats are very detailed and elegantly designed.

Who should try Squarespace?
I think that Squarespace is an appropriate tool for two types of people. The first is freelancers who don't know how to create a website and need one. If you don't want to bother with the long process of learning, Squarespace is the perfect tool to quickly set up a website. The other one is web designers and web developers who want to create websites that their clients can easily manage without a long learning process.
Anyway, the only way to be really sure if Squarespace is for you or not is to try it. Trial is freel for 14 days, so go for it!